Liverpool: 4 Signs the Brendan Rodgers Revolution Is Underway at Anfield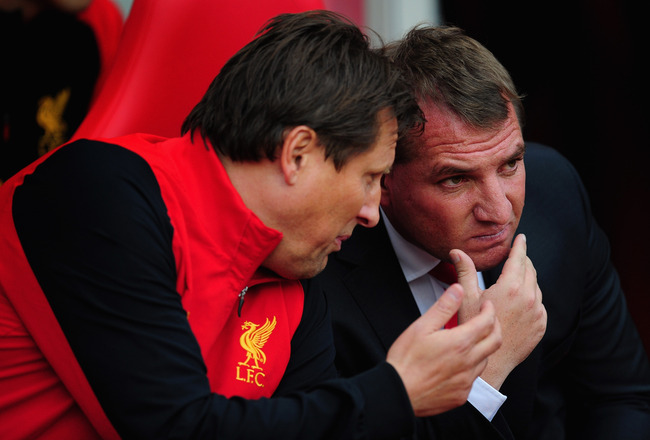 Stu Forster/Getty Images
Brendan Rodgers' tenure at Liverpool has come under intense scrutiny thus far, with the Anfield outfit enduring its worst start to a campaign in over a century.
The Reds have only secured two points from their opening five games and scored only four goals in the process.
With that being said, there are signs of hope for Brendan Rodgers' side.
Many feel that this Liverpool squad played some of its best football in defeat to Manchester United on Sunday, and that the end result did not reflect the performance.
Rodgers faced a huge task in stamping his authority on this Liverpool team in order to turn the club around.
While the ship is turning very slowly, it is turning nonetheless.
Here are four signs that the Brendan Rodgers revolution is taking hold at Anfield.
Liverpool's Transfer Activity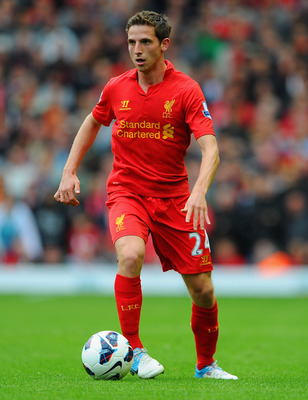 Michael Regan/Getty Images
Barring the debacle on deadline day, Brendan Rodgers and Ian Ayre made a number of shrewd moves in the transfer window, signalling Rodgers' intent and highlighting his mentality moving forward.
Joe Allen, Fabio Borini, Nuri Sahin, Oussama Assaidi and Samed Yesil are all young, talented players, brought in with one eye on the present and one eye on the future.
They mostly represent low-risk, high-reward transfers and will, in one way or another, contribute to Liverpool's success.
Emphasis on Youth
Alex Livesey/Getty Images
Suso, Adam Morgan, Sebastian Coates, Raheem Sterling, Andre Wisdom, Jonjo Shelvey, John Flanagan, Fabio Borini—Brendan Rodgers' philosophy of "if you're good enough to play, you're old enough to play" has been put to full use this season.
Many of Liverpool's younger players have seen large amounts of game time, in both the Premier League and the Europa League.
No one has benefited more from this than Sterling, who is rapidly becoming one of Liverpool's best players at just 17 years old.
Suso has been among the names that Liverpool fans have clamored for in recent seasons, and following encouraging displays against BSC Young Boys and Manchester United, he could find himself on the field a lot more often.
The Brendan Rodgers revolution is the youth revolution at Anfield. While it hasn't paid off in terms of league wins, the youth products certainly are entertaining to watch.
Winning the Possession Battle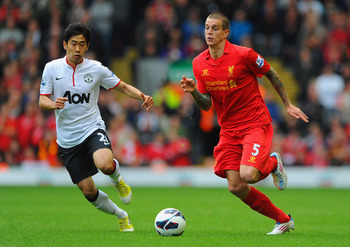 Michael Regan/Getty Images
On average, Liverpool has had the ball 55.6 percent of the time in the Premier League this season.
Against Manchester United on Sunday, despite being a man down for a large part of the game, Liverpool still managed 54 percent possession of the ball.
Rodgers has taught his players how to keep the ball under pressure and how to win it back if it's lost.
This is largely due to Rodgers' passing philosophy (some call it tiki-taka, some don't). The players are taught to avoid losing the ball cheaply and to pass it short to the open man.
The team's 86 percent pass rate on the season so far is a large part of that. Joe Allen has been the main orchestrator of this new mentality. The holding, distributing midfield position is a role in which he thrives.
It says a lot about this Liverpool team and these players that they are controlling the ball so well. They are confident and comfortable on the ball. It's the lack of the killer finish that is costing the Reds points.
The Lack of a Doom-and-Gloom Atmosphere over Anfield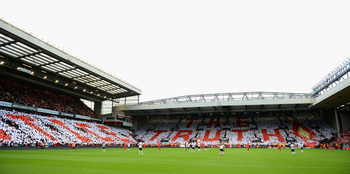 Michael Regan/Getty Images
Despite the really poor league start, Brendan Rodgers has kept an upbeat demeanor and really not allowed any negativity to creep into his club.
This has translated into keeping the fans positive. Liverpool fans understand that this is a time of major transition. They can understand that the performances on the pitch haven't been terrible. In fact, in almost all of their games thus far, Liverpool have looked the better side.
Liverpool have mostly been unlucky thus far in the league campaign. Red cards and injuries have hit the side and have been a factor in Liverpool's lack of success. The fans understand that.
The fact that Brendan Rodgers hasn't allowed his team to be negative has allowed fans to place their faith in him. It says a lot about his man-managing skills and the way he needs his team to be focused.
He still needs that first league win, though. Fans' patience can only be stretched so thin.
All statistics courtesy of WhoScored.com
Keep Reading

Liverpool: Like this team?