Notre Dame Football: Why the Irish Still Haven't Proved They're 'Back'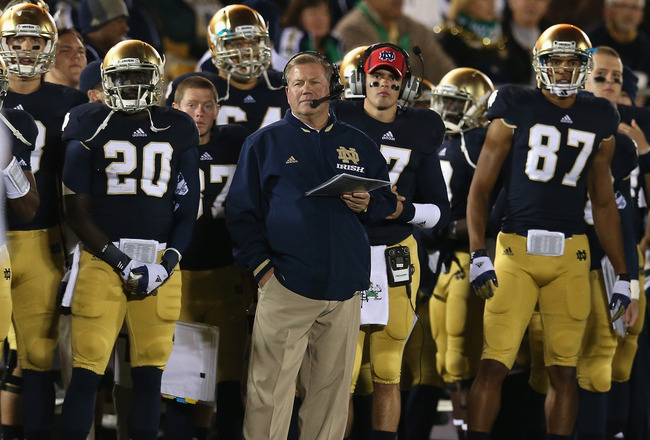 Jonathan Daniel/Getty Images
After a 4-0 start, Notre Dame is officially back! The Irish are national championship contenders and the sun is shining once again in South Bend. Everything is wonderful with college football because Notre Dame is back in the spotlight and should be considered one of the premier teams to beat moving forward.
Those are just some of the things you may hear during the week, as everybody has been waiting for a great start under head coach Brian Kelly. Many didn't expect much of this Irish team in 2012 because of the brutal schedule, but after four straight victories, the program is now a Top 10 team and making a strong early case for a BCS bowl.
And while the Irish are playing terrific football, we are still only the first month into the college football season. Everybody needs to take a deep breath and relax for a minute.
Here are five reasons why Notre Dame still has a ways to go before we can consider them a true national championship contender the rest of the way.
Secondary Remains an Area of Concern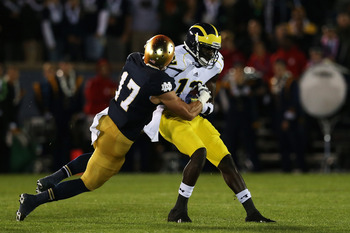 Jonathan Daniel/Getty Images
The Notre Dame secondary has yet to burn this team, but there is still plenty of football left to be played. Due to losing experience during the offseason and injuries early on in the season; the Irish are stuck with first-year starters at both cornerback spots and one of the safety positions.
Last week, it looked like this was one of the more experienced groups in the country, as Michigan threw a total of five interceptions in their 13-6 loss. But the Irish won't have Denard Robinson throwing lollypops in the air every week, giving Notre Dame defenders early Christmas presents.
This unit will still have to face experienced quarterbacks such as Landry Jones from Oklahoma and Matt Barkley from USC. The passing defense has played well so far, but the true tests for the secondary are yet to come, and then we will see how this defense stacks up against some of the elite offenses.
Red Zone Struggles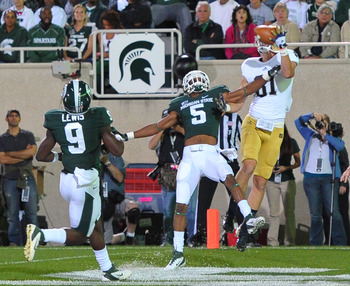 Matt Cashore-US PRESSWIRE
Despite this being an experienced offense, the Irish have failed to execute on that side of the ball. Not only is the offense averaging less than 26 points per game, which is ranked 86th in the country, but the team is not punching the ball across the goal line when it counts.
Through the first four games, Notre Dame has made 18 trips to the red zone, but has only scored touchdowns 50 percent of the time. Five times the offense has had to settle for field goals, while Notre Dame has not scored at all on four of those 18 trips to the red zone. Red zone conversions have been a problem with this football team over the years, as last season the Irish struggled to hold on to the football inside the 20-yard line.
Championship contending teams are able to finish off drives; this is something Notre Dame has to continue to improve on if it is going to take that next step.
We Have Seen This Before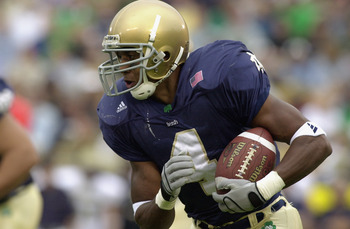 Jonathan Daniel/Getty Images
For the first time since 2002, the Irish have started the season 3-0. That's what we heard after the big victory over Michigan State. Now, we are hearing for the first time since 2002, Notre Dame has begun the season with four straight victories.
Well, that 2002 season didn't end so well for Notre Dame.
Sure, the Irish began the season with eight straight victories, but went on to lose to an unranked Boston College team. They also got destroyed by USC at the end of the season and had to settle for the Gator Bowl, which also ended in a loss to North Carolina State.
Everybody is so anxious for this team to explode into the national spotlight once again, but after just four victories, it may still be a little early to say this program is officially Notre Dame again.
Possible QB Controversy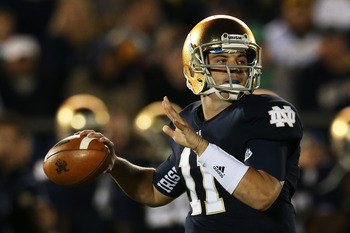 Jonathan Daniel/Getty Images
Who is the real starting quarterback for this team? Everett Golson was named the starter during the offseason and has the most pass attempts, but Tommy Rees has still played a key part in this offense through the first few games.
Head coach Brian Kelly called on Rees to lead his team down the field in a tied game against Purdue. The junior quarterback also saw significant playing time last week against Michigan when Golson struggled to find his rhythm.
Golson has the tools to be an extremely successful quarterback once he picks up a little more experience, but it is clear that Kelly feels more confident with Rees in pressure situations because of the experience he already has.
Rees is doing a better job of taking care of the football, but he was responsible for 14 interceptions last season. Will he be able to continue to play this closer role without making the crucial mistake that costs his team?
The two-quarterback system has worked for the Irish for now, but this flip-flopping can't make Notre Dame fans too comfortable.
Schedule Has Just Begun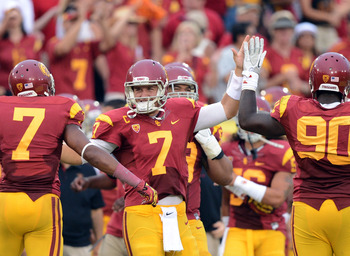 Harry How/Getty Images
If you told me that this Notre Dame team would be undefeated through the first four weeks of the season, I wouldn't have believed you. Going into East Lansing and knocking off Michigan State was impressive. Finding a way to snap a three-game losing streak to Michigan was another solid victory for this Irish team as well.
But the hard part has really just begun for this football team.
Playing Miami in Soldier Field won't exactly be easy, as the Hurricanes have shown bright spots throughout the season. Stanford has already shown that it isn't going anywhere anytime soon. A trip to Norman to take on an Oklahoma Sooners club will be a test. And then of course, the trip to USC to play a Trojans team that has won nine of the last 10 meetings will be the ultimate test for the Irish.
Notre Dame has shown that it is much more competitive than it has been in a long time, but it may be too soon to consider them "back" as far as national championship contenders are concerned.
Keep Reading

Notre Dame Football: Like this team?