Arkansas Football: Grading the Razorbacks Following the Rutgers Game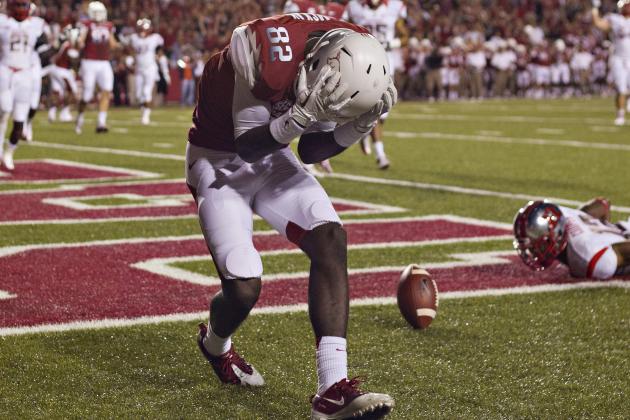 Wesley Hitt/Getty Images

The Arkansas Razorbacks' hard season continued Saturday with a 35-26 loss to Rutgers in Fayetteville.
The Hogs, once again, showed that they are struggling on the defensive side of the ball, allowing 525 total yards and five passing touchdowns from a team that likes to run the ball.
Razorback Nation was looking forward to the return of starting quarterback Tyler Wilson in what should have been seen as an easy win in preseason.
Instead, Hogs fans were treated to more of the same: failure to execute plays and being pushed around on both sides of the ball.
Defense is featured as one category as every defensive player and defensive coordinator Paul Haynes share responsibility for Arkansas' failure to stop another offensive onslaught from an unranked opponent.
Begin Slideshow

»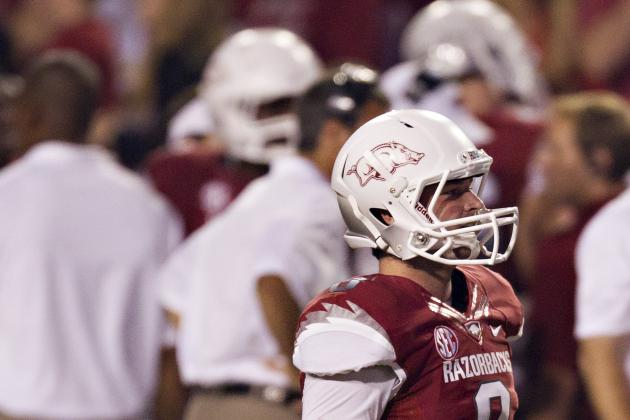 Wesley Hitt/Getty Images

This game was supposed to be Tyler Wilson's big welcome back from his concussion. It was supposed to be John L. Smith's last chance at some kind of redemption.
It wasn't.
Wilson put in a solid performance with 419 yards and three touchdowns.
His two interceptions, including one in the end zone during the third quarter, helped seal the Hogs' fate.
The expectations placed on his shoulders by fans and his team were unfair. He needs some game time to get back to his old self.
The Razorbacks are just in a place where that kind of time isn't an option.
Grade: C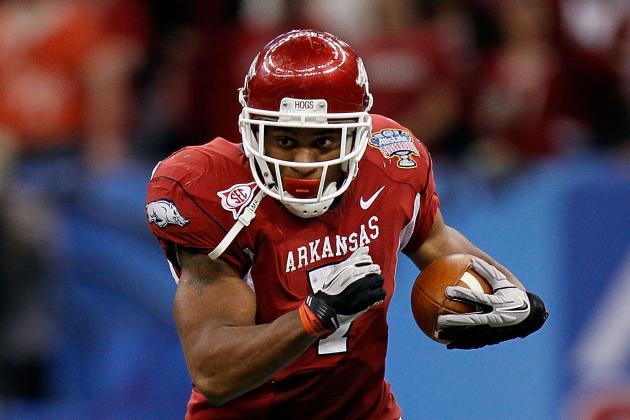 Kevin C. Cox/Getty Images

Knile Davis was not a factor in this game. He earned 17 yards over 10 carries.
His previous performances against Louisiana-Monroe and Alabama could be lumped in with the Razorbacks' collective lack of confidence without Tyler Wilson in the lineup. But, Wilson was back tonight, and the Hogs were nearly at full strength in their own stadium.
The one-time Heisman trophy contender has officially lost his mojo.
Maybe it's time to give Dennis Johnson more opportunities to run the football.
Credit to the Rutgers' defensive line, however. They held Arkansas to 73 total rushing yards the entire game.
Grade: F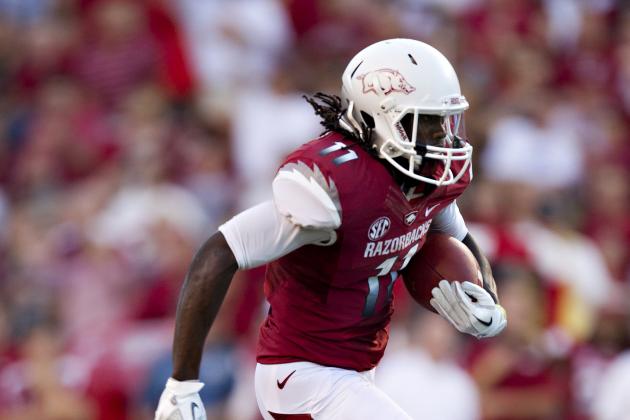 Wesley Hitt/Getty Images

It is always disappointing when a player puts in a record-breaking performance only to see his team lose the ballgame.
Cobi Hamilton set a new SEC record for most receiving yards in a game with 303. He caught 10 passes, scored three touchdowns and put in his best performance since Wilson's injury.
In order for the Hogs to climb out of the pit they've dug for themselves over the last three weeks, key Razorback players needed to step up and make plays against Rutgers.
Hamilton answered that call.
Grade: A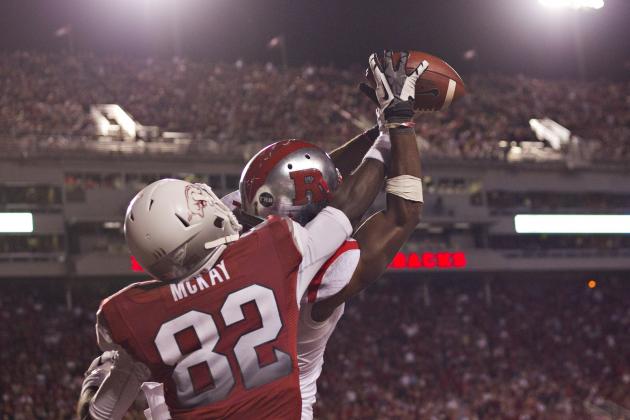 Wesley Hitt/Getty Images

Tyler Wilson gets credited for his two interceptions, but they were both botched plays on behalf of the intended receivers.
McKay was outmaneuvered by Logan Ryan in the third quarter for an interception in the end zone that cost the Razorbacks a touchdown.
We don't know what would have happened if McKay had made that catch or if the pass had hit the ground, but his failure to make that play helped seal the Hogs' fate.
Grade: F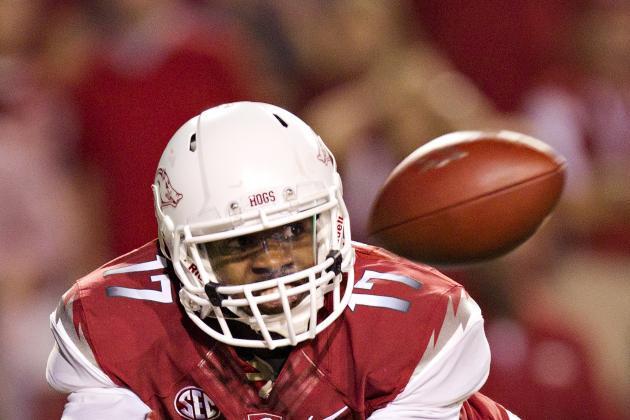 Wesley Hitt/Getty Images

Brandon Mitchell put in a respectable performance after pulling double duty at quarterback in the Alabama blowout last week.
He averaged 10.5 yards over four catches, including a 23-yard reception in the fourth quarter that gave Arkansas some hope late in the game.
Mitchell did have difficulty shaking coverage the entire game. He never could put enough distance between himself and the Rutgers' pass coverage to make the same impact as Hamilton.
He is still new to the position, but one has to wonder after watching Brandon Allen's performances over the last few weeks as to why Mitchell isn't training to be Wilson's full-time backup.
Grade: C
Wesley Hitt/Getty Images

Arkansas felt it when Gragg left the game in the first quarter with an injury. He is one of the Hogs' top receivers and one of Wilson's favorite targets.
It is always unfortunate when a team loses one of its most powerful offensive weapons, but for the Razorbacks, it was devastating.
Who knows what Wilson would have accomplished if he had Gragg, along with Hamilton, to pass the ball to?
Grade: Incomplete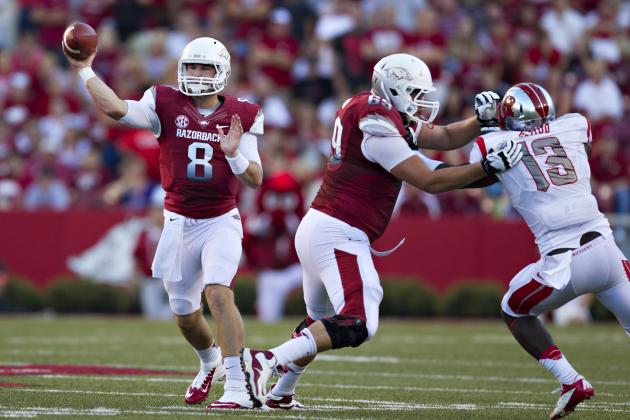 Wesley Hitt/Getty Images

The offensive line started off the game poorly.
Tyler Wilson was sacked on the first play of the game.
The line did pull off a better performance this week than in the previous two when they allowed Louisiana-Monroe to injure Wilson and Alabama to sack Brandon Allen four times.
They only allowed Wilson to be sacked on that first play, but they still failed to keep Wilson from being pressured and pounded by the Rutgers defense.
At least Wilson was not injured this time.
The line also had trouble blocking in order for Arkansas to establish the run whenever Knile Davis was carrying the ball.
Dennis Johnson averaged 7.8 yards over six carries, however. So maybe, Johnson was just able to capitalize on the blocking the line did provide.
Grade: C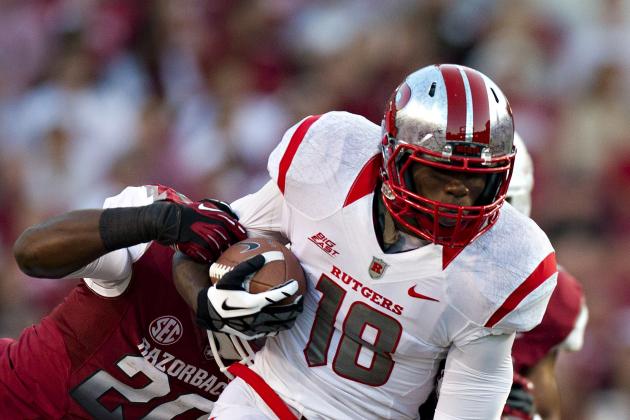 Wesley Hitt/Getty Images

I hate to group all of the defense together under one category, but they forced zero turnovers, had zero interceptions and allowed the Rutgers offense to stay on the field for almost 40 minutes of this ballgame.
That will just not get it done.
There were also several instances throughout the game where there was about to be a change in possession only to have the Arkansas defense commit penalties and allow Rutgers to stay on the field.
Rutgers quarterback Gary Nova racked up 397 passing yards and five touchdowns.
The defensive line did not pressure the quarterback throughout the game, giving him time to throw the ball and pass the Razorbacks to death. They allowed Jawan Jamison to rush for 118 yards.
The linebackers and cornerbacks allowed Rutgers to establish a short game that let them eat away the clock.
The safeties allowed three different Rutgers receivers to have over 80 receiving yards with under seven receptions each.
Every televised game that features the Hogs has commentators and announcers telling us that the Hogs are built for offense.
No kidding.
Grade: D