Washington Nationals: 3 Reasons Gio Gonzalez Can Take Nats Deep into Playoffs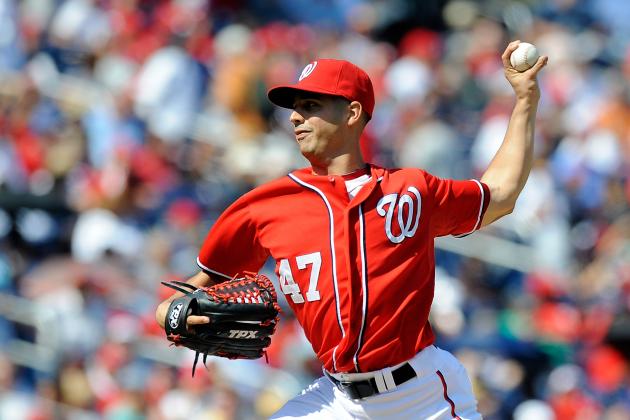 Patrick McDermott/Getty Images

The combination of unprecedented regular season success and Stephen Strasburg's departure from the rotation has shifted an enormous amount of pressure onto the rest of Washington's starting staff.
For a city that hasn't seen playoff baseball in nearly 80 years, a deep postseason run could be monumental. So, without the services of their true No.1 pitcher, who will pick up the slack in the nation's capital?
Luckily, there are some options.
The Washington Nationals have boasted the best starting-five in baseball for the entirety of the 2012 season and certainly possess the talent to win even without Strasburg's electric arm. A young, hard-throwing group of starters that averaged just 26 years of age before Strasburg's removal is now reliant upon a relatively inexperienced three-man core.
Jordan Zimmermann, Ross Detwiler and Gio Gonzalez will likely serve as the centerpiece for Washington's postseason rotation in coming weeks. And without a single inning of playoff experience among them, the Nationals must hope the raw talent of their three young guns perseveres. Leading the way is NL Cy Young candidate Gio Gonzalez. After coming over to D.C. in an offseason trade with the Oakland Athletics, the 27-year-old lefty has enjoyed his first 20-win season here in the nation's capital.
At 29 years of age, Edwin Jackson stands as the eldest of pitchers expecting to start for the Nationals in October. However, with a three-man rotation still in the cards, I expect Gonzalez to serve as Washington's backbone come playoff time.
Here are three good reasons Gio Gonzalez will carry the Nats deep into the postseason.
Begin Slideshow

»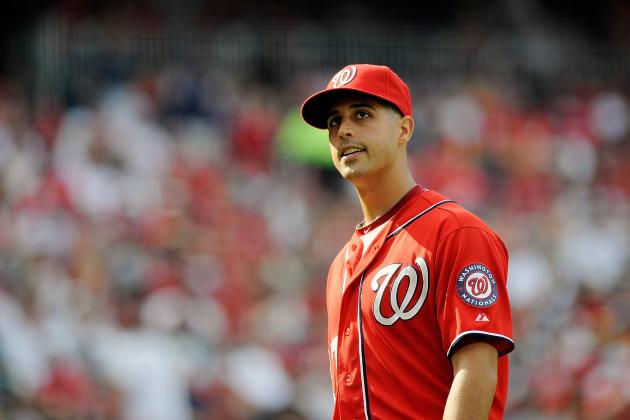 Patrick McDermott/Getty Images

Looking at the stats from this year, you might have trouble singling out the Nationals' No. 1 starter.
Though Stephen Strasburg took the ball on opening day, numbers indicate that the San Diego State product was actually Washington's fourth-best option in 2012. Whatever the case may be, there is no denying the fact that three legitimate Cy Young contenders call D.C. home.
And perhaps none has built a more impressive resume than Gio Gonzalez.
With his win this past Saturday against Milwaukee, Gonzalez became baseball's first 20-game winner of 2012. More importantly, he dismantled a Brewer team clinging on to postseason hopes. Washington's new "ace" surrendered zero earned runs over seven innings in his start this weekend. The goose-egg has been a common theme for Gonzalez who failed to allow a single earned run on eight different occasions in 2012.
His 2.84 ERA ranks fourth among National League starters, and his 143 hits allowed places Gonzalez behind only teammates Stephen Strasburg and Ross Detwiler among qualified NL pitchers.
The lofty win total for Washington's pitcher has made the league's Cy Young race worthwhile after New York's R.A. Dickey got off to a blistering start in the season's opening half. But with mere days remaining on the schedule, nearly all statistical categories are comparable. Odds aren't favorable for Gio Gonzalez to take home the award for the National League's top pitcher in 2012. But as I'm sure he would tell you himself, the Cy Young award doesn't sit atop the starter's list of goals for this season.
Because unlike the Mets, the Nationals have a shot at the World Series. And in a game centered around starting pitching, nothing is more valuable than a bonafide ace in October. That is exactly what Washington has in Gio Gonzalez.
Stephen Strasburg and Jordan Zimmermann might possess superior "stuff" as we like to say in baseball, but Gio knows how to win. And in a short five to seven game series, winning is all that matters.
Gonzalez has done so 20 times already this season, and only an occasional lack of run support has prevented the Washington starter from adding to that impressive total.
Nationals manager Davey Johnson has yet to declare who will take the mound in Game 1 of the NLDS (assuming Washington wraps up the NL East title). But with Stephen Strasburg already out of the mix, I think Gio Gonzalez has made that decision pretty easy on the skipper.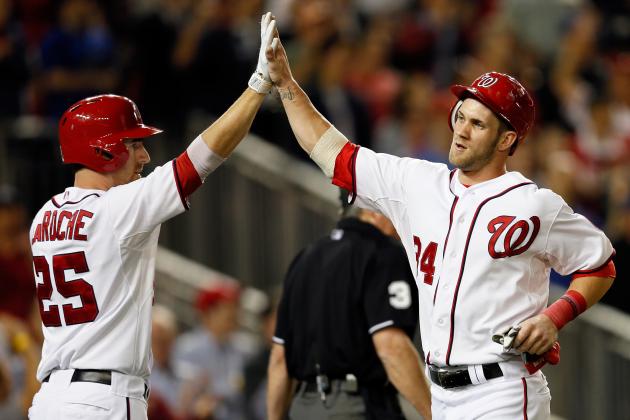 Rob Carr/Getty Images

Much can be said about the Nationals league-leading pitching staff in 2012. And given their utter dominance over the National League this season, the praise is certainly justified.
But lost among all of the Strasburg drama and pitching performance has been Washington's most improved asset—the offense. The Nats ranked 24th out of 30 teams in terms of runs scored a season ago. Their best record since 2005 was undermined by a crippling lack of offensive production.
But times have changed in the nation's capital. And with 10 games still remaining on the regular season schedule, Washington has already surpassed its run total from 2011 by a large margin.
Breakout years from names like Ian Desmond (.301 BA) and Adam LaRoche (32 HR) have helped the Nationals score 680 runs through 152 games. A number which transcends last year's total by 56 runs is good for sixth in the National League to this point in the season.
Injuries to key components of the batting order plagued Davey Johnson's ball club for much of the early-going, but the addition of Bryce Harper to the lineup along with promising returns from Ryan Zimmerman and Jayson Werth have contributed significantly to the Nationals' success.
With the emergence of Washington's offense, the starting pitchers no longer have to worry about continuously losing 1-0. Only three teams in all of baseball have seen more runners cross home plate than the Nationals since the all-star break, and for guys like Gio Gonzalez, that has led to wins.
What was once their greatest weakness now serves as a strength. And though people often say pitching wins championships, you can't win anything if you don't score any runs.
So heading into October, the Nationals have the makeup of a team destined for glory. A deep lineup composed of young talent and veteran leadership should complement the game's best pitching staff nicely. But nothing is certain, and champions aren't crowned in September. One month of winning stands between Washington and it's first title since 1924.
The good news is that winning has come easily for the Nationals in 2012. Let's just hope Gio Gonzalez and Co. can continue that trend into the postseason.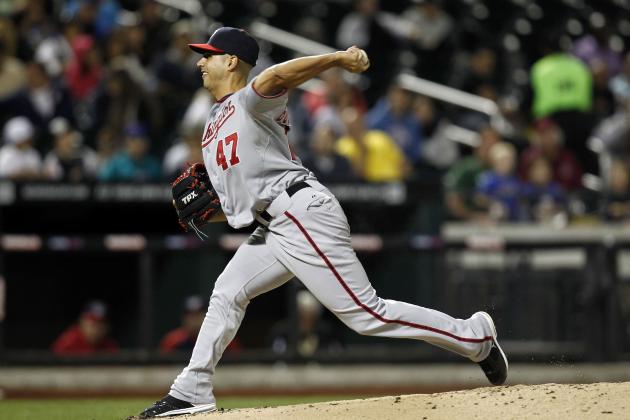 Jeff Zelevansky/Getty Images

If past history says anything about what will happen in the playoffs, I like Gio Gonzalez's chances of continuing Washington's winning ways, because if the season ended today, National League qualifiers for the postseason would all have unfavorable matchups against the Nationals' starting pitcher.
Washington has won six of the eight games in which Gonzalez has started against the Braves, Reds, Giants and Cardinals. Throw Milwaukee into the mix and the record improves to 8-2.
Perhaps more importantly is Gio's recent success.
The lefty got off to a blistering start in the season's opening month, but experienced some struggles midway through the year. Now, Gonzalez appears to be getting hot again at just the right time.
A dominating month of September has lowered the starter's ERA by nearly three-tenths of a run. And in his last five starts dating back to an August 31st matchup against the Cardinals, Gio's numbers are rather remarkable.
The 27-year-old southpaw is 4-1 in his last five, accumulating a fractional ERA of .8 along the way. His complete game shutout of St. Louis highlights a stretch that has seen Gonzalez surrender just three earned runs in 34 innings of work.
Anyone who follows the game will tell you that the best record in baseball doesn't always translate to playoff success. The Nationals may very well enter postseason play with that very title to their name, but it is typically the team with the most momentum entering October that fares best.
Luckily for Washington, they have arguably the game's hottest pitcher leading the way. When Gio Gonzalez is right, his fastball command and sweeping curve combine to dominate even the most talented hitters in the game.
So with the monumental postseason looming and the pressure mounting, we're all anxious to see how the Nationals will fare without the services of Stephen Strasburg. Criticism will undoubtedly follow any early exit. However, GM Mike Rizzo has no plans of wavering from his original innings cap.
Fortunately for him, Washington has tremendous depth at starting pitching. And with Gio Gonzalez stepping in to fill the role of the "ace", Rizzo and company shouldn't have much to worry about come playoff time.