5 Biggest Reasons the Detroit Lions Lost to the Tennessee Titans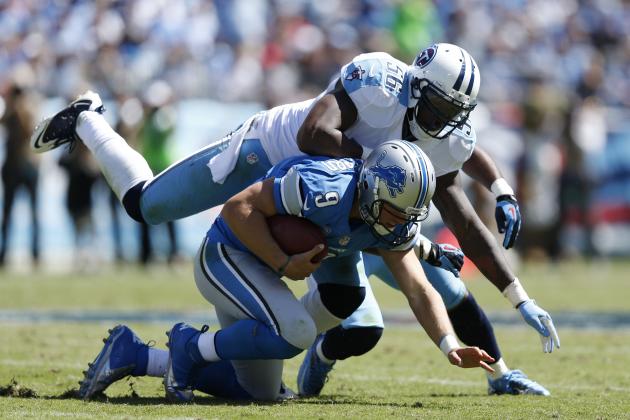 Joe Robbins/Getty Images

Detroit Lions fans were treated to a roller-coaster ride of a game in Week 3 against the Tennessee Titans.
It was such an exciting game that it should be called the Music City Miracle 2.0. Unfortunately, when it was all said and done the Lions were losers 44-41, and Detroit fans were left to ponder the team's prospects for the remainder of the season.
Detroit was supposed to be a real NFL contender this year—and I'm not just talking about the playoffs. The Lions have their eyes set on the Super Bowl. For a team that made the playoffs last season, that's a realistic goal.
Through three weeks, that goal looks far from attainable, though. The Lions are 1-2 and have been inconsistent on both sides of the ball.
That's not to say they're not a good team. They are. However, there are reasons why they haven't achieved the same success as last season and reasons why they lost to the lowly Titans.
Here they are.
* Stats included in this article were courtesy of ESPN.com
Begin Slideshow

»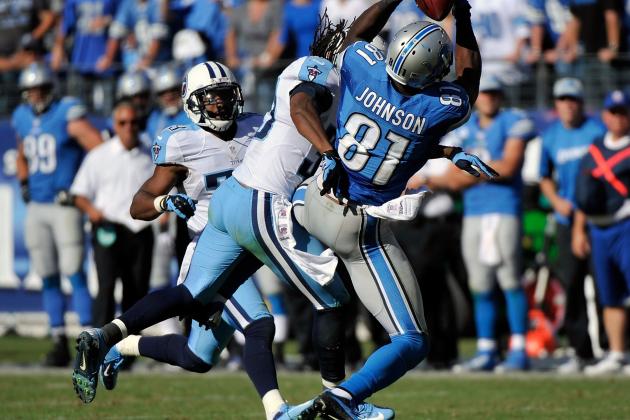 Frederick Breedon/Getty Images

If you look at the final stat sheet, you'll undoubtedly call me crazy: Calvin Johnson finished with 10 catches, 164 yards and one touchdown.
Those numbers certainly don't scream "not involved." Johnson did end up having a great game, and he was key in Detroit's comeback. However, he was the forgotten man until the Lions' first drive of the third quarter. Until that drive he only had one catch for six yards.
Amazingly, once the Lions started involving him in the offense...they scored. Shocking, isn't it?
In fact, there were two drives in the second half in which Johnson caught at least three passes, and Detroit scored a touchdown in both of them.
The Lions have been stuck in this rut all season. Defenses double- and triple-team Johnson so the Lions offense gets conservative, and Matthew Stafford becomes the master of the checkdown. The loss to Tennessee provided the latest example of this. It isn't until they are in comeback mode that they start pushing the ball downfield to Johnson.
This strategy isn't working, obviously.
Johnson's numbers look good, but the fact is he didn't score until there was 18 seconds left, and nine of his 10 catches were in the second half.
The Lions need to get him going early, and maybe they'll actually carry a lead into the second half this year.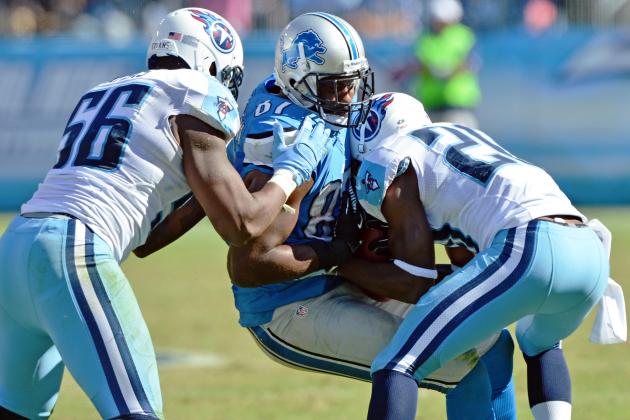 Don McPeak-US PRESSWIRE

Lions' quarterback Matthew Stafford did indeed lose his security blanket against the Titans, but it wasn't his fault.
Of course I'm talking about his tight end Brandon Pettigrew (and to a lessor extent, TE Tony Scheffler, who didn't play due to injury), who had arguably his worst game as a professional football player.
Stafford loves to check down to his tight ends, especially Pettigrew. He's a frequent target, and his catches often rack up big chunks of yardage during key drives.
However, this season he's been disappointing. He's already dropped a handful of catchable balls, and because he rarely secures the ball after catching it, he always looks on the verge of fumbling.
Against Tennessee that habit finally bit him. Titans' cornerback Alterraun Verner yanked the ball out of his hands because he didn't have it locked away. Verner then scampered 72 yards for a touchdown.
That play should have cost Detroit the game.
Pettigrew has not taken the steps necessary to be an elite tight end, and the Tennessee game highlighted this. He was targeted 12 times and only caught eight of them; plus, he fumbled the ball away.
That's bad enough that fans shouldn't be surprised if Will Heller gets the starting nod next week.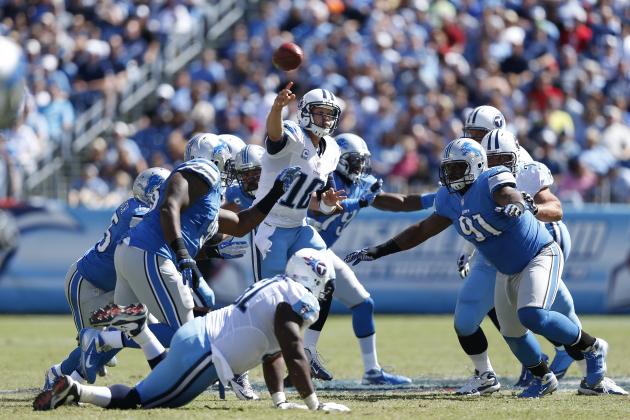 Joe Robbins/Getty Images

The vaunted defensive line of the Detroit Lions had a quiet day.
They failed to get a single sack and allowed Jake Locker, starting just his third NFL game, to calmly pick them apart.
Locker had a coming-out party against the Lions racking up 378 yards and two touchdowns.
They might have shut down the Titans rushing attack, but allowing a quarterback like Locker to have that kind of success is demoralizing, particularly when Detroit's secondary is so porous.
If the Lions hope to make any noise this year, their defensive line has to do better than that.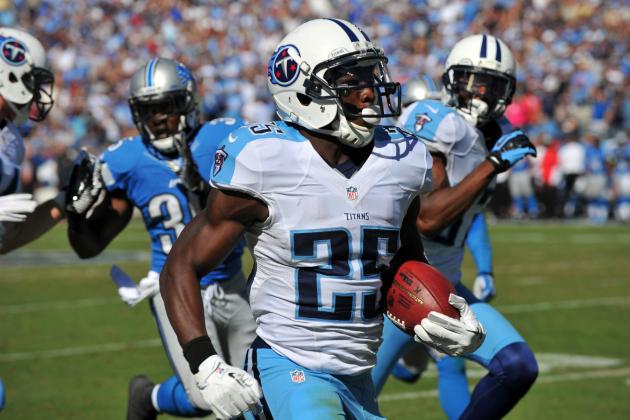 Don McPeak-US PRESSWIRE

It goes without saying that Detroit's special teams inexplicably failed against the Titans. They allowed a punt return and a kickoff return for a touchdown.
That doesn't happen every Sunday, but the Lions let it happen.
They fell for a trick play which resulted in a 63-yard punt return for a score and then allowed a 105-yard kickoff return to Darius Reynaud. Giving up both was inexcusable. Reynaud is a very good return man and the Lions should have been prepared for him. They were not.
They also should have been prepared for the trick play but were embarrassed instead. This is the Music City, after all.
The Lions were simply outcoached in the special teams department, and Monday will be a rough day for Lions' special teams' coordinator Danny Crossman.
Hopefully he uses that experience to work harder and get the players under him better prepared.
The Lions cannot afford this type of failure again.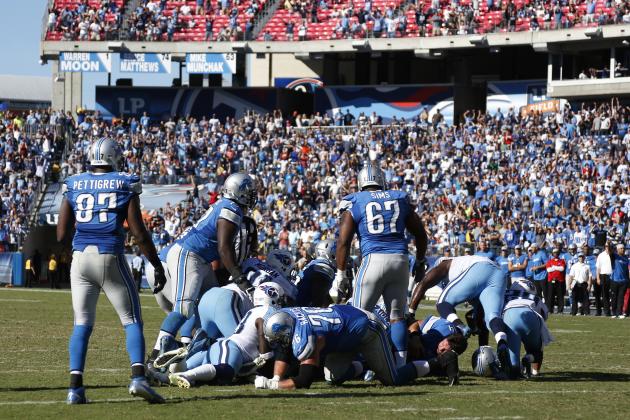 Joe Robbins/Getty Images

Fans might have thought that the Lions grew up this offseason, even with all the legal trouble.
Through two weeks they kept the penalties to a minimum, and players kept their composure.
Well almost everyone. Titus Young is a work in progress.
The Tennessee game set the entire team back, though. They were penalized 10 times for 91 yards. The penalties weren't the retaliation type that the Lions have been known for, but that doesn't matter.
The situations in which they occurred call into question the Lions' discipline just the same.
One doesn't need to dissect the entire game to see this. Just look at overtime.
During the Titans' first drive the Lions had them stopped at 3rd-and-16, but a dumb defensive-holding penalty resulted in a Tennessee first down.
On that same drive the Lions again stopped them on 2nd-and-18 only to see the drive extended because of a personal foul on Stephen Tulloch.
Most damaging was the last play of the game in which the Lions failed to convert on 4th-and-1. Dominic Raiola snapped the ball, but the quarterback and the rest of the offensive line were not ready for it.
Call it miscommunication. Blame Raiola, blame Shaun Hill or blame Jim Schwartz. It doesn't matter. It was a lack of discipline across the board that allowed such a mistake to happen.
In that situation, with the game on the line, every player on a disciplined team knows what the play is and knows what his job is.
Obviously, Detroit is not there yet.