UFC 152 Results: Top 10 Flyweights in the UFC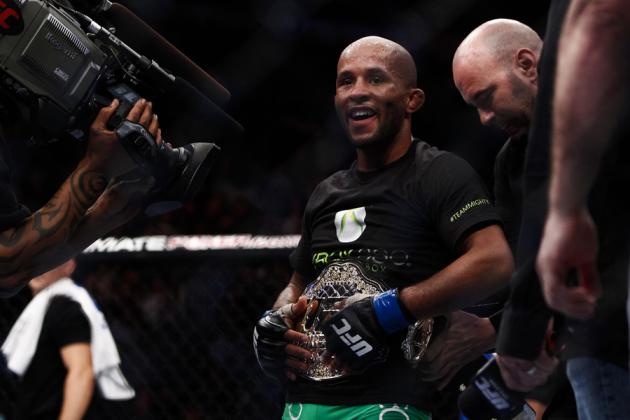 Demetrious Johnson - MMAFighting
History was made at UFC 152 on Saturday night, as Demetrious Johnson defeated Joseph Benavidez to become the first ever UFC flyweight champion.
The bout didn't receive "Fight of the Night" honors, but fans were treated to an exciting, back-and-forth battle between the top two flyweights in the world.
While the striking was dead even, Johnson's takedowns were the story of the night. On several occasions, he was able to utilize his incredible speed and timing to avoid Benavidez's strikes and take the fight to the ground.
When the final bell sounded, it seemed like Johnson did more than enough to convince the judges to give him the decision, but when it comes to MMA judging, one can only hope for things to be so simple.
While two judges scored the fight in Johnson's favor, a lone judge scored the bout 48-47 in favor of Benavidez.
"I was a little shocked [that it was scored a split decision]," Johnson told UFC commentator Joe Rogan after the fight. "I felt that in the standup I got him there. I took him down a lot more. He didn't get me down once. I controlled him and had his back. The judges are doing their jobs, and I'm doing mine, which is to fight." (via Brian Knapp of Sherdog)
At the end of the day, a win is a win.
No one can ever take away what Johnson accomplished on Saturday night. His name will forever be cemented in history as the inaugural UFC flyweight champion.
With that said, the bullseye on Johnson's back just got larger. All of the top flyweights in the world will be gunning for his UFC title.
Is "Mighty Mouse" up for the challenge?
"I train hard, and I dedicate my life to this sport. It means the world," said Johnson. "I still have to prove a lot of things. It's like I said. If I become a champion, the same thing is going to happen. I'm going to go home and rest, get back in the gym and get ready for the next battle."
In a growing division, it'll be interesting to see who is anointed as the UFC's first ever No. 1 flyweight contender.
Here are the top 10 flyweights in the UFC.
Begin Slideshow

»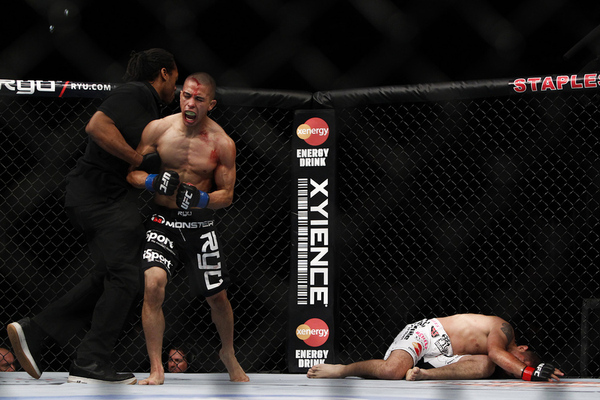 John Moraga - MMAFighting
John Moraga impressed in his UFC debut in August against Ulysses Gomez.
Some tend to criticize lighter weight classes for a lack of finishes.
Moraga answered the critics with a devastating first-round knockout on a major UFC card.
With his first UFC win under his belt, Moraga appears ready to make some serious noise in the flyweight division.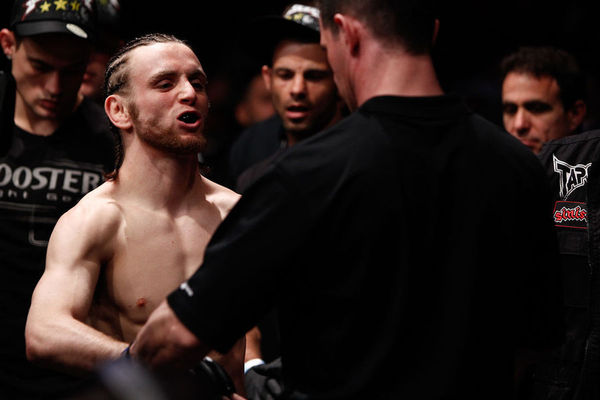 Tim Elliott - MMAFighting
Tim Elliott is best known for ruining MMA legend Jens Pulver's flyweight debut with a vicious, second-round knockout.
He is still searching for his first UFC win. In his debut, he lost a close decision to John Dodson.
Even though he was defeated, Elliott showcased some serious potential against a highly respected flyweight contender.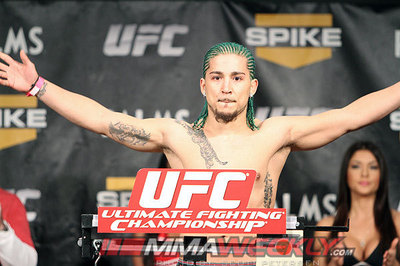 Louis Gaudinot - Scott Petersen/MMAWeekly
Life after The Ultimate Fighter started off pretty rough for Louis Gaudinot, who was stopped by Johnny Bedford in his UFC debut.
Thankfully, the UFC added the flyweight division, and Gaudinot can once again compete at his natural weight.
He made his UFC flyweight debut in May at UFC on FOX 3, where he submitted John Lineker in a bout that earned "Fight of the Night" honors.
At UFC on Fuel 6, he is scheduled to face former Shooto champ Yasuhiro Urushitani.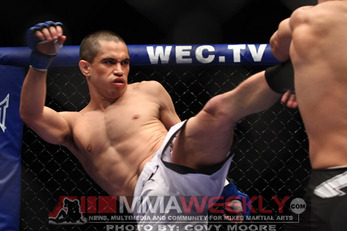 Chris Cariaso - Covy Moore/MMAWeekly
Chris Cariaso is certainly one of the more proven flyweights in the UFC.
Before dropping to flyweight, he was already picking up on a wealth of experience in bantamweight bouts against Renan Barao, Michael McDonald and Takeya Mizugaki.
It may sound cliché, but the sky really is the limit for Cariaso, who has won his last three UFC fights.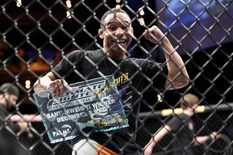 John Dodson - MMAFighting
In the budding UFC flyweight division, John Dodson may have the most noticeable face.
Fans became acquainted with the former bantamweight during his stint on Season 14 of The Ultimate Fighter.
Since winning the show, Dodson has won back-to-back fights in the UFC.
He defeated Tim Elliott in his first flyweight bout in the UFC in May.
At UFC on FX 5, he is slated for a showdown with former Shooto South American champion Jussier da Silva.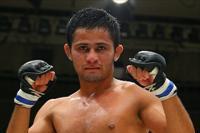 Jussier da Silva - Sherdog.com
With the flyweight division finally active, it was only a matter of time before the UFC signed former Shooto South American champion Jussier da Silva.
Riding a five-fight win streak, da Silva hopes to shake up the division early.
He'll have an opportunity to knock off The Ultimate Fighter Season 14 winner John Dodson in his UFC debut in October.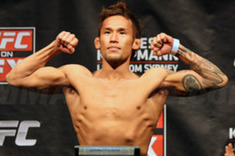 Yasuhiro Urushitani - MMAJunkie
Yasuhiro Urushitani ran up against a brick wall in Joseph Benavidez in his UFC debut.
Benavidez dominated the former Shooto bantamweight champ in every facet en route to a second-round TKO stoppage.
While Shooto is highly respected, things are quite different in the UFC.
Urushitani will be forced to face the best fighters in the world at 125 pounds on a consistent basis.
Is he up to the task?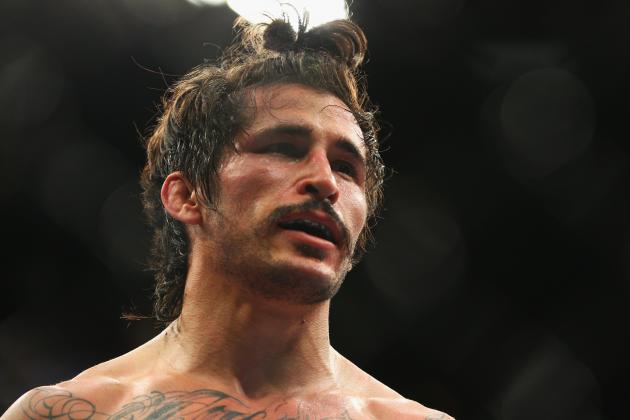 Mark Kolbe/Getty Images

If anyone knows what Joseph Benavidez is feeling, it would have to be Ian McCall, who is also coming off a decision loss to Demetrious Johnson.
After their first bout was ruled a draw, Johnson defeated McCall in June and earned the opportunity to compete against Benavidez for the UFC flyweight title.
The first bout stings the most for "Uncle Creepy" fans, seeing as it really could've gone either way.
McCall was scheduled to face John Moraga at UFC on FOX 4, but an injury in training forced him to withdraw from the bout.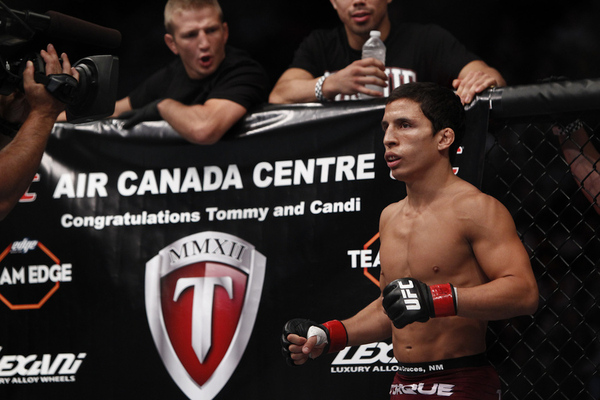 Joseph Benavidez - MMAFighting
After defeating Yasuhiro Urushitani, Joseph Benavidez suffered a heartbreaking split-decision loss to Demetrious Johnson at UFC 152.
Every loss is tough, but this loss cuts deep for Benavidez, who missed out on an opportunity to become the UFC's first ever flyweight champion.
Despite maintaining an incredible track record, Benavidez is 0-2 in major title bouts.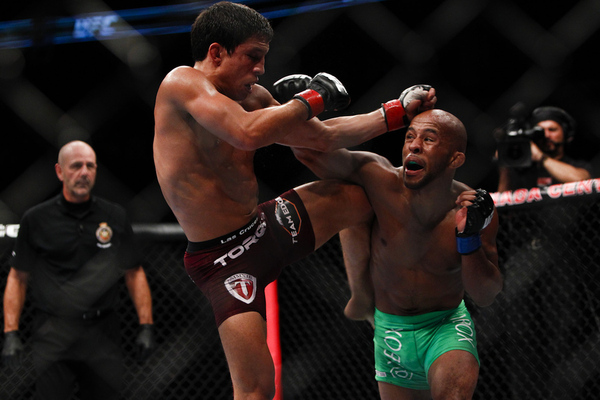 Demetrious Johnson - MMAFighting
Demetrious "Mighty Mouse" Johnson will forever be known as the first ever UFC flyweight champion.
He cemented himself in MMA history at UFC 152 with a split-decision victory over Joseph Benavidez.
It's going to be tough to find anyone who can deal with Johnson's otherworldly combination of speed and timing.
With the UFC's flyweight division still in its infant stage, who will emerge as the first contender?