Brett Anderson may just be one player on the Oakland Athletics roster, but his recent injury will prove to be the straw that breaks the camel's back. In this case, that camel is Oakland's playoff hopes.
Anderson left his Sept. 19 start with a side oblique strain. The next day, it was reported that the starting pitcher—a key cog in the rotation—will miss the rest of the regular season.
Still, he's hopeful for his teammates.
According to Jane Lee of MLB.com, Anderson told reporters:
It's an unfortunate situation. But this team has handled adversity all year and have been able to overcome it and played well. Hopefully we can continue to do it. Guys have been contributing tremendously with guys being gone.
That may be true, but those injuries came at times that allowed ground to be made up and fill-ins to take on more important roles temporarily.
Deep into September with only a few weeks left, there's little ground left. The sidewalk is ending soon. Furthermore, "temporary" now changes from a couple of starts midseason to starting for the rest of the season with the playoffs on the line.
The Anderson injury is going to hurt—badly.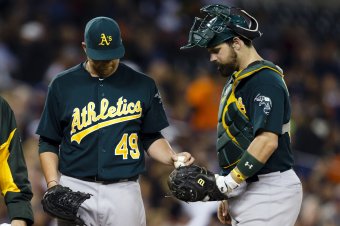 Rick Osentoski-US PRESSWIRE
Let's take a look at Anderson's injury during the majority of the season versus his season-ending injury to highlight the deeper impact this more recent disabled-list stint has.
Injury No. 1—Tommy John
On June 5, 2011, Anderson made his final appearance of the season. Soon after, he was lost for the year (and more than half of 2012) due to Tommy John surgery.
During this time, the A's traded Trevor Cahill and Gio Gonzalez. Dallas Braden was also lost for 2011 and 2012.
Entering this season, there were zero expectations for the A's.
Yet, with a rag-tag bunch, the pitching staff dazzled and outperformed expectations.
Brandon McCarthy was continuing an epic rebound. Bartolo Colon temporarily stopped time (though now it's clear why). Tommy Milone and Jarrod Parker pitched as if they were 10-year veterans of the game.
The back end was a mess, but the other four were so great, it was easy to take it on the nose once every fifth game knowing there was more than a fighting chance the next four games.
How devastating is Brett Anderson's injury?
Eventually, A.J. Griffin arrived to assuage the hole.
Surprisingly, the A's were fine without Anderson.
His return came at a crucial time; each game grew more important, and the season began drawing to a close. The A's were nine games above .500 but still needed a boost.
Anderson would be the lift.
When he re-entered the starting five, he joined a rotation already doing well for itself.
Injury No. 2—Oblique Strain
Before that fateful Sept. 19 day, Brett Anderson was 4-1 with a 1.93 ERA. He fit right into the mold of young, dominating A's pitchers.
Then he went down.
The last time he was injured was midseason 2011. The A's weren't close to playoffs. This time, they're in the thick of a hunt.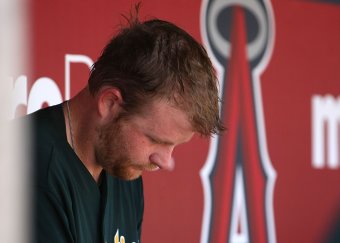 Victor Decolongon/Getty Images
The last time he returned, the timing was perfect—just over one month of baseball left to hold off the wild-card competition. Next time he returns, everyone will have the same record with 162 games to go.
During his first stint on the DL, the A's tried Graham Godfrey and Tyson Ross. It didn't work out.
Travis Blackley did an admirable job until Griffin blossomed. Even Dan Straily was efficient. While Anderson sat out the first two-thirds of the season, McCarthy and Colon led the charge.
Colon's gone (suspended); McCarthy's out (injury).
Oakland had the flexibility to try a couple of different people. This time around, it isn't a situation in which the A's can afford to get shellacked every fifth game. They need to win them all.
When Colon got suspended, Oakland dealt with it. When McCarthy went down, the team still persevered. Unfortunately, Anderson's injury is just too much to overcome.
It's the pitching that has the A's in this place.
The offense has been magical, not to mention it's finally hitting for power (something the A's haven't done in quite a while). But a game-ending, walk-off home run is only effective when the pitching keeps the team in the ballgame.
Anderson is out, and now Blackley is forced to move out of the bullpen once again. He's better in the pen, and there's one less effective arm to pitch short-term in case he falters.
Not to mention, Straily starts no matter what.
A rotation consisting of Parker, Milone, Griffin, Straily and Blackley is certainly nothing to scoff at. The first four are going to be studs (shoot, they already are).
But now—so close to the postseason—veteran leadership is a must. And there's none. Not in the starting five. Down the stretch against teams like the New York Yankees, Los Angeles Angels and Texas Rangers is much different, more important and more unnerving than simply pitching against sub-.500 teams (see, July).
Anderson's injury came at the worst time possible. It adds another name to the growing list of disabled. It places a reliever who is more effective out of the pen into the rotation.
As if the schedule wasn't hard enough, the A's will have to do it with a rotation whose average age is 24.8 (and that's with 29-year-old Blackley).
The loss of one starting pitcher is easy to overcome. A second is still doable.
A third—to one of the more effective guys—makes one thing very clear: The baseball gods hate the Oakland Athletics.
If a postseason berth before was improbable and amazing, then doing so in the face of recent conditions becomes all the more impressive.