Alabama Football Recruiting: Ranking the Top 10 Commitments for the Crimson Tide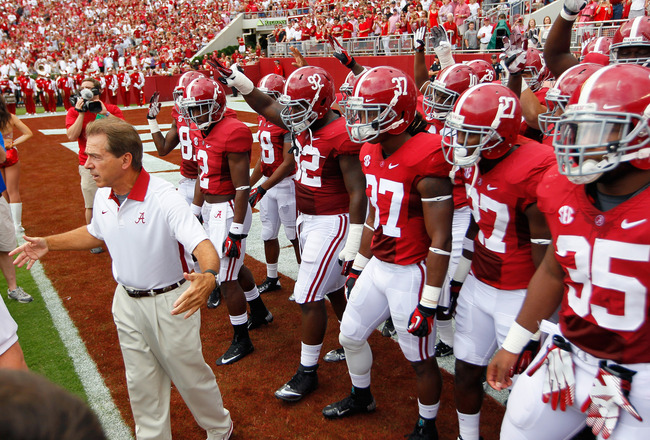 Kevin C. Cox/Getty Images
Under the direction of head coach Nick Saban, the Alabama Crimson Tide have ascended to being one of the premier programs in college football.
Aside from fantastic coaching, one of the reasons for 'Bama's success is the program's outstanding recruiting. For the 2013 recruiting class, the Crimson Tide are likely to finish inside the top five of the rankings.
With a plethora of talent headed to Tuscaloosa, we figured it would be neat to rank the top 10 commitments Alabama has right now.
These are the top 10 players that are committed to Alabama for 2013.
10. Grant Hill, OL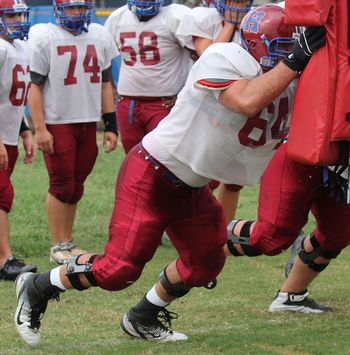 247Sports.com
Hill plays tackle right now, but I like him to play guard for the Crimson Tide. At 6'5" and 320 pounds, he has excellent size and really is a nasty run-blocker.
Hill won't shock anyone with big-time snap quickness, but he can latch on to defenders, sustain his blocks well and finish plays. He flashes some second-level production as a blocker and really fits Alabama's power-run offense well.
He is at his best in a phone booth as a pass-blocker and has a powerful punch to stymie rushers in his set.
9. Tyren Jones, RB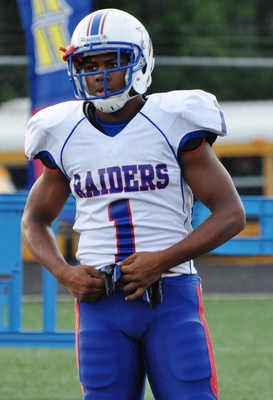 247Sports.com
Jones, from Georgia, is a 5'8", 190-pound running back with a thick frame and good power. He runs tough and strong inside, and can attack defenders with power to break tackles.
He shows great instincts and has very explosive burst through run alleys. Jones has a powerful, darting running style with good lateral quickness to slide to holes.
He has very strong legs and really reminds me a lot of Mark Ingram.
8. ArDarius Stewart, WR
247Sports.com
Stewart plays a lot of quarterback for his high school team, but the 6'1", 185-pounder will be a receiver in Tuscaloosa. He is excellent with the football and is one of the top offensive playmakers in the class.
He is a good athlete with great build-up speed. His body is solidly built, and I notice that Stewart runs with deceptive power for a receiver after the catch.
Stewart will need some work and refinement to reach his potential as a receiver, but he should be a factor for Alabama's offense in time.
7. Josh McNeil, TE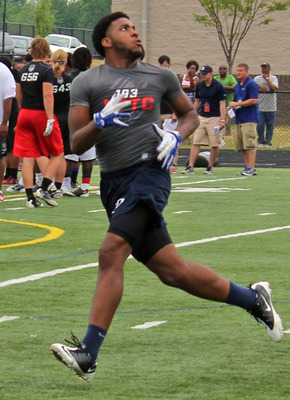 247Sports.com
McNeil is from North Carolina and has a chance to be a prime-time tight end. He stands 6'5" and weighs close to 230 pounds while possessing great speed, strength and athleticism.
The tight end shows great release quickness, is speedy in all of his routes and plays with sound awareness. He understands where to find coverage voids versus zone and when to use quickness to win versus man.
McNeil has a large strike zone and can make an array of catches. He also has good strength and should become a complete, well-rounded tight end at Alabama.
6. Maurice Smith, CB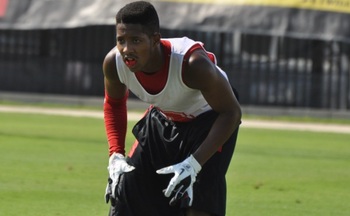 247Sports.com
Smith is a big corner at just about 6'0" tall and close to 180 pounds. He has excellent length in his frame, and the Texas native uses it effectively.
He can press and reroute well at the line of scrimmage to match up with big wide receivers. Smith also plays with great instincts and has good short-area quickness to close down on the ball.
Aware and smart in zone coverage, Smith can play off the line and transition quickly to balls underneath him.
He will fit the Alabama secondary almost perfectly.
5. Altee Tenpenny, RB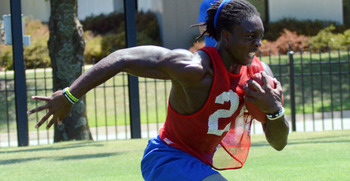 247Sports.com
Tenpenny is from Arkansas and one heck of a running back. He stand close to 6'0" and weighs 212 pounds. With the potential to be a bell-cow back, Tenpenny also has great speed and quickness.
He can elude defenders well and has big-play capabilities. Tenpenny's strength is also improving, and he can run with some good pop behind his pads.
His leg strength will be one of his main assets one day. Tenpenny should be able to push piles and break tackles as an upperclassman at Alabama.
4. Jonathan Allen, DE/OLB
247Sports.com
Allen is a pure pass-rusher from Virginia that is going to let Kirby Smart's staff coach him up. He is at 6'3" and 225 pounds right now and will get bigger in time.
With a quick first step, Allen has good length to set the edge vs. the run. He has the quickness to shed blocks to free himself up and go pursue the football to make tackles.
As a pass-rusher, Allen can use to his length to stay clean from massive blockers while converting speed to power. He can bend well on the edges and has a good burst to finish.
3. DeMarcus Walker, DE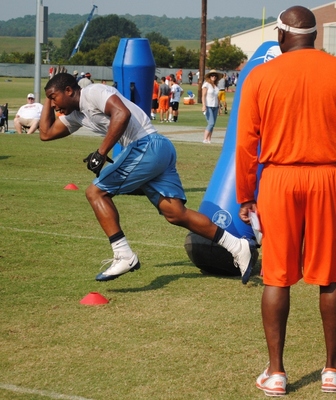 247Sports.com
Walker fits Alabama's base 30-front defense very well. The Florida defender is 6'4" and 280 pounds and has good physical tools.
He can surge off the ball at the snap, play strong and stout at the point of attack, and react well to defend the run. If you need him to get through gaps, then all you have to do is ask, because he's capable of that too.
Walker has great potential to be a pass-rusher, but he is raw in his technique. Once he gets coached up, he likely will be a cornerstone defensive player for the Tide.
2. Cooper Bateman, QB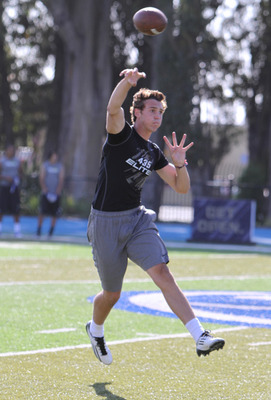 247Sports.com
Bateman is from Utah and will take some time getting accustomed to the speed of the SEC game.
Once he does, he has amazing arm talent to be a top-flight starting QB.
He's 6'3" and 205 pounds, and the football explodes out of his hand. Bateman can attack all three levels of a defense with ease and also throws a very accurate ball.
He easily has the most arm talent of any QB Alabama has signed in the Nick Saban era and could be the QB of the future for the Crimson Tide.
1. O.J. Howard, TE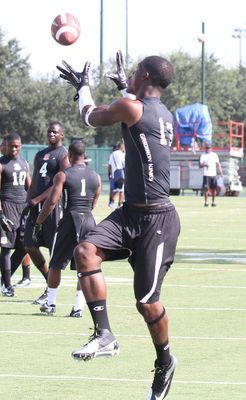 247Sports.com
Howard is one of the best pure athletic marvels in the entire country. He's 6'5" and 225 pounds and can do just about anything possible athletically.
Tight end is his likely position, and I think he can be a joker type at that spot. Aside from being at the traditional in-line spot, Howard can be flexed out like a wide receiver, deployed in the slot and aligned like a fullback to exploit matchup advantages.
He has great release quickness, speed and terrific ball skills. His strength is solid, and he is a willing blocker, but Howard's impact is going to be most felt in the passing game.
Edwin Weathersby has worked in scouting/player-personnel departments for three professional football teams, including the New York Giants, Cleveland Browns and the Las Vegas Gladiators of the Arena League. He spent a year evaluating prep prospects and writing specific recruiting and scouting articles for Student Sports Football (now ESPN Rise-HS). A syndicated scout and writer, he's also contributed to WeAreSC.com; GatorBait.net; and Diamonds in the Rough Inc., a College Football and NFL Draft magazine.
Keep Reading

Alabama Crimson Tide Football: Like this team?