Chicago Bears: 5 Things We Learned from Sunday's Win vs. Rams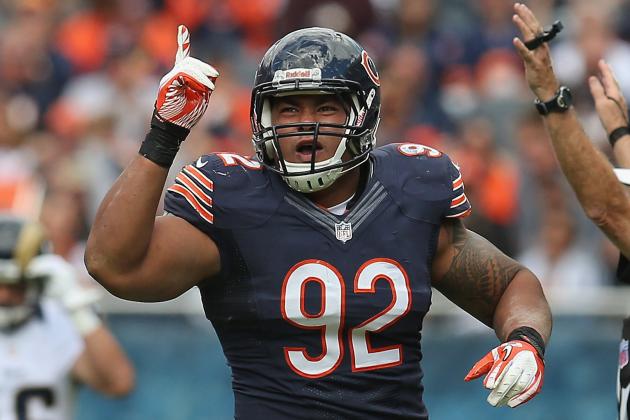 Jonathan Daniel/Getty Images

The Chicago Bears were in need of redemption Sunday after an embarrassing loss to the Packers on the road last Thursday on national television. Against the Rams this week, they showed they can still win games, no matter how they do it.
We saw a mixed product out of the Chicago Bears on Sunday, and when the offense was struggling to get going, the defense stepped up in a big way to help the Bears fight their way to a 23-6 home win over the St. Louis Rams.
The team built up some confidence, not only to share a piece of first place in the NFC North through three weeks, but also to have some momentum for when they travel to Dallas next Monday to take on the Cowboys on Monday Night Football.
Another week is in the books for the Bears, who are now 2-1 on the season, and with another game over and done with, that means we learned a few things about the Bears along the way.
Begin Slideshow

»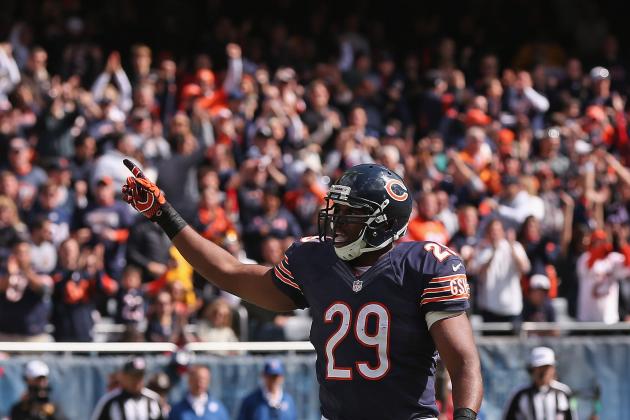 Jonathan Daniel/Getty Images

When the Bears went out and signed Michael Bush this past offseason, it was clear that the Bears wanted, and needed, some depth at running back. By signing Bush, the Bears had two legitimate starters in the backfield and knew that if something were to happen to Forte, they would be just fine with Bush in the backfield.
On Sunday, Michael Bush rose to the occasion.
Bush had 55 yards on 18 carries and also scored the team's only offensive touchdown, a touchdown that kept the Bears alive until they managed to break away in the fourth quarter.
Would it be nice to have both Bush and Forte back in the backfield, so that the team can get their two headed running game back? Absolutely. But on Sunday, Bush showed everyone that he can still be a legitimate starter in the NFL and made his case to get more carries in Chicago.
Forte can take his time resting and getting healed, so he comes back 100 percent healthy and ready to go. The team is in good hands while he is gone.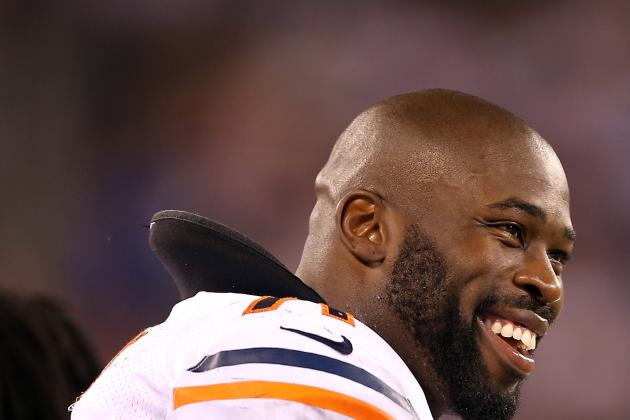 Elsa/Getty Images

The Chicago Bears have always been known for their defense, and this year's team is determined to beat what they did last year.
Last season, the Bears' defense could be described as mediocre at best. It finished ranked 17th overall, allowing 350.4 yards and 21.3 points per game. This season looks to be a complete turnaround from that.
The players from Chicago's defense continually step up when it's needed, no matter who it is. Sunday, the Bears had six sacks and two interceptions, one of which was returned for a touchdown and really sealed the game for them. The Bears also held St. Louis to just 160 yards the entire game Sunday, and the Rams were just 3-13 on third down, and also 0-1 on fourth down.
Yes, the offense does need to get going and start putting up some serious points. But until then, Julius Peppers, Brian Urlacher, Tim Jennings, and the rest of the dominating Chicago defense is back and can help keep the wins coming.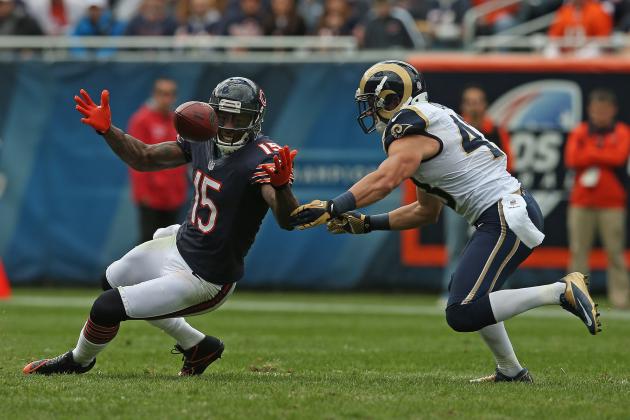 Jonathan Daniel/Getty Images

Jay Cutler didn't look elite on Sunday, but he did enough to get his team the win. The offense of the Chicago Bears was supposed to be one of the top in the NFL coming into the season, with offseason acquisitions such as Brandon Marshall, Jason Campbell, and Michael Bush, and also with the drafting of Alshon Jeffery.
The offense, while slow to get going at some points of the game on Sunday, did get the job done, and showed signs of improvement after the sack- and turnover-filled game against Green Bay last Thursday.
Did the Bears look like one of the top offenses in the NFL against St. Louis? No. However, they did look solid.
Cutler went 17-for-31 and threw for 183 yards on Sunday, while Michael Bush gained 55 yards and a touchdown on the ground, and Khalil Bell, who was just brought in this past week, picked up another 20 yards rushing.
Brandon Marshall had five receptions for 71 yards, and Alshon Jeffery also had five receptions for 45 yards. While those numbers may not be elite, they are enough to win for now.
Keep in mind that the Bears are implementing a new offensive system, with a new coordinator and new quarterbacks coach. These things may take some time to get used to. It's not the end of the world if they have a few bumps along the way, as long as they figure it out when they need to and get the job done for a win.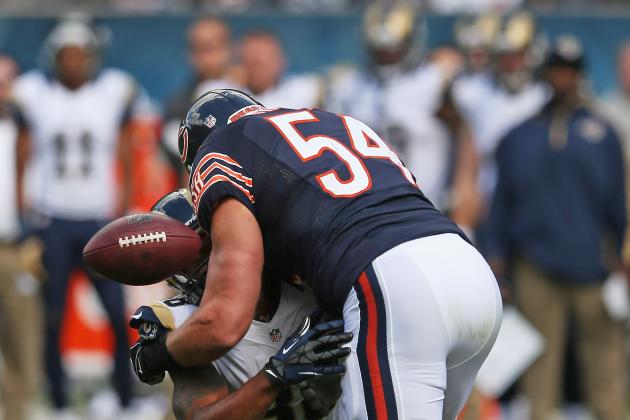 Jonathan Daniel/Getty Images

All of those stories and rumors about the Chicago Bears defense being too old to compete or losing a step can finally be put to rest.
Last week, Chicago did not have a terrible game against reigning NFL MVP Aaron Rodgers and the Green Bay Packers. This week, the Bears looked excellent.
The Bears have always been a team that is focused on building a solid defensive foundation and winning off of that. In 2006, the Bears made it all the way to the Super Bowl, not because of a flashy high-powered offense, but because of a dirty, nasty, mean defense, the kind that makes quarterbacks have nightmares and offensive coordinators lose nights of sleep over trying to figure out how to defeat them.
It's no secret that Lovie Smith is defensive-minded, which is the style of football Chicago always has, and this season is no exception.
While the offense got all the news in the preseason, with all of the big-name free agents and trades coming in, the defense quietly built themselves up and put themselves in a position to return to dominance, which they have.
While the offense may have some new weapons, and there may be some more points being put up than in years past, it's clear that the thing that's going to win games for the Bears this season is the thing that has always won them games: defense.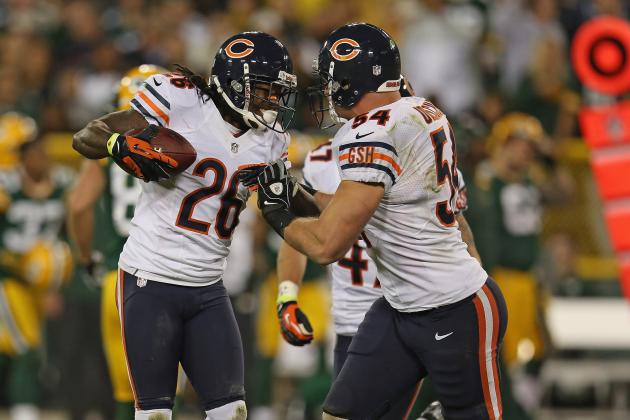 Jonathan Daniel/Getty Images

Tim Jennings continued his dominating play this Sunday against the Rams, and he showed everyone that those first few games were not a fluke.
Jennings has more interceptions than games played this season, after making another interception today to raise his season total to four through three games. Jennings also had a hand on helping the Bears seal the game, by tipping a pass in the air and helping the ball get to Major Wright, who returned the ball 45 yards the other way for a touchdown to give the Bears a sizable lead.
Without Jennings going up and tipping that ball, the interception never would have been made, and who knows what could have happened the rest of the game.
Jennings, on Sunday, showed that you should never judge a book by its cover. He continued proving doubters wrong despite standing only 5'8" and having to play against wide receivers who are big like his teammate Brandon Marshall, who currently stands at 6'4" and weighs 230 pounds.
Jennings continues to show he is an elite player in this league and can be counted on to come up with big plays when the Bears need it most.