Lions vs Titans: Detroit's Biggest Winners & Losers from NFL Week 3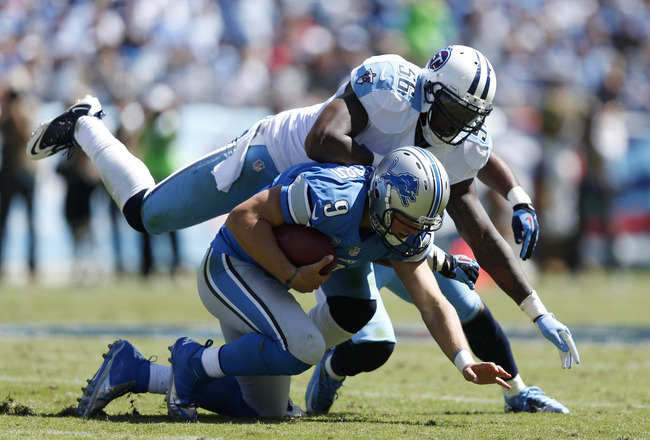 Joe Robbins/Getty Images
Definition of wasted effort: Trying to pre-write a game recap for this game in the fourth quarter.
Did you think I was going to say the Lions' miracle comeback attempt, in which they scored two touchdowns in about a minute of game time, only to lose on what is now being called a play that should never have happened?
Well, it didn't result in a win, but I would hardly call it wasted effort. The Lions made an incredible, if lucky, effort to even make this game go as long as it did.
But then, that's sort of missing the point, isn't it? Really, this game should not have come down to this. The Lions were, on paper, the better football team, and were, in reality, mostly dominated on both sides of the ball.
The Titans scored almost twice as many points in this game as they did in their first two games combined. While you can certainly say Jake Locker grew up a little in this game, it's yet another scathing indictment of the Lions defense, which seemed incapable of getting a stop with anything other than a fluky turnover.
But enough of that. I'm sure we're all emotionally drained (and by the way, the Vikings beat the 49ers, so there's that, too), so let's all take a look at the winners and losers from this one, and hope our hearts don't have to go through too many more of these stress tests.
Winner: Nate Burleson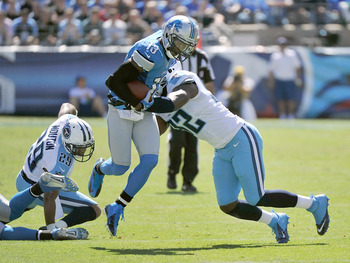 Frederick Breedon/Getty Images
I spent most of last week talking about the need for the Lions to get a secondary wide receiver going to free up Calvin Johnson for some targets.
That hadn't happened at halftime, when the Lions' only scores were a trio of field goals, and Johnson had six receiving yards.
But by the end of the game, Nate Burleson had 10 receptions for 69 yards, Titus Young added six for 75 yards (most of that on this one), and because of that, Johnson pulled down 10 catches for 164 yards. All three caught a touchdown.
Burleson stepped up and became a productive threat out there and because of that, the entire passing game opened up in the second half.
That's what the Lions needed, but maybe next week they could get that going before going down by double digits.
Loser: Brandon Pettigrew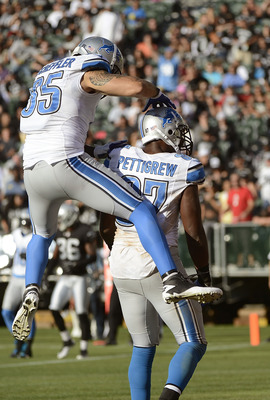 Thearon W. Henderson/Getty Images
The stats will tell you that Pettigrew had eight catches for 61 yards, and good for him.
But the story for Pettigrew is a collection of key drops throughout the game and a key fumble that ultimately should have clinched the game.
And when I say "fumble," I mean, a cornerback ripped the ball away from him as easily as if it were a handoff in the backfield.
It was a key play that turned a comeback drive into a two-possession deficit with under two minutes. Just because the Lions pulled a miracle to send the game into overtime doesn't make Pettigrew's mistake any less egregious.
Winner: Shaun Hill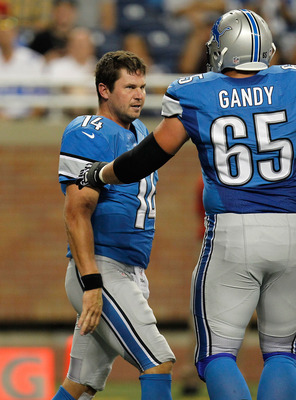 Gregory Shamus/Getty Images
Let's assume for a moment that Matthew Stafford's "strained leg muscle" is just some sort of minor pull or cramp, and that he'll be fine for next week.
That said, is there anybody who has any doubt in Shaun Hill as an elite-tier backup (if there is such a thing) at this point?
I mean, sure. Chock the Hail Mary up as luck. That's fine. But Hill also led a touchdown drive in about 40 seconds just to get the Lions to that point, and then he led what very well could have been the game-winning or tying drive in overtime.
In case you had any doubt, Hill finished the game with a perfect passer rating of 158.3. That usually gets it done.
But seriously, Stafford needs to be okay, regardless. We'll wait for news.
Loser: Augh, Special Teams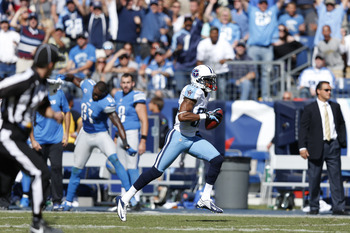 Joe Robbins/Getty Images
Okay, so the Titans pulled a re-enactment of the Music City Miracle.
Good for them, and it's hard to be mad at the Lions for not being able to recover from that trickery.
But it's very easy to be mad at them for giving up the game-tying touchdown on the ensuing kickoff after posting the go-ahead touchdown.
It would seem the Lions' special teams, like so many other units, are a Jekyll/Hyde-type deal. They looked fine last week, but got torched against the Titans.
And if that wasn't enough, punter Ben Graham came up lame with an injury, as well, leaving Jason Hanson to handle punting duties for most of the game (however admirably well).
Just an all-around bad day on this front. Every gaffe by the Lions' special teams ended up giving the Titans the lead.
Winner: Mikel Leshoure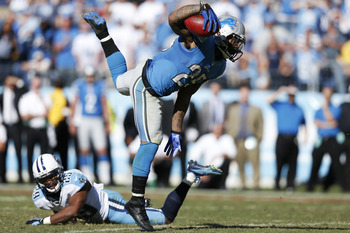 Joe Robbins/Getty Images
If there's a bright spot to this game above all others, it's that Mikel Leshoure looks to be exactly who he was expected to be.
Leshoure put 100 yards and a touchdown on the board for the Lions on 26 carries. That's just about four yards per carry, which the Lions will gladly take every time out.
But more importantly, Leshoure passed the eye test. He ran for tough yardage, broke tackles, and fell forward on just about every play. In short, he's exactly the running back the Lions have needed for years.
Of course, Leshoure's success in his first NFL game comes with a downside, as well...
Loser: Kevin Smith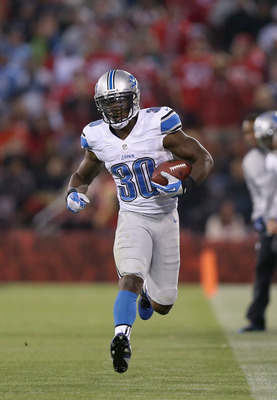 Ezra Shaw/Getty Images
As my fantasy team will attest, Kevin Smith not only got replaced by Leshoure as the Lions' starting running back, he didn't actually see the field at all.
When the Lions needed to spell Leshoure, they went with Joique Bell. Smith wasn't even an afterthought.
I'm not sure what exactly Smith did to fall out of favor so quickly in the Lions locker room, but it looks like the running back tandem for now is going to be Leshoure/Bell, not Leshoure/Smith as previously thought.
If Jahvid Best is ever going to play another game of football, one wonders what a Best/Leshoure tandem would do to defenses. But that's a discussion for another time. The discussion for now is, once again, whether or not Smith has a future in the NFL.
Right now, his chances look bleak.
Keep Reading

Detroit Lions: Like this team?