Texas A&M Football: Winners and Losers from Week 4 Game vs. South Carolina State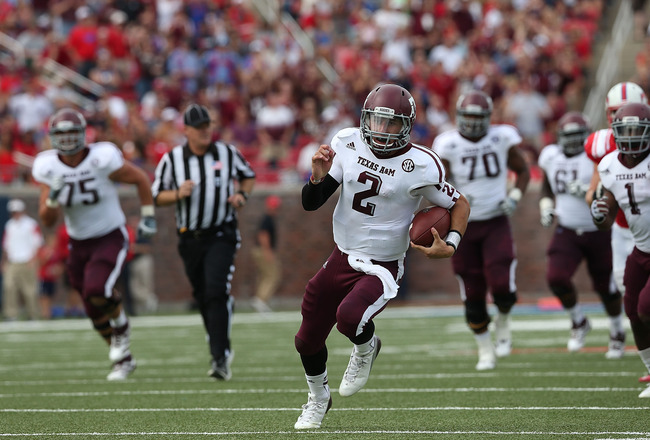 Ronald Martinez/Getty Images
The Texas A&M football team beat the South Carolina State Bulldogs 70-14 on Saturday at Kyle Field. It was your basic blowout of an FCS team that featured a record-breaking performance from punt returner Dustin Harris.
The win improved the Aggies' record to 2-1 on the season. Since the Aggies play FCS opponents SCSU and Sam Houston State in 2012, they will need to win seven games to qualify for a bowl game.
The Ags are still going through a learning process with an entire staff of new coaches. Every game, the staff learns more about the players on the roster. This game was no different, with several players seizing the opportunity for extended playing time and making big plays.
This is a look at the winners and losers from the SCSU game.
Winner: Johnny Manziel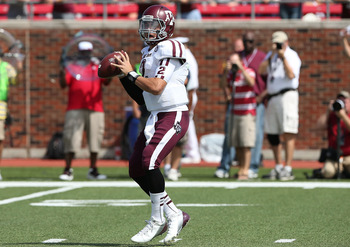 Ronald Martinez/Getty Images
The redshirt freshman quarterback continues to grow into his role as the triggerman of the Aggie offense. Manziel completed 15 of 20 passes for 174 yards and three touchdowns against the Bulldogs.
He also rushed for 78 yards on eight carries and scored two touchdowns.
Manziel has drawn some criticism during the first two games for not going through his progressions in the passing game. Against the Bulldogs, he stayed in the pocket almost to a fault. He passed up opportunities to run the ball in order to go through his reads.
Once he decided to tuck the ball and run, the offense finally got going. When Manziel learns to mesh the offense with his incredible ability to improvise on the fly, he will be one of the best football players in the nation.
Loser: Kliff Kingsbury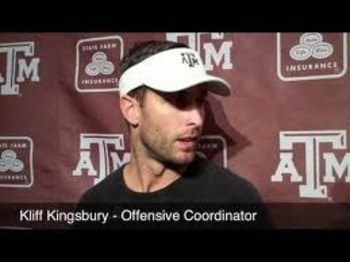 Photo by 247sports.com
When the Aggies hired Kliff Kingsbury as their offensive coordinator, he was characterized as a rising star in the coaching profession. So far, his performance in Aggieland has been underwhelming.
Although they are breaking in a brand new quarterback, the Aggies have yet to achieve the offensive efficiency that Kevin Sumlin's teams at Houston displayed.
The Aggies are not stringing together long drives. When they score, they are scoring on big plays. They have not shown the ability to put together the 10-12 play touchdown drive that defines spread offenses.
It is possible that the coaching staff is still holding a lot back since they have yet to enter Southeastern Conference play in earnest. It is still disappointing to see the staff fail to take advantage of Manziel's ability to throw on the run.
Maybe the SEC games will feature Manziel rolling out and running bootlegs, but we have yet to see that from the Aggie offense yet.
Winner: Ben Malena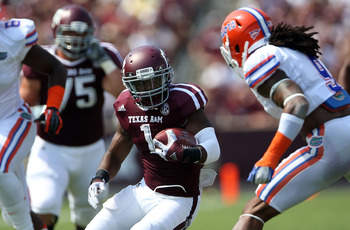 Ronald Martinez/Getty Images
The junior running back continues to prove that he is more than simply a backup college player. He showed breakaway speed on a 50-yard touchdown run in the second quarter.
For the game, Malena averaged a career-high eight yards per carry. He ran the ball 11 times for 88 yards and two touchdowns.
Malena will not be a consistent 100-yard rusher in the SEC. However, he is a back who can be a quality starter and will help you win games.
Loser: Texas A&M Football Team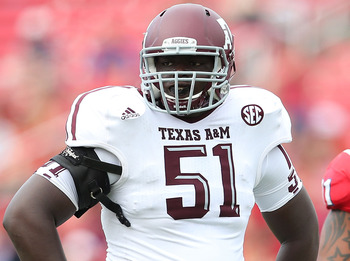 Ronald Martinez/Getty Images
The Texas A&M football team really got nothing out of this game. It meant more experience for the players in their respective schemes, but they kept the play calls basic.
When you bench your starters at the half and have a running clock in the second half, you would be better off having a scrimmage.
The only reason SCSU was on the schedule was because the Aggies needed extra games after they joined the SEC. They risked injury to starters in order to simply fill out a 12-game schedule.
Winner: The Parents of Brice Dolezal
With two blowout victories in a row, true freshman Brice Dolezal has been able to see extensive action at running back.
Dolezal is a walk-on running back from Austin Westlake High School. If you are a walk-on, you are lucky to get on the field for a few snaps in a season.
Dolezal had six carries for 27 yards against SCSU. The fact that he is seeing the field as a true freshman indicates that Sumlin must see something in him that he likes.
Dolezal's parents have to relish seeing their son on the field before a lot of the more highly touted recruits see action.
Loser: Aggie Offensive Line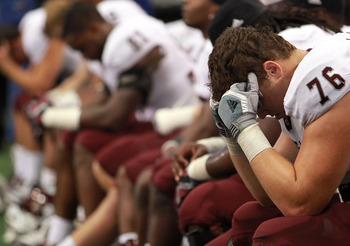 Ronald Martinez/Getty Images
Even against an FCS team, the Aggie offensive line could not consistently run block. The offensive line has been very weak on the interior.
Through three games, the Aggies' best option to run the ball is their quarterback. With four and five wide receivers spreading the field, there are plenty of running lanes for the quarterback to exploit. With Manziel's tremendous speed, the Ags should get plenty of big games on the ground from their quarterback.
The Aggies' offensive guards need to play better football for them to win games in the SEC.
Winner: Uzoma Nwachukwu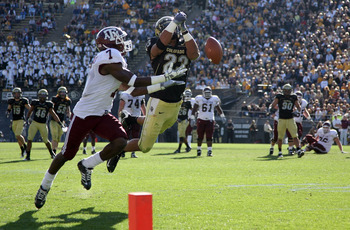 Doug Pensinger/Getty Images
The Aggies' senior wide receiver has done his best impression of Cris Carter in 2012. All Nwachukwu does is catch touchdowns. He had two against the Bulldogs, including a 37-yard catch-and-run.
He had two receptions for two touchdowns against SMU. For the year, Nwachukwu has four receptions for four touchdowns.
Loser: Ryan Swope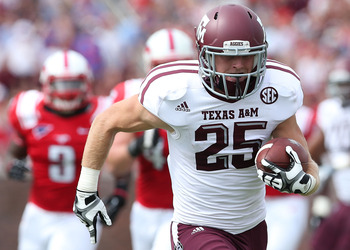 Ronald Martinez/Getty Images
The senior wide receiver from Austin has not found his niche in this offense yet. Against the Bulldogs, he had two receptions for 9 yards.
In 2011, that would have qualified as a bad drive for Swope. Maybe Kingsbury is holding him back, but the Aggie coaches really need to use him on slants and plays down the field.
SEC defenses are going to render him ineffective if the Aggies only throw the ball to him at or near the line of scrimmage.
Winner: Thomas Johnson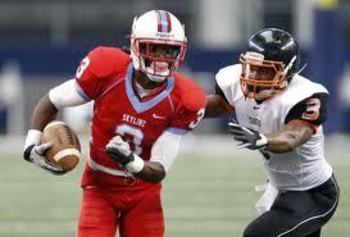 Photo by dallasnews.com
The freshman receiver from Dallas Skyline High School is getting better every week. Against SCSU, he had three receptions for 42 yards. He is dynamic with the ball in his hands.
The game is starting to slow down for him a little bit and he is finding that he can make plays at this level. Expect him to be a difference-maker for the Aggies going forward this season.
SEC defenses will likely concentrate on shutting down Swope and Mike Evans. Johnson should have plenty of opportunities to make plays for the Ags.
Loser: Jameill Showers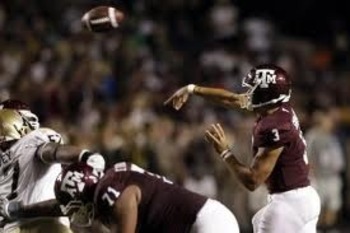 Photo by BCSmonitor.com
The sophomore quarterback struggled against SCSU. He only completed two of 10 passes and threw the team's first interception of the year.
Showers obviously has a great arm, but he was off all night against SCSU. After a strong performance against SMU, Showers could have alleviated a lot of concern about Manziel getting injured with another strong game.
It was not to be, and Showers needs to work on his accuracy some more.
Keep Reading

Texas A&M Football: Like this team?