West Virginia Football: Winners and Losers from Week 3 Win over Maryland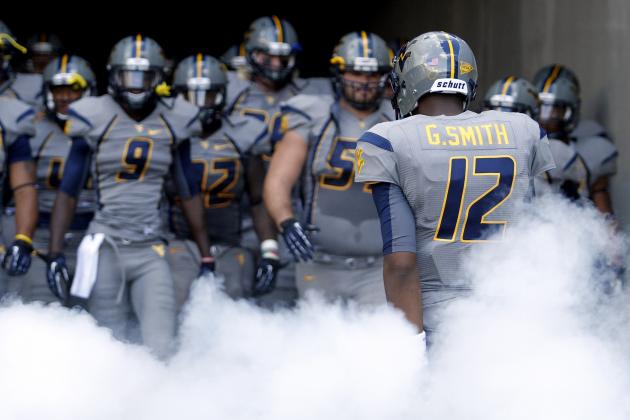 Justin K. Aller/Getty Images

It wasn't pretty, but No. 9 West Virginia held on for a 31-21 win in the rain over rival Maryland on Saturday. The Mountaineers struggled on the ground, while the Terrapins were able to pressure Geno Smith, keeping him out of his rhythm for much of the afternoon.
Meanwhile, Maryland was able to stick with WVU throughout the game, as quarterback Perry Hills found some significant success through the air.
However, thanks to some big plays on both sides of the ball and a dynamite performance by a certain star receiver, West Virginia came out on top.
Here were the winners and losers from WVU's rivalry win over UMD:
Begin Slideshow

»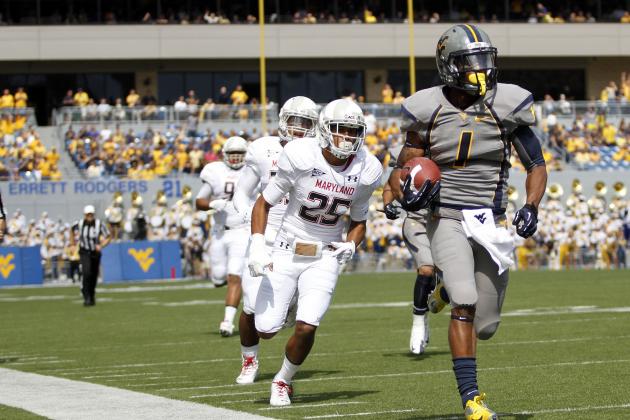 Justin K. Aller/Getty Images

After being bottled up relatively well over the first two games, Tavon Austin finally had a breakout performance against his home-state Maryland Terrapins.
The Baltimore native did it all on Saturday, including making some electric runs after short catches, making would-be tacklers look like fools.
On one touchdown, it seemed like the UMD defense just forgot about the grey-clad No. 1 coming out of the slot, as he was sitting all alone in the end zone.
He ended up with 13 catches for 179 yards and three touchdowns, just edging out Stedman Bailey's Week 3 production for the top performance by a WVU receiver on the season.
It was the second-highest receiving yardage total of his career, behind only his 187-yard performance against LSU a year ago.
Also, it was his fifth game with two or more receiving touchdowns, as he passed Bailey and tied Chris Henry for No. 2 all-time at WVU with 22 touchdown receptions—just one short of Cedric Thomas at No. 1 with 23.
Finally, he's just 139 yards behind David Saunders for the WVU career record for receiving yards.
Regardless, it looks like by the end of the season Austin and Bailey will be the two most prolific receivers in school history.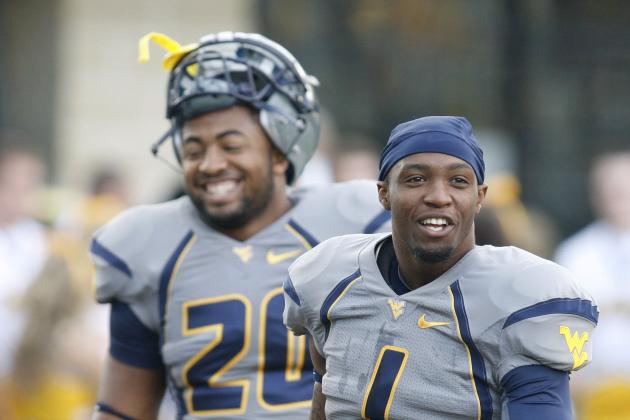 Charles LeClaire-US PRESSWIRE

Throughout the beginning of Saturday's game, WVU fans and writers were wondering aloud where on earth leading rusher Shawne Alston was.
It turns out that he was held out of action because of a thigh bruise (via Mitch Vingle, WVGazette.com).
Will this hurt him long-term? I seriously doubt it.
Therefore, we'll call him a "loser" for this game only. The Mountaineer run game struggled in his absence, so it could even help him in the long run.
However, Andrew Buie did put forth another solid game. He wasn't great running the ball, but was once again very effective catching the ball out of the backfield. I would call Buie a winner himself, but he averaged just 2.4 yards per carry.
Also, last year's leading rusher Dustin Garrison made his 2012 debut, though he was ineffective on his only two carries.
It will be interesting to see how the WVU coaching staff distributes carries to the three backs as the season goes on.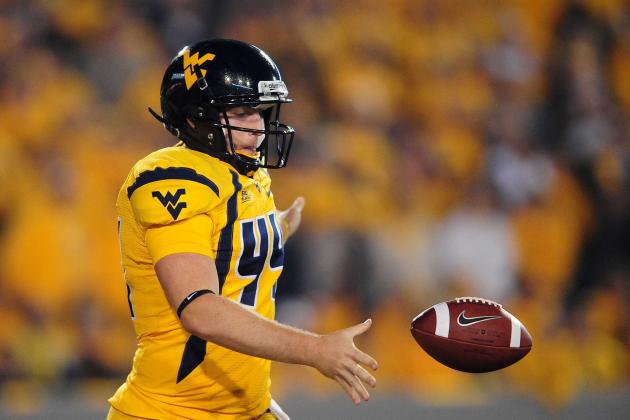 Andrew Weber-US PRESSWIRE

The West Virginia punting game had a very rough beginning to the 2012 season. WVU's only punt against Marshall was blocked and the only punt against James Madison was shanked out of bounds.
However, Corey Smith came through with a great game against Maryland, which was definitely needed given the relative struggles of the WVU offense.
The senior punted seven times at an average of 44.6 yards, including a long of 54.
He also dropped two punts inside the 20-yard line.
A great game and a welcome change from the struggles early in the year from Smith.
Justin K. Aller/Getty Images

West Virginia's sack-less streak ended on Saturday as Geno Smith was downed for two sacks and was hit multiple times.
Smith even came up limping on numerous occasions—something that just can't happen in this offense.
Because of the pressure, he was forced into 13 incompletions, which isn't terrible, but it's still more than the first two games of the season combined.
Meanwhile, WVU averaged just one yard per carry which is absolutely terrible.
Sure, Alston was out, but one yard per touch is just unacceptable.
The offensive line was a relative strength in the first two games, but it was a glaring weakness against Maryland.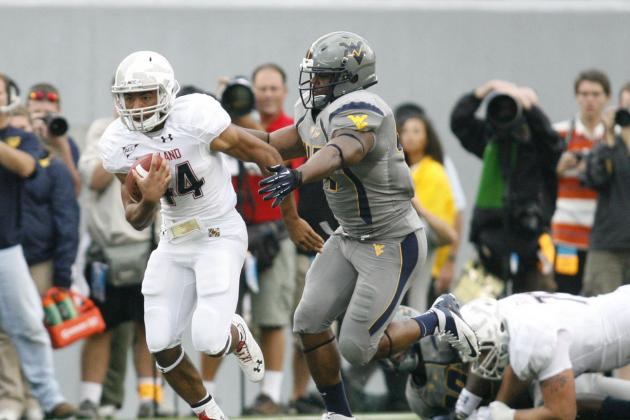 Charles LeClaire-US PRESSWIRE

Doug Rigg had a huge defensive play in the first quarter, which ended up being one of the biggest plays of the game.
Darwin Cook shot through the middle of the Maryland line and tackled Hills before he was even able to deliver a handoff.
Rigg scooped up the fumble and took it back 51 yards for the first touchdown of the game and the fifth-longest fumble recovery in WVU history.
Additionally, he tied Karl Joseph for a team-high seven tackles.
He now has 97 fumble and interception return yards on the year.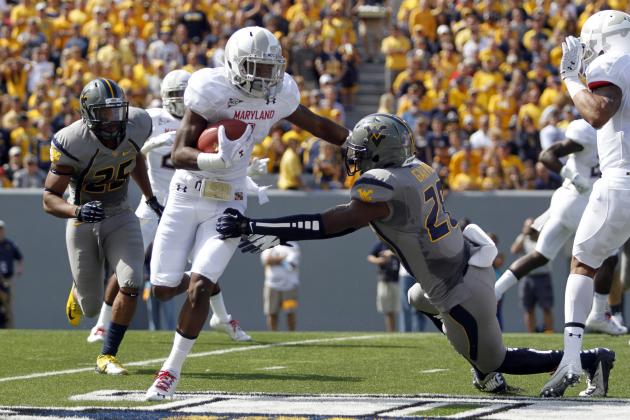 Justin K. Aller/Getty Images

Maryland's electric true freshman Stefon Diggs was a white blur running through the West Virginia defense through much of the afternoon.
He was pretty well contained in the return game, but that certainly wasn't the case in the passing game.
UMD's No. 1 had only three catches but totaled 113 yards, for an unbelievable average of 37.7 yards per reception.
Of those three catches, he took two to the house, one from 42 and the other from 56 yards out.
He was a nightmare for the WVU defense on Saturday, and you can bet he'll be giving college defenses fits for the next few years as well.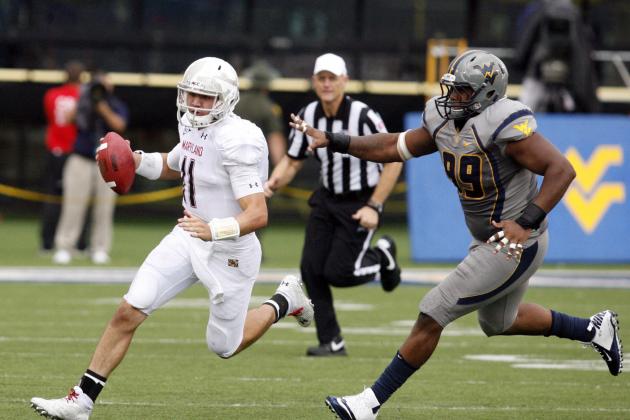 Charles LeClaire-US PRESSWIRE

Seniors Josh Francis and Jorge Wright both had great games for West Virginia.
The two combined for 10 tackles and three sacks and harassed Hills and the UMD running backs all game long.
Francis had six tackles and a team-high two sacks, as he is putting together an excellent senior campaign.
Wright, meanwhile, was named defensive player of the week by head coach Dana Holgorsen.
Hills was able to find some success through the air, but that can't be pinned on the WVU pass rush.
The Mountaineers put some great pressure on Hills, which forced him to roll out and find his backs and receivers on short routes and screens, which was the main source of the Terps' offensive success.
However, you can't blame the defensive line and linebackers for doing their job.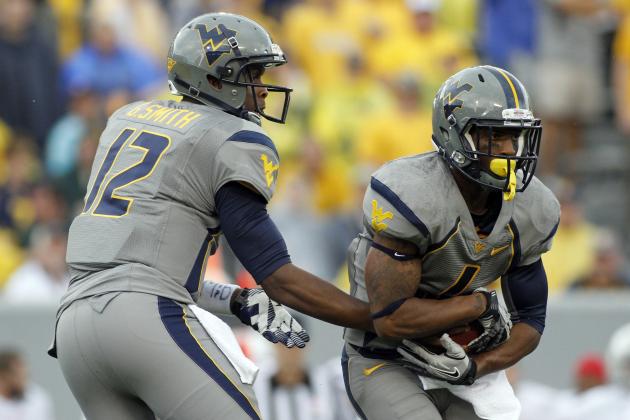 Justin K. Aller/Getty Images

Geno Smith was almost perfect in his first two games.
Against Maryland, he was put under heavy pressure and struggled a bit. However, he still ended up going 30-of-43 for 338 yards and three touchdowns.
Although he was sacked twice and pressured often, he refrained from turning the ball over, as he still hasn't thrown an interception on the year.
Purely based on stats, Smith is a winner.
However, he was hit a lot and was seen limping on numerous occasions, so this game couldn't have been too much fun for him.
Charles LeClaire-US PRESSWIRE

I don't think I've ever seen Dana Holgorsen as angry on the sideline as he was on Saturday while West Virginia struggled against Maryland.
Much of this wrath was taken out on his headset. There's just no way it survived the game.
He also took some of this anger out on Smith and the WVU offensive line, as he was seen chewing them all out on different occasions.
After the game, Holgorsen lauded Austin, but wasn't too happy with the performance of much of the rest of his squad.
"(Tavon Austin's) energy on the sidelines was tremendous and he was the one guy we had offensively who played his best game," Holgorsen said (via John Antonik, WVUSports.com). "I can't say that for the rest of them, though."
However, despite the overall lackluster performance, it isn't time to panic or write WVU off just yet. Very, very few teams are yet to have a game in which they don't struggle.
Not only is Maryland a rival, but Randy Edsall and the Terps are also familiar with WVU as a team. In the long run, this type of adversity should help the Mountaineers.
Is there room for improvement? Certainly. Is it time to panic? No.
"We've got to get better," Holgorsen said after the game. "I don't think we put our best foot forward on all three sides of the ball, but we still found a way to win and that's the sign of a good team."