Ohio State Football: Winners and Losers from the Week 4 Game vs. UAB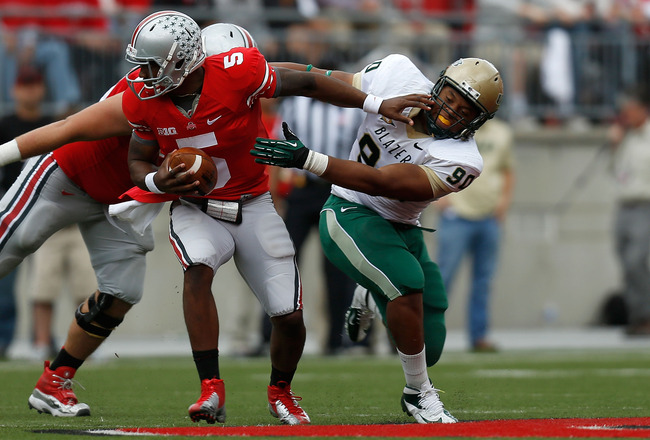 Kirk Irwin/Getty Images
It was ugly at times, but the Ohio State Buckeyes scratched and clawed their way to a 29-15 victory over the UAB Blazers Saturday afternoon.
There wasn't much for Urban Meyer to be happy about despite his team improving to 4-0: "Defense, offense and kicking game. We have to be better in all three phases" (via TheOzone.net).
Let's take a look at the winners and losers from Ohio State's first ever matchup with the UAB Blazers.
Winner: Ohio State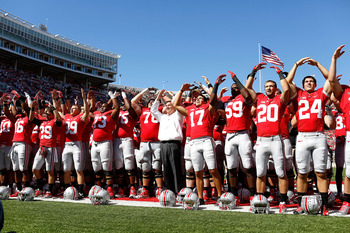 Kirk Irwin/Getty Images
This might seem obvious, but with how poorly Ohio State played yesterday, the Buckeyes were fortunate to get a victory.
Ohio State was outplayed by UAB for much of the afternoon. The Blazers outgained Ohio State 403 yards to 347, and many of the issues Urban Meyer wanted to address from last week's close game against Cal came up on Saturday.
In a game like the one Ohio State played against UAB, the Buckeyes should be happy to leave with a victory.
Loser: Braxton Miller's Heisman Campaign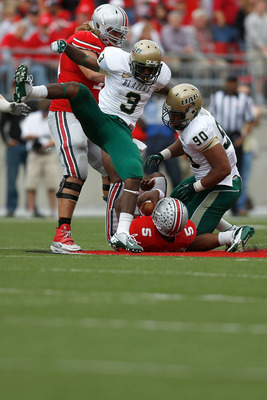 Kirk Irwin/Getty Images
Miller didn't have a terrible game. In fact, he didn't have a single turnover against UAB, but the Heisman candidate didn't play the way you'd expect against one of the worst defenses in the country.
The sophomore quarterback threw for a season-low 143 yards with no touchdowns and also rushed for a season-low 64 yards, although he did score two touchdowns on the ground.
Miller came into the game averaging just under 330 total yards per game, so his performance against the Blazers was a bit of a letdown.
Winner: Ohio State's Offense When the Game Was Close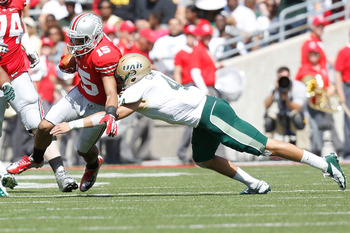 Kirk Irwin/Getty Images
When Ohio State needed points, Braxton Miller and the offense came through.
After sleepwalking through a scoreless first quarter and allowing UAB to build a 9-0 lead, the Buckeyes got things going.
Ohio State had gained just 37 yards in their first three drives of the game, but faced with the nine-point deficit, the Buckeyes closed the half with an offensive flurry. Braxton Miller led consecutive touchdown drives of 75 yards, 63 yards and 32 yards to close the half with a 21-12 lead.
Later in the game, when UAB had pulled within six points of the Buckeyes, Ohio State responded with a 10 play, 71-yard touchdown drive that effectively ended the game.
Loser: Ohio State's Offense the Rest of the Game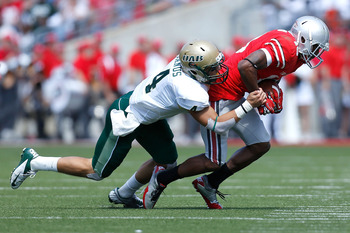 Kirk Irwin/Getty Images
Aside from Ohio State's second-quarter burst and the late touchdown drive, the offense established no rhythm against UAB.
The Blazers came into Columbus with one of the worst defenses in the country, but they didn't look so bad against the Buckeyes. On possessions when Ohio State didn't score a touchdown (seven of 11 drives), the Buckeyes averaged just over 15 yards per drive.
That is not good.
Winner: Jordan Hall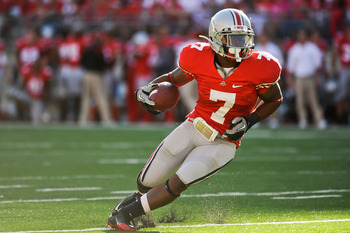 Jamie Sabau/Getty Images
Jordan Hall was one of the bright spots in an inconsistent performance from Ohio State's offense.
The senior running back rushed for 105 yards on 17 carries, and although he didn't break out free for any huge plays (his longest carry went for 14 yards), Hall consistently made positive plays for a struggling offense.
Hall didn't score a touchdown—Meyer went with Ohio State's bigger backs closer to the goal line—but Hall proved that the coaching staff can trust him with a decent workload.
Loser: Ohio State's Tackling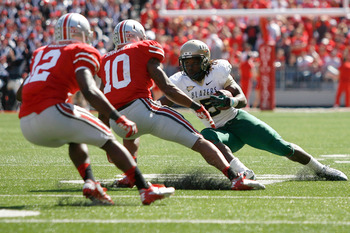 Kirk Irwin/Getty Images
Ohio State's defense is now a legitimate concern after four lackadaisical performances.
One of the biggest causes of Ohio State's recent struggle comes from poor tackling. It has been a trend through four games for the Buckeyes, and against UAB, missed tackles allowed the Dragons to extend plays and drives that should have been snuffed out by a defender simply wrapping up.
Winner: Jonathan Hankins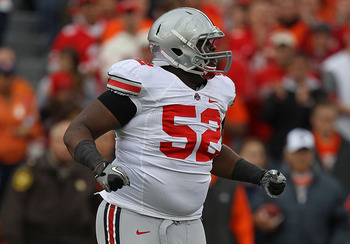 Jonathan Daniel/Getty Images
None of Ohio State's defensive struggles can be blamed on Jonathan Hankins, who would be Ohio State's MVP if not for Braxton Miller.
A week removed from setting a career-high with 10 tackles against Cal, Hankins matched that mark on Saturday against UAB. The junior defensive tackle has been a force, creating consistent pressure on the quarterback while offering great run support all year.
Hankins is currently tied for third on the team in tackles with 25, which is both unusual and amazing for a defensive tackle.
Loser: Ohio State's Pass Defense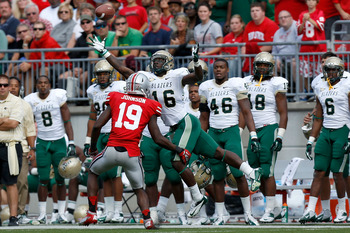 Kirk Irwin/Getty Images
For the fourth consecutive week, Ohio State struggled in pass defense.
Coming into the game, the Buckeyes had given up an average of 283 passing yards to their first three opponents. Ohio State played a little better against UAB, but the Blazers still managed to throw for 259 yards on Saturday.
The Buckeyes were missing two starters in the secondary, but the inconsistency from Ohio State's defensive backfield is a troubling trend.
Keep Reading

Ohio State Football: Like this team?