SEC College Football Rankings: Where Texas A&M Ranks in New Conference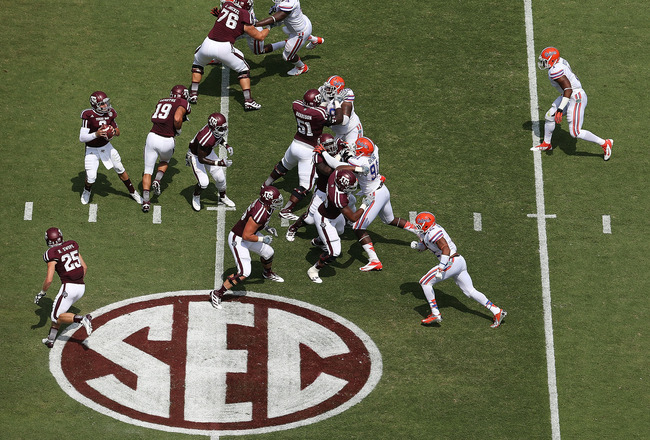 Ronald Martinez/Getty Images
The college football season still seems new, but the rankings are in and we are officially in Week 5. At this point teams have finally had a chance to shake off the rust and show their true colors, and Texas A&M has already surpassed early expectations.
After cruising past overmatched South Carolina State 70-14, the Aggies now enter the heart of their conference schedule, which continues Saturday with SEC West foe Arkansas visiting College Station.
See how the 14 SEC football programs rank against each other so far, and where the Aggies stack up in their new conference.
14. Kentucky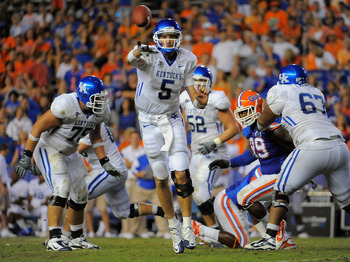 Doug Benc/Getty Images
AP Ranking: Unranked
Record: (1-3, 0-1 SEC)
Wins: Kent State
Losses: #25 Louisville, Western Kentucky, #14 Florida
Kentucky stumbled out of the gate, with their lone win coming against Kent State. Their low point was an overtime loss to Western Kentucky, and they've struggled to stay competitive against ranked opponents.
13. Vanderbilt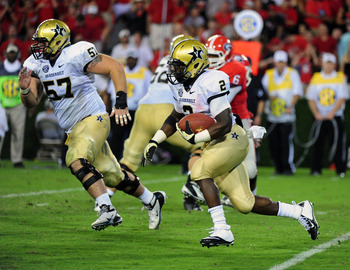 Scott Cunningham/Getty Images
AP Ranking: Unranked
Record: (1-3, 0-2 SEC)
Wins: Presbyterian
Losses: #9 South Carolina, Northwestern, #5 Georgia
Vanderbilt was almost able to play spoiler in their season opening loss to South Carolina, but were then routed 48-3 by Georgia. In another conference, they would likely see more success, but they are still capable of pulling an upset any week.
12. Ole Miss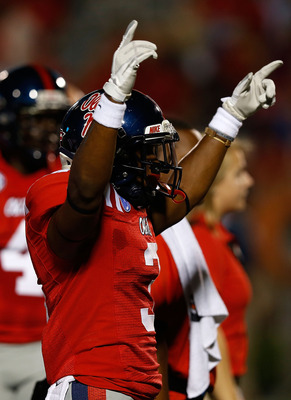 Scott Halleran/Getty Images
AP Ranking: Unranked
Record: (3-1, 0-0 SEC)
Wins: Central Arkansas, UTEP, Tulane
Losses: #14 Texas
Ole Miss has run up the score against weaker opponents, but was also embarrassed 66-31 against Texas. It'll take a stronger effort than that to turn the heads of SEC rivals.
11. Arkansas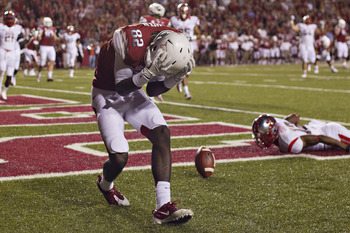 Wesley Hitt/Getty Images
AP Ranking: Unranked
Record: 1-3, 0-1 SEC)
Wins: Jacksonville State
Losses: Louisiana-Monroe, #1 Alabama, Rutgers
Following the dismissal of head coach Bobby Petrino, Arkansas has fallen apart. The Razorbacks entered the season ranked in the top 10, but following their humiliating defeat to Louisiana-Monroe, they were shut out by Alabama and beaten by unranked Rutgers.
10. Missouri
Grant Halverson/Getty Images
AP Ranking: Unranked
Record: (2-2, 0-2 SEC)
Wins: Southeastern Louisiana, Arizona State
Losses: #7 Georgia, #7 South Carolina
Missouri has had a rough introduction to the SEC this season, having their first conference games against top 10 teams Georgia and South Carolina. Junior quarterback James Franklin has struggled with shoulder problems as well, but with only two more games scheduled against currently ranked opponents, they have a chance to string together a few wins.
9. Auburn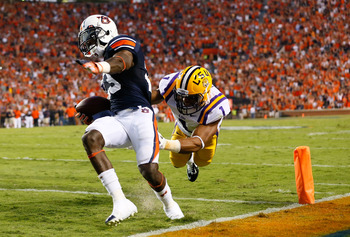 Kevin C. Cox/Getty Images
AP Ranking: Unranked
Record: (1-3, 0-2 SEC)
Wins: Louisiana-Monroe
Losses: #14 Clemson, Mississippi State, #2 LSU
Auburn has been extremely unpredictable this year. They suffered narrow defeats to LSU and Clemson, with both games coming down to the wire. In other games, they were pounded by Mississippi State and needed overtime to dispatch Louisiana-Monroe (the same team that defeated Arkansas earlier). Either way, this seems to be a much better team than their record indicates.
8. Tennessee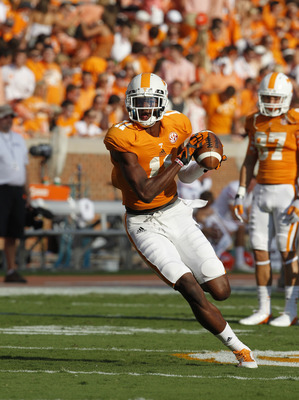 John Sommers II/Getty Images
AP Ranking: Unranked
Record: (3-1, 0-1 SEC)
Wins: North Carolina State, Georgia State, Akron
Losses: #18 Florida
2011 was a rough year for Tennessee, and they hoped to rebound from that this season. They had been successful until their second half meltdown against Florida, so their performance against Georgia this weekend might be very telling. Junior quarterback Tyler Bray has been very effective, having thrown for over 1,300 yards and averaging 8.79 yards per pass attempt.
7. Texas A&M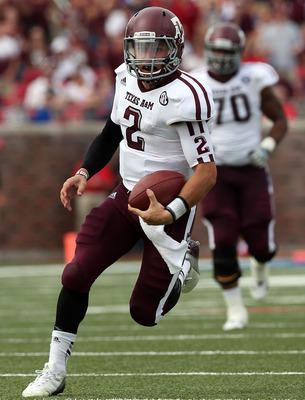 Ronald Martinez/Getty Images
AP Ranking: Unranked
Record: (2-1, 0-1 SEC)
Wins: Southern Methodist, South Carolina State
Losses: #24 Florida
Texas A&M entered the SEC this year with fairly low expectations, but redshirt freshman Johnny Manziel (pictured above) has provided an unexpected jolt of excitement and energy to the quarterback position. With a defense that has allowed 12.3 points a game (12th in the nation) and multiple young play-makers on offense, they have the potential to continue to overachieve.
6. Mississippi State
Butch Dill/Getty Images
AP Ranking: #21
Record: (4-0, 1-0 SEC)
Wins: Jackson State, Auburn, Troy, South Alabama
Losses: None
Despite narrowly escaping Troy with a victory, Mississippi State is off to its best start since 1999. A balanced offensive attack led by junior quarterback Tyler Russell (shown above) and running back LaDarius Perkins, along with solid defensive play, has made the Bulldogs a team to watch.
5. Florida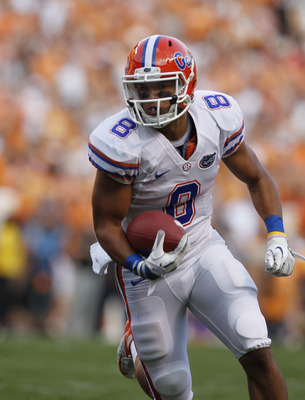 John Sommers II/Getty Images
AP Ranking: #11
Record: (4-0, 3-0 SEC)
Wins: Bowling Green, Texas A&M, #23 Tennessee, Kentucky
Losses: None
After a disappointing year on 2011, Florida has quickly regained respectability. Behind 224.5 yards a game rushing and the nations 14th ranked defense, the Gators have already earned impressive road wins on national television in College Station and Knoxville.
4. South Carolina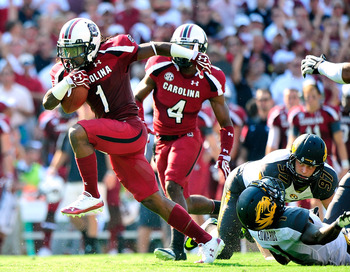 Grant Halverson/Getty Images
AP Ranking: #6
Record: (4-0, 2-0 SEC)
Wins: Vanderbilt, East Carolina, UAB, Missouri
Losses: None
"The Old Ball Coach" has put together one of the strongest teams of his tenure at South Carolina. After struggling in their season opening win against Vanderbilt, South Carolina seems to have gotten into a groove. Despite dealing with a hairline fracture in is throwing shoulder the past several weeks, junior quarterback Connor Show rebounded last week, completing his final 20 pass attempts in the Gamecocks rout of Missouri.
3. Georgia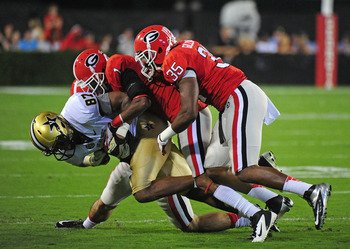 Scott Cunningham/Getty Images
AP Ranking: #5
Record: (4-0, 2-0 SEC)
Wins: Buffalo, Missouri, Florida Atlantic, Vanderbilt
Losses: None
Georgia seems to have received less national attention than other SEC schools, but has dominated so far. Junior quarterback Aaron Murray has been outstanding, boasting a 182.4 QB rating in an offense that is scoring just under 48 points a game (9th in the nation). This is definitely a team to watch as the year goes on.
2. LSU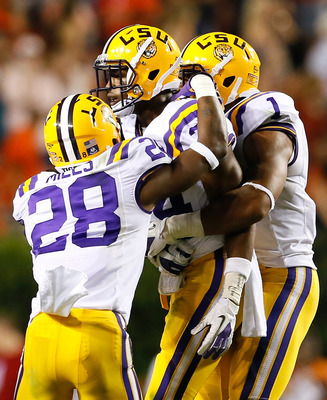 Kevin C. Cox/Getty Images
AP Ranking: #3
Record: (4-0, 1-0 SEC)
Wins: North Texas, Washington, Idaho, Auburn
Losses: None
The LSU defense has dominated again this year, with an effective running game (247.7 yards per game) allowing them to control the ball and pace of the game. The only kink in their armor has been an anemic passing game, which ranks 101st in the nation in yards passed.
Their weak early schedule resulted in blowout wins, but they barely escaped Auburn with a two-point victory Saturday. It will be interesting to see how they respond with upcoming games against Florida, South Carolina, and Alabama.
1. Alabama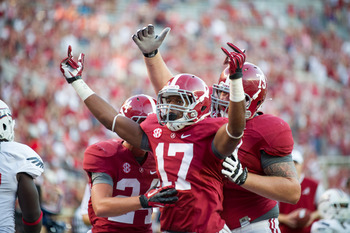 Michael Chang/Getty Images
AP Ranking: #1
Record: (4-0, 1-0 SEC)
Wins: #8 Michigan, Western Kentucky, Arkansas, Florida Atlantic
Losses: None
Alabama has been the class of the SEC so far, and is the clear front-runner for this years national championship. With a defense that looks like it could play on Sundays, they are allowing a paltry 5.3 points per game and have collected all four wins in blowout fashion.
Keep Reading

Texas A&M Football: Like this team?