Jon Jones vs. Vitor Belfort: What We Learned About Jones
Tom Szczerbowski-US PRESSWIRE
Coming into UFC 152, Jon Jones was already considered the best fighter in the world.
His unorthodox striking, sound wrestling and big frame was always going to be too much for an aging Vitor Belfort.
So it should come as no surprise that Jones literally picked apart "The Phenom" for four-straight rounds before securing an Americana in the fourth frame.
But, as it is after any fight, we can most certainly take something away from the light heavyweight champion's victory
Here's what we learned.
His Level of Confidence Has Never Been Seen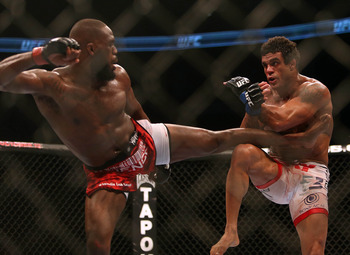 Tom Szczerbowski-US PRESSWIRE
Fighters are often labeled cocky or self-confident, but Jon Jones is on an entirely different level.
His skills inside the cage are so unique that "Bones" literally never looks flustered. This was never more evident than Saturday night at UFC 152 opposite the formidable Vitor Belfort.
The fact of the matter is that Jones oozes confidence at every turn of a fight. He's able to sit back in the pocket, use his reach to strategically defend strikes, adjust to his opponent's game plan and then attack with precision.
He's done it so often that it looks natural when he's fighting. It doesn't seem like Jones is following a game plan or putting forth copious amounts of effort to distill his challenger, but he most definitely is.
Jones is just so good at making the most difficult things look pedestrian.
At this point it's scary to think that his overall game still has room for improvement because his confidence level is at an all-time high.
His Fortitude Is Top-Notch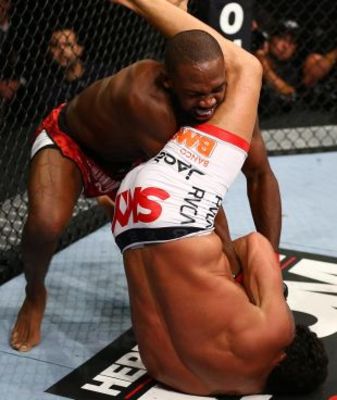 espn.co.uk
UFC 152 marked the first time we've seen Jon Jones put in a very precarious position.
Vitor Belfort's first-round armbar nearly snapped the champ's limb in two in what would have arguably been considered the biggest upset in UFC history.
It was the very first time ever in which Jones looked beatable. It was the first time he looked human and the first time he seemed outsmarted.
But by fighting through the pain and using his strength to slam Belfort on his neck, Jones escaped with minimal damage.
The 25-year-old displayed the utmost poise and fortitude when defending the near-perfected submission attempt early in the fight.
Not to mention the melee left Belfort gassed for the next round or so.
His Ground and Pound Is No Joke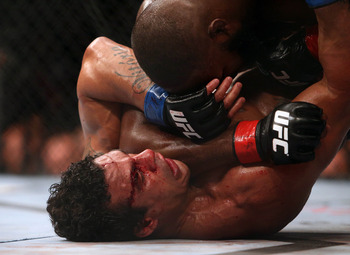 Tom Szczerbowski-US PRESSWIRE
Jon Jones has displayed every talent known to man inside the cage throughout his career.
He has used slick striking, sneaky submissions and naturally imposing attributes to take down some of the baddest fighters on the planet.
But there's one aspect of his game that may go unrewarded. One aspect that doesn't get the recognition it deserves.
It's his ground and pound.
Like past light heavyweight champion Tito Ortiz, Jones can rain strikes with the best of them.
He may not wind up and wing powerful hooks from the top, but with Kenny Florian-like elbows and the ability to posture up in any guard, "Bones" possesses an elite ground and pound prowess.
Saturday night's display of that simply added to the overall specimen that is the greatest fighter in the world.
He Can Finish Any Fighter Any Way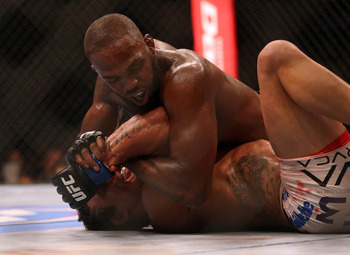 Tom Szczerbowski-US PRESSWIRE
It's becoming more and more evident that Jon Jones is nearly unbeatable.
He can now not only wiggle his way out of world-class submission attempts, but he can seemingly end any fight at any point in time.
Saturday night was yet another example of how patient, confident and professional Jones truly is. He kept his cool, waited for the opportune time to let loose and ended Vitor Belfort with a nasty fourth-round Americana.
It was only the second time in his career that "The Phenom" has been submitted.
Since his disqualification against Matt Hamill in 2009, Jones has finished seven of his eight victories. He has done so on the back of three TKO's, a guillotine, a rear naked choke, a standing guillotine and now an Americana.
It's easy to see that his arsenal of finishing moves may be the most abundant we've ever seen.
Pressure Is Not in His Vocabulary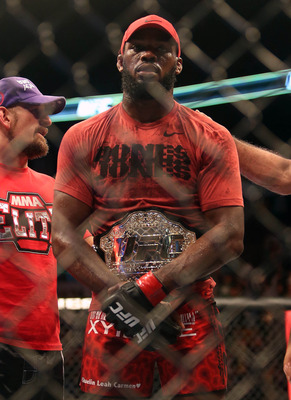 Tom Szczerbowski-US PRESSWIRE
Coming into UFC 152, Jon Jones was portrayed as the bad guy.
He was seen as an ungrateful champion responsible for the cancellation of UFC 151. He was looked upon with judging eyes and cursed with hateful thoughts.
But like any good champion does, Jones stood in the limelight, took his punches and proved why he's the best fighter in the game today.
Saturday's victory over a legend like Vitor Belfort was not only a great win for Jones' resume, but it was a testament to his ability to overcome adversity, stick to his beliefs and block the pressure out.
Everyone can now take a deep breath, forgive Jones for what many consider a selfish act and realize that his time in the UFC needs to be cherished.
For more UFC 152 news and coverage, Follow @DHiergesell
Keep Reading