Chelsea FC: 7 Simple, Positive Things About the Blues' Saturday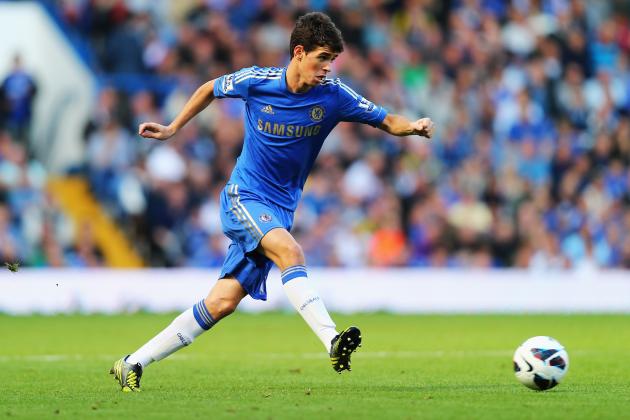 Clive Rose/Getty Images

It certainly wasn't an easy match to watch for Chelsea fans against Stoke City on Saturday at Stamford Bridge, but in the end, the Blues somehow found a way to win and satisfy the blue-blooded faithful.

The Potters, who came in with an English Premier League record-tying four-match draw streak, played admirably and held the home team at bay for 85 minutes before Ashley Cole chipped home the game-winner off a beautiful pass from Juan Mata to put the home crowd and Blues fans worldwide at ease.

Although Chelsea looked far from fluid and put just four shots on target, the club did what it does best lately and simply found a way to win in the end.

Here are seven things to be happy about right now from what was surprisingly a nervous day on the pitch in West London.
Begin Slideshow

»
Clive Rose/Getty Images

With so many players leaving and coming in the last year, it has been hard for Chelsea to find a solid starting XI.

On Saturday, manager Roberto Di Matteo did a good job playing some guys who deserved some minutes and also made a wise move in my opinion in starting veterans John Terry and Frank Lampard on the bench.

Oscar, who scored his first two goals in a Blues uniform in Wednesday's 2-2 Champions League draw against Juventus, got his first EPL start and played it the central advanced midfield position with Eden Hazard on his left and Mata on his right.

Gary Cahill also was in the starting lineup and Ramires got another chance to get some time in what is theoretically Lampard's new holding midfield position spot.

Also, Chelsea's latest acquisition, Victor Moses, substituted in for Hazard and was quite effective in stead of the young Belgian, who had his first average match for the Blues.

Moses showed he can get it done and once the 21-year-old Nigerian gets some more playing time under his belt, expect him to be a tough guy for Di Matteo not to consider starting in the future, but then the question of who will have to sit will remain.

Chelsea enjoyed a 60-40 percent possession advantage and the club is playing better together, but it would be a stretch right now to say it's totally jelling.

But with so many new faces at this early point in the season, it's quite understandable and it may take a couple more months for all these talented parts to start clicking together.

Hey, Rome wasn't built in a day, brother.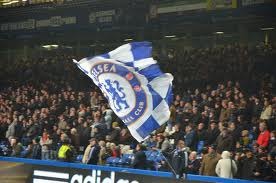 Photo/flickr.com
One trait winning teams in all sports possess is the ability to protect the home turf and Chelsea continues to do a pretty good job of just that.

Under Di Matteo, the Blues improved to 12-2-1 at Stamford Bridge and have now lost just nine home games in last 162.
Not too shabby.

To try to hang with Manchester City and Manchester United, who are just as dominant—if not more so—at home lately, Chelsea certainly needs to keep this trend up.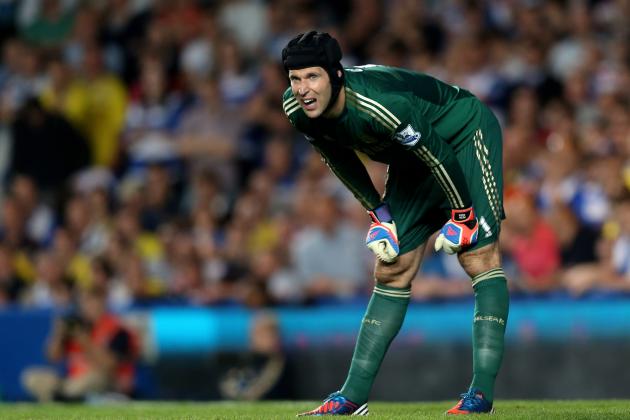 Mark Thompson/Getty Images

One huge reason the Blues are European and FA Cup champions and even playing in the UEFA Champions League this year in goalkeeper extraordinaire Petr Čech.

Granted, Chelsea's defense has been pretty spectacular for quite some time, but the big Czech just keeps quietly doing his thing and keeping that little ball from crossing that white line.

After Saturday's shutout against Stoke, Čech now has four clean sheets in five EPL matches and has allowed only two goals all season—all in a four-minute span in the first half against Reading.

So, for 446 of the 450 minutes in league play, the guy has been perfect.

Let's hope when the competition gets a little bit better, Čech can continue this form.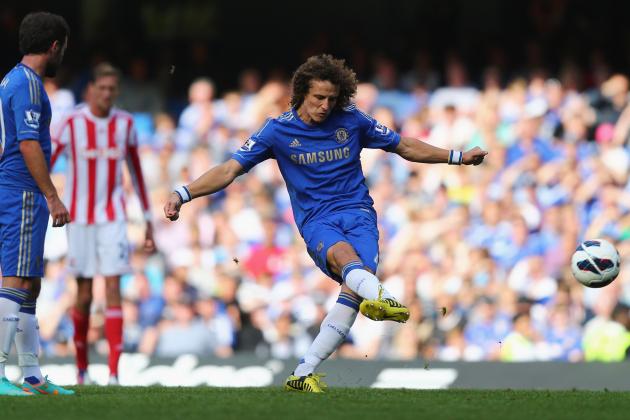 Clive Rose/Getty Images

Even off the pitch, Chelsea had a pretty good Saturday, signing defender David Luiz to a new five-year contract.

"I am very happy to sign a new contract with Chelsea," the 25-year-old told Chelsea's official website.
"It is a great club and I look forward to winning more trophies here. I want to play for a long time at the top level—which is what playing for Chelsea means. I love everything about the club and especially the fans, who have made me very welcome and given me great support."
Luiz was rumored to be heading to Barcelona earlier this summer, but will now be in the fold at Stamford Bridge for the next five seasons and will be another energetic young Brazilian—like Ramires and Oscar—to build around for the future.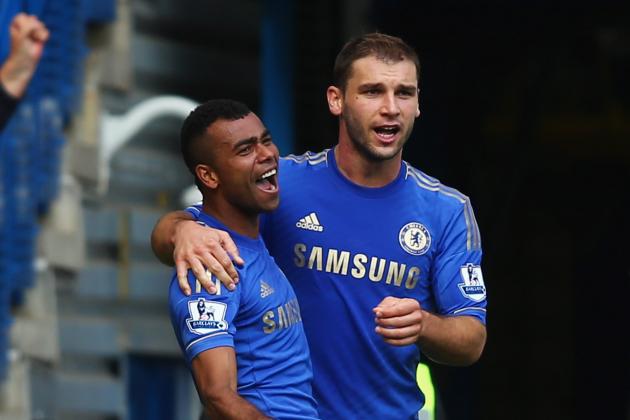 Clive Rose/Getty Images

After going winless in its last three matches, Chelsea should have gained a little bit of confidence with the 1-0 victory over the gritty Potters, who have now been held scoreless their last five trips to Stamford Bridge and have managed just three goals in the last nine meetings between the clubs.

The Blues were humbled 4-1 by Atlético Madrid in the UEFA Super Cup, then tied QPR in EPL play (0-0) and Juventus in their UEFA Champions League (2-2) opener, and desperately needed something positive on which to build.

And although they do push forward a tad bit too much for my taste, the defenders continued to try to be offensive threats with Branislav Ivanović, Cahill and Luiz all attacking the goal and Cole getting his first goal since May of 2010 while John Obi Mikel—who has now gone an EPL-record 166 games without scoring—had a nice run on goal and shot, which was blocked late in the game.

A draw or a loss in this match would have been devastating for Chelsea's collective head, as Stoke is now winless in its last 12 league matches on the road (0-5-7) and has scored just six goals in that span away from home.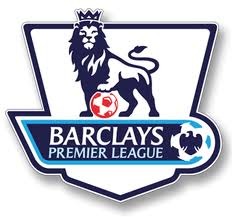 Photo/mybindi.typepad.com
As it has so far all season, Chelsea (4-1-0, 13 points) sits on top of the EPL table and will continue to do so for at least another week.

Everton (3-1-1) currently sits in second place, three points back for now, but Manchester United (3-0-1, 9 points) can pull within a point of the Blues with a win on Sunday against Liverpool at Anfield (FSC, 8:25 a.m. ET/5:35 a.m. PT).

Obviously, it's very early on in the season, but when looking for positives, being all alone in first place and going undefeated in the process is worth mentioning well over a month into the season no matter who the competition has been.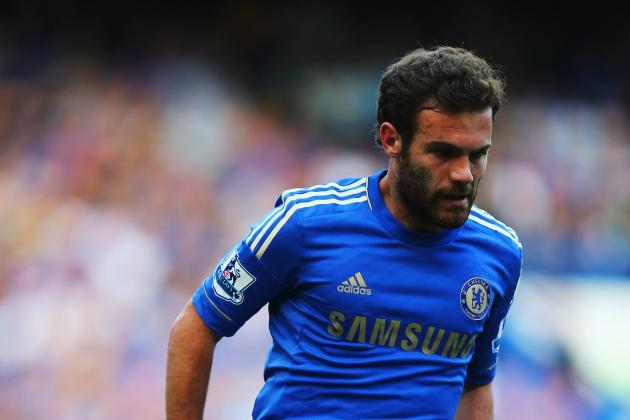 Clive Rose/Getty Images

Let's face it, this was a match Chelsea could have tied or quite possibly lost.

The Blues ended with just four shots on target to Stoke's three and real scoring opportunities were few and far between for both sides.

Edging the Potters on a lazy Saturday in September might not seem like much now, but getting the three points and not just one or possibly zero could loom large down the homestretch come April and May.

And new kid Moses obviously gets that mathematical reality as he showed shortly after the match on Twitter:


Maybe not a thing of beauty in the end, but a win's a win and considering the other two alternatives, you know owner Roman Abramovich, Di Matteo, "the lads" and us fans will certainly take it.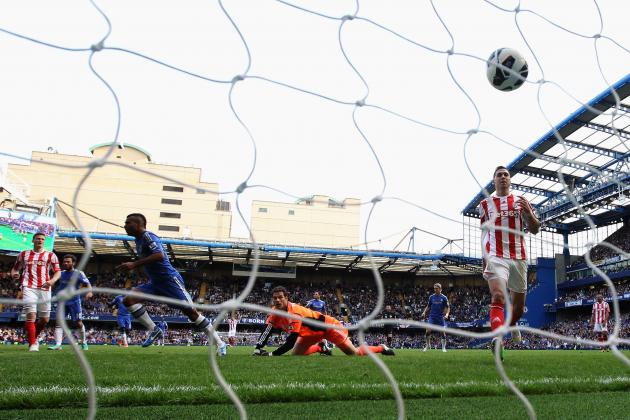 Clive Rose/Getty Images

So as it's been for quite some time lately, the Blues have been more scrappy than dominant and although the matches haven't exactly been things of beauty, Chelsea keeps plugging right along.

Next up on the schedule is a date with Wolverhampton in the Capital One Cup (Round 3) on Tuesday at home before next weekend's (September 29) sure-to-be exciting London derby versus Arsenal at the Emirates Stadium.

The rejuvenated, Robin van Persie-free Gunners have allowed just one goal to date heading into Sunday's showdown against defending league champions Manchester City at the Etihad Stadium (FSC, 10:30 7 a.m. ET/7:30 a.m. PT).

Although these seven positives may all seem pretty simple in their own context—except for the Luiz signing—they are indeed still positives and one needs to look no further than some of the other European heavyweights and their current problems to realize maybe it's not so bad over at The Bridge.

And if that doesn't cut it for you, maybe just think about the fact that Chelsea are the defending European champions and will continue to be so until at least May 25th of next year—something management, the coaching staff, the players and us fans could have never said before that memorable Saturday in May when Didier Drogba connected on that historic penalty kick in Munich.

Now that's a pretty big positive, celery breath.


>Follow me on Twitter: @KevinStott11