Oregon Football: 10 Things We Learned from the Ducks' Win vs. the Wildcats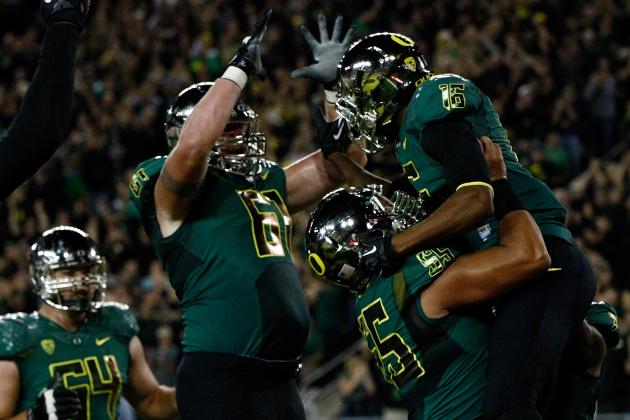 Jonathan Ferrey/Getty Images

What a night for Chip Kelly and his Ducks.
Oregon came into their game against Arizona favored by 23, but there was still hesitation to believe the Wildcats wouldn't put up a fight. Ranked No. 22, Arizona had a seasoned quarterback in Matt Scott who would give Oregon its first real challenge of the 2012 season.
Though Oregon started out a little slow, the Ducks kicked it into full gear by the second half.
What did we learn from Oregon's wins over Arizona?
While many can be mentioned, there are ten key things worth noting.
Begin Slideshow

»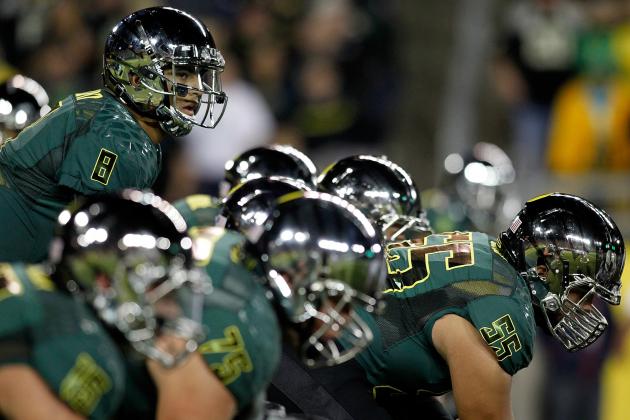 Jonathan Ferrey/Getty Images

It's incredible to think that Marcus Mariota is just a redshirt freshman.
Going into this game, many were very hard on the quarterback, and there was a lot of chatter regarding his maturity. By the end of the contest, Mariota had silenced all of that.
With 260 yards and two touchdowns, Mariota was a key factor in leading Oregon to their 49-0 win.
He did record one interception, which shows that the redshirt freshman still has a lot to learn. However, considering how well Mariota played, Oregon fans have to feel really good about their quarterback.
It only gets better from here.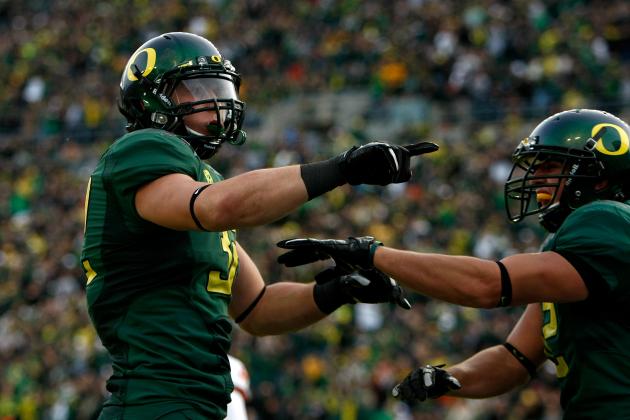 Jonathan Ferrey/Getty Images

One of the top TEs in college football, Colt Lyerla proved tonight why he is a key factor to Oregon's success.
While listed as a tight end, Lyerla found himself lining up at RB, FB and WR positions throughout the evening.
Lyerla is a big player, standing 6'5", 250 pounds. In addition to his size, it's how Lyerla plays the game that makes his presence known on the field and makes him so fundamental to what Chip Kelly is trying to accomplish on offense.
Players like Lyerla are hard to come by and the Ducks have found something special. He may not be the team's most publicized player, but he's definitely one of the more crucial ones.
It's that versatility, mixed with his attitude, that will make him extremely successful at Oregon and beyond.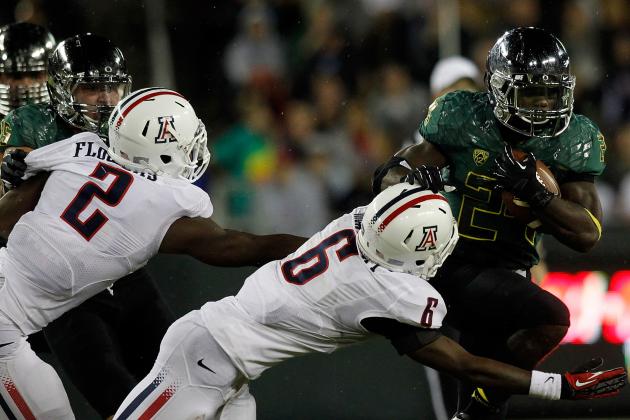 Jonathan Ferrey/Getty Images

Arizona wasn't a bad team. In fact, Arizona is not a bad team at all.
Oregon was just the superior team this evening.
The Ducks are now poised to win the Pac-12 title again. There is already talk about how Oregon could potentially take on an SEC giant for the national championship.
However, Arizona was a big part of tonight's loss. The Wildcats could have made a game of it, but repeatedly shot themselves in the foot, as their offense failed to capitalize on all six trips into the red zone.
Oregon is a strong team. There will now be a lot of pressure to live up to the hype. If the Ducks can keep playing smart while keeping their cool, taking down the SEC may not be out of the question.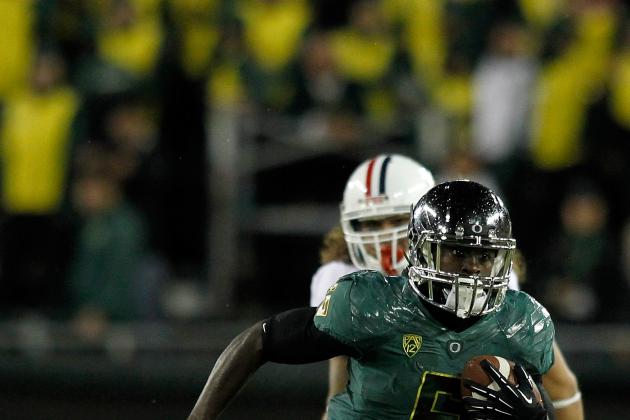 Jonathan Ferrey/Getty Images

It's surprising that De'Anthony Thomas didn't have a touchdown tonight. With how many the Ducks scored, you could easily assume one belonged to Thomas.
But don't let the lack of a touchdown fool you.
The sophomore had 12 rushes for 48 yards against Arizona. He was an electric player who made a positive impact on the team.
There is a lot of potential for Thomas. If he continues to play at this level, it will only be a matter of time before he leaves 2011's numbers (595 rushing yards for 7 touchdowns) in the dust.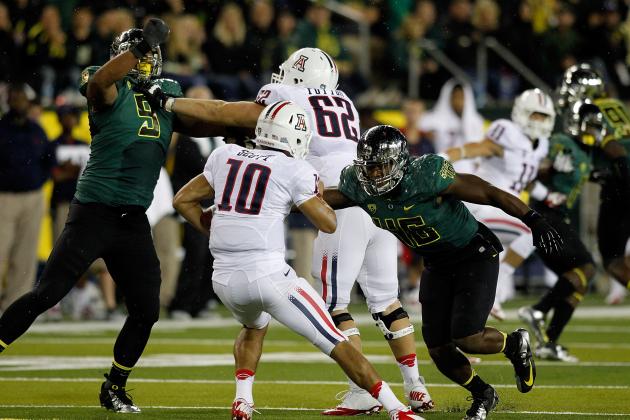 Jonathan Ferrey/Getty Images

Oregon's offense wasn't perfect. There were moments where it all wasn't clicking. It was a struggle at times and you could see frustration on various players' faces.
But Oregon didn't let this frustration daunt them. When things weren't going exactly as planned, the Ducks kept fighting and found ways to make it work.
Such resiliency is the key to a dominant team. If Oregon can continue to play as they did Saturday night, they will be unstoppable.
The key isn't perfection. The key is playing through adversity and knowing not to quit.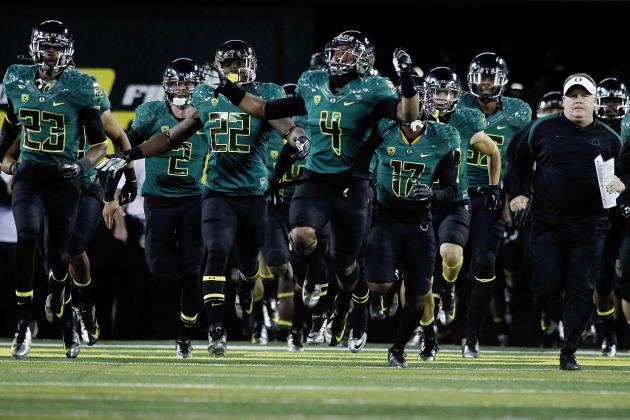 Jonathan Ferrey/Getty Images

Don't confuse confident with cocky, because the Ducks are definitely not the latter.
When things weren't working, the team took risks—including going for it on fourth down when they were far back in their own territory—believing they could make it work.
And making it work was what they did. Having your quarterback block after he hands the ball off shows confidence and teamwork. Both of those things add up to something great for Oregon.
Playing for the team and not just for yourself will pay off for the Ducks. Here's to hoping they can maintain that camaraderie when times get tough.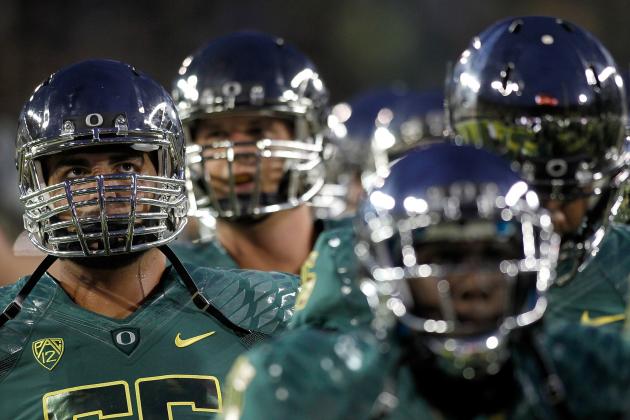 Jonathan Ferrey/Getty Images

When you think about Oregon football, you probably think about the uniforms.
They have hundreds of combinations and Nike isn't slowing down. In fact, the team received five more versions for this season and it's only a matter of time until more are rolled out.
Saturday night, Oregon shined brighter than its uniform design. The players, the plays and the atmosphere at Autzen Stadium put the uniforms in the backseat. It became more about the skill of the players and less about what they were wearing.
The Ducks may be one of the most stylish teams in college football, but tonight they became one of the best because of their playing abilities.
That's just an added combination to the hundreds they already boast.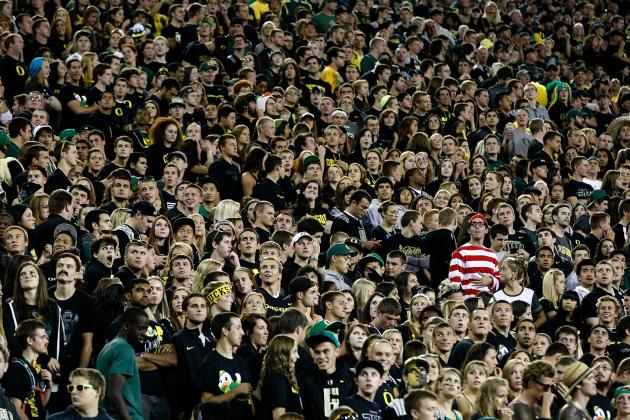 Jonathan Ferrey/Getty Images

Autzen Stadium was loud tonight.
The student section was jumping up and down. It was something worth noting, even if you were just watching the game on TV.
Home-field advantage always helps, and Autzen knows how to give it to the Oregon Ducks. The fanbase can proudly boast that it has the second-most consecutive sellouts in FBS college football at 83. Not bad for the Oregon program, which now sports one of the most intimidating places for visitors to play.
Keep it up, Ducks. You've got something special on your hands.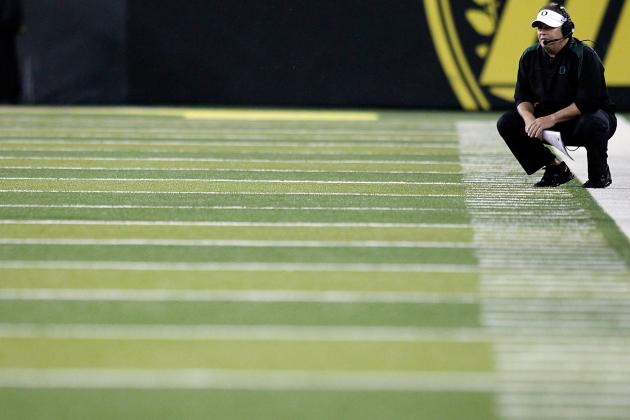 Jonathan Ferrey/Getty Images

Chip Kelly has always had his offense. The question has become whether or not he would get his defense.
Tonight, his defense showed up.
It wasn't perfect. Arizona found themselves in the red zone more than Kelly would have liked. The difference Saturday night is that, while Oregon allowed the Wildcats to get within the 20, the Ducks stiffened and kept Arizona out of the end zone.
Forcing turnovers with its back against the wall showed the defense's growth as a unit.
Again, it wasn't perfect but it's what Kelly needs—a defense he can rely on.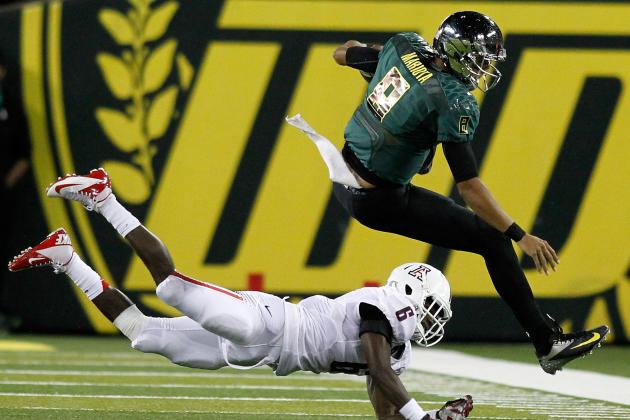 Jonathan Ferrey/Getty Images

If Oregon is not No. 2 in the country after this win, then the rankings are a joke.
It's simple: The Ducks played a lights-out game against Arizona, a team that came in ranked in the Top 25.
With one game, Oregon has shot to the top of the Pac-12 and is now the biggest threat to take down the SEC in a potential championship game.
As a result, the Ducks have no reason to be ranked lower than No. 2.
Watch the polls. It's time for the Ducks to shine.