Tennessee vs. Akron: Zips Game Plan Was Good but It Had a Fatal Flaw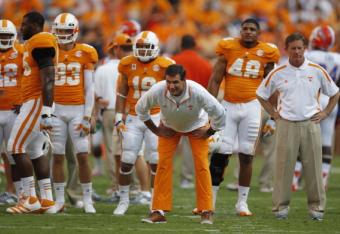 John Sommers II/Getty Images
Through three quarters of football, the Akron Zips hung in toe to toe with a better SEC team. The early fourth-quarter score read Tennessee 30, Akron 26. The final score read Tennessee 47, Akron 26.
At that moment early in the fourth, it looked as if the 33-point underdog Akron had a shot at beating an SEC team. Last year that was a definite possibility but that time has passed.
Still, the Zips did a great job, and they had their moments throughout. If the Vols had obliged them with a couple of additional turnovers or blown assignments on defense, then the Zips might have even won.
First, the obvious in what Akron had working for them. That was their efficient short passing game that the Vols could not stop.
As long as the pass rhythm for Akron was step, step, pass—and they completed two out of every four throws—they had the advantage on offense. And as long as the Zips kept Tennessee's offense within a touchdown, they could dance to their own tune.
In short, Tennessee was stuck while the score stayed close. If Tennessee sent extra rushers to add pass pressure, a six- or seven-yard completion turns into a 25—or longer—yard completion. If the Vols defense stays back and played coverage—as long as Akron moved the chains—the offense kept moving forward.
Tennessee could have broken the Akron pass rhythm much sooner if they had converted touchdown opportunities early in the game. Instead, they were forced to settle for field goals in the first half.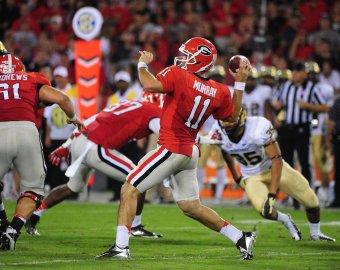 Scott Cunningham/Getty Images
Listening to head coach Derek Dooley being questioned by the sideline reporter at halftime, you could tell he was frustrated by it. He knew the simplicity of the plan that was working well against his team. And he knew what would fix the problem.
He stressed then how important it was to start converting scoring opportunities into touchdowns—instead of continuing to kick field goals—in the red zone. Coach Dooley knew when the Vols got a couple of touchdowns ahead, the rhythm of the Akron offense would be forced to change.
They would no longer be in good shape with a field goal; they would be forced to score touchdowns—and at least two more than UT—in order to catch up.
When the Vols got things together and moved ahead by two scores, Akron was forced to come out of that two-step pass offense in order to catch back up. Doing that played into the Vols' defensive hands.
When the Zips required more time to throw, UT threw more rushers at them. That resulted in poorer choices, hurried throws and turnovers. That is when UT began to zap the Zips.
Had the Vols not made the mistakes, along with missing some open touchdown opportunities earlier in the game, they would have made the 33-point line easily.
But, that is the other side of the simplistic game plan Akron had. If the Vols had made a couple more mistakes and allowed Akron to get a 14-point, or better, lead, they would have been scrambling throughout the game.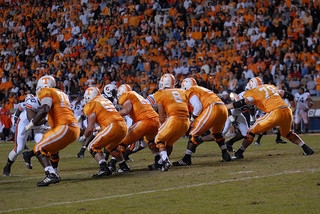 That would have required them taking many more chances. Had that been the case, Akron may have shocked the mid-major and SEC world.
Akron came into Neyland with a simple but great game plan. A plan that allowed use of the talent they possessed while allowing an overall outmanned team to stay in the game for over three quarters.
Who knows, if UT had made just one or two more mistakes that plan may have won the ballgame outright. Fortunately, the Vols did not accommodate.
Maybe Coach Dooley and staff learned something from the old Bowden Boys? I hope they did. Because the situation next weekend is eerily similar, except for one detail: the Vols will be the underdog.
This article is
What is the duplicate article?
Why is this article offensive?
Where is this article plagiarized from?
Why is this article poorly edited?

Tennessee Volunteers Football: Like this team?