Temple vs. Penn State: Live Scores, Analysis and Results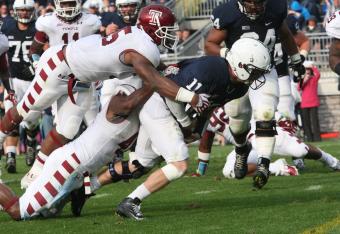 Rob Christy-US PRESSWIRE
Penn State 24, Temple 13 -- Final Score

Penn State came into this in-state rivalry looking for a second-straight win and looking to avoid a loss to Temple for the first time in 30 games between the schools since 1941. With the bad-blood game coming up to start conference play against Illinois, a win would be critical for the Nittany Lions.
Behind a strong effort from FB Michael Zordich and the defense, a win is exactly what the Nittany Lions achieved today. The defense held the Owls to 237 total yards of offense, and 80 of those came on the final drive after the game was well in hand. About the only thing the defense did not do was generate a turnover, although two forced fumbles were caused.
Matt McGloin once again led a vibrant passing attack as he picked apart the Temple defense with a lot of time provided by the offensive line. Although 317 passing yards is always a good achievement, the 173 rushing yards is a season-high and a good sign heading into Big Ten play.
For Temple, this game will lead them to another bye week before starting in Big East play for the first time since being kicked out of the conference in 2004. Temple has a solid defense and should win some games in that conference, especially with the departure of West Virginia.
For Penn State, this win will provide confidence and a few more things for Big Ten teams to think about when preparing for the Nittany Lions. A good win over a rival and Penn State looks like a possible contender in the Leaders Division once again. The times might not be so dark in Happy Valley after all.
Thanks for reading today! I am the Big Ten Featured Columnist for Bleacher Report and can be reached on Twitter for more comments. See you later in the week (and later today with 10 things we learned from the Nittany Lions today)!
And that first down conversion will finish this one. No need for the chippy pushing and shoving at the end, but the officials got it cleared up quickly. Good win for Penn State and another major conference win for the Big Ten.
Great effort on the onside kick there by Temple, but a bad bounce and it goes back to the Nittany Lions. A couple more timeouts to burn and Penn State can count this one in the win column.
Big run by Montel Harris on a lax Penn state defense, and that leads to a one-yard shovel pass to Matt Brown for a TOUCHDOWN.
Penn State 24, Temple 13.
Barring crazy onside kicks here, the game is still over. But a nice effort at the end by Temple, who will not quit.
Bill O'Brien will take his team to 2-2 on the season with this victory. This is the first impressive win over Temple in three years and that means the Nittany Lions will head into Big Ten play with a good vibe. Nathan Scheelhaase is a better runner than Coyer, but he may be limited in those aspects due to lingering injuries. The Penn State defensive front seven has to be looking forward to the challenge.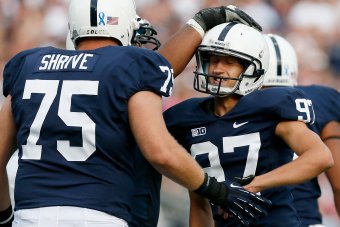 Rob Carr/Getty Images
FIELD GOAL Penn State.
Sam Ficken finally gets his second field goal of the year from 19 yards out to ice the game.Good call by O'Brien to give him another chance with little pressure to build the confidence.
Penn State 24, Temple 6.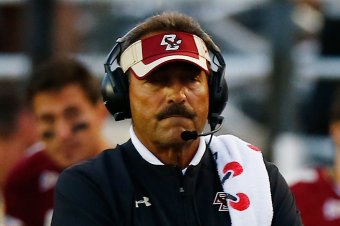 Jared Wickerham/Getty Images
Taking penalties when it would be fourth-and-short...not a good idea. Allen Robinson burns the Owls defense and Penn State now can run the clock down to a very low amount with a big lead. One of the few bad decisions from the Temple coaching staff today.
Ed Cunningham pegs Penn State as a 7-5 team after this win. While that is possible, wins against Ohio State and Nebraska are still going to be tough. I would revise my season preview to be better than 3-9 though, as the first four games have turned out better than expected.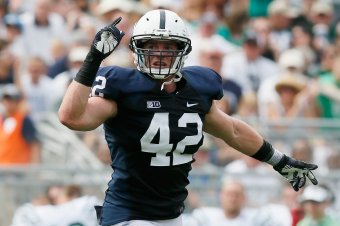 Rob Carr/Getty Images
Great pressure from the edges on that fourth-down, forcing Coyer to move up into the pocket where the middle of the line was ready to sack him. Excellent effort by the defensive line and the turnover-on-downs will solidify the lead. Now to see if the Lions offense can actually put this one away for good.
Penalties cannot be had when driving in the opponent's side of the field. Has killed Penn State and Temple drives today, and may be killing this drive for Temple.
Good break for Penn State not having a helmet-to-helmet penalty there though.
Attendance is 93,680 today at Beaver Stadium. Would love to see that number go back above 100,000 for Big Ten play, especially with the improvement and signs of life from this teams since opening weekend.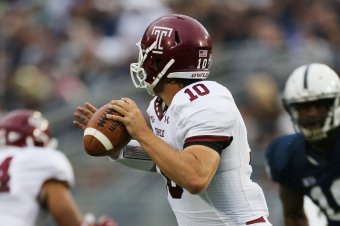 Rob Christy-US PRESSWIRE
Short drive there for Penn State and a terrible rugby-style kick (15 yards) puts Temple right at midfield for the next drive. Despite having a commanding 15 point lead, it may be gut check time in the fourth quarter once again for PSU.
Per @bobbyflo7 on Twitter, Zordich has the knee wrapped up and iced, so he is done for the day.
Bad news at the end of the third quarter as FB Michael Zordich makes a reception and ends up with an injury to the leg. Hopefully not a serious or lingering issue, as his toughness would be a big loss with Big Ten defenses coming up starting next week.
Now RB Zach Zwinak will certainly see more time in the fourth quarter. With Penn State needing to ice the game, he will need to step up big.
@Jose Vina: the good times are back for the "We Are" crowd. How long will it last? Illinois suddenly looks like a winnable game, although that was a mess to watch last year.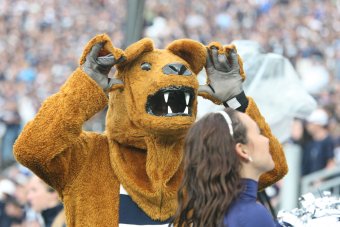 Rob Christy-US PRESSWIRE
FIELD GOAL Temple!
42 yard attempt by Brandon McManus is a solid effort that goes right through.
Penn State 21, Temple 6 late in the third quarter.
Owls needed a touchdown there, and this could come back to haunt them.
Helped by that personal foul on Sam Ficken, Temple has responded with a nice drive here. Coyer and Harris keeping the ball moving forward with the running game. However, time is getting short and a touchdown will be necessary here.
A late hit out of bounds by the kicker. Really? Is that necessary?
And the penalty count keeps rising.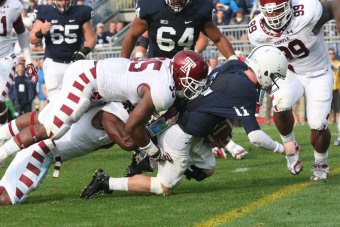 Rob Christy-US PRESSWIRE
TOUCHDOWN run by Matt McGloin on a 3 yard keeper.
Penn State 21, Temple 3.
Now the game might be over. Temple needs a response on the next drive for sure, as Penn State is feeling confident on offense and the Owls defense is stumbling. Great balance on that 80 yard touchdown drive by the Nittany Lions.
I like the running play calls down here in the red zone. Not only is it working, but it builds confidence in a part of the offense that has none.
Temple in serious trouble. McGloin now picking the defensive secondary apart following the handful of running plays to start the drive. Should be more points incoming.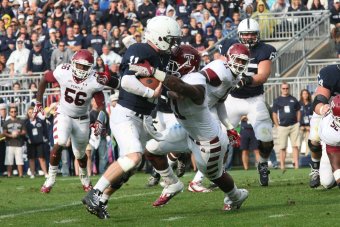 Rob Christy-US PRESSWIRE
Junior Zach Zwinak has now taken over the running duties on this drive. He has shown a bit of explosiveness that Temple has not seen all day with the tough running fullback Zordich. Penn State is definitely trying to work this running game to something, but will it stall once they pass midfield again?
How many times do we need to see the helmet-to-helmet personal foul, ABC? It's a good call, let's move on. Feels like the whole Temple drive has been overlooked despite being in threatening territory.
The Temple defense stiffens and gets help from two offensive formation penalties to kill a drive. O'Brien is clearly frustrated with the penalties, which are now up to seven with a personal foul on the kick return. These are the type of mistakes that flip field position and keep Temple in the game, exactly what Nittany Lions fans do not want to see.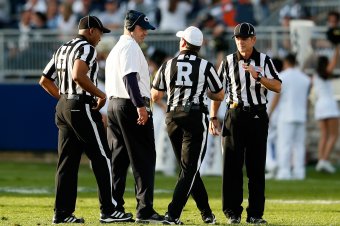 Rob Carr/Getty Images
TV guys say officiating has been much better this year and much more consistent. I'd go a step further and say that college football officials have been better than the replacements used by the NFL this year. Hopefully these guys aren't stolen by the pros!
The replay overturns the call, as expected. Thank goodness we live in the era of replay.
That play has to be reviewed. No way that was a fumble, in real time.
This article is
What is the duplicate article?
Why is this article offensive?
Where is this article plagiarized from?
Why is this article poorly edited?

Penn State Football: Like this team?