UFC 152 Predictions: Favourites for the "Fight Night" Awards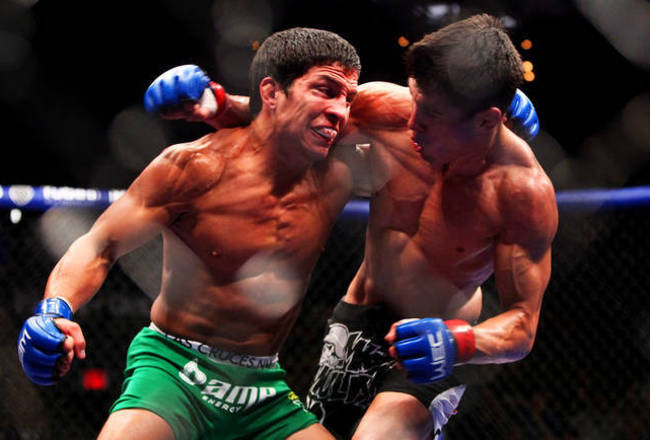 Courtesy of Las Vegas Sun

UFC 152 undoubtedly boasts one of the most compelling cards of the year so far—at least on paper.
There are a number of fights, both on the main card and on the prelim portion of the event, that could steal the show. And with the UFC's current penchant for top-heavy fight cards, the opportunity to enjoy a stacked event is an increasingly rare pleasure.
So, without further delay, here are my picks to win the various "Fight Night" bonuses.
Submission of the Night Favourite: Jimy Hettes vs. Marcus Brimage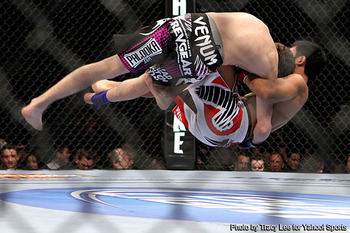 Courtesy of Yahoo Sports
Jimy Hettes vs. Marcus Brimage is a bit of a sleeper. Hettes is an unassuming character. If you didn't know any better, you would think Jesse Eisenberg had decided to dabble in cage fighting.
He has a relentless grappling game, which is thrilling to watch—no doubt a surprise to some of the Brazilian Jiu-Jitsu-phobes out there. Brimage, in contrast, is a terrific athlete who employs a similarly frantic style on his feet.
Assuming the TUF alum isn't overwhelmed by Hettes grappling, a compelling back-and-forth affair should unfold. However, I expect Hettes to catch up with Brimage at some point and earn himself a Submission of the Night bonus.
Knockout of the Night Favourite: Cub Swanson vs. Charles Oliveira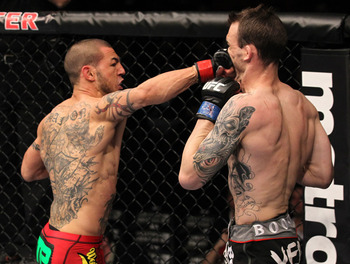 Courtesy of UFC.com
As Jon Jones once said, Cub Swanson is "one of the nastiest fighters" up at Greg Jackson's gym in Albuquerque.
Many of you may know him best from his blink-and-you-missed-it loss to Jose Aldo in his WEC days, but he demonstrated his potential on Ross Pearson's glabrous dome in his last outing.
Charles Oliveira had his momentum halted briefly after showing incredible promise early on, but he seems to have steadied the ship based on his two most recent outings.
Both men have an extremely well-rounded striking game, so don't be surprised to witness a highly entertaining contest with some high-level Muay Thai.
Either could bag the Knockout of the Night, but Cub Swanson packs that little bit extra in his strikes.
Fight of the Night Favourite: Joseph Benavidez vs. Demetrious Johnson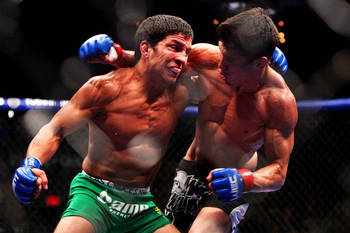 Joseph Benavidez vs. Demetrious Johnson is the clear favourite for Fight of the Night. It is one of life's mysteries why the little guys are so underappreciated in this sport.
You want to talk about frenetic, incessant, technical action? The flyweights provide all of the above in abundance.
And when you have the two best 125-pounders (so light it could be a type of burger, you feel?) on the planet, expect these traits to be exhibited to their fullest potential over five rounds.
The prohibitive favourite for Fight of the Night honours.
Keep Reading