5 Twins Players Who Are Better Fits for the Metrodome Than Target Field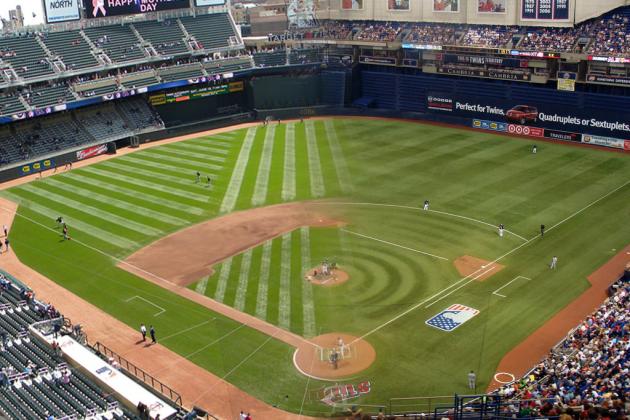 Photos via flickriver.com and baseballstadiumreviews.com.
Since the Twins moved to Target Field in 2010, they have posted a mediocre 116-124 record at home. With back-to-back 90-plus loss seasons from 2011 to 2012, the Twins have 63-96 (.396) at home. In contrast, in the Twins' past 15 seasons at the Dome, they had an impressive 641-544 (.541) record. The Twins experienced strong success in the 2000s; however, they spent much of the 1990s with losing teams. Despite eight consecutive years of losing records in the 90s, the Twins managed to play near .500 ball at home.
When the Twins played at the Metrodome, they used the stadium's kinks and quirks to their advantage. Their once-magical home-field advantage of the Metrodome is nowhere to be found at Target Field. What if they still played in the Dome? Could their season have gone differently? Realistically, the Twins' 2012 campaign would not have changed much. However, specific Twins players would definitely have had a better season, truly benefiting from playing at the Dome.
This article discusses which Twins are betters fits at the Metrodome than at Target Field.
Begin Slideshow

»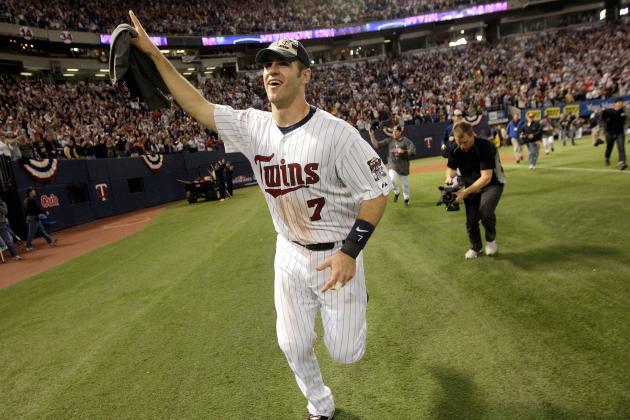 Jamie Squire/Getty Images

Since making the move to Target Field, Joe Mauer's contact hitting consistency has been comparable to his time at the Dome. However, what has changed is his power hitting.
At the Dome, Mauer averaged .326/.405/.477 and 35.5 AB/HR. At Target Field, Mauer averages .320/.400/.413 and 133.6 AB/HR. Mauer is a spray hitter when it comes to home runs. Besides left field and left center where he hits 46 percent of home runs, Mauer hits home runs around 15-17 percent to the remaining fields.
Target Field has not been accommodating to left-handed pull hitters thus far. As someone who hits over a third of their homers to right or right center, Mauer's power certainly hasn't benefited from the move to Target Field.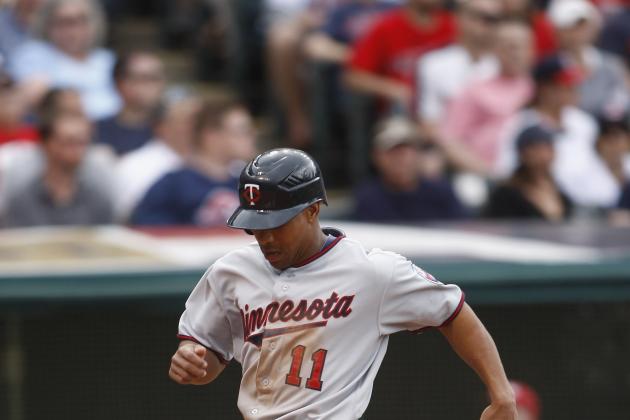 John Grieshop/Getty Images

The 24-year-old speedster never played a game in the Metrodome. However, The Dome would give the always-smiling Revere an extra advantage that Target Field cannot.
First, consider difference between Target Field and the Metrodome's playing field. With fairly similar fences, the Metrodome had 28 percent more foul territory and a 7 percent larger outfield. Why does this matter to Revere?
Defensively, Target Field gives him less ground cover with his great speed. In the Metrodome, Revere would have more field to cover, especially foul territory and potentially producing more chances to catch fly balls for outs.
Offensively, the Dome's slightly larger outfield and definitely odd surface would give Revere an advantage. Singles could become doubles and doubles could become triples. Moreover, the Dome's fast turf would Revere an obvious advantage. For every one fly out, Revere grounds out 2.95 times. In other words, he's hitting the ball on the ground much more than in the air.
On a faster surface, such as the Metrodome's old AstroTurf or newer FieldTurf, Revere arguably would be producing even more infield hits and bunt singles. Over his short career, he's hit a combined 83 infield hits and bunt singles.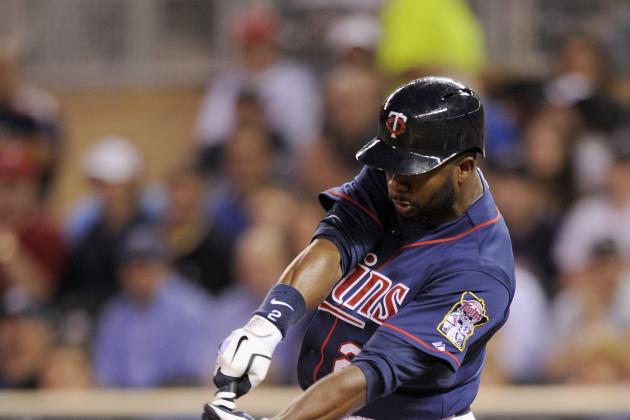 Hannah Foslien/Getty Images

Like Ben Revere, Denard Span is a contact hitter with good speed. Unlike Revere, who never played a game in the Dome, Span played two full seasons there. Consider his numbers at Target Field and at the Metrodome:
While Span's batting is virtually the same, his OBP and SLG have noticeably decreased. Despite having an excellent SO:BB ration, his OBA is 17 points lower at Target Field. Similarly, his SLG is noticeably lower as well. Despite having fewer AB per 2B, his 3B and HR have been down. Though Span has never been a home run hitter, on average it takes him 156 more AB at Target Field to hit a home run than at the Metrodome. Could the right field winds be affecting him?
Another similarity to Revere is Span's ability to hit the ball on the ground and rely on his speed to get singles. Over the two seasons he spent at the Dome, Span averaged 47 infield hits and bunt singles per 162 games. In contrast, during the seasons spent at Target Field Span average 36 infield hits and bunt singles per 162 games.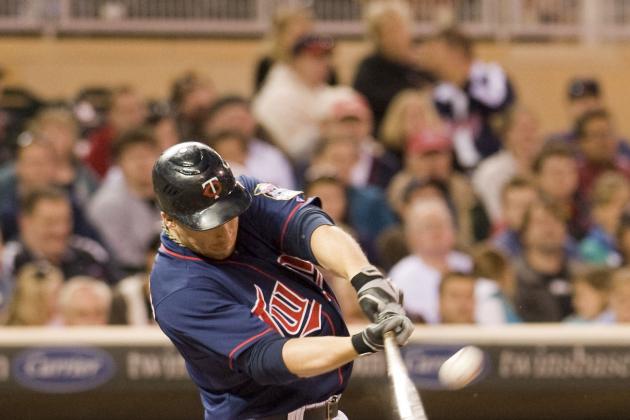 Marilyn Indahl/Getty Images

Josh Willingham's would have been a better fit in the Metrodome, but maybe not from a defensive stand point. Despite playing just under a full season at Target Field, The Hammer has accomplished so much already. In fact, Willingham has hit the second-most home runs at Target Field. Willingham's 22 HRs at the stadium is second to Thome, and his 18.1 AB/HR is second to none.
Despite his success at Target Field, the Dome might have helped him achieve more. This far in his career, Willingham has hit 56 percent of his home runs to left field and 29 percent to left center. The Dome's left field fence ranged from 343 feet in the corner to 385 feet in left center. The fence stood 7 feet tall. In contrast, Target Field's left field corner is 339 feet to 377 in the left center with an 8-foot-high wall.
Clearly, both are pretty similar, but the Metrodome still is more advantageous. Target Field's spring and fall northwest winds can wreak havoc on potential home runs balls hit by right-handed pull hitters. In the Metrodome, Willingham would not have the northwest winds affecting him.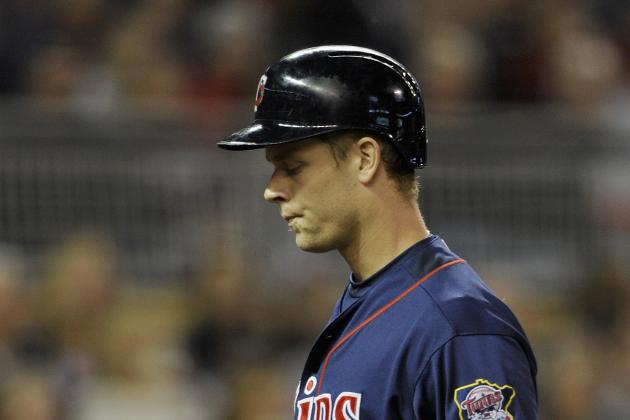 Hannah Foslien/Getty Images

Perhaps even more so than Joe Mauer, Justin Morneau is better off playing in the Dome. With prevailing winds hindering power and two seasons of injuries, Morneau has struggled at Target Field.
In the Metrodome, he hit .274/.349/.488 with 20.0 AB/HR and hit .279/.361/.420 with 47.0 AB/HR at Target Field. Yes, Morneau had two frustrating years of injury. However, before he went on the DL in 2010, the healthy Morneau hit .316/.427/.487 with just 4 HR in 152 AB for 38.0 AB/HR at the new ballpark. During his concussion-plagued 2011 campaign, Morneau hit .263/.318/.339 with 0 HR in 118 AB. This year, a once-again healthy Morneau has hit .263/.337/.417 7 HR in 247 AB for 35.3 AB/HR.
Injured or not, Morneau owned the Metrodome. The Dome's climate-controlled setting was a blessing for his power hitting.