Tyson Fury Will Return to the Ring December 1, Wants Top 10 Opponent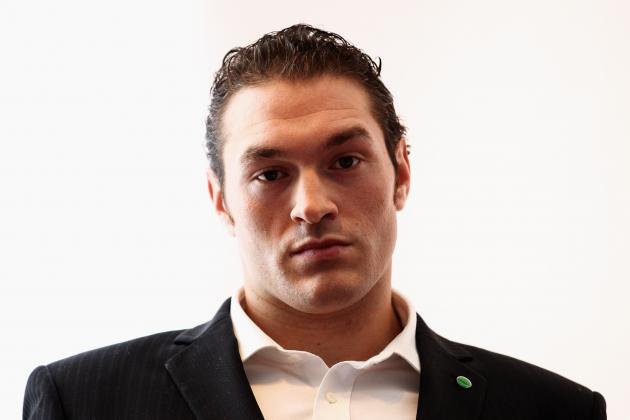 Dean Mouhtaropoulos/Getty Images

British heavyweight boxer Tyson Fury has announced through a YouTube video that he will return to the ring on December 1, and that he is seeking a top 10 opponent for the bout.
Fury, 24, holds a professional boxing record of 19-0-0 with 14 victories coming by way of knockout. Standing at 6'9", Fury is one of the few boxers who holds an advantage in height over the dominant Klitschko brothers, whom he surely has one eye on facing in the future as he looks to prove himself against higher-ranked fighters.
Since Fury's victory last year over Derek Chisora, fans have been disappointed by the level of opposition he has faced, including accusations he is ducking fellow British prospect David Price. Given Fury's announcement that he is seeking a top 10 opponent, is it really fair to say he is ducking Price, whose next bout is against the much lower-ranked Audley Harrison?
So, with a top 10-ranked opponent for Fury to find, who are the possibilities?
Begin Slideshow

»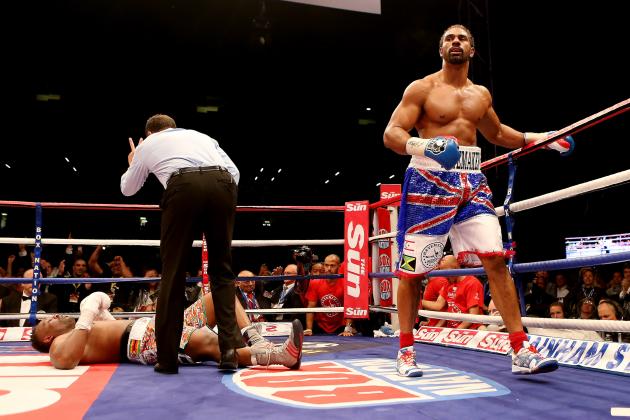 Scott Heavey/Getty Images

Another "Battle of Britain"?
David Haye has taken on Audley Harrison and Derek Chisora in recent years in high-profile, high-grossing bouts that got tongues wagging in Britain.
An explosive fighter with speed and power, Haye looked impressive in his recent victory over Derek Chisora. That victory followed a brief retirement from Haye, and re-ignited speculation of a possible bout with WBC Heavyweight Champion, Vitali Klitschko.
Tyson Fury seems to want a bout with Haye to happen after taking to Twitter on Friday seeking a fight, tweeting:
"@mrdavidhaye mr Haye while waiting for vitally y not fight me and try boost your WBC ranking! December 1 is ready?????"
Could it Happen?
If you believe everything you read on Twitter, then no. In response to Fury's invitation for a fight, Haye tweeted:
"@Dyson_Fury I'll be chillin on a beach in Jamaica Dec 1. Why don't you call out @DavidPrice_1 for a winner take all fight. He'll except 100%"
So, on Twitter it looks like the bout is a non-starter. However, Haye is seeking a fight next year with Vitali Klitschko, according to an article with BBC Sport, and Haye is currently not ranked by WBC.
Why does his non-ranking matter? Well, the Klitschkos have received criticism throughout their careers for the level of opponent they have faced, but have defended their opponent selections because they have obligations as champions to select opponents from certain pools.
Vitali is currently exploring his political ambitions and if he returns to the ring, he will have to face a mandatory challenger or give up his hard-earned title.
With that in mind, Haye may mull over a bout with Fury and decide to take it. Fury is ranked by the WBC, and a victory over a ranked opponent would place Haye in the mandatory challenger pool. Also, facing the 6'9" Fury would be good preparation for the slightly shorter Vitali Klitschko.
Could Fury Win?
Fury has height on his side. He also has a great jab and straight right combination coupled with dangerous body punching. One other thing I have noticed about Fury: He likes a fight.
He tends to switch off if fights are too easy, but relishes being in a good contest. Against Chisora, he was elated with each of Chisora's late-round flurries and told him to keep it up while they were competing.
Haye has power, speed and movement that would make it a very difficult night for Fury. Haye could end any bout he's in at any moment with his power, and his hand speed makes him a great counter-puncher. He also showed discipline when facing a much taller opponent when he defeated Nikolai Valuev to win the WBA Heavyweight title in 2009.
Tall vs short. Jabbing vs power. This would definitely be a winnable bout for Fury. Haye's hit-and-run tactic deployed against Valuev wouldn't work against the more mobile Fury.
Haye's questioned chin would undoubtedly be tested against the underrated power of Fury. Finally, Haye folded against the last tall, mobile, jabbing fighter he faced when he stepped into the ring against Wladimir Klitschko last year.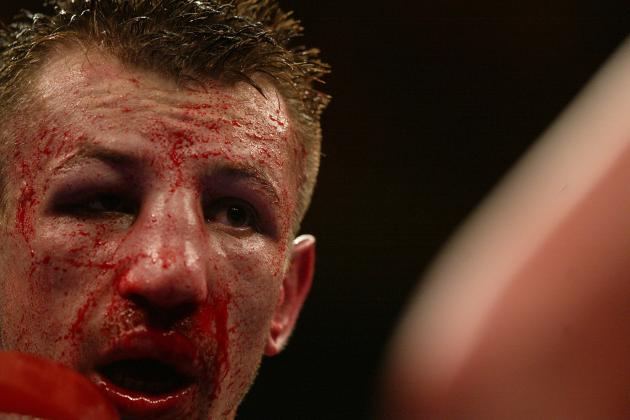 Jonathan Daniel/Getty Images

Polish fighter Tomasz Adamek is a former world champion at both Light Heavyweight and Cruiserweight who also challenged for a Heavyweight title when he fought Vitali Klitschko for the WBC crown last year.
Despite losing that bout, Adamek has continued to impress and has since won three consecutive fights.
The tough and durable Adamek has only been on the losing side of two professional bouts, losing his Light Heavyweight crown to Chad Dawson in 2007 and the aforementioned loss against WBC title holder, Vitali Klitschko.
Could it Happen?
Fury's promoter, Mick Hennessy, brought up the durable Pole as a potential next opponent immediately following Fury's victory over Vinny Maddalone, so he's definitely a fighter who has been on their radar.
Since the Klitschko loss, Adamek has fought three times, defeating Nagy Aguilera in March, Eddie Chambers in June and Travis Walker two weeks ago. With that kind of fight, scheduling a December bout with Fury isn't out of the question.
Also, according to Adamek's Wikipedia page, he is pencilled in for a bout on December 22 in New Jersey. No opponent has been named, but that date runs close to the December 1 fight Fury spoke of.
Could Fury Win?
If the two met, Adamek would be bringing a lot of fight experience as he would be competing in his 50th professional bout. With only 29 of those fights coming by way of knockout, that means he will also be bringing a lot of rounds with him.
Adamek is ready for long fights, has good hand speed, throws combinations and is not afraid of a war.
For Fury, this could be a preferred bout. Although Adamek is known for his durability, having only been stopped in his career by Klitschko, he doesn't have a reputation as a big puncher.
As an undersized heavyweight who began his career in lower weight classes and not bringing incredible knockout power, a victory over a fighter with Adamek's pedigree could reap big rewards for Fury.
To win against Adamek, Fury would have to remain focused for the entire fight, a fight that would likely go to a decision. If Fury can keep his focus against a high-caliber opponent, he can use his height and jab to win by a large margin.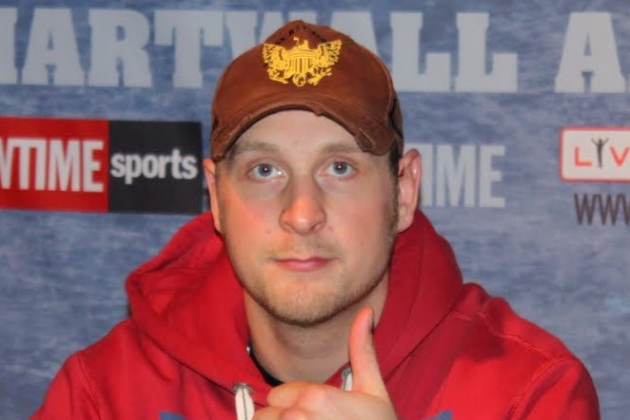 In 2011, Finnish boxer Robert Helenius appeared to be gaining momentum. Impressive back-to-back stoppages of Samuel Peter and Siarhei Liakhovich had Helenius touted as a legitimate threat to the Klitschko brothers.
Helenius was tall, powerful, technically sound and had the ability to spot a weakened opponent and take advantage. Then it all changed.
At the end of 2011, Helenius faced Britain's Derek Chisora. Chisora was building his way back from his loss to Tyson Fury when he faced Helenius. In spite of getting the decision, Helenius did not truly defeat Chisora.
He had trouble throughout the fight handling Chisora's aggressive, come-forward style. He never figured out how to hold him off and fight his own game. Fans, media and even fellow professionals thought Chisora won the bout. It was so extensive that WBC Champion, Vitali Klitschko, gave Chisora and not Helenius a shot at his title.
Could it Happen?
Since his lackluster performance against Chisora, Helenius has not fought. Helenius has retained good ranking due to the movement of other fighters around him. However, further inactivity will see him drop down the rankings and will damage his marketability.
Fury wants to fight on December 1, which would be a few days shy of a year out of the ring for Helenius—ample time for him to recover mentally from his last outing and be ready to step back into the ring.
Could Fury Win?
Definitely. This may actually be the most beatable opponent on this list for Fury. Chisora chopped away at Helenius' body throughout their bout and sapped the strength from him. Contrary to his size, Fury is an excellent body puncher and should have no trouble taking the fight to Helenius like Chisora did.
A fight against Helenius is not without risk. The Fin is a powerful puncher who is quick to pounce if he senses he has hurt his opponent. In spite of the risk, facing a fighter who is 6'6" would be good preparation for a future bout with either Klitschko brother.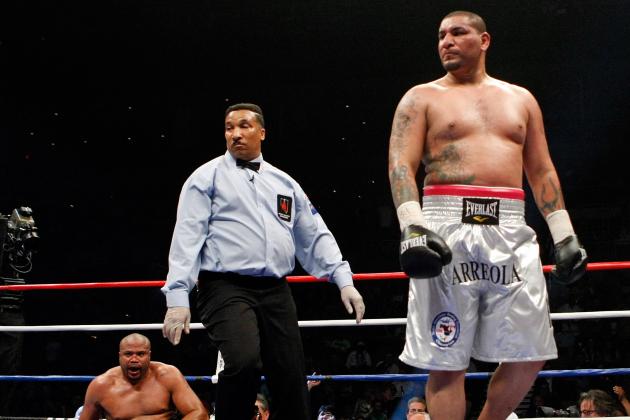 Ethan Miller/Getty Images

Chris "Nightmare" Arreola has been somewhat of an enigma. He's a fighter blessed with tremendous power, a solid chin, and, when motivated, good boxing skills and technique.
Yet he has a tendency to blow off parts of his training, lacks discipline with diet, often fights visibly overweight and occasionally seems uninterested while in the ring.
Arreola punched his way to a title shot against Vitali Klitschko in September 2009 by scoring impressive knockout victories against Israel Garcia, Travis Walker and Jameel McCline. That shot ended in a lopsided beat-down at the hands of the dominant Klitschko, in spite of a brave performance by Arreola.
A seemingly refocused Arreola increased his activity in 2011, fighting five bouts that year, including two in May. Arreola looked to be building on each fight, constantly applied pressure to his opponents and seemed to benefit from not having long periods off between fights.
Could it Happen?
2012 has been a slow year for Arreola. He has fought just once so far, defeating Eric Molina by first-round knockout in February. Arreola is currently slated for his next bout in early November, but as no opponent has been named, it is possible he could delay that return if a bout with Fury came up for December 1.
Arreola is a legitimate top 10 heavyweight who has faced one of the Klitschko brothers already. When motivated, he possesses good boxing skills, carries power to every bout he's in and is a very durable fighter.
Defeating a fighter who would be viewed as a big threat would elevate Fury's status and help win bigger bouts in the future.
Could Fury Win?
Chris Arreola's punching power makes him a big threat to anybody he faces. His durability limits the chances of somebody stopping him early, meaning they often have to absorb his power for the duration of the fight to win. With Fury having a history of switching off in fights, like when Pajkic put him on the canvas last year, Arreola could end the fight at any time.
Once again, Fury's focus will be a big factor in whether he can win. His strong jab-and-cross should bring him success in the fight as Arreola is not the most difficult fighter to catch. What effect they will have is a different matter, Arreola stood in front of everything Klitschko threw at him until his corner, and the ref stopped the fight between the 10th and 11th round.
This is a fight that brings a huge risk for Fury, but definitely one he has the potential to win—if he can stay away from Arreola's power.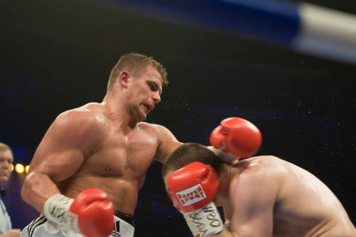 Another undefeated fighter, the compact, muscular Russian has drawn comparisons to Mike Tyson thanks to his aggressive and crowd-pleasing style. Boytsov likes to come forward, likes to throw big punches and has great power and hand speed to compliment his style.
Despite being highly regarded as a fighter, Boytsov has not yet taken the next step up in competition. He seems to be content with padding his resume with victories over journeymen fighters rather than seeking out top level opponents. In fairness, this could be due to his reputation and power making the top guys keep him at arms length. Whatever the case, it is time for Boytsov to now be considering taking that next step up in the level of competition.
Could it Happen?
This fight would make sense for both Boytsov and Fury. Both guys are on the fringes of the top 10 and both guys have received criticism for the level of opposition they have faced recently. A bout against each other would no doubt be an entertaining encounter as Boytsov loves to come forward and Fury relishes a good fight.
Boytsov hasn't fought since April, so the timing of a December bout with Fury would be perfect. A fiery encounter between two fringe contenders would be a great way to round out the year.
Could Fury Win?
Yes. Boytsov is a powerful fighter with fast hands and an aggressive style but he has been fighting below his level for too long. While Fury's opponents since Chisora may not have been the caliber he should have been facing he seems to have finally decided to get serious about stepping up in competition. His new found hunger and dedication to training will surely bring a beast of a fighter to his next contest.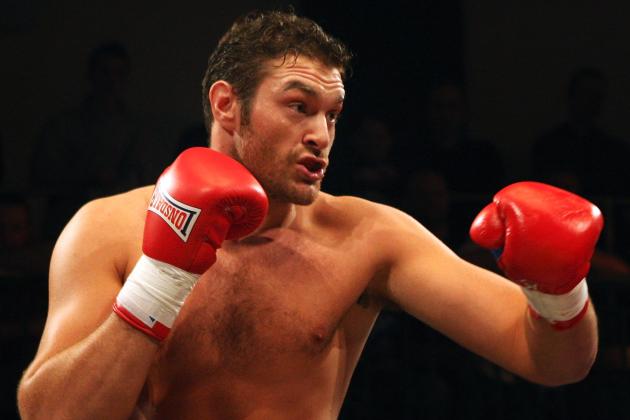 Bryn Lennon/Getty Images

Within the top 10 heavyweights, there are a few who have not made these slides. Obvious omissions include the Klitschko brothers.
For starters, Fury is simply not ready for that level of fighter yet. To think he would stand a chance right now is short-sighted.
Secondly, both fighters have other commitments. Vitali defeated Manuel Charr just a couple of weeks ago and is now working on political campaigns as he continues to explore his passion outside boxing. Wladimir has a fight scheduled against Mariusz Wach in November, and barring injury to Wach, would be unable to fight in December.
Other than the Klitschkos, who are obvious omissions, there are a couple of other high-ranked heavyweights not included. Here's who and why:
Alexander Povetkin: Holder of the WBA (Regular) Heavyweight title, Povetkin is scheduled to face 39-year-old former world title holder, Hasim Rahman, in a bout rescheduled for the end of September. While that may theoretically leave time for a quick turnaround to face Fury, Povetkin typically fights twice a year and the Rahman bout will be his second of 2012.
Seth Mitchell: American prospect Mitchell has steadily climbed the rankings. He is currently riding a streak of 10 consecutive stoppages and is scheduled to meet Johnathon Banks in November.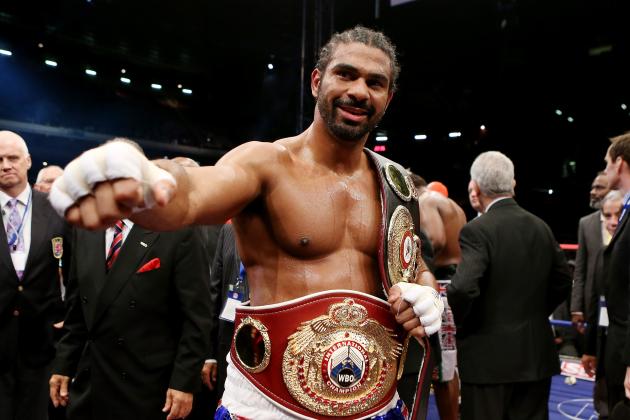 Scott Heavey/Getty Images

Which Fight Do We Want?
The fans in Britain will no doubt want to see Fury face Haye. There are equal numbers of boxing fans who want to see each fighter defeated. A "Battle of Britain" would get fans salivating at the prospect of seeing which mouthy fighter can back up their words.
A fight between the two would likely be a fiery affair. Haye looked good against Chisora, moving well, putting his punches together and bringing his usual power. Fury is rarely anything but exciting. He seems to relish being in a tough fight and likes to let his hands go.
Both can be caught with punches, and both bring enough power to put the other one away. A few rounds of cat-and-mouse would be followed by some fireworks.
Which Fight Will We Get?
I would love to see how Fury would handle the power of a fighter like Arreola or Boytsov. While his chin has never seemed to be an issue, there may be some out there who are questioning it since the relatively tame-punching Pajkic put him on his back. I think that was a flash knockdown of a fighter who had switched off, but would like to see him against a powerful puncher.
It would also be interesting to see Fury step into the ring without such a huge height advantage. The man to face for that would be Robert Helenius. However, I don't view that as a likely matchup, in spite of Helenius being a ranked opponent.
Vitali Klitschko chose to reward Chisora with a title shot after he easily handled Helenius without being given a win. Since that bout, Helenius' stock has dropped and a victory against him would not bring Fury the reward he seeks.
If I was a betting man, my money would be on Tomasz Adamek. Of those on the list, Adamek is the most active, he isn't afraid of any fighter out there and he is slated for a fight in December. A fight with Adamek would also bring little risk of a knockout loss for Fury, making it a low-risk, high-reward bout.