Falcons vs. Chargers: Instant Grades and Analysis for San Diego's Week 3 Game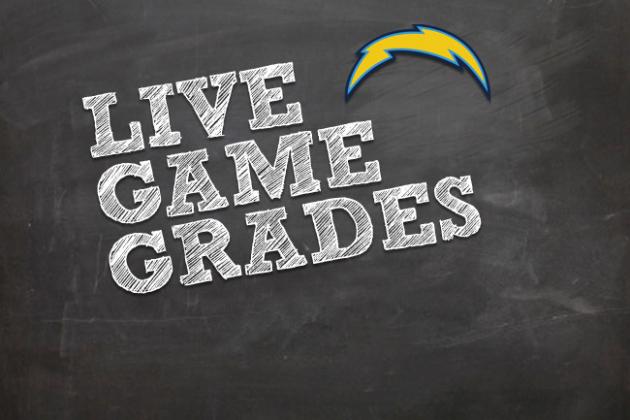 The San Diego Chargers laid an egg in their 27-3 loss against the Atlanta Falcons on Sunday.
After a buildup centered on a showdown between two elite quarterbacks, Matt Ryan clearly established his dominance over Philip Rivers and the San Diego Chargers. The Atlanta quarterback finished the day with 275 yards passing and two touchdowns while Rivers produced just 173 yards passing and two interceptions.
Another disappointing result of Sunday's game was the performance of Ryan Mathews in his regular season debut for the Chargers. The third-year back had 10 carries for 44 yards, but a fumble in the red zone in the first half ruined any chance of the Chargers gaining momentum back in this one.
Overall, it was just a poor showing for the Chargers in what should have been a close game. San Diego had all the tools to stay with Atlanta, but Ryan's big night put an end to their unbeaten streak.
Begin Slideshow

»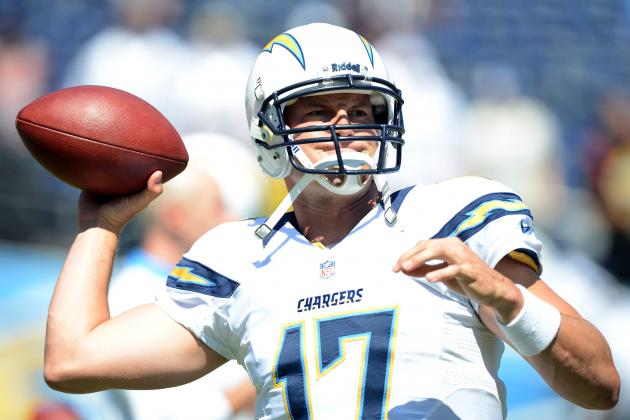 Harry How/Getty Images

Overall
Well, Rivers didn't completely self implode against the Falcons, but he didn't put up as big of a fight as I would have expected. Two interceptions and no touchdown passes? That's just not the Rivers I usually know. For the first time this season, Rivers simply looked ineffective against a defense.
Grade: D

First Quarter
Rivers hasn't been able to hit his receivers early in this game. On his first drive, Rivers managed to avoid a three-and-out, but he was unable to move the ball downfield. Then, on his second drive, he had three incomplete passes to Malcom Floyd.
Grade: D
Second Quarter
Rivers is losing his duel with Ryan at the moment. At halftime, Rivers is 8-for-14 passing for 87 yards an an interception. The Chargers need Rivers to step up if they want to have any chance of getting back into this one.
Grade: C
Third Quarter
More of the same from Rivers. Don't get me wrong—he's hitting the short passes and trying to get back in this game. However, Atlanta's defense is just better today. Thomas DeCoud is making life a living hell for Rivers and the Chargers today.
Grade: D
Fourth Quarter
I don't really know what to say on Rivers' behalf. In this entire game, it seemed like he'd start a drive right, hitting his receivers for big and short gains here and there, but he'd fail on capitalizing. Rivers fails to lead his team to a score in the fourth quarter.
Grade: F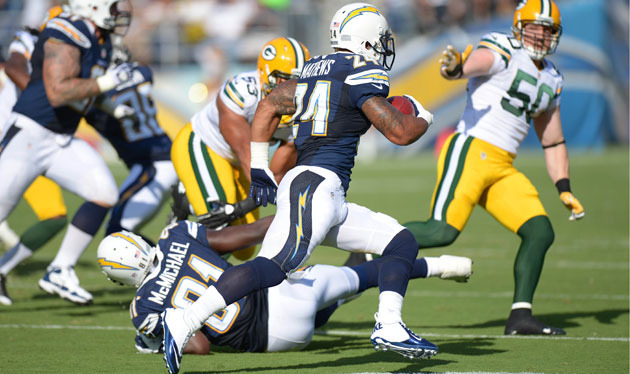 Overall
What a big letdown Ryan Mathews was against Atlanta. I was expecting a lot more from him in his return and he looked average, at best. I don't want to sit here and blame the collarbone, but I would like to know what his deal was. A total of 44 yards on the ground is not what a feature back should be averaging. Don't even get me started on that key fumble either.
Grading: F
First Quarter
Not a lot of work for Mathews in the first quarter. On his first carry back, Mathews picked up just three yards. It's beginning to look like this game is going to center around passing. Neither team is really interested in running the ball.
Grade: D
Second Quarter
Seven carries and 29 yards so far for Mathews, but that fumble was so pivotal during San Diego's push toward the end zone. From what I saw, it looked like a solid hit. Mathews must come back strong in the second half to redeem himself and get his team a fighting chance.
Grade: F
Third Quarter
Mathews isn't having the type of return that fans would have liked to see from him in his first game back, and any hope of a breakout season from the 24-year-old are beginning to diminish quickly based on his performance today. Mathews has been more of a factor in the passing game than in the running game.
Grade: D
Fourth Quarter
The turnovers by Mathews and others killed a potential comeback by San Diego. Mathews couldn't even salvage the day with a strong fourth quarter finish. Maybe the rushing woes haven't been cleaned up.
Grade: F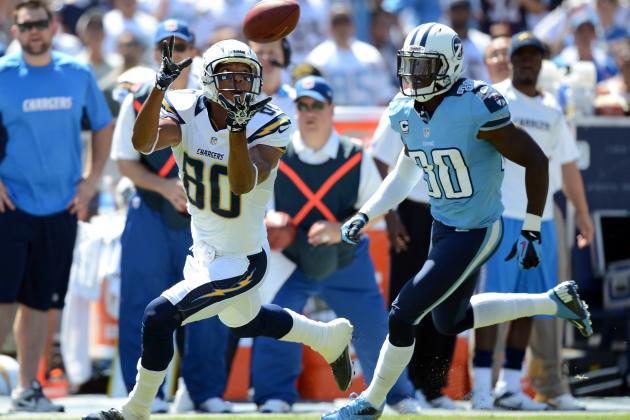 Harry How/Getty Images

Overall
This loss doesn't hurt as bad as a loss to an AFC opponent. Yes, the Chargers failed on offense and Ryan had field day, but the Chargers are still in good shape. Philip Rivers and Co. need to regroup and look past this defeat. Look on the bright side—Robert Meachem was more involved today than he's been all season, and Mathews and Antonio Gates should remain healthy going forward.
Grade: F
First Quarter
A slow start for San Diego's offense in the first quarter. After two drives, the Chargers came up empty-handed. There doesn't seem to be a balance between the run and pass yet, so we'll see if they attempt to give Mathew more carries.
Grade: D
Second Quarter
Where is that same offense that dominated the Tennessee Titans in Week 2? Right now, Atlanta's defense is looking like one of the best in the league, holding the Chargers to just 107 yards on offense. Two key turnovers have built up Atlanta's confidence, and the Chargers need to find some way to slow the bleeding with some points on the scoreboard.
Grade: F
Third Quarter
Just a pathetic showing on offense by the Chargers. Three turnovers already, and it's not like they're even making up for the mistakes with good offense. The Chargers have had the ball for 17 minutes compared to Atlanta's 30.
Grade: F
Fourth Quarter
No life left in the offense after the punishment they took in the first three quarters. The Chargers managed to tack on nothing but a field goal against Atlanta, and the numbers weren't good across the board. San Diego's offense could get nothing going against Atlanta's defense, and that could potentially bring down the confidence of this offense as they prepare for their next test.
Grade: F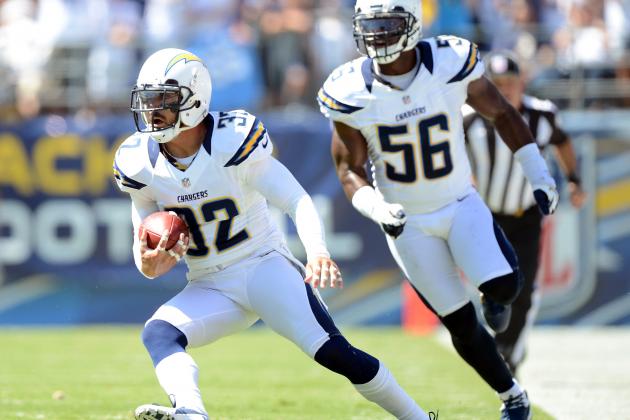 Harry How/Getty Images

Overall
The only good stat of the night to report on defense was Antoine Cason's interception. Everything else is easily forgettable at this point. San Diego has to rebound from this loss to be ready for next week, especially this defense. The past two weeks were great performances by the defense, and today was just not a great way to build momentum.
Grade: D-

Quarter
Not a horrible start to the game by the defense. Yes, San Diego did give up a quick score, but they were able to hold off Ryan on his next two drives. The defense did catch a break with that offensive pass interference call that nullified a potential Roddy White touchdown.
Grade: C
First Quarter
Things are starting to get out of control in San Diego. Sure, Ryan is one of the hottest quarterbacks in the league right now, but he's having no problem getting into the end zone today. He already has 208 yards passing and three touchdowns in the first half alone. Something has to change defensively.
Grade: F
Third Quarter
The defense didn't allow any more scores in the third quarter. Ryan may be having a big game, but this defense hasn't given up entirely. The only thing that would really help right now is turnovers. San Diego's defense has to get some turnovers to have a chance.
Grade: C
Fourth Quarter
San Diego's defense allowed another score in the fourth quarter on a seven-yard run by Michael Turner. It was if that last touchdown was the nail in the coffin for the Chargers. San Diego simply had no answer.
Grade: F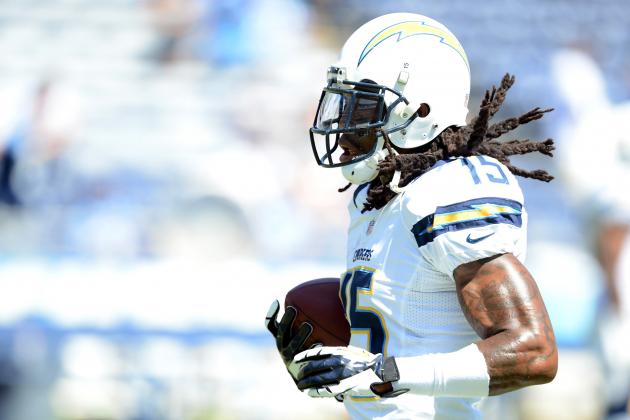 Harry How/Getty Images

Overall
The special teams unit did its job today. Kaeding hit his one field goal and no touchdown returns were allowed. This was probably the only unit that played well.
Grade: B-

First Quarter
Nothing to report for the special teams in the first quarter. Nate Kaeding never took the field for a potential field goal and Richard Goodman was unable to get an opportunity to return a kick.
Grade: C
Second Quarter
Slow day for the special teams unit. Hard to make a difference in the game when you can't even set foot on the field.
Grade: C
Third Quarter
Nate Kaeding finally got a chance to get San Diego some points, and he capitalized on a 41-yard field goal through the uprights. A lot different story this time around compared to last week when Kaeding was called upon on several occasions.
Grade: B
Fourth Quarter
Nothing doing in the fourth quarter as well. Small returns and no field goals. No huge returns by the Falcons either.
Grade: C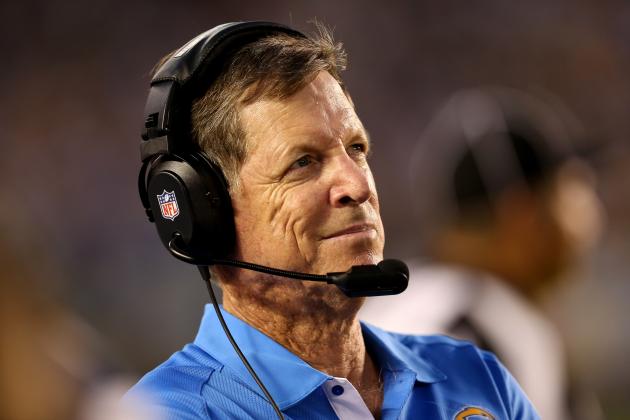 Stephen Dunn/Getty Images

Overall
This is San Diego's first loss of the season, and it's out of the division. Norv's hot seat didn't get hotter with this loss, but such a beating will be noted in the team's decision to keep him at the end of the year. Atlanta is a good football team, but this game should have been more competitive.
Grade: F
First Quarter
No reason to panic yet for Coach Turner. His team is still hanging with Atlanta early in the game. The offense did sputter in the first quarter but it's a long game.
Grade: C
Second Quarter
Okay, now might be the time to panic. Coach Turner's Chargers are already down 20-0 nothing at halftime and they have no answer for stopping Ryan at this point.
Grade: F
Third Quarter
Just three points in the third quarter isn't exactly the sort of comeback Chargers fans would like to see right now. This game is slipping away quick, and Turner can't seem to fix the problem.
Grade: F
Fourth Quarter
Still no real sense of urgency in the fourth quarter after the team is down big late in the game. I don't want to put the blame entirely on the coaching staff, but I do blame the team and coaching staff collectively. Good coaching makes a good team, and the Chargers weren't a good team today.
Grade: F