Packers vs. Seahawks: Where Monday's Game Will Be Won or Lost by Green Bay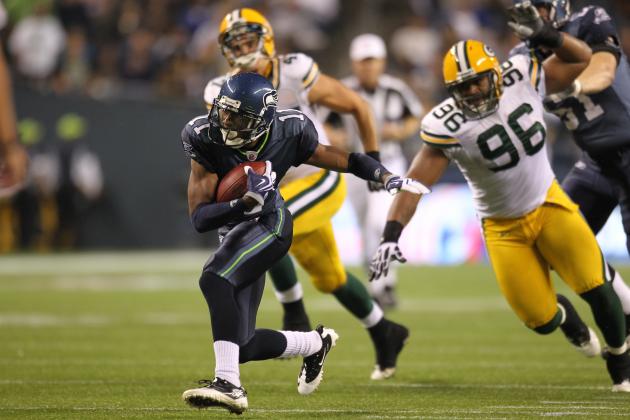 Otto Greule Jr/Getty Images

Monday night's game between the Green Bay Packers and Seattle Seahawks will prove to be a pivotal one. Both teams lost in the opening week of the season only to bounce back with impressive showings last week to even up their records to 1-1.
In order to remain towards the top of their respective division races, the Packers and Seahawks both need to win this week.
Here is what Green Bay must do to leave Seattle victorious.
Begin Slideshow

»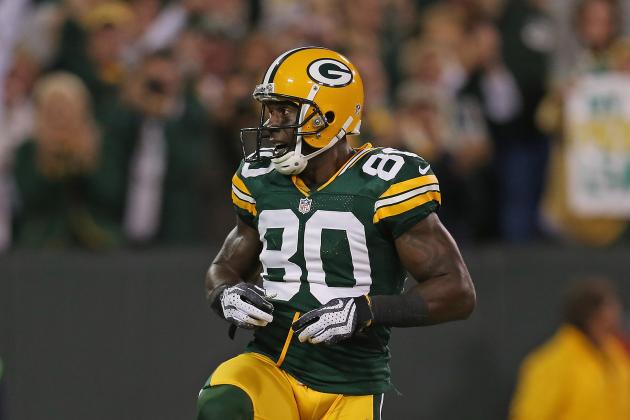 Jonathan Daniel/Getty Images

The Seahawks own one of the best home-field advantages in the NFL. Seattle fans show up for every game, and they're quite rabid if their team gives them a reason to be.
Last week against the Dallas Cowboys, Seattle scored 10 points within the first five minutes because of a kick-return fumble and a blocked punt.
Once the crowd got into it, Dallas' offense began to play very sloppy. The blaring ruckus caused several communication errors between the Dallas offensive players, and they were never able to get into a rhythm.
If the Packer offense can get back to quick starts like it did in 2011, Green Bay can quickly nullify the 12th man.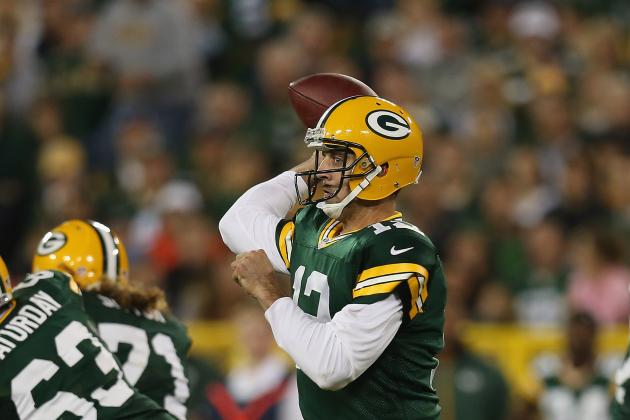 Jonathan Daniel/Getty Images

Last year, it was impossible to defend. Opposing defenses knew Aaron Rodgers would throw the dreaded back-shoulder all the time, and they still couldn't stop it.
This year, it is nowhere to be seen.
The Seahawks own one of the best secondaries in the NFL, so Rodgers won't be able to sling it all over the field, especially with how he and his receivers have been clicking so far this season (or, lack thereof).
He needs to be able to pick up easy yards here and there to open eventual big plays downfield.
Make Seattle worried about that back-shoulder throw, and a simple pump fake will do wonders for the deep ball.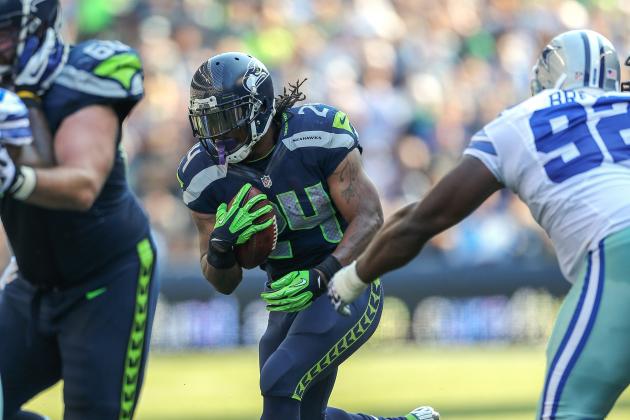 Otto Greule Jr/Getty Images

After two weeks, Seattle ranks seventh in rushing yards per game and dead last in passing yards per game.
If Green Bay can contain Marshawn Lynch and force the game into Russell Wilson's hands, the Seattle offense will be in a very unnatural state.
Lynch is a very hit-and-miss running back. He'll rattle off runs of two yards, three yards, one yard, then bam! He'll explode for a 30-yarder out of nowhere. Those runs are another way the Seahawks get their explosive crowd into the game.
The Packer defense was very susceptible to big plays last year, but has patched up that hole so far this year. Green Bay must continue that trend and disallow Lynch from going off in this game.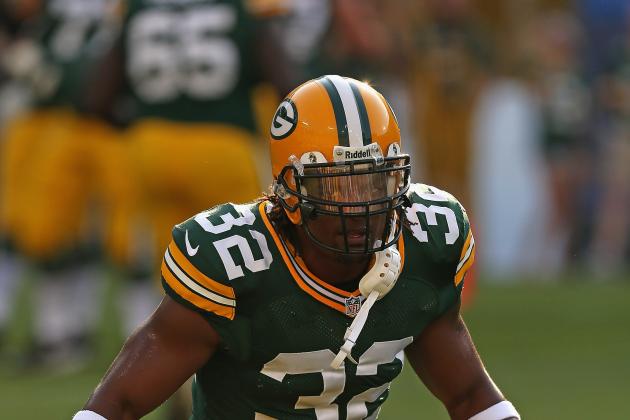 Jonathan Daniel/Getty Images

After an awful showing against the San Francisco 49ers in Week 1, Cedric Benson and the Green Bay running game posted an encouraging performance against the Chicago Bears.
Mike McCarthy ensured the media more time with the offense is all Benson needed, and so far it appears to be true.
This game will be a true test of that, as the Seahawks own the second-best rush defense in the league.
Like the back-shoulder throw, a successful running game opens up so much space downfield for Rodgers to thrive.
Plus, constant successful runs can take a crowd right out of the game.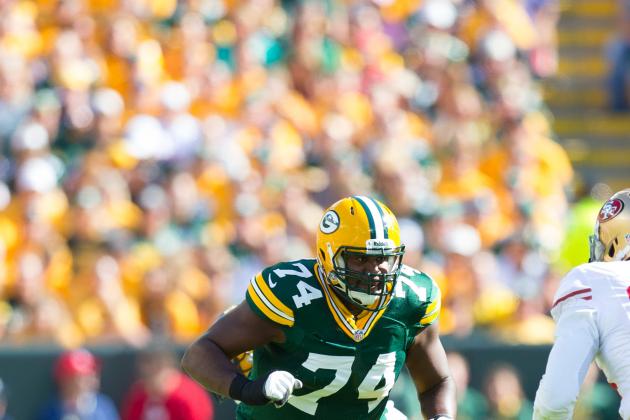 Jeff Hanisch-US PRESSWIRE

So far in this young season, it appears Marshall Newhouse is the biggest question on the Packers' offensive line.
He's not awful by any means, but Newhouse had his troubles against top pass-rushers Julius Peppers and Aldon Smith.
The Seahawks own quite a duo of pass-rushers.
Their starter at right defensive end, Chris Clemons, has recorded 11 sacks in each of the past two seasons.
Then off the bench comes rookie Bruce Irvin in obvious pass situations. Irvin was one of the best pure pass-rushing specialists in the 2012 NFL Draft, and he already has instigated a sack in his very young career.
With a secondary as strong as Seattle's, the Green Bay wide receivers are going to need a little extra time to get open. Newhouse must contain Irvin and/or Clemons to provide Rodgers enough time to make the right throw.