The 10 Tastiest Cupcake Games of College Football Week 4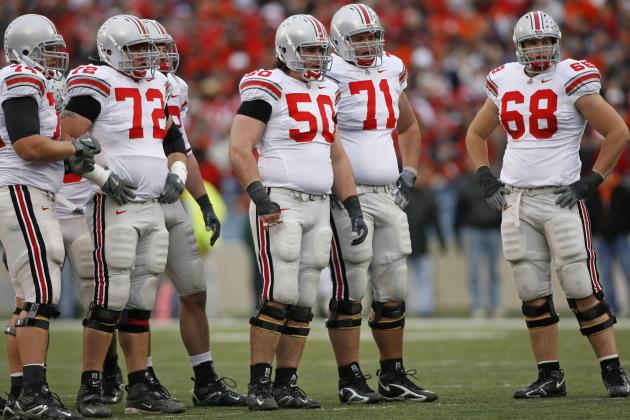 G. N. Lowrance/Getty Images
More cupcakes for guys who like cupcakes.
With three weeks in the 2012 college football season complete, we now have a good sample size to judge how teams will attack the rest of their schedules.
The following teams have fared well enough so far to be heavy favorites in their Week 4 games. Barring upsets in these games—which would be huge upsets—these teams will keep their good spots in the polls, and in some cases, will jump spots in the polls.
Not every team is perfect—even No. 1 Alabama—so Week 4 allows the teams on this list another game to get some issues worked out before having to face conference opponents every week.
If things work according to plan, players down the depth charts of these teams should see game action once more before starters play the whole game.
With that, I bring you the 10 tastiest cupcake games in FBS in Week 4. Savor the flavor, because it might only last for a half.
Rankings are in the following order: No. in AP poll/No. in USA TODAY poll. Rankings updated through Sept. 19, 2012. Favorites are in caps. Lines are opening lines from VegasInsider.com.
Begin Slideshow

»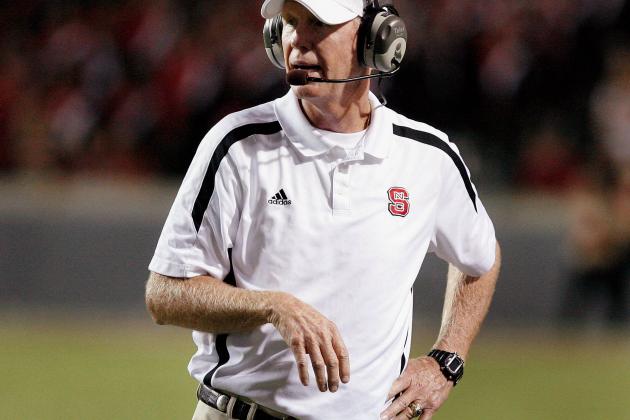 Mark Dolejs-US PRESSWIRE

No Line (FBS vs. FCS)
NC State received Top 25 votes in both preseason polls but has no Top 25 votes in the newest polls. The respect for the program in 2012 within FBS has decreased—at least amongst voters—but this should not matter against The Citadel.
Through Week 3, the Wolfpack have gone 2-1 in less-than-dominating fashion. An opening-week loss to Tennessee and a narrow 10-7 victory against Connecticut in Week 2 have NC State on the outside looking in.
The defense has done a nice job of keeping opposing offenses out of the end zone, but the offense ranks No. 101 in FBS in scoring average through Week 3 (20.7 points per game). Luckily in Week 4, NC State gets a chance to work out the offensive kinks against The Citadel before starting ACC play.
The Citadel enters the game against NC State with a 3-0 record and the No. 14 ranking in the latest FCS Coaches' Poll, but its toughest test comes this week against the Wolfpack.
NC State should really pack the calories on this week, because the road gets much tougher from here.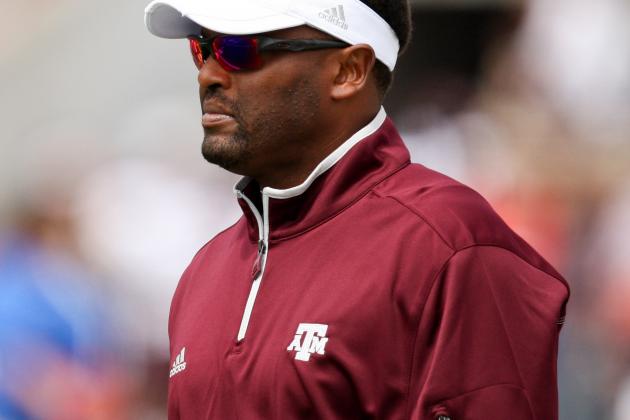 Thomas Campbell-US PRESSWIRE

No Line (FBS vs. FCS)
Prior to Week 2, Texas A&M should have viewed this game as a final chance to devour an overmatched opponent before facing an Arkansas team—which had national championship aspirations—in Week 5.
With the Razorbacks having been upset by Louisiana-Monroe in Week 2 and having lost 0-52 against Alabama in Week 3, though, maybe the Aggies should not fill up too much against South Carolina State. Then again, everything is bigger in Texas, which could very well include the Texas A&M appetite.
Perhaps some better food for thought surrounding this game: How early will the 12th Man start filing out of Kyle Field?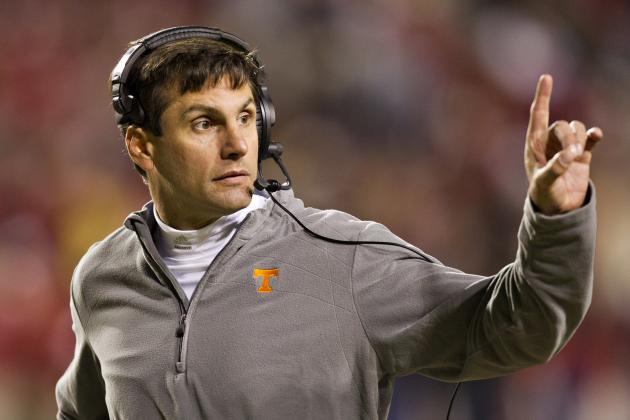 Wesley Hitt/Getty Images

Line: Tennessee by 35
Tennessee's stay in the Top 25 was cut short by a loss to Florida in Week 3. With Akron next on the schedule, the Volunteers should move one step closer to getting back in the Top 25.
Quarterback Tyler Bray had an unexpectedly low 105.0 rating against the Gators, which cannot help his Heisman hopes and super-high 2013 NFL draft stock. This week, Bray should get back to zipping the ball around the field against Akron.
New head coach Terry Bowden led the Zips to their first victory last week, but it was to FCS opponent Morgan State, and Akron won only one game in both 2010 and 2011. That monumental second win will probably have to wait at least another week.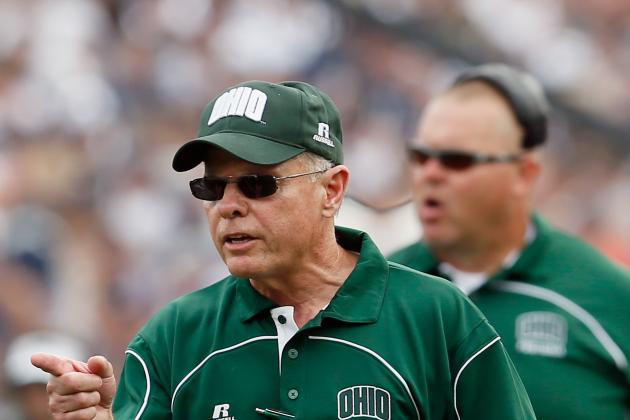 Rob Carr/Getty Images

No Line (FBS vs. FCS)
Ohio has a real chance to earn its first Top 25 ranking in the AP poll since 1968, and FCS opponent Norfolk State should move the Bobcats one step closer to that goal.
Cheers, Ohio, have your cupcakes and eat them too. If not, any chances of re-entering the Top 25 discussion will be long gone.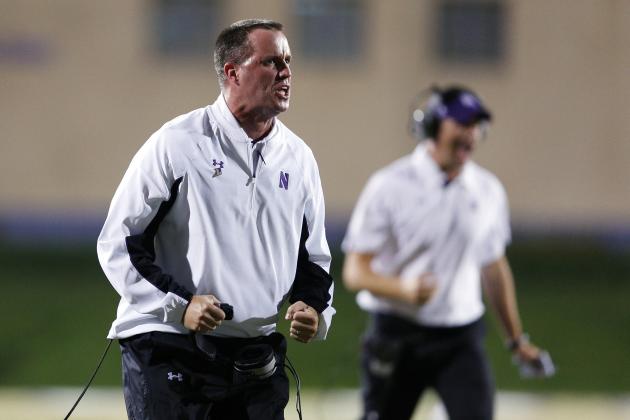 Joe Robbins/Getty Images

No Line (FBS vs. FCS)
Like Ohio, Northwestern has an unusually favorable position in the polls. Through Week 3, it looks like the Wildcats have a strong chance to win their first bowl game since the 1948 season.
Unlike Ohio, Northwestern plays in the Big Ten, a BCS conference that should provide the team with more chances to enter the Top 25 sometime this season. That does not mean the Wildcats should not fill up against FCS opponent South Dakota in Week 4, though.
Northwestern should show off its ultra-balanced offense (204.3 passing yards per game, 202.7 rushing yards per game) to the home crowd before Big Ten play begins.
Pat Fitzgerald has brought his alma mater to four consecutive bowl games, so why ruin a perfectly good opportunity to be in the driver's seat for a fifth?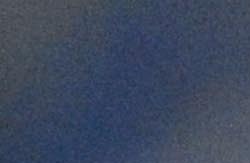 Richard Mackson-US PRESSWIRE

No Line (FBS vs. FCS)
Nebraska dropped out of the Top 25 after Week 2 thanks to a loss against UCLA and new head coach Jim Mora's dynamic offense. A win against another offensive guru (Gus Malzahn, Arkansas State) in Week 3 has put the Cornhuskers back in the Top 25, though.
After eating cupcakes from the plate of FCS opponent Idaho State, Nebraska could find itself back in the Top 20—where it was in the preseason polls—depending on how the rest of the country shakes out.
Nebraska likes to run the football, averaging 46.7 carries and 295.0 yards per game through Week 3.
If Idaho State's defensive linemen were not happy about facing the Cornhuskers before the season, they should be downright fearful now. Plus, all the sugar to bring their spirits back up after the game will have been eaten.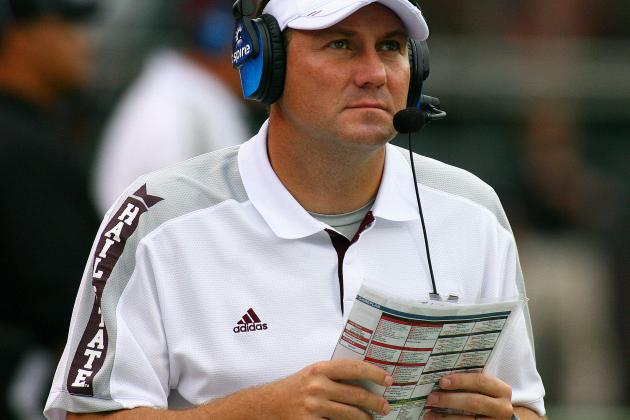 Spruce Derden-US PRESSWIRE

Line: Mississippi State by 32.5
South Alabama's inaugural FBS season includes, of course, many firsts for the program.
The Jaguars already had their first game (31-33 loss to UTSA in Week 1), their first win (9-3 to FCS opponent Nicholls State in Week 2), and their first game against a BCS conference team (7-31 loss to North Carolina State in Week 3) as FBS members.
Now, South Alabama gets to play against a Top 25 team, something that should be both exciting and frightening.
For Mississippi State, Week 4 should be just another day at the office, but the Bulldogs should have a lot of cupcakes waiting for them this time.
Meanwhile, South Alabama can look forward to its next milestone: its first Sun Belt conference game (vs. Troy in Week 5).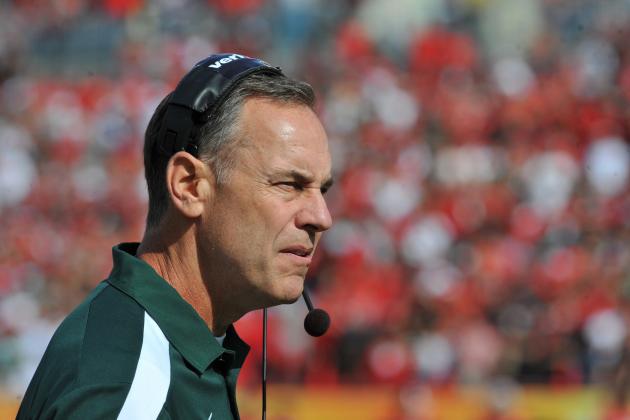 Al Messerschmidt/Getty Images

Line: Michigan State by 28.5
Michigan State fell out of the Top 15 after losing to Notre Dame in Week 3, but a visit from Eastern Michigan could get the Spartans back up there.
The Fighting Irish held Le'Veon Bell, who looked like a Heisman contender after the first two weeks of 2012, to 97 yards from scrimmage. Quarterback Andrew Maxwell showed his inexperience in game situations after posting an 86.0 rating.
A message to Sparty: Fill up at this pit stop before Big Ten play begins in Week 5 against Ohio State. You need to refuel after facing two Top 25 teams in three weeks.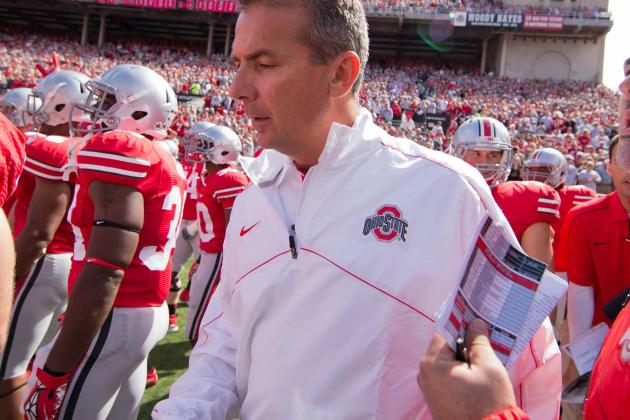 Greg Bartram-US PRESSWIRE

Line: Ohio State by 36
Aside from a Week 3 scare at the hands of California, Ohio State has not been tested this season. The Buckeyes will get another warm-up game in Week 4 against UAB before visiting Michigan State in Week 5 to begin Big Ten play.
With the bowl ban this season, the only competitive gratification Ohio State can really get in 2012 is to negatively affect its opponents' rankings. Through three weeks of the season, we have gathered the Buckeyes should do that a lot.
This week, Urban Meyer and crew will eat a boatload of cupcakes and wonder what could have been if not for the sanctions.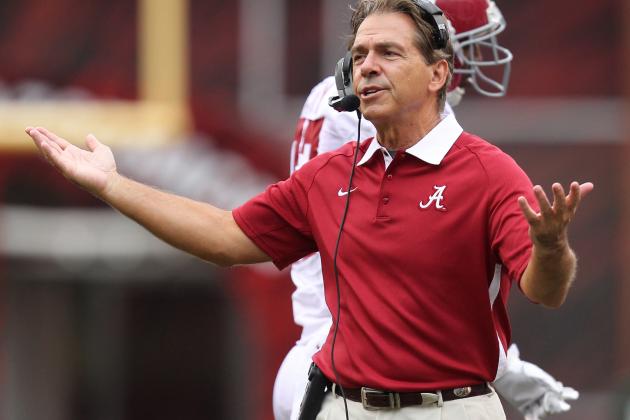 Nelson Chenault-US PRESSWIRE

Line: Alabama by 51
Like Ohio State, Alabama has already eaten its fair share of cupcakes this season. The way the Crimson Tide has dominated the college football landscape, they could appear on this list for the rest of the season.
I suggest Alabama start filling up on fruits and vegetables soon, rather than cupcakes, if it wants to avoid the obesity crisis in the United States. Then again, as the clear No. 1 team in the country, why would it change anything?