Tennessee Volunteer Football: Top 6 Performances of Past 30 Years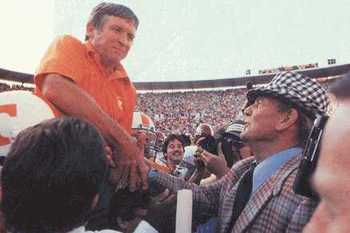 1982 Bama - Compliments of Gate 21.net
What constitutes a top performance?
Is it a game your team wins that it should not have? Does it have to be a conference game, a bowl game or a championship game?
For me, it is a game that changes things—like winning a title or ending a streak. Normally, it is also a game with a big regional or national audience as well.
Many teams don't have six games that can be classified as a top performance under my guidelines in the past thirty years. Tennessee probably has 25 or more. But, I'm only going to list the top six.
For the folks that are too young to remember, sorry you missed the celebrations. For those non Vol fans reading, send me a note and we will do one of these for your team, but please don't horn in and try to make noise about your guys on here.
Here are the six top Tennessee Vols performances as I recall them.
Honorable Mention, Alabama at Tennessee: Vols End Alabama 11-Game Win Streak
Tennessee 35, Alabama 28, October 16, 1982.
Alabama was ranked No. 2 in the nation when they rolled into Knoxville on an 11-game winning streak. The Vols were up by 14 points with 7:21 to play, but Alabama got it back to within seven. It took a fourth-down interception in the end zone by Tennessee's Mike Terry to seal the win.
Needless to say, after 11 losses in a row, the goal posts came down that sunny fall afternoon in Neyland. That day also began a four-year Tennessee win streak over the Tide.
No. 6: Tennessee vs. Miami: Vols End Hurricane 28-Game Home Win Streak
In 2003, the University of Miami was ranked No. 4 in the nation and was thinking national championship when the No. 13-ranked Vols visited in November.
Miami had a 28-game home win streak on the line and were favored by two touchdowns versus the Vols. The Tennessee defense played one of their most outstanding games in years and the offense did just enough to notch a victory.
The only touchdown of the game was scored by the Vols on a 4th-and-goal at the two-yard line, as the Vols scored on an end-around play.
The final score of this game: Tennessee 10, Miami 6.
If you like defense, you loved watching this game.
No. 5: Tennessee vs. Florida State: 1998 BCS National Championship Game

1999 Fiesta Bowl

No. 1-ranked Tennessee took on No. 2-ranked Florida State in the 1999 Fiesta Bowl for the first BCS National Championship game.
Though Tennessee was ranked ahead of Florida State, most betting lines had Florida State as the favorite in the game. Tennessee fans would swear the national media expected a Seminole win, and that may have been the case.
But the Vols scored early and Florida State spent the game playing catch-up. Fans of both teams were on the edge of their seats the entire game.
At the time, college football's most famous announcer, Keith Jackson, was supposedly calling his final game, which added a bit more historical perspective to the matchup. However, Mr. Jackson came back to ABC and announced for several more years.
All-time favorite announcers and Vols' Radio Icons John Ward and long-time sidekick Bill Anderson had announced this would be their final season announcing Tennessee football as well.
And, true to his word as always, when John Ward ended his broadcast with "the national champion is clad in Big Orange!", those were his final words on a Tennessee Football Broadcast. Unlike Keith Jackson, John Ward ended his career on an all-time high moment.
What a way to end a career!
No. 4: Tennessee at Notre Dame: Miracle at South Bend

Tennessee at Notre Dame - Miracle at South Bend

On November 9, 1991, head coach John Majors watched from the sideline of historic Notre Dame Stadium in South Bend, Indiana. The Fighting Irish kicker was lining up for a 27-yard field-goal attempt on the game's last play.
The game had been a historic contest. Head coach Lou Holtz's 8-1 Notre Dame team played well early. Late in the first half, they led the Volunteers 31-7 and were inside the Vols' three-yard line with a 2nd-and-goal.
As the final field-goal attempt headed up, Coach Majors had a front-row seat to Tennessee history. The kick started straight, then sailed wide and the Volunteer sideline erupted in cheers.
The University of Tennessee had just come back and defeated No. 5 Notre Dame 35-34, after being 24 points behind in the second quarter. No team had ever come back from a larger deficit to defeat the Irish in South Bend.
Late in the second quarter, leading 31-7, Notre Dame had driven the ball inside the Tennessee five-yard line. They looked ready to score another touchdown on 2nd-and-goal. But quarterback Rick Mirer lost 15 yards on a sack, and the Irish settled for a short field-goal attempt.
Notre Dame kicker Craig Hentrich lined up the 32-yard field-goal attempt with forty seconds to play in the half. However, the kick was blocked, and Volunteer Floyd Miley scooped the ball up and ran 85 yards for a touchdown.
Instead of ending the first half at 38-7 or even 34-7, Notre Dame saw the Vols bring a flicker of life (31-14) back into a game they had completely dominated.
The UT offense dominated the second half until about the four-minute mark. Then, with UT leading 35-34, Rick Mirer drove the Irish back down the field to the UT nine-yard line with only four seconds to play.
Hentrich was injured on the Vols' first half field-goal block, so head coach Lou Holtz had to call on the Irish's second-team kicker. Backup kicker Rob Leonard lined up the short kick and appeared to have hit it perfectly.
Just then, Tennessee defender Jeremy Lincoln dove in toward the kick. As he literally flew by, the ball glanced off his butt. This caused it to be slightly deflected just wide of the uprights as time expired.
Final score: Tennessee 35, Notre Dame 34.
Jeremy Lincoln, the 5'10", 180-pound defensive back said when the play was over, he ran immediately to his mom's seat in the stands. Once there, he thanked her for giving him a big rear end at birth!
No. 3: Tennessee vs. Florida: SEC East Title at the Swamp in 2001

Post Game - Tennessee at Florida 2001

As a result of the September 11 terrorist attacks in 2001, the annual Florida vs. Tennessee football game was moved to Saturday, December 1, 2001.
It turned out that both teams entered the game with identical 11-1 records. Tennessee's single loss was a last-second heart-breaker when they fell to Mark Richt's first Georgia team 26-24, in Knoxville.
In October, the Florida Gators lost at Auburn 23-20. That was a heart-breaker on a last-second field goal. That loss occurred despite Florida out-gaining the Tigers 364 yards to 160.
But the Gators fumbled three times. One, recovered on the Florida two-yard line by Auburn, led to a touchdown. They also threw four interceptions. The final one led to the winning field goal by Auburn.
Tennessee headed to Gainesville ranked No. 5 nationally. Florida entered the game with a No. 2 national ranking. The teams had identical records and both had a very successful—and difficult—SEC schedule. Still, Tennessee was a solid 18.5-point underdog to the home-standing Gators.
Both teams had beaten the SEC West Champions, LSU, and both were confident they could beat that team again. The winner of this game would face them the following week in the SEC Championship game.
By around kickoff time, both teams were becoming aware that the game winner could be special. They may be ranked No. 1 or No. 2 in the BCS Poll. A win over LSU again the following week would guarantee a national championship game appearance in the Rose Bowl.
At the time, it was not known that this would be the final home game coached by Steve Spurrier in the swamp. He would retire from the Gators and take the head-coaching position for the Washington Redskins of the NFL in January of 2002.
The game went back and forth all night. Tennessee tailback Travis Stephens ran the ball better than anyone had against Florida all year. His 19 rushes went for 226 yards. In addition, the Tennessee defense made it difficult for the Gators on the ground. They yielded only 36 rushing yards on 23 carries.
In the end, Florida scored to get within two points at 34-32, with only 70 seconds left. Florida quarterback Rex Grossman could not find anyone open in the end zone. As a result, the conversion-attempt pass fell incomplete.
Before and during the game, Florida co-eds had held long-stemmed roses in their teeth. These were a symbol of The Rose Bowl, where the national title game would be played.
In the end, neither the 18.5 points nor Lee Corso's ESPN College GameDay—who were broadcasting on site—prediction of a Florida win mattered. The thousands of trampled long-stemmed roses on the ground surrounding Ben Hill Griffin Stadium summed up the feelings of the Florida faithful.
In a single corner of the mammoth, emptying stadium stood a group of orange clad players in the end zone. Just above them in the stands—the band—blaring out Rocky Top for probably the hundredth time, kept on playing.
Around them in the stands stood the other 10,000 or so happy fans, butchering Rocky Top for probably the hundredth time.
That group, along with a few coaches already in the locker room, were the only folks in the state (we felt) who believed. Another one of those special times where it's great to be a Tennessee Volunteer.
No. 2: Auburn vs. Tennessee: The Tennessee Waltz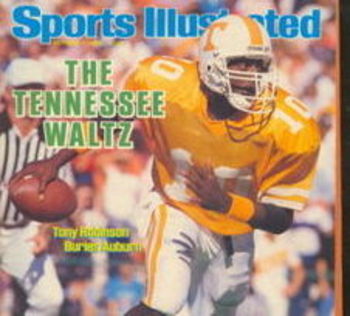 Compliments of Sports Illustrated
On September 28, 1985 when Auburn rolled into Knoxville, Tigers Head Coach Pat Dye had a No. 1-ranked team and an unstoppable weapon: a running back named Bo Jackson—the premiere runner in college football that year.
Jackson's rushing total for the season was 1,786 yards. That was within 200 yards of the all-time college leader Georgia's Herschel Walker, who had 1,891 yards in 1981. Jackson's efforts allowed him to win the Heisman Trophy that season.
When Auburn came to Knoxville, they were the No. 1-ranked team in college football. They had won their first two games by a combined score of 78-25.
At the time of the Auburn game, the Vols were not ranked. They had played one game so far, a 26-26 tie vs. No. 10-ranked UCLA. As a result, Auburn was heavily favored in the game.
At the time of the Auburn game, Tennessee's senior quarterback was Tony Robinson. He had waited not so patiently behind UT's Alan Cockrell for his chance to start since he was a freshman. When Cockrell got a baseball contract in June of 1984, Robinson got the nod.
He had a decent season in 1984, but nothing that said he would break out big in 1985. However, that is exactly what he did.
In his first game of 1985, he threw for 387 yards against No. 10-ranked UCLA. In this second game against No. 1-ranked Auburn, he threw for 259 yards and four touchdowns.
Robinson was as skinny as a bean pole at 6'3" and 183 pounds, but he was as gifted an athlete as I ever watched. His elusiveness and his quickness are what made him special.
But he was a smart quarterback, as well.
His ability to change John Majors' play calls at the line of scrimmage over 50 percent of the time—and not get benched—spoke highly of his ability to understand the game as a player. This is something even professional coaches seldom allow their quarterbacks to do that, but Robinson's calls often resulted in huge gains.
By halftime of this coming-out game for Bo Jackson, Tennessee led Auburn 24-0.
By now, the Tennessee defense was getting in on the act as well. In his game the previous week, Jackson had gained 123 yards by the end of the first quarter. In this game, he had 29 yards at the end of the first.
Jackson ended the day with 80 yards on 17 carries. He pulled himself from the game with an ankle injury in the fourth quarter.
Sports Illustrated made the trip to Knoxville with the idea of doing a write-up on super star, Bo Jackson. Instead, after seeing the game, the article was titled "The Tennessee Waltz" and starred UT quarterback Tony Robinson.
In the long version of this story, Bo Jackson turned out to be what everyone expected. He was a record-setting, Heisman Trophy winning back. For "Touchdown" Tony Robinson, things went the other way.
Robinson was injured during the fifth game and was to be out for a while. Instead of a trip to New York for the Heisman vote, he wound up being arrested in Knoxville on cocaine charges later in the year. That got him tossed at UT.
Instead of a good pro career—which he could have easily had—he continued to make drug-related mistakes over and over in his life. Robinson wasted his youth and his talent on drugs and what they bring.
The few games in 1985 I saw, he was a special athlete with Heisman potential. He was one of the most incredible athletes Tennessee ever had to play quarterback.
Coach Majors said he had the best natural instincts of any quarterback he ever coached. High praise, indeed.
Fortunately for Tennessee in 1985, there was Darryl Dickey. He came on and picked up the Vols when Robinson got hurt. Thanks to his steady hand, they finished the year at 9-1-2 and ranked No. 4 in the nation.
Those of us who watched this game will always remember the Tennessee Waltz.
No. 1: Tennessee vs. Miami: the 1986 Sugar Bowl

Compliments of You Tube.com

The Vols won the SEC title in 1985. Back then, winning the SEC got you a trip to the Sugar Bowl, a January 1 game. This was the 1986 Sugar Bowl, but everyone remembers it (correctly) as the 1985 team.
This is the time of the University of Miami's football heyday. Their players—and sometimes, their coaches—were brash and cocky. But they almost always backed up any talk with superb play.
In 1985, the Hurricanes lost their first game of the year to Florida. For the rest of the season, head coach Jimmy Johnson's team destroyed their opponents.
Through the course of the year, they beat No. 3 ranked Oklahoma and No. 10 Florida State. They also whipped several good teams that were not in the Top 25 rankings. Just before the Sugar Bowl, they destroyed Notre Dame 58-7.
Also, just before the bowl game, their coach Jimmy Johnson answered a question about whether the Hurricanes may wind up ranked No. 1.
At the time, they were ranked No. 2 and scheduled to play No. 8-ranked Tennessee in the Sugar Bowl. Johnson said if Miami won and the No. 1 team lost, his team should be voted national champions.
To some people, the way the coach responded seemed as if he were dismissive of the Tennessee team. In addition, while at midfield for the pregame coin flip, the Tennessee game captains offered their hands in the traditional "good luck, no injuries" hand shake. The Miami team captains just turned their heads and ignored the outstretched hands. Tennessee captain, running back Jeff Powell said "they were just cocky. I don't think they respected Tennessee."
Miami then took the opening kickoff right down the field. They were held at their 43-yard line, but on fourth-and-nine, they ran a fake punt for 24 yards and got the first down. Shortly after, they scored on a Vinny Testeverde-to-Michael Irvin 24-yard touchdown pass. Just a few minutes into the game, and it was Miami 7, Tennessee 0.
From that point forward, Miami's quarterbacks were sacked eight times—Testeverde, seven times for minus 84 yards—and three quarterback fumbles were all recovered by Tennessee. The Vols set a Sugar Bowl record of 24 negative plays caused by their defense.
In addition, that first seven points would be all Miami would score in the game, as the Vols scored 35 straight points.
Before the game, one Miami player was quoted as saying the only Vols he knew were "a, e, i, o and u." After the game, UT players were joking about helping the young man with his spelling, especially the word r-e-s-p-e-c-t!
Keep Reading

Tennessee Volunteers Football: Like this team?