Baltimore Orioles Right There with the NY Yankees: Can They Win the AL East?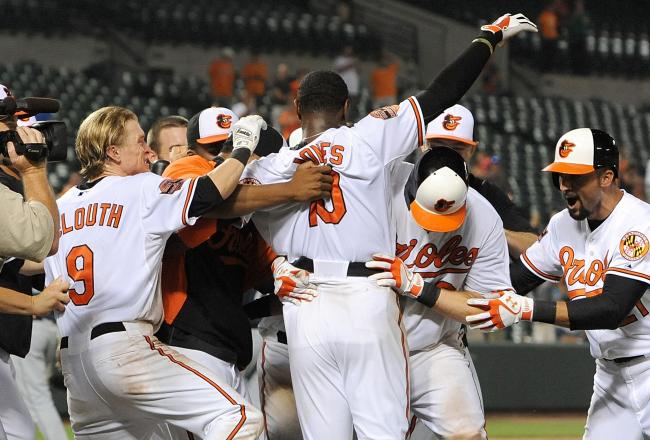 Familiar scene for Orioles
Greg Fiume/Getty Images
The Baltimore Orioles are a half game behind the New York Yankees atop the AL East with 13 games left in the season. The New York Yankees? Ruth? Gehrig? DiMaggio? Mantle? Costanza? (It's always good to include a Seinfeld reference). Yes, those New York Yankees.
How have they done it? I don't know. I'm not sure they know. Through 149 games the Orioles have been outscored by 10 runs. The Yankees have scored 100 more runs than they've given up. The quickly sinking third-place Tampa Bay Rays have outscored the other guys by 67 runs. Sometimes it's best not to know.
The 2004 Boston Red Sox didn't want to know.
"We're not going to try to figure it out," Johnny Damon told a reporter when asked how they were going to beat the Yankees. "We're just a bunch of idiots. We're just going to throw the ball, hit the ball, catch the ball. We want to keep the thinking process out of it."
Not thinking turned out to be a great idea as the "idiot" Sox became the first team in Major League history to erase a 3-0 series deficit, beating the Yankees in the ALCS. They went on to beat the Cardinals and win Boston's first World Series in 86 years.
Can the Orioles be this year's idiots?
Of course they can. The Birds certainly aren't going to fold. The time for that has long since passed.
Will their "luck" run out?
I've always been among those defining luck as hard work meeting opportunity. But then again, sometimes there's no logical explanation other than it's just plain luck.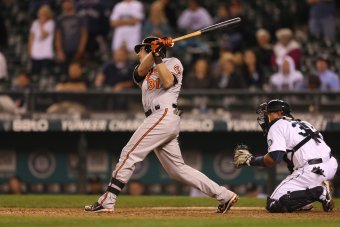 Teagarden hits game winner
Otto Greule Jr/Getty Images
Tuesday night's 18-inning, five hour and 44-minute marathon win over the Seattle Mariners was the Orioles' 16th extra-inning game this year. After losing the first two, Baltimore had won the last 14.
Wednesday night they did it again, beating Seattle 3-1 in 11 innings. For those of us counting, that's 15 in a row.
It's seemingly a different hero every night. Most are retreads.
Tuesday it was backup catcher Taylor Teagarden. The former Ranger knocked in the winning run in the top of the 18th. Former Diamondback Mark Reynolds then drove in former Brewer and Twin J.J. Hardy with an insurance run. Former Ranger Tommy Hunter got the win.
Wednesday it was former Mariner--hardly a retread-- Adam Jones with a home run in the top of the 11th.
The Orioles have taken a cue from their stoic manager, Buck Showalter, and don't seem to be thinking too much about this magical season. They truly are the 2012 version of those Red Sox idiots. Throw. Hit. Catch. Think? Not so much. Truly one game at a time.
The Orioles' success might come as a surprise to the rest of the baseball world, but not to the men in that clubhouse. Again, a cue from their skipper.
Showalter's teams saw major improvements in year two in New York, Arizona and Texas. He built those teams and then left right before World Series championships in New York and Arizona and back-to-back Series appearances by Texas. Coincidence? I think not.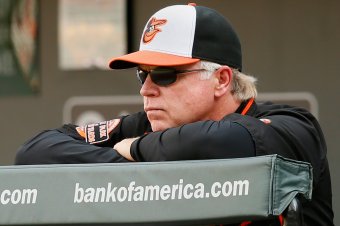 Buck's seen this before
Rob Carr/Getty Images
The question now is whether or not the winner of Manager of the Year awards in each league can finally get his championship.
I believe, but then again I'm an Orioles fan.
No one looks at their rotation and sees World Series champ. The lineup seems a bit lacking. But just look out there in the outfield. There. Behind the wall.
The Orioles' bullpen has gotten them this far and can take them all the way. There I said it. Jim Johnson has been spectacular as the closer with 45 saves. Luis Ayala, Darren O'Day and Pedro Strop have been great as bridges from the starter to Johnson.
That allows the Orioles' starters to go maybe six and turn it over to the troops from behind the wall.
Am I calling a championship for the Birds? Too much thinking involved for that. Throw. Hit. Catch.
Follow me on Twitter @sprtsramblngman
This article is
What is the duplicate article?
Why is this article offensive?
Where is this article plagiarized from?
Why is this article poorly edited?

Baltimore Orioles: Like this team?