Philadelphia Flyers: 8 Players Who Need to Step Up in a Big Way in 2012-13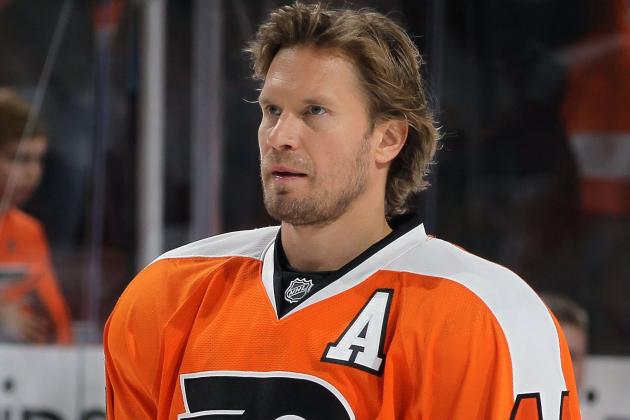 Jim McIsaac/Getty Images

The 2012-13 NHL season is currently in jeopardy, but as negotiations between the NHL and NHLPA drag on, players have a responsibility to stay in shape and be mentally prepared for the season when (if) it does begin.
For the Philadelphia Flyers, the hypothetical season looks very promising. Claude Giroux has taken over a potent offense, Scott Hartnell has proven he can do more than trash talk, and the team's young corps of players got off to a brilliant start in 2011-12.
However, certain players will find that 2012-13 is destined to be a pivotal year in their careers. Some are skating on metaphorical thin ice, others have contract negotiations looming, and still others are being called upon to make leaps forward in their development.
Here are eight players who will need to step up big in 2012-13 for the sake of the Flyers and the sake of their own careers.
Begin Slideshow

»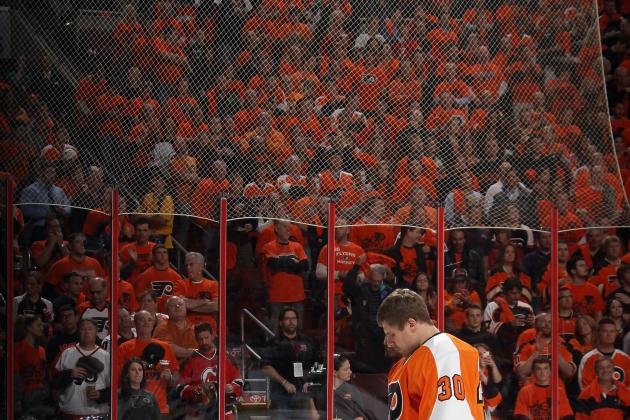 Bruce Bennett/Getty Images

Being a goalie in Philadelphia automatically puts you under a microscope.
Kick off a nine-year contract with a season as disappointing as Ilya Bryzgalov's 2011-12 campaign, and you might as well be under a magnifying glass on a sunny summer day. If things don't turn around for Bryzgalov in 2012-13, you'd better believe he is going to get burned.
The excuses are gone. Philadelphia's harsh media won't catch Bryz by surprise this year, and his competition for the starting role, which some blamed for distracting Bryzgalov, was traded to Columbus in the offseason.
Bryz has a clean slate and a true backup goalie, two elements that should produce for a more successful second year in Philadelphia.
Now that he is starting his season in the KHL, he will be expected to return to the NHL ready to work and mentally resilient. Should he falter, you can bet he's going to have some "humongous big" problems with the fans and media.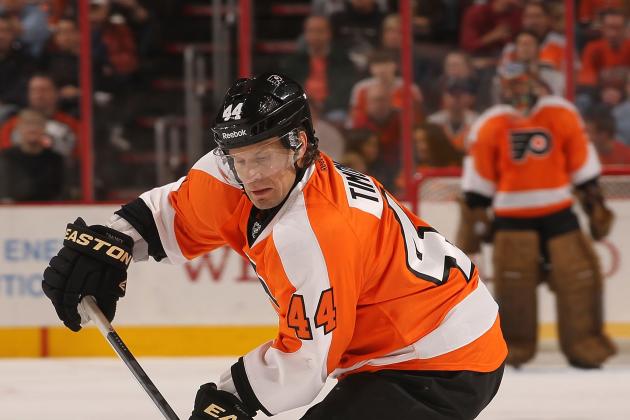 Nick Laham/Getty Images

Kimmo Timonen did not have nearly the problematic 2011-12 campaign that Bryzgalov experienced, but this coming season is nonetheless important for him.
For the first time in his extensive career, Timonen looked worn out at the end of last season. Players found it a little easier to get a step on him and Timonen had just a little more trouble adjusting to dynamic offenses.
The presumed shortening of 2012-13 in the wake of the lockout will certainly be beneficial for Timonen, who is recovering from back surgery. But this is also a contract year for Timonen, and the team may be very hesitant to give a new contract to a player who will be 38 before the end of the season.
Simply put, Timonen will spend 2012-13 auditioning for a place on the Flyers. If he proves he still has the energy and skill to match the leadership he brings to the blue line, the Flyers will likely extend him. If he begins to look like a 38-year-old who has had plenty of work done on his knees and back, then consider this season to be Kimmo's farewell tour in Philly.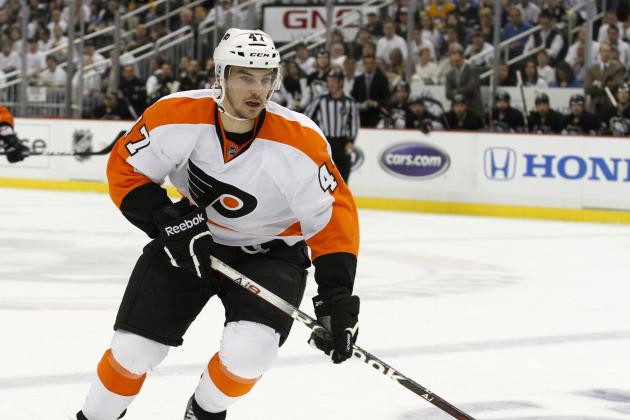 Justin K. Aller/Getty Images

Eric Wellwood impressed in 2011-12 by literally bursting onto the scene.
The most noticeable aspect of Wellwood's game is his untouchable acceleration and speed. He seemed to win every one-on-one race to the puck.
However, speed alone does not make a good hockey player. Wellwood needs to translate that speed into puck protection and winning puck battles; adding East-West toughness to his North-South speed will round him out as a player.
If he remains one-dimensional, then his time on Philadelphia's fourth line will be short-lived. Tough guys like Tom Sestito and Jody Shelley will find themselves injected into the lineup more often, and Adirondack Phantom Jason Akeson is looking for his shot at the big leagues.
It's Wellwood's job to lose, but he'll have to step his game up to hang onto it.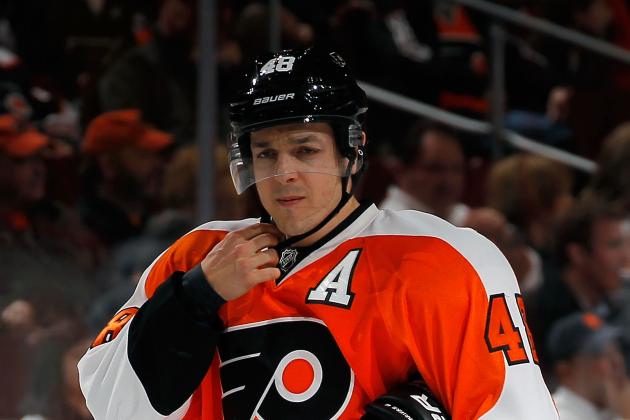 Paul Bereswill/Getty Images

The Flyers' offense was the third most dangerous in the league in 2011-12; it comes as a total shock to learn that the team's primary veteran scorer, Danny Briere, finished with under 50 points for only the second time since 2002-03.
Injuries played a role in Briere's lack of success as he missed 12 games over the course of the season; but even when on the ice, Briere was clearly offensively challenged.
He was able to get away with his scoring impotence thanks to the Flyers' brilliant top line and surprising contributions from newcomers like Wayne Simmonds, Matt Read and Max Talbot.
But the Flyers would be ambitious to think they can get so much secondary scoring again in 2012-13, so it will be up to the guys who are paid to put the puck in the net to earn their keep.
Briere's reinvigoration could be the catalyst for major regular season success next year.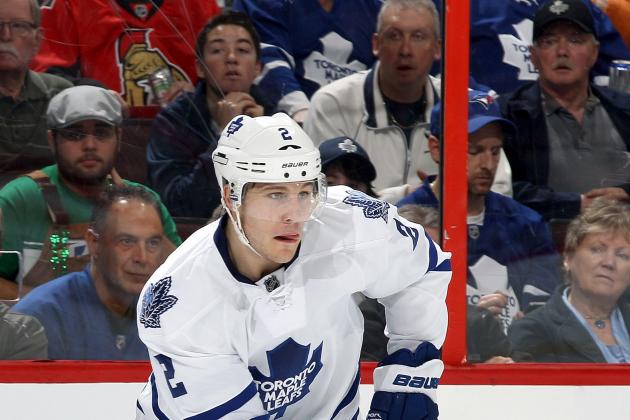 Jana Chytilova/Freestyle Photo/Getty Images

The Philadelphia Flyers and Toronto Maple Leafs faced similar dilemmas in the 2012 offseason.
Each team had a player with big potential, whose development had seemed to have plateaued. The teams came up with a potentially brilliant solution: swap 'em.
Philly traded struggling winger James van Riemsdyk for Toronto defenseman Luke Schenn, who had been relegated to the third defensive pairing and even spent time as a healthy scratch.
Schenn threw an astounding 270 hits in 2011-12, which represents the kind of physicality that will go over well in the City of Brotherly Love. But going for the highlight-reel hit often left Schenn discombobulated and out of position.
If coach Peter Laviolette can instill in Schenn a more disciplined style of hockey, the older of Philly's two Schenn brothers could find himself rising the ranks of the defensive corps in his new hometown.
But if Schenn continues to play like a bottom-pairing defenseman, it won't take long for Luke to be labeled a failed experiment all over again.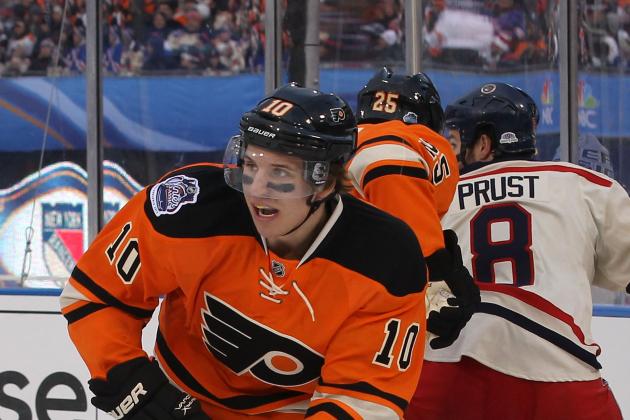 Bruce Bennett/Getty Images

Luke's brother Brayden has his own set of worries for the 2012-13 season.
Schenn No. 2 got off to a difficult start in his first season in Philadelphia, as injuries limited his playing time early in the season and he failed to register his first goal until the Winter Classic. However, once the monkey was off little bro's back, he started to shine.
Schenn found not only the back of the net, but his knack for toughness. Brayden emulated Luke by throwing more than one highlight-reel hit late in the season, and the amplification of every aspect of Brayden's game has made expectations for Schenn "The Younger" high in 2012-13.
The Flyers' projected lineup has Schenn playing on the second line with Danny Briere and Wayne Simmonds. Clearly Schenn will be expected to produce points at a significant rate.
If Schenn can keep up with expectations, the Flyers will have themselves perhaps the most valuable man on the team not named Claude Giroux. If a sophomore slump is in Brayden's future, he may quickly find his ice time limited in favor of another forward.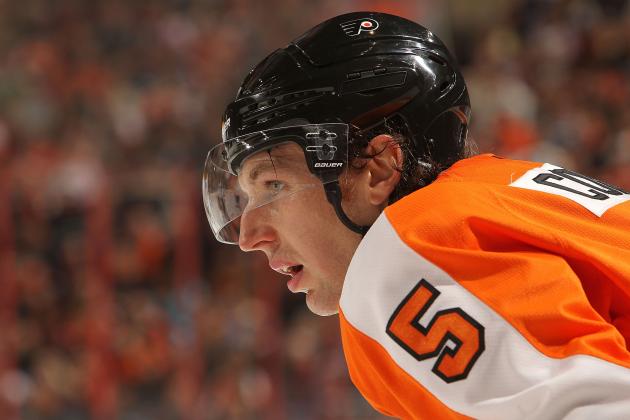 Nick Laham/Getty Images

As mentioned earlier, Kimmo Timonen's future with the Flyers beyond 2012-13 is up in the air. Additionally, Matt Carle is gone and Chris Pronger may never play again.
Leadership on the Flyers' blue line is vanishing quickly, and the time has come for the team to unofficially anoint its next defensive captain. For Braydon Coburn, 2012-13 isn't just about contributing to the offense and remaining reliable on defense.
It is about becoming a leader.
In the past few years, we have all seen Coburn's game improve dramatically. He has learned how to use his size. He has cut down on defensive turnovers. He has learned to contribute on offense without sacrificing his defensive responsibilities.
Thus far, Coburn has steadily met every challenge he has faced. The next hurdle, the leadership hurdle, will be tested this season as Coburn and Timonen anchor an already-beat-up defensive unit.
He is the longest-tenured Flyer on the roster, and it is time for this mild-mannered d-man to become an emotional beacon for his team.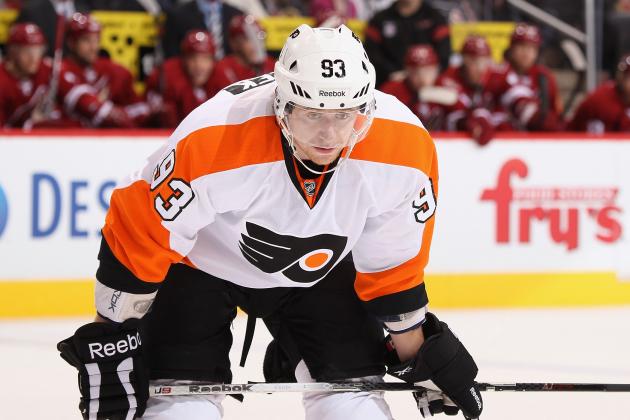 Christian Petersen/Getty Images

Jakub Voracek turned out to be one-half of a brilliant Flyers' trade that sent Jeff Carter to Columbus in exchange for Voracek and a draft pick that became Sean Couturier.
Voracek's Flyers debut was very positive, as the young winger nearly broke the 50-point mark and scored some very important goals for Philadelphia.
In 2012-13, Voracek not only faces the task of furthering his development. He also is blessed (or burdened) with the responsibility of being Claude Giroux's wingman.
Voracek's idol Jaromir Jagr held the position last season and performed admirably, but now Giroux has a youthful, energetic skater on his wing. Chemistry may take some time developing between the two, as both players are capable setup men who don't usually think to shoot first.
Scott Hartnell may find himself hitting new career highs in goals as a result.
Nonetheless, it is important that Voracek be able to keep up with the rising star at his center. A superstar can be held back by his linemates, or he can be thrust forward. Voracek may be the difference between the two.