The 15 Most Overrated Golfers in History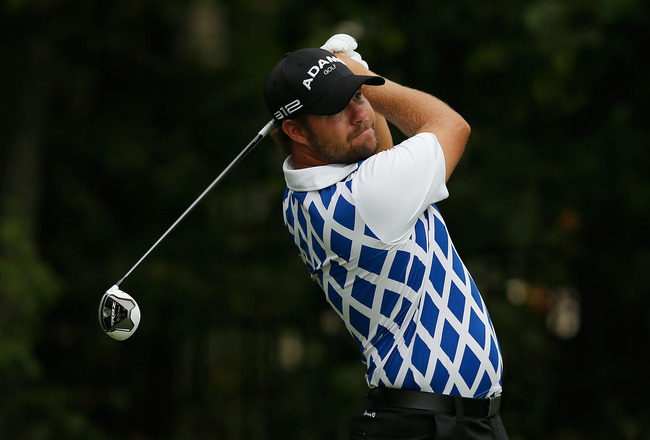 Ryan Moore had glittering amateur credentials
Scott Halleran/Getty Images
Overrated-ness is one of those things that's most clearly seen in the eyes of the beholder.
That's why this list of the 15 most overrated players might create some interesting debate.
How can a guy who has won a dozen times on the PGA Tour be included on such a list? How can major champions be included on the list?
These are good questions with a variety of answers that can be applied. On this list, a player's entire career was taken into account.
How about a guy like Ryan Moore, who won the U.S. Amateur, U.S. Public Links, NCAA Championship, Western Amateur and Sahalee Players Championship, all in 2004?
But he's won just one time in his seven years on Tour. Is he overrated?
Check out 15 others you may or may not agree with.
Colin Montgomerie Could Never Get It Done in the U.S.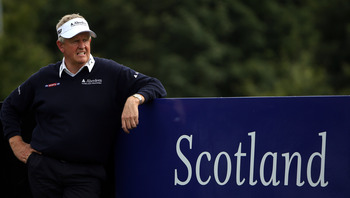 Colin Montgomerie never found success in the U.S.
Ross Kinnaird/Getty Images
The rabbit-eared Scotsman won 31 times on the European Tour, but never won on the PGA Tour.
He finished second a handful of times in majors, but could never nail down one of golf's biggest prizes.
Montgomerie was a good Ryder Cup player but never fulfilled all that promise he possessed.
Michelle Wie and Her Parents Had Big Dreams, but They've Been Unfulfilled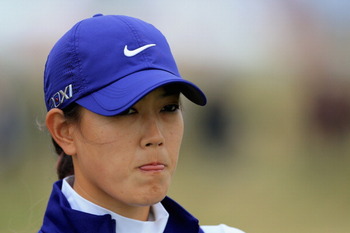 Michelle Wie has struggled for a long time.
David Cannon/Getty Images
She was raised to become a great golf champion and she is still trying to achieve that goal.
At age 10, she became the youngest player to qualify for a USGA amateur championship.She also became the youngest winner of the U.S.Women's Amateur Public Links to qualify for a LPGA Tour event.
She turned professional just before her 16th birthday and has won twice since.
She tried playing a couple events on the PGA Tour, but failed miserably.
Bobby Clampett Hasn't Resembled the Golfer He Was as an Amateur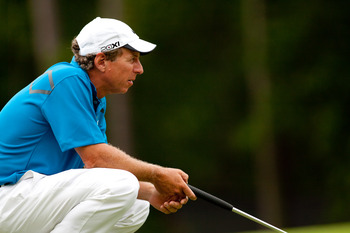 Bobby Clampett was an outstanding amateur golfer.
Darren Carroll/Getty Images
Few golfers have come to the PGA Tour with higher expectations than Bobby Clampett.
He was a three-time All-American, two-time Collegiate Golfer of the Year at Brigham Young University.
He was the low amateur at the 1978 U.S. Open and 1979 Masters.
He won once on the PGA Tour in 396 starts. He has eight top-10 finishes in 49 Champions Tour starts.
Camilio Villegas Hasn't Developed into an Elite Golfer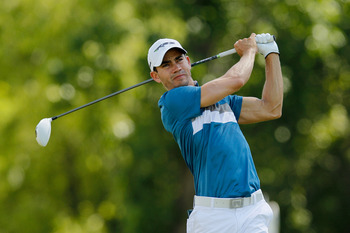 Camillo Villegas seemed destined to be a big winner
Chris Graythen/Getty Images
He's ripped and loves to show it off.
He's gets all Spiderman on the green to read putts. He's dashing, Latin and charming.
He won twice in 2008, the BMW Championship and the Tour Championship, finishing the year in great fashion.
But in each of the last two years, Villegas has posted just three top 25s.
Charles Howell III Has Been an Average PGA Tour Player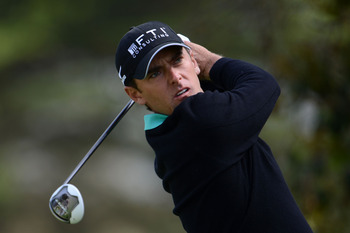 Charles Howell IIII hasn't found the ability to play well consistently.
Stuart Franklin/Getty Images
He was an NCAA champion at Oklahoma State, setting a scoring record at 23-under par.
He is a member of Augusta Country Club, next door to Augusta National, where it was expected he'd be playing regularly in April. He won in 2002 and 2007 but has seldom been seen on leaderboards since.
He's played in 360 events and has finished in the top 10 only 59 times.
Lee Westwood: Always a Bridesmaid in Majors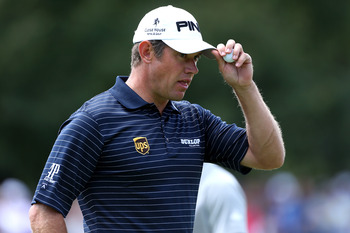 Lee Westwood has been more pretender than contender.
Warren Little/Getty Images
He's become a perennial disappointment even though he's won over $23 million around the world.
He's won twice on the PGA Tour and 22 times on the European Tour. But he's still looking forward to winning his first major title.
His time as the No. 1 player in the world is sketchy at best.
Luke Donald Won't Be a Great Player Until He Wins a Major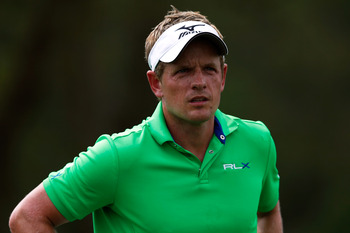 Luke Donald hasn't been able to see his way to a major title.
Scott Halleran/Getty Images
Many of the same things said about Westwood apply to Donald.
The time he spent in the No. 1 spot never really felt real.
Donald has won five times on the PGA Tour, seven times on the European Tour and two others. He's a great guy who has won over $28 million, but a great guy who is very much overrated.
Ian Poulter Hasn't Performed Well in Majors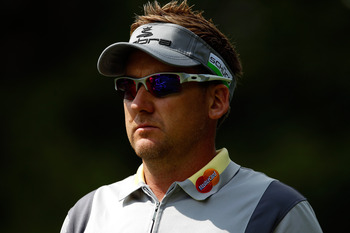 Ian Poulter is a lot of flash and cash, but no majors.
Chris Chambers/Getty Images
Full of bravado and flash, Poulter is another guy who has yet to fully cash in on his wealth of talent.
In 12 years of playing in majors, Poulter finished in the top 10 just six times.
Poulter said to Golf World, U.K., in March 2008 (via ESPN):
Don't get me wrong, I really respect every professional golfer, but I know I haven't played to my full potential and when that happens, it will be just me and Tiger.
We're still waiting, Ian.
Corey Pavin Could Work the Ball, but Won Just One Major on the PGA Tour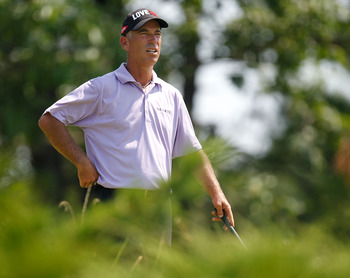 Corey Pavin won the 1995 U.S. Open at Shinnecock Hills.
Gregory Shamus/Getty Images
It might seem a bit strange to say that Corey Pavin, winner of the 1995 U.S. Open and 15 PGA Tour events, was an overrated player.
But he was.
He obviously had boatloads of talent, but in his 19 years of playing major events, he posted top 10 finishes only 10 more times.
David Duval Had Greatness in His Grasp, but It Got Away from Him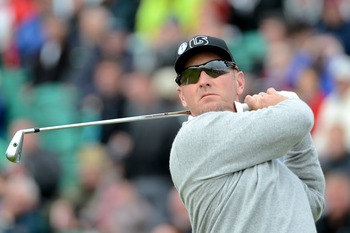 David Duval's career was like a meteor that quickly flamed out.
Harry How/Getty Images
In 23 years of competing in majors, he's had 11 top 10 finishes, including winning the Open Championship at Royal Lytham & St. Annes.
He was the No. 1 player in the world in April of 1999. He even shot 59 in the final round of the 1999 Bob Hope Chrysler Classic.
That's an admirable record, but, because of a number of issues, Duval's career never took off the way many thought it would.
Justin Leonard Didnt Win a Major in the United States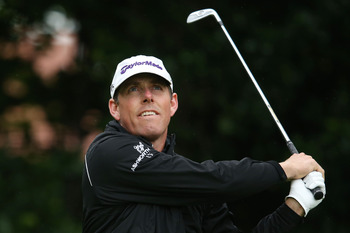 Justin Leonard has always been a gritty competitor.
Richard Heathcote/Getty Images
A 12-time winner on the PGA Tour, including the 1997 Open Championship, Leonard wasn't the longest player on Tour.
He certainly wasn't the most flashy.
But there was always a feeling that there was more to his game that we never really got to see.
Anthony Kim's Road to Stardom Got Derailed by Injuries, off-Course Activities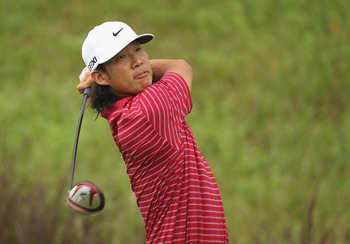 Anthony Kim had as much potential as anyone when he hit the PGA Tour.
Ian Walton/Getty Images
He came to the PGA fresh off a winning performance on the 2005 Walker Cup team. He won three times on tour and played in the Ryder Cup in 2008 and Presidents Cup in 2009.
His passion for night life and a variety of injuries have derailed his career, as his comeback continues.
Sergio Garcia Hasn't Turned Ryder Cup Success into Major Wins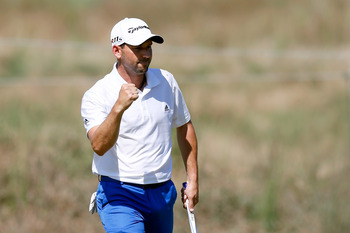 Sergio Garcia still holds the title of "best player to not win a major."
Scott Halleran/Getty Images
He has been a Ryder Cup demon and will most likely play well again next week at Medinah Country Club.
But he's won just eight times on the PGA Tour, despite being as highly touted as any golfer in recent memory.
His difficulties over the years have included his inability to handle hecklers in galleries and a breakup with a girlfriend, Laura, who is the daughter of Greg Norman.
Jim Furyk Is a Good Player Who Could Have Been Great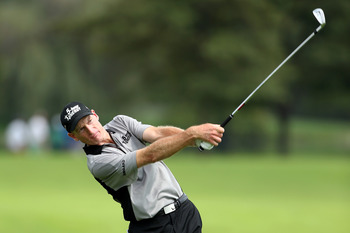 Jim Furyk's near-misses have kept him from being one of the greats.
Warren Little/Getty Images
In September 2006, he was ranked second in the World Golf Rankings.
Furyk has 18 top-10 finishes in majors over the course of his career, 11 of those were top-fives.
The man with the funky swing has plenty of game but hasn't won as much as he probably should have. He had great chances to win U.S. Opens at Oakmont in 2007 and Olympic in 2012.
He's had his heart broken far more than it should have been in major championships.
Rickie Fowler's Great Promise Has Been Unfulfilled Thus Far
Before the moustache, Rickie Fowler seemed to be a no-brainer star when he came to the PGA Tour.
Jim Rogash/Getty Images
It was a tough call to include him on this list, but the star at Oklahoma State has not lived up to what appeared to be a world of potential when he arrived on the PGA Tour.
He's won one time since turning pro in 2009. That wasn't what was expected of him, but it's been only three years.
Time will tell if this belongs.
Keep Reading