WWE Night of Champions 2012 Results: 10 Questions Heading into Hell in a Cell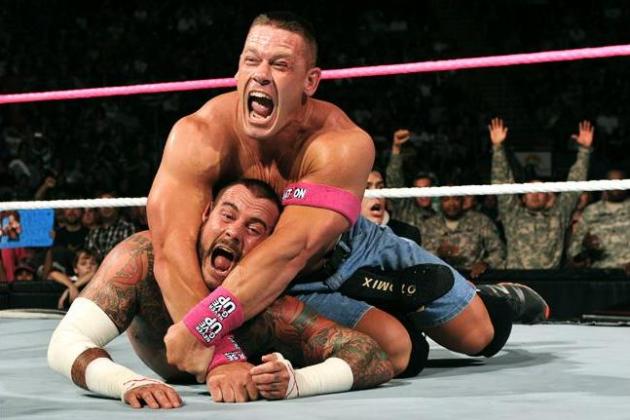 Photo courtesy of WWE.com
With six weeks between Night of Champions and Hell in a Cell, the WWE will certainly have plenty of time for storyline development, but now that Night of Champions is officially in the rear-view mirror, fans certainly have plenty of questions on their minds.
Some feuds were furthered at Night of Champions while others seemingly came to an end, and it will be interesting to see how they're handled moving forward. It appears that the WWE is working with a clean slate when it comes to most titles and angles, though, and that means that there is a lot of work to be done.
CM Punk and John Cena figure to continue feuding over the WWE Championship, but now that Cena is out two to three weeks following surgery to remove bone chips from his elbow, that whole picture got a bit more complicated. Aside from that, however, we could see several new storylines and matches between now and Hell in a Cell.
With that said, here are the 10 biggest questions that WWE fans are hoping to have answered in the coming weeks ahead of Hell in a Cell.
Begin Slideshow

»
It has been apparent for quite a while that John Cena has been operating at less than 100 percent. Following his match with Brock Lesnar at Extreme Rules, he even hinted that he would be taking some time off. That never came to fruition, but Cena will most definitely have to remain on the shelf for two to three weeks now after having bone chips removed from his elbow.
The surgery would seem to be strategically planned since Cena fought CM Punk to a draw at Night of Champions and beat him controversially in a tag-team match on RAW. With so much time between Night of Champions and Hell in a Cell, the WWE probably figured that now was the best possible time to lose him for a couple weeks.
The question now, though, is how will the writers navigate around Cena's injury? The plan is obviously for Cena and Punk to do battle again at Hell in a Cell, but will Cena disappear from WWE programming completely over the next few weeks, continue to appear without wrestling or perhaps even appear via satellite?
Something needs to be done in order to keep Punk, the WWE Championship and even Cena very visible while Cena is nursing the injury. I'm not sure how it will happen, but the feud will be preserved somehow.
With Brock Lesnar's WWE contract limiting his appearances, it was clear that he would be taking several hiatuses over the course of the year. He already took one after losing to John Cena at Extreme Rules and breaking Triple H's arm, but he returned to defeat Triple H at SummerSlam. Lesnar announced the following night, however, that he was quitting the company again.
Obviously, that was only a ploy, and it's a matter of time before Lesnar comes back. Whether that happens between now and Hell in a Cell is certainly up for debate. It's possible that he could come back to have another match with Triple H or somebody else, but the WWE may have other plans for him.
Now that CM Punk has formed a partnership with Lesnar's business associate, Paul Heyman, though, the odds seem pretty good that Lesnar will join that alliance at some point. My guess is that he interferes in the Punk vs. Cena Hell in a Cell match at the next pay-per-view and helps Punk retain.
Triple H is one of the biggest superstars the WWE has ever seen, but his future is very much in doubt. Triple H lost to Brock Lesnar at SummerSlam and had his arm "broken" once again, prompting him to question whether or not he could continue wrestling. Triple H delivered a tearful goodbye to the WWE universe, but it wasn't clear if that meant he was retiring.
Even though Triple H tried to create the retirement illusion, he'll clearly have another match at some point. Nobody knows for sure whether it will happen at Hell in a Cell or at a later date, though. According to F4WOnline.com, following SummerSlam, original plans called for Triple H to have a rematch with Lesnar at Survivor Series, but it was moved up to Hell in a Cell instead.
That could very well be typical speculation, but you never know. I feel like Triple H and Lesnar may be done with each other, though, now that Punk and Heyman are together, so I don't expect to see Triple H wrestling again until maybe as far off as WrestleMania.
Sheamus has been World Heavyweight Champion since WrestleMania and he has been feuding with Alberto Del Rio for the vast majority of that time frame. Sheamus defeated Del Rio yet again at Night of Champions, though, so all signs point to that rivalry being over. Exactly who might be next for The Great White is unknown at this point, though.
There are several uninspiring options, and one possible feud that has been speculated upon is Sheamus vs. Big Show. The seven-foot giant hasn't been seen on WWE programming for a month, so it is very possible that something big is being planned for him. At the same time, though, I see Big Show joining up with CM Punk and Paul Heyman soon, so I wouldn't bother throwing him into the world title scene.
The best choice for Sheamus' next opponent would have to be Wade Barrett. He has only been back from an elbow injury for a couple weeks and hasn't done much of anything, but he is the perfect yin to Sheamus' yang. Sheamus has suffered from feuding with an inferior opponent in Del Rio, as nobody thought Del Rio was credible. Barrett is a big, nasty, physical guy like Sheamus, though, so I feel like they could have a wonderful feud.
The odd couple of Kane and Daniel Bryan continued their entertaining partnership at Night of Champions, as they beat Kofi Kingston and R-Truth to become the new Tag Team Champions despite several disagreements throughout the match. Kane and D-Bry then retained the titles in a rematch the next night on RAW, so something more substantial figures to be on the horizon.
Kane and Bryan are the two most entertaining guys in the WWE right now, as their comedy act has really captivated the fans. Not only is that great for Kane and Bryan individually, but now that they are Tag Team Champions, it is awesome news for the tag division, as it is slowly rising from the ashes after two years in obscurity.
There are suddenly several teams that Kane and Bryan could feud with, including Kofi and Truth, The Prime Time Players and Rey Mysterio and Sin Cara. If I had to pick one team, it would be Mysterio and Cara due to the contrasting styles, but I believe that a fatal four-way at Hell in a Cell involving those teams would really help get the tag division over.
I consider The Miz to be one of the best all-around talents in the WWE currently, but based on the way he has been booked for the past year, I'm starting to wonder if the WWE brass feels the same way. The Miz beat Christian for the Intercontinental Championship upon returning from a hiatus to film a movie, and while I initially thought it would be great for both him and the IC title, his run as champion simply hasn't been good.
That isn't The Miz's fault, though, as he has had some great matches and done good work on the mic when given the opportunity. Miz has been jobbed out to guys like Kane, John Cena, Rey Mysterio and Sin Cara in non-title matches, though, so he's pretty much stuck in neutral. With that said, I believe that a feud with Ryback could be great for him.
Ryback crashed his talk show segment on Monday, so conventional wisdom says that they're likely to begin a program. I'm not a big Ryback fan and I feel like Miz is a million times better in every facet, but I would rather Ryback have the IC title than Miz. The Intercontinental Championship is nothing but an albatross for Miz at this point, so hopefully he drops it to Ryback and moves on to the main-event scene sooner rather than later.
Dolph Ziggler is the current World Heavyweight Championship contract Money in the Bank holder, meaning he is almost certainly going to be world champion at some point over the next 10 months. Because of that, you would think that the writers would do their best to build him up and make him look like a credible threat, but Ziggler has lost time and time again since nabbing the briefcase.
It happened again at Night of Champions, as Ziggler lost to Randy Orton for no apparent reason. Orton is a guy who is one of the most popular stars in the company, has won the world title on nine occasions and doesn't need to win another match in his life in order to look strong. On top of that, Orton is going to be filming a WWE movie soon, so I'm not sure what the motivation was behind him winning.
The same thing happened with Ziggler when he lost to Chris Jericho at SummerSlam, and he has even lost to Alex Riley since becoming Mr. Money in the Bank. The WWE has had an issue with booking Money in the Bank winners well for quite some time, and Ziggler is the latest example. There is still time to turn things around, but he either needs to continue feuding with Orton and ultimately win that feud or dominate someone else to regain credibility.
Kaitlyn was scheduled to challenge Layla for the Divas Championship at Night of Champions, but she was attacked while warming up and was unable to compete. Eve checked on her and Kaitlyn said that she didn't know who had assailed her. Then, because of Eve's exceptional work as Booker T's assistant, the SmackDown general manager made her the No. 1 contender.
Eve made the most of it, as she defeated Layla and became the new Divas Champion on Sunday night. Eve has been playing the nice girl role, but there is obviously something very fishy going on based on her previous persona. Eve clearly had something to do with Kaitlyn's injury, but she likely had some sort of accomplice.
Kaitlyn was being tended to while Eve was talking to The Prime Time Players, so she couldn't have been the one to carry out the attack. That means that Eve is either working with another diva or perhaps even a male superstar, as the sex of Kaitlyn's attacker wasn't revealed. I typically don't care much about the divas division, but I'm intrigued about where this might be heading.
Antonio Cesaro defeated Santino Marella for the United States Championship at SummerSlam, but he hasn't really done much with it since. That is mostly on the writers, as Cesaro has yet to be put in a concrete feud, but they now have six weeks to make something happen, so I have to believe that Cesaro will be put in an angle of some sort.
If Monday was any indication, perhaps Cesaro will have a program with Brodus Clay. Cesaro was on commentary for Clay's match against Heath Slater, as Brodus had attacked him on the previous SmackDown. Cesaro didn't succeed in costing Clay the match, but it looks like there is much more to come with regard to Cesaro and Clay. Cesaro did retain against Zack Ryder at Night of Champions, though, so he could be a factor as well.
I don't really care who Cesaro feuds with as long as he is given some sort of storyline. Neither he nor the United States Championship are particularly relevant right now, but the creative team hasn't given the fans a reason to care. Whether he feuds with Clay, Ryder or whomever else, hopefully he is put in an angle that is built meticulously over the next six weeks.
Now that we know Jerry "The King" Lawler is ultimately going to recover from his near-fatal heart attack, we can start speculating on how the commentary situation will play out in the coming weeks. JBL filled in for Lawler at Night of Champions and did a great job, while Jim Ross joined JBL and Michael Cole on the following RAW to make a three-man booth. It remains to be seen whether or not this is a permanent solution, though.
There is no telling when or if Lawler will return, but he underwent a serious heart procedure, so I wouldn't expect to see him back announcing between now and Hell in a Cell. JBL constantly has side projects going on, so I'm not sure he is in it for the long haul, but I would be fine with him taking over temporarily. He struggled on RAW after doing well at Night of Champions as he reused all of his material, but with Cole now playing the face, JBL would be a nice contrast.
Also, I'm always fine with JR announcing in any capacity. He's a play-by-play guy rather than a color commentator, so he and Cole aren't an ideal fit, but it wouldn't bother me. I feel like Cole and Josh Matthews do a nice job together on SmackDown, so that is another possibility. Lawler is a legend who will be tough to replace, but the WWE has a lot of directions it can go in right now.
Follow @MikeChiari on Twitter and listen to him on Ring Rust Radio.