Matt Hardy Talks WWE Return & More in Exclusive Ring Rust Radio Interview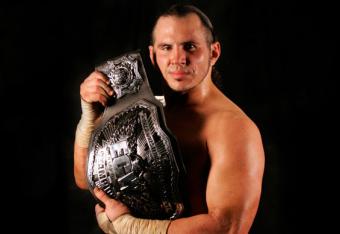 WWESuperstars.com

While Jeff Hardy has been dubbed the "Charismatic Enigma," his brother Matt is the man that fits that description.
Matt Hardy's recent interview with Ring Rust Radio showcases how much the wrestling star has changed over the course of his career as a wrestler, and more importantly, as a man.
After working as one of the top stars in the wrestling industry before falling on hard times, Hardy has seen more ups and downs in his career and life than almost anyone in the wrestling business.
Would you like to see Matt Hardy back in a major wrestling federation?
With his recent meteoric rise back towards the top through the independent wrestling scene, Hardy has reinvented himself once again to win over many of the fans that questioned his style and love for the business.
Months of working shows in every corner of the United States—from Extreme Rising (Nov. 17) to Ring of Honor—has brought Hardy back to his roots and reinvigorated his love for the sport of wrestling.
Hardy talks about how the transition from WWE and TNA to the Indy scene wasn't easy, but the fact that he is slowly winning even the most hardcore wrestling fans over proves that his reinvention has been an ongoing success.
As much as the easier schedule is better for his health, Hardy was asked about taking on the heavier workload with a company like WWE or TNA again in the future, and the former ECW World champion responded frankly:
I think for my health and happiness, I prefer that lighter schedule. I would be intimidated to do that heavier schedule now. If something were to work out with the perfect scenario with one of those places on a lighter schedule, I could see that being a possibility, but I appreciate how far I've come along, not only evolving myself as a wrestler, but myself as a human being.
It is clear from this quote and the entire interview that Matt Hardy has matured.
There was a time when many wrestling fans openly questioned Hardy for taking things too lightly, but it has become blatantly clear through his work ethic and the words he chooses that Matt has grown up.
At 37 years old, Hardy is far from done in the business, but he must be smart about the damage he allows his body to take. Throughout the interview, Hardy references his health and happiness as the two biggest factors in making decisions in his life now.
If asked the same question a few years ago, the answer would have been radically different.
With maturity has come a smart business sense, and Hardy knows the secrets of building his name into a successful brand. As much as Matt Hardy Brand has become the former WWE star's Twitter handle, it is who Hardy is.
The wrestling veteran knows the power and clout his name carries and knows how to use it to his advantage. Add a respect for the fans that make what he does possible, and Hardy is one of the smarter wrestlers Ring Rust Radio has ever interviewed.
Say what you want about the Matt Hardy in-ring character, but the man knows how to get the most out of the business and the name he has built for himself.
The future for the star is still unclear, but he is heading in the right direction with the right mindset. It is just a matter of time before the star finds his way back to prominence.
For the full interview, listen below (some language NSFW).
Check back for more on the World Wrestling Entertainment as it comes, and visit Bleacher Report's wrestling page to get your fill of WWE/TNA. For more wrestling talk, listen to Ring Rust Radio for all of the hot topics you just can't miss (some language NSFW).
This article is
What is the duplicate article?
Why is this article offensive?
Where is this article plagiarized from?
Why is this article poorly edited?