For Thursday's game in Boise, Idaho it will boil down execution in and against the run game for both the Broncos and the Cougars. While the Idaho Statesman reported that both Bronco Mendenhall of BYU and Chris Petersen of Boise State are less than thrilled about the 12-year series kicking off this Thursday, one can be certain on the field the coaches are gearing up for this contest. BYU is a week removed from having its offense stymied by the defensive line of Utah, and Boise State is looking for its first big win of 2012.
In Joe Southwick the Broncos have got a quarterback who is growing into his role as the starter. Against Michigan State's aggressive defense he struggled, completing less than half of his passes. However, against Miami of Ohio he completed a robust 24-of-31 passes and looked quite comfortable on his home field. Part of the success for Southwick comes with DJ Harper getting the ground game going on the blue turf.
That means for Southwick to get comfortable against a very stingy BYU defense the Broncos have to get the running game up and going early. Look for heavy doses of Harper early and often. If Chris Petersen's team is to win this tough non-conference game, it will be on the shoulders of his running back. By getting Harper going, Southwick and settle into throwing the ball against defenders close to the line of scrimmage and make use of play action to get big plays.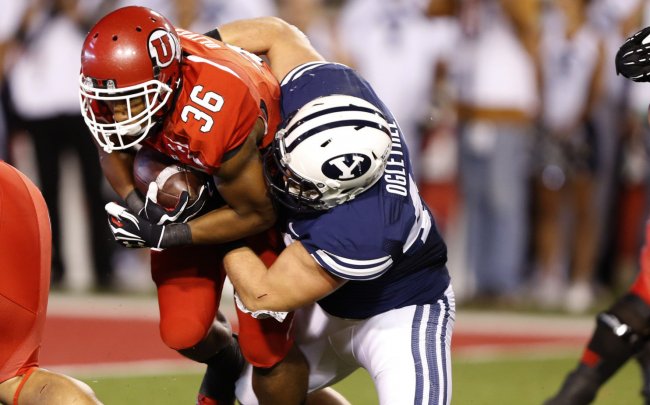 George Frey/Getty Images
It is not going to be easy though; BYU boasts one of the nation's best run defenses. While the Cougars are not as athletic as the Michigan State team that shut down Boise State's ground game, Mendenhall's team is as sound in its technique, fundamentals and scheme as anyone in the nation. It's a mature defense that wins at the point of attack, takes good angles and tackles extremely well. BYU does not blow a lot of coverages and the Cougars don't beat themselves.
Much of the same can be said for the Broncos defense. It's not nearly as mature or seasoned as the BYU players, but it is quite the well-coached group. It doesn't make many mistakes and it forces the other team to beat it. In the case of Michigan State, the Spartans ground down the Boise State defense on the pounding of Le'Veon Bell's 44 carries and 210 yards.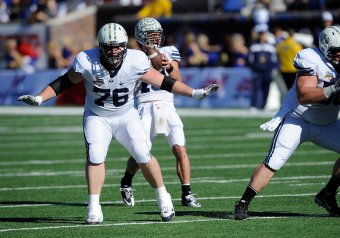 Jerome Miron-US PRESSWIRE
The Cougars have a stout offensive line, a group that has a good amount of football under its belt and has to rebound from last week's struggles against Star Lotulelei. That means contending with Michael Atkinson and Demarcus Lawrence up front.
It is not going to be easy to run the ball in this contest, but for the sake of both team's quarterbacks, establishing the run is a must. Joe Southwick needs the run to get comfortable and loosen up the throwing lanes. For BYU's Riley Nelson, establishing the run is all about making him more effective in both facets of the game. If BYU's running backs can get going, that means Nelson can be a threat to run the ball and hit his targets downfield.
This Thursday night game should be a dandy—two well-coached teams squaring up against one another on the blue turf.