10 Reasons to Follow NCAA Women's Hockey in 2012-13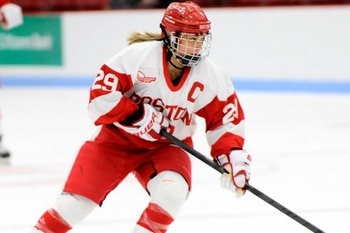 Marie-Philip Poulin (Image by Steve McLaughlin)
With the NHL Lockout dragging on, there are many more alternatives for hockey fans. One alternative is NCAA women's hockey.
Quite possibly, the best kept secret in hockey today, the existing rivalries (BU vs. BC, Minnesota vs. Wisconsin, Brown vs. Providence) are as visceral as any in the NHL.
This year's freshman crop will guarantee that the next four years of NCAA women's hockey will be the finest yet. With talent coming from the Canadian and US Under-18 national programs, fans will be spoiled by the superlative quality of hockey that exists.
Although the Midwest features remarkable talent in the Western Collegiate Hockey Association conference, the city of Boston is making a strong case as the hub of premier women's ice hockey in the United States. The Boston University Terriers and Boston College Eagles are continuously ranked in the polls. In addition, Boston also boasts the Northeastern Huskies and the Harvard Crimson. With historic Fenway Park hosting outdoor hockey games (known as Frozen Fenway), the entertainment factor emanating out of Boston is a remarkable boon for NCAA women's hockey.
10: Outstanding Rookie Class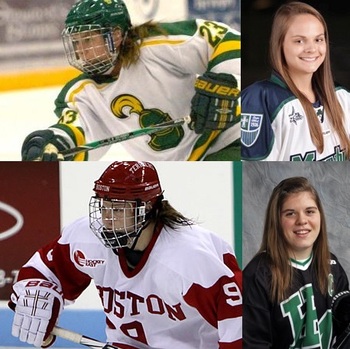 Clockwise from top left: Erin Ambrose (courtesy of Clarkson), Emily Jackson (photo by Jennifer White), Hannah Brandt (Photo by MN Girls Hockey Hub), Sarah Lefort (Photo by Todd Huxley Smith)
While the senior class of 2012 was one of the greatest classes ever, the freshman crop of 2012 may soon be considered the greatest ever.
Hannah Brandt contributed (CHECK) 10 points in the first four games of the season. Sarah Lefort leads all Hockey East players in goals scored, while Emily Janiga is tied for the CHA lead. Erin Ambrose and Laura Stacey, teammates on both the Canadian Under-18 National Team and with the Toronto Jr. Aeros of the PWHL, have proven to be two future superstars.
The crop of goaltenders is outstanding.
Emerance Maschmeyer of Alberta and Amanda Leveille of Ontario are the top two goaltending prospects, but they are joined by elite company. Elaine Chuli (who played with Maschmeyer on the Canadian Under-18 team), Chloe Desjardins, Ashlynne Rando, Vilma Vaattovaara, and Kayla Black have all made outstanding impacts.
During the 2012 ECAC Postseason finals, freshman goalie Carmen MacDonald led St. Lawrence to an upset over the Cornell Big Red. Her performance makes many programs believe that a rookie netminder has the potential to help any team win the big game.
9: New Look CHA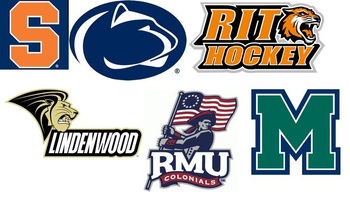 Although the CHA has seen two of its programs fold (the Wayne State Warriors in autumn 2011 and Niagara Purple Eagles in spring 2012), the conference has reinvented itself.
While Mercyhurst, Robert Morris and Syracuse are still in the fold, three new programs have jumped on. The Lindenwood Lady Lions (in their second season of NCAA Division I) agreed last season to commit to CHA. The 2012 NCAA Division III National Champion Rochester Institute of Technology Tigers have graduated to CHA, while the Penn State Nittany Lions became the third team from Pennsylvania to join CHA.
8: First Australian Player in the NCAA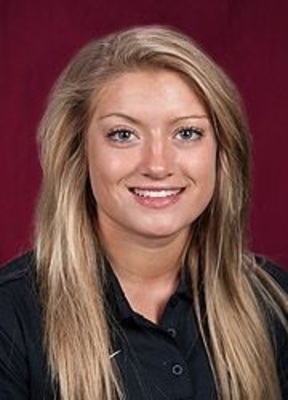 Courtesy of UMD Bulldogs Athletics
With a reputation as one of the most global of teams in NCAA women's hockey, Shannon Miller has recruited Alivia Del Basso to play for the University of Minnesota-Duluth Bulldogs.
The 19-year-old from Perth, Australia is majoring in Exercise Science. During the 2010-11 season, Del Basso played for the Pursuit of Excellence Hockey Academy in British Columbia.
A member of the Australian national team, Del Basso was part of the silver medal winning squad at the Division 2B Worlds in 2011. She followed it up a season later with a bronze medal. Her former club team was Melbourne Ice in Australia.
7: Cornell Big Red Have Reloaded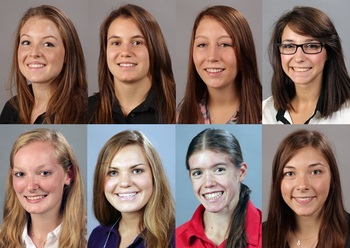 (Clockwise from top left: Kelly Murray, Cassandra Poudrier, Victoria Pittens, Jess Brown, Anna Zorn, Morgan Richardson, Taylor Woods, Stefanie Moak)
While the graduation of superstars such as Rebecca Johnston, Chelsea Karpenko, Catherine White and Amanda Mazzotta would have crippled most programs, the Big Red have not missed a beat.
The Big Red have amassed the finest recruiting class in the NCAA. Stay at home defender Morgan Richardson (daughter of former NHLer Luke Richardson) and offensive minded defender Cassandra Poudrier will anchor the blueline for many years. Taylor Woods and Anna Zorn (younger sister of Liz Zorn) both scored goals in their first ever game for the Big Red.
6: Future Stars of USA Hockey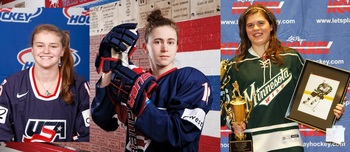 Paige Savage by USA Hockey, Haley Skarupa by Jonathan Timmes, Hannah Brandt by Minnesota Girls Hockey Hub
With Haley Skarupa, Paige Savage and Hannah Brandt all playing their freshman campaigns during 2012-13, all three are poised to one day spotlight their skills in the Frozen Four. All three must be considered future prospects for the United States Winter Games team that will compete at the 2018 Winter Games in Pyeongchang, South Korea.
5: Canadian Under-18 Stars Bring Excitement to ECAC

From left: Morgan Richardson, Alexis Crossley, Emerance Maschmeyer, Julia McKinnon (Images courtesy of Hockey Canada)
Between Clarkson, Cornell, Quinnipiac and Harvard, many of the stars from the gold-medal winning Canadian squad from the 2012 IIHF Under-18 Women's Worlds are adding a new dimension to the competitiveness of ECAC women's hockey.
Clarkson boasts Erin Ambrose and Shannon MacAulay. Cornell's recruiting class includes Morgan Richardson and Cassandra Poudrier. Quinnipiac features Nicole Connery, and Harvard has goaltender Emerance Maschmeyer.
4: Boston Area Features the Best NCAA Women's Hockey

Jillian Dempsey (Courtesy of Harvard Crimson), Kendall Coyne Northeastern (Obtained from New England Hockey Journal, Photo from Huskies Athletics), Alex Carpenter (From USCHO photoshelter, by Melissa Wade), Marie-Philip Poulin BU (Photo by Steve McLaughlin, BU Athletics)
With Boston College, Boston University, Harvard and Northeastern, the New England area is home to the finest women's hockey in the entire NCAA.
Every program boasts a superstar, such as Alex Carpenter in BC, Marie-Philip Poulin at BU, Jillian Dempsey at Harvard and Kendall Coyne with Northeastern. Next to the NCAA Frozen Four, the Beanpot is quickly emerging as a signature event.
3: Patty Kazmaier Race Promises to Be the Best Ever

Noora Raty photo by ESPN W, Image by David Stluka, Jocelyne Lamoureux from WCHA.com, Brianna Decker from USCHO.com, Image by Dave Harwig
As Brianna Decker of Wisconsin tries to be the first player to win the Patty Kazmaier Award in back to back seasons, her biggest competition emanates from within her own conference. Jocelyne Lamoureux of North Dakota along with Amanda Kessel and Hannah Brandt of Minnesota are all key contenders for the award.
Should Brandt win, it would mark the first time a freshman won the award. The top 10 list of finalists (which should also include Christine Bestland, Kendall Coyne, Marie-Philip Poulin and Jamie Lee Rattray) for the award in 2013 may be the most outstanding race ever.
2: Last Chance to See the Lamoureux Sisters in North Dakota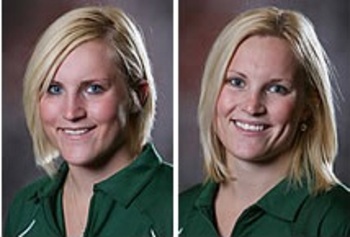 The two greatest pair of sisters to have competed in the NCAA, let alone North Dakota, the Lamoureux sisters have one more season to try and bring the Fighting Sioux to the Frozen Four. For fans in North Dakota, the two will be irreplaceable and helped to transform a struggling program into a national contender.
1: Minnesota vs. Wisconsin rivalry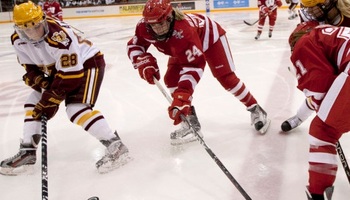 Photo by Danny Marchewka
The greatest rivalry in NCAA women's hockey belongs to the Minnesota Golden Gophers and Wisconsin Badgers.
Having faced each other in the 2012 Frozen Four championship game, the Gophers spoiled the Badgers' opportunity to claim their fifth title in seven seasons.
As visceral as the New York Yankees vs. the Boston Red Sox rivalry, this Midwestern hockey rivalry only grows with more intensity as time progresses. As both programs are consistently ranked in the Top 10 national polls, the level of talent on the ice is unmatched in NCAA women's hockey.
Keep Reading