NCAA Tournament: Power Ranking the Most Iconic Moments of the Last 15 Years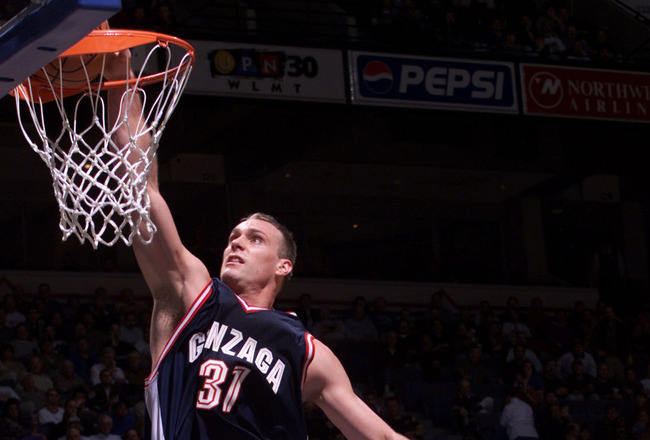 Tom Hauck/Getty Images
One of the best things about March Madness is that any game can turn into an historic event. A look at just the last 15 years of NCAA tournament play features an impressive supply of games and plays that have become permanent fixtures in Big Dance highlight reels.
One of the biggest storylines of the past decade-and-a-half has been the rise to national-power status of an unheralded school from Spokane, Wash. The Gonzaga legend was born in March 1999, during an Elite Eight run in which the signature play was Casey Calvary's game-winning tip-in to stun the Florida Gators.
Herein, a closer look at Calvary's Cinderella moment and the rest of the most remarkable March occurrences since 1998.
15. Richard Hamilton Beats Washington on UConn's Fourth Last Chance
Poor Todd MacCulloch. The Washington center contested every desperation shot UConn managed to launch in the waning seconds of their 1998 NCAA tournament meeting, but with no help on the boards, he couldn't close the deal.
After three misses and as many UConn offensive boards, the ball wound up in the hands of scoring star Richard Hamilton.
Hamilton's buzzer-beating fall-away floated up over the seven-foot MacCulloch and down through the net, sending UConn's Huskies to the Sweet 16 and Washington's to a painful early exit.
14. Ali Farokhmanesh Gambles and Wins Against Kansas
It may not have been the textbook play for the situation, but Ali Farokhmanesh couldn't have better put an exclamation point on a stunning upset.
In the final minute of Northern Iowa's 2010 showdown with top-seeded Kansas, Farokhmanesh got the ball on a fast break with his ninth-seeded Panthers holding a one-point advantage.
Rather than dribble some time off the clock, Farokhmanesh—who had stroked a game-winning trey against UNLV two days earlier—launched another three-point try.
His aggressiveness paid off with a four-point lead that sealed the victory for the Missouri Valley underdogs.
13. Will Bynum Punches Georgia Tech's Ticket to Title Game
Last-second shots are a staple of NCAA tournament play, but few have ever had as much riding on them as Will Bynum's drive in 2004.
The Georgia Tech junior got the ball 40 feet from the basket with 10 seconds left in the Yellow Jackets' national semifinal showdown with Oklahoma State.
Despite being guarded by John Lucas III, whose clutch D on Jameer Nelson of St. Joseph's had sent the Cowboys to the Final Four, Bynum drove all the way through the OK State defense to break a 65-65 tie with less than two seconds remaining.
Unfortunately for Georgia Tech, the magic wouldn't last, as they got stomped by Emeka Okafor and UConn in the national title game.
12. Jim Calhoun Earns His First National Championship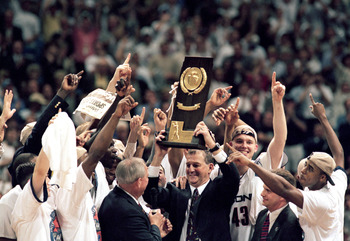 Andy Lyons/Getty Images
Duke's 1998-99 squad was all set to write its name among the greatest champions in NCAA history.
The loaded Blue Devils had gone 37-1 in reaching the title game, led by Elton Brand down low and a flotilla of three-point shooters—highlighted by Trajan Langdon, the "Alaskan Assassin"—on the outside.
In the championship game, though, it was UConn who had the better weapons on the perimeter, getting 52 of its 77 points from its own trio of Richard Hamilton, Khalid El-Amin and Ricky Moore.
When defensive stopper Moore forced two turnovers on Langdon in the final 20 seconds, the Huskies had the first championship in school history by a 77-74 margin.
11. Northwestern State Buries Iowa with Miracle Trey
Third-seeded Iowa shot 80.7 percent from the free-throw line in its 2006 NCAA tournament opener, but the Hawkeyes picked a terrible time for the last of their five misses.
When Greg Brunner's second free throw came up short with 14.6 seconds remaining, tiny Northwestern State had one last chance to salvage a 63-61 deficit.
The Demons' first three-point try went begging, but Jermaine Wallace corralled the offensive rebound.
Pinned in the corner with time winding down, Wallace launched a desperation fadeaway that found nothing but net, sending the stunned Hawkeyes home and the jubilant Demons to the second round.
10. Tarvis Williams Finishes off Iowa State
Brian Bahr/Getty Images
Despite the departure of star power forward Marcus Fizer to the NBA, Iowa State went 25-5 the next year to earn a No. 2 seed in the 2001 NCAA tournament.
They could hardly be blamed for being confident as they headed into a meeting with the 15th-seeded Hampton Pirates, who had never even appeared in the Big Dance before that season.
The bright lights didn't exactly daunt the Pirates, who led 31-27 at the half.
Iowa State then blew an 11-point second-half lead, with Hampton forward Tarvis Williams dealing the decisive blow on a leaner in the paint that put Hampton on top for good with 6.9 seconds to play.
9. Virginia Commonwealth Presses Its Way to the Final Four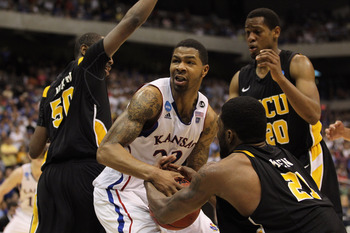 Ronald Martinez/Getty Images
Five years after George Mason put the Colonial Athletic Association on the NCAA tournament map with its trip to the Final Four, conference rival Virginia Commonwealth got in on the action.
The Rams became the third No. 11 seed ever to play in the Final Four, coming closer than either of their predecessors to advancing to the national title game before falling by eight points to fellow underdog Butler.
VCU made its mark with a stifling full-court press engineered by then-second-year head coach Shaka Smart.
The quickness of the swarming Rams helped them take down a string of bigger, stronger foes—Georgetown, Purdue, top-seeded Kansas—until Butler tamed their three-point shooters enough to come away with the win in the national semifinal.
8. Harold Arceneaux Steals the Show Against North Carolina
One of the great single-game performances in the past 15 years, in or out of March Madness, belongs to Weber State junior Harold "The Show" Arceneaux.
The 6'6" forward scored 36 of his 14th-seeded team's 76 points in stunning third-seeded North Carolina in 1999.
Arceneaux hit five of the Wildcats' 14 three-pointers, then closed the game out with a decisive pair of free throws to hand the Tar Heels their first tournament-opening loss in 19 years.
He was nearly as sharp two days later, scoring 32 of Weber State's 74, but the Wildcats still fell to Florida, ending their Cinderella dreams.
7. Gordon Hayward Misses a Historic Upset by That Much
In a play that came within inches of topping this list and every one like it for the next 50 years, Gordon Hayward nearly turned a No. 8 seed from the Horizon League into a national champion.
Just as remarkable, his almost-shining moment came against one of the most consistent titans of March Madness, the Duke Blue Devils.
Hayward, a skinny 6'8" sophomore who led Butler in scoring that season, grabbed a missed Brian Zoubek free throw with 3.6 seconds remaining in the 2010 national title game.
Scrambling to midcourt, he flung up a prayer that would have won the game for Butler by a single point, but it glanced from backboard to rim and out, preserving the 61-59 win for the Blue Devils.
6. 2 Is the Loneliest Number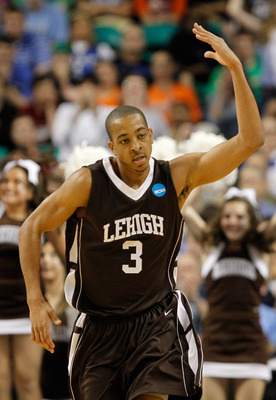 Streeter Lecka/Getty Images
Entering last season's NCAA tournament, no No. 15 seed had won a game in over a decade. That kind of track record hardly served as preparation for two of the Big Dance's biggest-ever upsets to arrive within hours of each other.
First, towering center Kyle O'Quinn led Norfolk State past height-challenged No. 2 seed Missouri by an 86-84 margin.
Then, in a game that tipped off as O'Quinn and his mates were celebrating, C.J. McCollum dropped 30 points on second-seeded Duke to lead Lehigh to a 75-70 win and cap an unprecedented day for underdogs.
5. George Mason Laughs All the Way to Indianapolis
Win McNamee/Getty Images
No matter what program you're talking about, it's an impressive accomplishment to take down Michigan State, North Carolina and UConn in the same NCAA tournament.
For 11th-seeded George Mason, a school that had never won an NCAA tournament game before its 2006 showcase, it should have been impossible.
The Patriots' Final Four run even started with a first-round handicap, but despite the first-round suspension of leading scorer Tony Skinn (who had thrown a punch during GMU's CAA tournament loss to Hofstra), they toppled Tom Izzo's Spartans by a convincing 75-65 margin.
George Mason became the second No. 11 seed ever to make the Final Four, with the crowning moment coming in an Elite Eight overtime thriller over a top-seeded UConn squad led by Marcus Williams and Rudy Gay.
4. Gonzaga Becomes a Household Name
Fifteen years ago, Gonzaga had precisely zero NCAA tournament victories to its name. Then, the 10th-seeded Bulldogs began a Cinderella run through the 1999 tournament that laid the foundation of the program's future March success.
After taking down Minnesota and second-seeded Stanford, Gonzaga took No. 6 seed Florida down to the wire in the Sweet 16.
Trailing by one in the final seconds, Casey Calvary tipped in the eventual game-winner to earn a spot in the Elite Eight and spark Gus Johnson's famous call: "The slipper still fits!"
3. Kansas' Championship Bid Is Rejected by Hakim Warrick
The crowning moment of Carmelo Anthony's national championship run did not, surprisingly, come from Carmelo Anthony.
While the Syracuse freshman sensation did rack up 20 points, 10 rebounds and seven assists in the title game, he needed some help from his friends to seal the deal against powerful Kansas.
In the final seconds, the Orangemen (as they were still known) had only managed to open up an 81-78 advantage, giving the Jayhawks one last chance to save the game.
When Michael Lee fired a three-point try to send it to overtime, Syracuse forward Hakim Warrick stepped in to slap the ball into the seats, sealing the national title with perhaps the most memorable block in basketball history.
2. Bryce Drew Pulls off Basketball's Version of the Hook-and-Ladder
In a rare chance as a decisive favorite in NCAA tournament play, the Ole Miss Rebels got as unlucky a draw as they could have in 1998.
The Crusaders of 13th-seeded Valparaiso hung tough throughout, and when Rebel star Ansu Sesay bricked a free throw with 2.5 seconds remaining, Valpo had one last chance to erase a 67-65 deficit.
The result was one of the most-replayed shots ever launched, triggered by a 70-foot inbounds pass to Bill Jenkins.
Jenkins tapped a perfect pass to Crusader scoring leader Bryce Drew—son of Valpo coach Homer—who buried the game-winning three-ball to give his program its first-ever NCAA tournament win.
1. Mario Chalmers Lives the Dream
When aspiring basketball players are alone on the court practicing their jump shots, the scenario playing in their heads is the one Mario Chalmers faced in 2008.
With five seconds left in the national championship game, Chalmers' Kansas Jayhawks trailed Memphis by three…and he had the ball at the three-point line.
Chalmers swished a game-tying trey with 2.1 seconds remaining to send the game to overtime.
He would finish with 18 points (tied with Memphis star Derrick Rose for the third-highest total in the game) as KU took home the title by a 75-68 margin after the extra session.
Keep Reading