Seattle Seahawks: The Biggest Early Season Storylines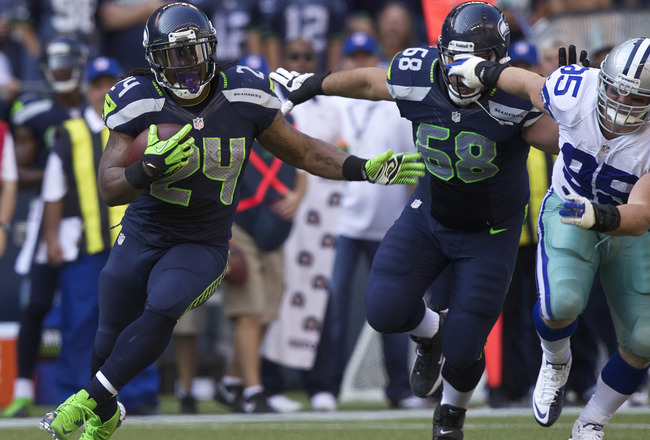 Stephen Brashear/Getty Images
The Seattle Seahawks are off to a 1-1 start, but with the Green Bay Packers up next on the schedule, the Hawks must continue their strong play.
The defense has been impeccable, surrendering only 46 yards per game, which ranks second in the NFL. It has also forced four fumbles and nabbed two interceptions already this season.
However, the offense has been inconsistent at best, as the Hawks have had trouble moving the ball through the air.
They rank last in passing yards with only 136 per game. Russell Wilson has looked sharp at times but has failed to make the impact Hawks fans hoped for.
The running game has largely carried the offense, as they have attempted the second-most rushing attempts in the NFL.
Like 19 other NFL teams, the Seahawks will look to get their second win on Monday.
Here are the major storylines surrounding the Seattle Seahawks.
Russell Wilson's Progression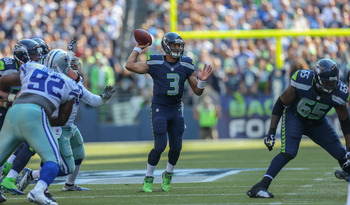 Otto Greule Jr/Getty Images
Wilson may be the answer, but he has yet to truly make a dynamic impact on a game.
However, he is 23 years old and gets better each week.
He has to continue becoming accustomed to the speed of the game, but that will come with experience. So far this season, Wilson has amassed 304 yards with two touchdowns and one interception.
He is completing 61 percent of his passes, which is a good sign for Seattle who will have to rely on Wilson to protect the ball. Perhaps, other rookie quarterbacks may look better than Wilson at the moment, but his time will come.
He has looked good when under pressure, by being able to use him mobility to elude defenders. His decision-making has been excellent as well, as it is rare to see him attempt to force throws into coverage.
He will have another test this weekend, as the Packers will come to Century Link fresh off a four-interception performance against Jay Cutler and the Bears.
Wilson will be under pressure, and it would be exciting to see him perform against a talented veteran defense.
The Defense Is Still Top Notch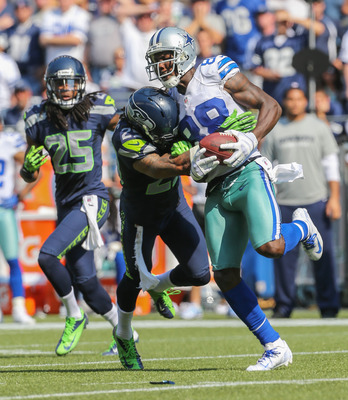 Otto Greule Jr/Getty Images
Whether it's Earl Thomas or Red Bryant, the Seahawks defense has been downright stifling.
It proved that last Sunday when it held the Cowboys to only 49 yards rushing and only seven points.
The defense is young, fast and will stop at nothing to make plays.
It's oddly familiar of Pete Carroll's USC teams which were stocked with athletic playmakers throughout the roster. With players like Bobby Wagner, Brandon Browner and Kam Chancellor, the Seahawks have the talent to compete in any game.
The defense has been crucial in each game, largely holding down the opposing offenses for minimal gains. Moving forward, the defense will surely be tested by prolific offenses, but the Seahawks are out to prove that their defense can hang with the best in the league.
Look for the Hawks to keep bottling up the run and continue to force teams to pass. They will be tested this weekend as reigning NFL MVP Aaron Rodgers comes to town, but this defense will prove it's for real.
The Offensive Line's Performance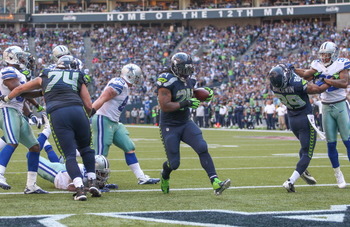 Otto Greule Jr/Getty Images
There is no portion of the Seahawks that will be more important to their success than the offensive line.
It has been inconsistent, thus far.
There have been injuries, there have been penalties and there have been sacks.
But for every one of those, there has also been a host of Marshawn Lynch runs and good passing protection.
This is a good sign for a group that has not had enough time to together.
Starting guard John Moffitt returned last Sunday and starting left tackle Russell Okung may be healthy in time for Monday's game, according to Daniel O'Neil of The Seattle Times. The offensive line will be important to Russell Wilson's progression for the Hawks, but so far, it has surrendered 11 quarterback hits and five sacks.
However, it's run blocking has been tremendous, and with more snaps as a group, it will continue to mesh as a unit. As long as Lynch can find space and the line can keep Wilson upright, Seattle will be in games.
The line is making headway, but there is still plenty of room for improvement at this point of the year.
Keep Reading

Seattle Seahawks: Like this team?