Atlanta Falcons: The 3 Biggest Early Season Storylines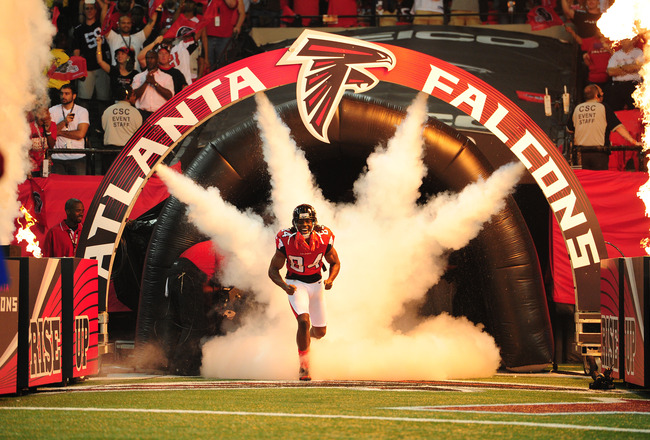 Scott Cunningham/Getty Images
Despite signs of a promising year after dominating in preseason, the Atlanta Falcons didn't generate as much media buzz as, say, the New York Jets.
But two weeks into the regular season, you can bet the media's paying attention now.
Strong performances in their season opener against the Chiefs and against the Broncos Monday night have the Falcons 2-0 and atop the NFC South heading into Week 3.
While there are still 14 more games to go, these past few weeks have provided plenty of storylines involving the team.
Here are the three biggest thus far.
Mike Nolan's Defensive Turnaround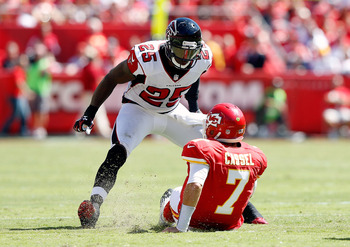 Jamie Squire/Getty Images
The Falcons hired Mike Nolan with one goal in mind: fix the defense.
Two weeks into the season, he definitely looks on his way to doing just that.
Atlanta has seen a number of improvements come under Nolan, none greater than in takeaways; the Falcons stand tied for first in the NFL in the category with seven (five interceptions, two fumbles).
Leading the charge in the turnovers department is safety William Moore, who looks to be a perfect fit in Nolan's free-to-roam defense, as he has been responsible for two of those takeaways and a number of bone-crunching hits.
A big reason for his success and that of the rest of the secondary has been the result of an improved pass rush. A mix of creative blitzes and consistent pressure from the defensive line has led to six sacks for the Falcons, sixth highest in the league.
This defense was once notorious for its passiveness and soft zone coverages. Intense, ball-hawking and aggressive better describe what it is today.
Matt Ryan's Hot Start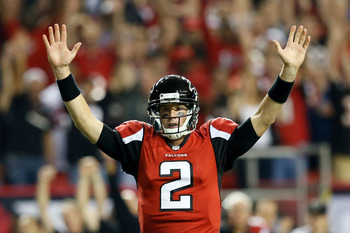 Kevin C. Cox/Getty Images
Guess who has the league's best quarterback rating through two games this season?
If you said Matt Ryan, you guessed right.
The fifth-year signal-caller couldn't be off to a much better start to a season, completing 70 percent of his passes, throwing five touchdowns to no interceptions and adding another score on the ground.
Ryan looks born to lead Dirk Koetter's up-tempo, three-wide offense, first putting his intelligence on display with his pre-snap reads and adjustments, then showcasing his physical talent as he executes it to near perfection.
Perhaps most impressive is the fact he's done so without the help of a stable running attack. The Falcons have gained just 151 yards on the ground in two games, seventh lowest in the league. Forty-four of those have come from Ryan alone, while running back Michael Turner has accounted for just 74 of them—a major drop-off for the former workhorse and offensive centerpiece.
At 30 years old, it's clear that Turner's time has passed. Ryan's time is now.
The big question now is what will he do with it.
Injuries and Distractions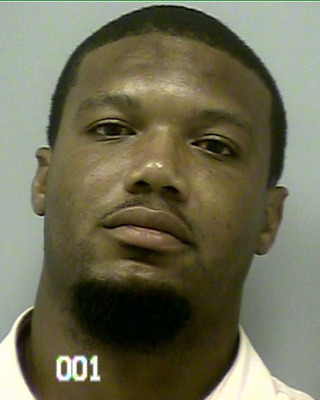 Photo Credit: AJC.com
The Falcons haven't been hit by many injuries and distractions at this point in the season.
But the few that have occurred may have a major impact.
Aside from the loss of potential starting rookie fullback Bradie Ewing in preseason, a season-ending injury to Pro Bowler Brent Grimes in Week 1 reduces the Falcons trio of starter-quality cornerbacks down to just two.
It has gone from bad to worse with nickelback Chris Owens suffering a concussion Monday night. That forced the Falcons to depend on the inconsistent Dominique Franks and rather inexperienced Robert McClain to man the slot for most of the game—and perhaps for many more to come.
But the most devastating news is the most recent: Michael Turner's arrest for DUI and speeding a mere hours after helping the Falcons outlast Denver Monday night.
As a first-time offender, Turner may avoid a harsh ruling by commissioner Roger Goodell. But his arrest won't be looked upon lightly by a franchise that emphasizes proper conduct and leadership as much as the Falcons and team owner Arthur Blank.
Suspension or release isn't out of the question, especially with Turner's disappointing performance so far this year.
Keep Reading

Atlanta Falcons: Like this team?