Montpellier vs. Arsenal: Rating the Gunners' Players in Champions League Opener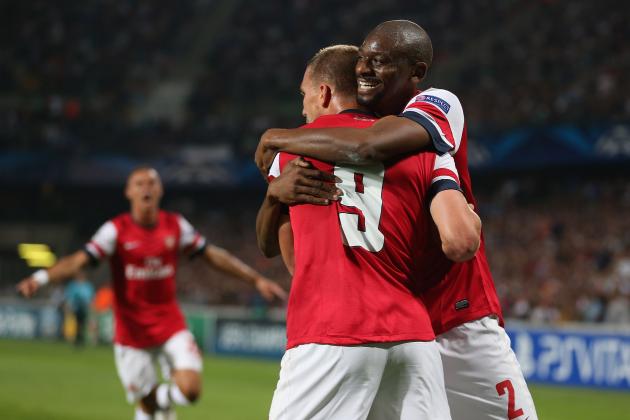 Julian Finney/Getty Images

Well, that was exciting!
Into the Valley of Death rode the Arsenal XI this morning or, more particularly, into the anarchic melting pot of hostility and vitriol that is the Stade de la Mosson, packed to the rafters with so many aggressive Frenchmen baying for blood that one would be forgiven for thinking they'd stumbled upon a reenactment of the Treaty of Versailles negotiations.
The Gunners produced a display that was true to their recent form both in positives and in negatives and will head to the Etihad Stadium with a well-earned but far from faultless 2-1 victory on the books.
It took two excellent pieces of Arsenal teamwork to crack the volatile Montpellier defense, and while a 2-1 victory doesn't necessarily indicate the kind of supremacy we might demand from our Gunners, it also flatters the French side, and there are a lot of positives to take from the match.
Arsenal's attacking play was swift, assured and—perhaps most importantly—instinctive. The players are cultivating a kind of telepathic understanding based around a core group of established players who are beginning to adapt their games to accommodate the various summer purchases.
What was lovely about this game was how well-versed the Gunners appeared to be. The team has been championed somewhat ever since the Liverpool game, but cases could be made that, even then, the game was won largely on the strength of several excellent performances, namely those of Abou Diaby, Santi Cazorla and Lukas Podolski.
The 6-1 rout of Southampton was probably exactly what the team needed from a confidence perspective, but that match was not an exercise in pushing the team's strength and skill.
At Montpellier, however, the odds were at least somewhat against us.
While Arsenal's start to the season has been significantly better than that of the French champions, this was an away tie with an uncertain starting XI against a backs-against-the-wall team with a lot to prove, who had been riled up by their own manager in the press all week and whose fans (particularly when viewed through the green netting separating them from the playing field) hold a shocking resemblance to the adrenaline-fueled zombies from I Am Legend—albeit zombies that don't groan but rather, er, whistle. Extremely loudly.
I would like to take a sheepdog to watch a French sporting event—it would be very interesting.
Anyway, the obligatory generic summary paragraph leading into the slides: Arsenal won, and they played well—not that well, admittedly, but given the circumstances this is not overly surprising. The team will take the positives and the three points and head back to the Old Country not quite unsullied, and not quite unchallenged, licking wounds which are merely skin-deep but mindful that their two biggest challenges of the month lie in the seven days ahead.
In the immortal words of, er, Kirsten Dunst (sentence I thought I'd never write No. 34)...
Bring it on.
Begin Slideshow

»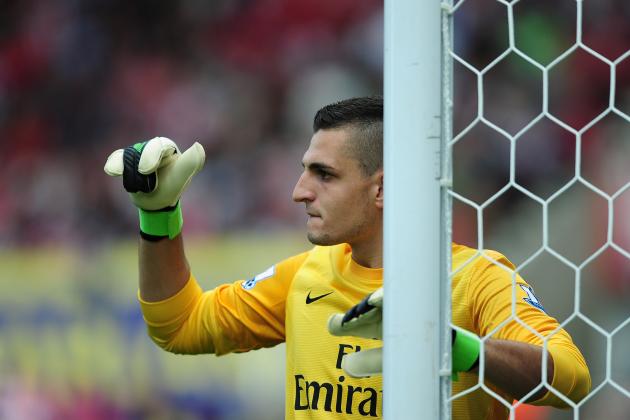 Laurence Griffiths/Getty Images

What an interesting goalkeeping situation the Gunners find themselves in.
While Wojciech Szczesney is still undoubtedly Arsene Wenger's No. 1, the passion and earnestness of Vito Mannone's deputising is sure to give Le Professeur a few headaches at night.
Mannone produced an assured display between the sticks, which culminated in an excellent save from Younes Belhanda late in the game, when the Italian's immaculate positioning and cool head in a difficult situation redeemed Per Mertesacker's ill-advised decision to dive in to try to dispossess the wily Frenchman.
He couldn't do much but wave polite salutations at Belhanda's Panenka strike at nine minutes and, other than his save on 80 minutes, didn't have a hell of a lot to do—though it should be said that he found the head of Olivier Giroud with encouraging frequency from long kicks. More on that later.
Because of Mannone's lack of immediate involvement, I found myself studying him quite closely when he did get involved, and this young Italian 'keeper really is rather strange.
He is far from the most assured or aesthetically comforting man between the sticks. He seems hurried, haphazard and endearingly clueless for long stretches of time.
At one stage late in the game, he dove theatrically to cover his near post against a tightly angled shot from the right, but once he saw that it was going wide, he determinedly retreated his arms and dove flat on his face, as if to suggest his 'keeping dominance was of such a magnitude that it wasn't even worth the exertion to pretend to block a shot.
But he is hilarious and stereotypically Italian: He is constantly shouting (presumably obscene) things at teammates. Every call that goes against Arsenal and is within a 30-metre radius of Mannone is greeted with an outraged flurry by the 'keeper, who responds to any decision against his back four as though the referee has just kicked a puppy in the middle of the field. And the eyes. The eyes!
It will be interesting to see where Wenger goes with this unfamiliar and immensely desirable situation. You don't often see a young, established No. 1 experience a serious challenge from another young but not-so-established 'keeper, but if Mannone keeps delivering solid performances, Szczesney may well have a fight on his hands.
Rating: 7.5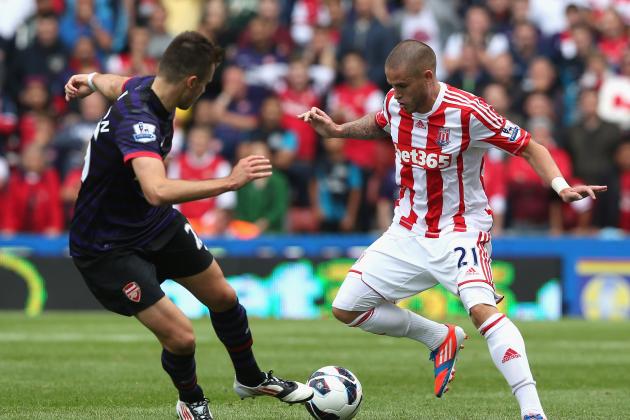 David Rogers/Getty Images

Wow.
I must say, I was among those who believed it not only necessary but imperative that Arsenal purchase some decent quality cover at right-back, fearing that any further injury to Bacary Sagna could irretrievably cripple and unbalance the Gunners' starting lineup.
How wrong I have been proven.
Carl Jenkinson put in a thoroughly enjoyable performance on the right side of the defense, getting forward with sensibility, discretion and moderation and showing a perennial willingness to cover any and every inch of the ground for the Gunners' greater good.
He tackled strongly, passed with confidence and dexterity, and his positional play is improving dramatically with each game that goes by. Perhaps most notable in Jenkinson's performance was the confidence with which he operated with Gervinho. Neat interplay between the two culminated in a delicious cross by Jenkinson which was swept home by the Ivorian in the 18th minute, demonstrating that Jenkinson's attacking game—formerly something of a hindrance to the young Finn—is having direct and concerted attention afforded it.
In addition, while Kieren Gibbs' flank appeared to unravel somewhat—particularly later in the game—Jenkinson's primary focus was always on tracking back after he had made a dash forward.
Gervinho may have saved his bacon on a couple of occasions this morning but it is testament to Jenkinson's defensive prowess and discipline that the French team eventually directed the bulk of their attacks down the left flank of Arsenal.
Jenkinson is fast becoming a promising squad player for the Gunners, and if he performs like he did on Monday, he will certainly be competing with Bacary Sagna for a spot on the right flank.
Though Sagna will be first choice for at least a year or two, the idea that a player of Jenkinson's age, ability, drive, motivation and now experience is breathing down his neck may indicate that Sagna—formerly the most untouchable member of the Arsenal squad—will have to maintain a consistently exceptional level of performance simply to regain his spot in the starting lineup.
"Curiouser and curiouser!" cried Alice...
Rating: 8.1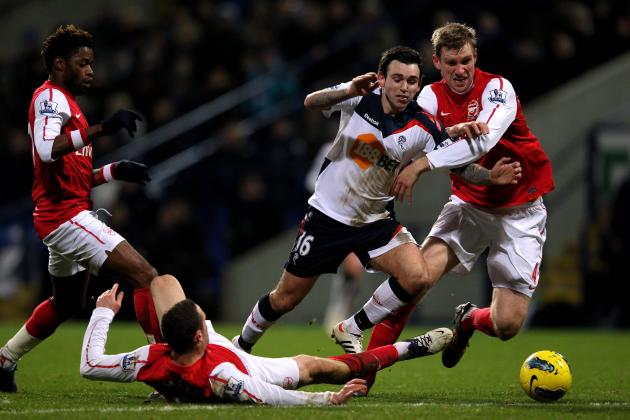 Alex Livesey/Getty Images

The central defenders' ratings are somewhat stymied by Arsenal's late-game tactics, which saw them cede the lion's share of possession to Montpellier in order to sit back and defend their tenuous lead.
I think this was likely down to a combination of circumstances: Montpellier pressed late in the game, and when this pressure built momentum, it involved the crowd. When a crowd as vocal as the one at the Stade de la Mosson Monday morning gets involved, it can heighten pressure considerably on the defense.
This game was the first first-team game Steve Bould was in sole control of, and it is understandable that, from the point of view of an excellent but somewhat inexperienced assistant manager, the best way to avoid a late concession in such a heated environment is to keep numbers behind the ball, force the opposition to shoot from range and hope to ride out the wave.
Thus, though Mertesacker and Vermaelen will undoubtedly come in for a bit of stick for surrendering control of the situation somewhat, I don't feel they played badly. Their roles simply became more difficult as the game wore on.
Vermaelen's penalty was soft, but if he is going to concede a penalty, you would hope as a fan that it would be for a strong, assertive tackle intended to remove danger from inside the box and quite simply outmanoeuvred by his skilful opponent, rather than a desperate lunge or a silly brain explosion.
Vermaelen's tackle was a tenth of a second away from nullifying a Montpellier attack, and I'm not overly concerned by the penalty. It was deserved, taken and scored, but the fact is that it came from something of a nothing situation (ah, wordplay) and was not rash nor silly, but simply mistimed.
Per Mertesacker didn't have his finest game in a Gunners shirt, but it wasn't his worst, either. The same could really be said of Vermaelen and Gibbs.
The lanky German's task was a tough one today, as he found himself faced with fast, skillful attacking midfielders who were more easily stopped by physical assertion and dominance than by subtle positioning and composure.
This was on show during Belhanda's almost-equalizer late in the game. Mertesacker's decision to dive into the tackle was ill-advised, as the German is more effective winning the ball staying on his feet, and Belhanda's trickery nearly made Arsenal pay for Mertesacker's rashness.
That being said, Mertesacker's play is fundamentally based on playing the shepherd to the opponents' flock. He cleans up as Vermaelen closes down, he narrows angles for advancing opposition players, he stops the attack from putting the ball on a sixpence through his sheer presence and his long limbs.
He is the preventer to Vermaelen's destroyer, and in an environment in which the potential for a mistake is ever-present, Mertesacker and Vermaelen did well to keep composed and stick to their lines—for the most part.
What was interesting about the central defenders' collective defensive performance is how well they restricted the Montpellier attack to certain areas of the field. Twelve of Montpellier's 17 shots were taken from outside the 18-yard box, and the two allowed no shots at all from inside Arsenal's six-yard box.
In addition, the two combined for 101 passes at a completion rate of 90 percent, which is not key to a central defender's game but shows that the two are playing sensible, possession-oriented football and realizing their roles as important facets of buildup play.
This was the least convincing defensive display Arsenal have put on this season, but it is not cause for overt concern. It was also the most challenging environment the team has played in, and the fact that few opportunities were crafted by the opposition means that they're doing their job and doing it well.
Vermaelen Rating: 7.0
Mertesacker Rating: 7.1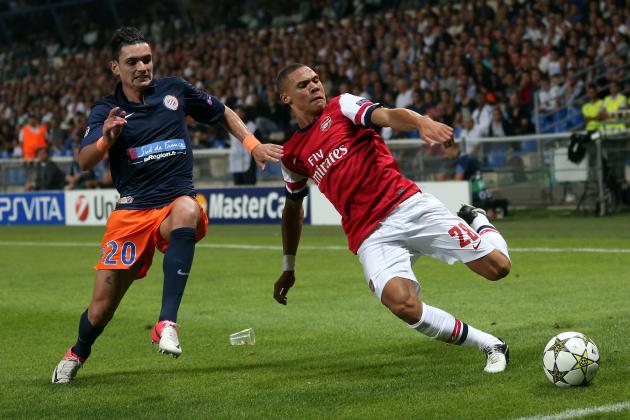 Julian Finney/Getty Images

Though Monday may have been one of his less memorable performances, Kieran Gibbs is fast becoming one of the premier full-backs in English football.
The full-back position lends itself well to English players, because the English player's style of football is fundamentally based upon education, technique, well-roundedness and an exhaustive understanding of the theoretical role of the position he happens to be playing.
The role Gibbs plays on the left flank is multifaceted. As I.J. Yarison explains in this article, Arsenal's full-backs hold a similar defensive line to their central midfielders, thus converting their 4-2-3-1 formation into a hybridized 2-4-3-1 when the opposition gains the ball in their own half. They focus on winning back the ball early through the constant imposition of pressure on the ball.
Gibbs' game is thus defensively-based on pressuring the opposition wingers in their own half and tracking back when necessary—for example, when a team has enough of the ball to establish themselves in the midfield or in Arsenal's half.
This necessitates great stamina and, while Gibbs does have excellent stamina, he was worn out on Monday.
As the game progressed, Gibbs's stamina faulted and he compressed himself into a more narrow defensive role. In doing this, a noticeable, wide channel opened up in front and to the left of the young Englishman, becoming most apparent during Montpellier's late-game push.
This meant Arsenal had to face a few nervous moments at the back.
Younes Balhanda's almost-equalizer stemmed from a probing ball into an area that early-game Gibbs would have been shutting down.
In spite of this, Gibbs continues to show his promise. His pace down the left is excellent, and he complements Podolski superbly with his overlapping runs.
Because the German tends to drift central in order to receive the ball and make runs off the shoulder of the 18-yard box, this opens up a large amount of space on the left-hand side. Combine this with Podolski's ability to drag defenders out of position rapidly and Gibbs is fast becoming a productive attacking weapon on the left-hand side.
It is only his end product that is lacking. Monday he had seven crosses, only one of which found a mark.
Still, Gibbs is making the right runs and is getting forward frequently enough to be in the back of opposing minds. If he can gain the confidence and understanding of Giroud, the two could provide an unlikely but extremely welcomed source of goals.
Rating: 7.2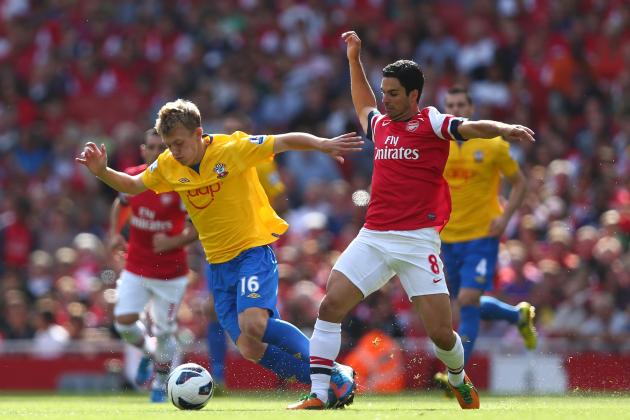 Clive Mason/Getty Images

As quiet and unassuming as a football-playing ninja, Mikel Arteta did the business once again for Arsenal, leading the team in completed passes and tackles with 79 and six, respectively.
Arteta is the slow-acting poison that every team Arsenal comes up against has to deal with.
He darts around the middle of the park with interminable stamina, teammates firing passes to him from all areas of the pitch, and he calmly accepts, turns away from his defender and plays the right option. All the time, every time.
Arteta's role at Arsenal is being played to nigh-perfection by the Spaniard. Having him in the centre of the park is like having a brilliantly sensible brick wall playing. He is almost never caught in possession, and when he is, he can call upon his arsenal (click!) of dribbling trickery to get himself out of trouble.
But his true genius lies in the efficient way he recycles possession and distributes it equally and sensibly to all areas of the attacking third.
I didn't really notice him against Montpellier, which is exactly the reaction that someone playing Arteta's role should be aiming to coerce from a viewer. I am basing this rating on Arteta's statistics and the authoritative way Arsenal controlled the ball, particularly in the mid-to-latter stages of the first half.
His relationship with Santi Cazorla is becoming a key part of Arsenal's game plan. Because Cazorla is so vital to the Gunners' creativity, the team has to focus on getting him the ball in space as frequently as possible so that he can conjure up some magic in the attacking third.
In order to do this, Cazorla the Provider must himself have a provider, and that is where Arteta comes in.
Arteta is the waiter, Cazorla the chef, Podolski, Gervinho and Giroud the customers.
Arteta knows what Cazorla wants to do, and he knows what his customers want. Cazorla has the technical brilliance, the versatility and the vision to know what to serve his strikers and when the right time to serve it is. And the strikers do their thing.
Statistics can only show us so much, but I don't feel qualified to comment on Arteta's role in Monday's match just because he was so invisible to me on the day.
But in comparing his invisibility with his statistics, one can see a common thread beginning to develop. The invisible-yet-omnipotent overseer of the game, who keeps his head and never allows the scope or the pressure of the game to overwhelm him, Arteta defends and Arteta passes.
Cazorla may be the baker, but Arteta provides the ingredients.
Rating: 7.6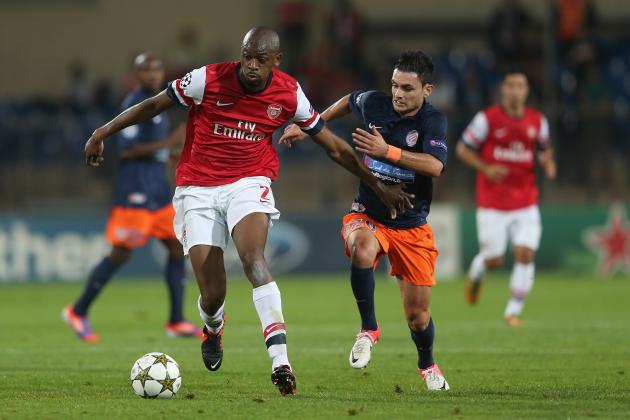 Julian Finney/Getty Images

Diaby had a hot-cold game this morning with moments of domineering brilliance interspersed with a frustrating and sometimes-palpable preoccupation with having the ball at his feet.
There was a beautiful moment midway through the second half where Diaby picked up the ball inside his own half and lumbered past three defenders before sending Santi Cazorla through on goal with the most wondrously delicate through-ball.
It seemed as though the big Frenchman was writing beautiful footballing poetry, his feet the pen, the ball his paper.
But this lovely passage of play came mere minutes after Diaby had served up a potential equalizer on a platter to Remy Cabella, the excellent right-sided attacking midfielder whose performance was tarnished only by his wild shot from 10 yards out with a free look at goal.
Caught with the ball in his own 18-yard box and hassled by Cabella, Diaby had a number of chances to clear the ball out for a throw but, instead, elected to try to play his way out of trouble. When one stepover failed, the Frenchman attempted an audacious back-heel, slipped over, and Cabella was in for all the money.
It is these errors that Diaby must purge from his game to become as devastatingly effective in his roaming midfield role as Arsene Wenger knows he can be.
A box-to-box midfielder has to be capable of playing his way out of tight situations, but he also has to know when is an appropriate time to do so. I couldn't imagine Yaya Toure, possibly the best box-to-box in the world, showing such impudence in a million years.
Aside from the extremes, Diaby put on a show of physical power, close control and perhaps a slight overestimation of his own capabilities.
He has a tendency to get caught with the ball in situations where he should be using his strength to prevent opposing players from getting close to the ball, or his passing skills to move the ball back to Arteta or Vermaelen, from whom the Gunners' attack can rebuild.
One thing is certain about Diaby: He is not a playmaker. He is a barnstorming midfielder who attacks with a unique combination of physicality and finesse. His passing is excellent, but he is at his best when he's running with the ball into space.
He can peel away from his marker as swiftly as Mum removes a plaster from a cut and has an uncanny knack for receiving the ball in areas of the field where he can do serious damage.
But he doesn't have to do everything. He may want to attack, and attack he should, but Ronaldinho he is not. It is Diaby's predictability that is his greatest strength, because his combination of strengths is so rare amongst central midfielders that his sticking to his guns—his power, his stamina, the late touches that allow him to ghost past defenders and the knowledge of when he has committed a defender and should deliver a pass—is the best way to utilize his talent.
Regardless, Diaby played an average game that held moments of promise, but the perilous error he committed is one that impacts his rating here.
A 26-year-old whose future prospects are still very much up in the air should not be making such mistakes.
Song wouldn't have. And Diaby is better than Song.
Rating: 6.9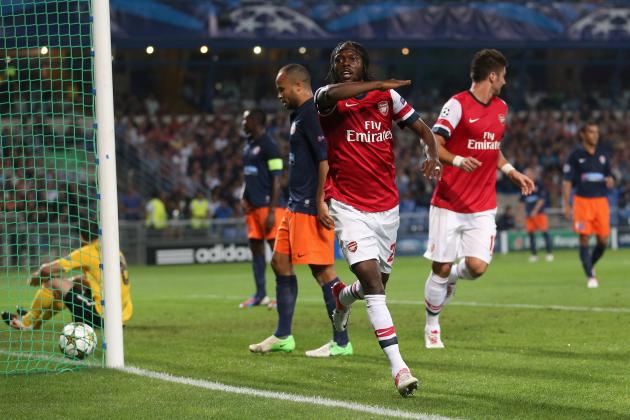 Julian Finney/Getty Images

It appeared that Gervinho was given license to roam in this match following his positive trial at striker against Southampton, and the Ivorian international responded with his third goal in the past two matches.
Gervinho appears to be adapting to Arsenal's style extremely well after a lukewarm start to his Gunners career. His dribbling and acceleration are both exceptional, and his off-the-ball movement is improving rapidly as he cultivates an understanding with his full-back.
Based on this performance and the previous match against Southampton, he will be an absolute key player for Arsenal this year. His dramatic improvement could well spell the end to Theo Walcott's hopes of landing a six-figure salary.
For all the comparisons to Thierry Henry that Walcott had to endure, for me it is Gervinho who most closely resembles Arsenal's legendary Frenchman.
While Walcott may replicate Henry's pace, the Gunners' all-time highest goalscorer was always about much more than just blowing past his opponents.
Henry knew when to take his man on and when not to. He knew when to cut inside and when to roar past on the outside. He knew how to control a long ball while hugging the touchline, and he knew—more than anything—where the ball was going to end up and how he could best get into position.
Gervinho's goal today was splendid. Faced with two defenders blocking the goal and a prone Carl Jenkinson on the right touchline, Gervinho seized his chance and bisected his markers with the speed and agility of a mouse darting underneath some furniture.
This abrupt movement and explosive acceleration drew Jenkinson's marker away from him, but Gervinho had already cut in from the right. The ball was touched away from the Ivorian but fortuitously landed right in the path of an onrushing Jenkinson, who did everything right and sent in a low ball across the face of goal where Gervinho was waiting.
Gervinho finished the goal, but he created it as well.
It was a Messi-like dribble that took him past his markers—explosive, unexpected, committed—and the direction that he took once they were beaten was the sole reason that Jenkinson had so much time and space to select his cross.
Admittedly, the Ivorian slacked off slightly as the game wore on, but there are two more facets of his play against Montpellier that I find noteworthy.
The first is his tracking back.
While hardly Podolski-esque, the normally lethargic Gervinho showed an alertness to danger and willingness to help out his full-back that has previously been lacking.
This formation, it appears, has placed great emphasis on the fitness and work ethic of the wide players and their response to the increased responsibility and involvement in all aspects of the game has been excellent.
The second is his position.
Too often in the past Gervinho, has been geographically limited. When playing on the left, he relies too much on cutting inside and thus becomes predictable as the game wears on.
Today, however, he was playing a more centralized, striking role on the right, which drew him in towards the opposing centre-backs and presented him with a plethora of options. He could cut inside from the right, towards Giroud and the incoming Podolski; he could take the ball in between the left-sided central defender and the right full-back and charge toward the byline; or he could run at his marker and open up space for Jenkinson on the outside.
Gervinho's decision-making is occasionally suspect, but his ability is not.
As Arsenal's gameplay diversifies, Gervinho finds himself with more options. He is no longer confined by the individual brilliance of van Persie, which tended to override most attacking options. Now, he is one third of the best technical strike force in the league.
After Santi Cazorla, Gervinho is probably the most effective, technically sound, explosive attacking player Arsenal has, and the fact that he is finding form is very exciting.
Very exciting indeed.
Rating: 8.4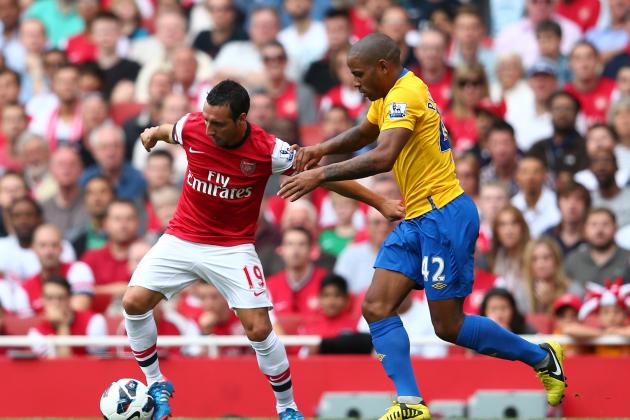 Clive Mason/Getty Images

There is one aspect of Santi Cazorla at Arsenal that I don't like, and that is how on Earth the Gunners will function in Cazorla's absence.
The diminutive Spaniard is fast becoming one of Arsenal's most influential players. While he may not have had the same devastating effect Monday as he had in the past two Arsenal games, his class was on show once again.
Cazorla had 76 touches on the ball against Montpellier, a statistic bettered only by his two central midfielders. For an attacking midfielder of Cazorla's ability, this is a wonderful statistic.
Admittedly, he was also dispossessed three times—more than everyone bar Diaby—but this is probably more testament to the special attention afforded the Spaniard by the Montpellier defense.
Something interesting that I noticed a few times—and I welcome corrections if you know this to be false—is Cazorla's interchanging of positions with his flank players.
Arsenal seemed to morph at will from their 4-2-3-1 into something of a hybrid 4-2-2-2 on attack, with Podolski pushing high and central and Cazorla drifting left into a false-11 role, occasionally switching sides with Gervinho so the Ivorian was an advanced inside forward on the left, Cazorla cutting inside in a sort of AMC-R position on the right.
This positional mutability is one of the biggest strengths that Cazorla possesses. He can adapt his game to the needs of any of the advanced positions, while still playing to his fundamental strengths of passing, dribbling and touch.
While Cazorla's game was not spectacular, he was again influential—and to expect assists and goals every game is to place an unrealistic burden on his shoulders.
He completed 50 passes at an 84 percent success rate, which, for a targeted player in an advanced role, is nothing to be sniffed at.
And he constantly reminds us plebeians of his breathtaking skill in the most wonderful, nonchalant ways, whether killing a long pass stone dead before playing in a teammate nobody else knew was there, or pulling a rabbit out of a hat to escape three onrushing defenders.
We are very lucky to have this player on our team, and to have a manager who admires and understands him as a player as well as Arsene Wenger does. Cazorla's year will surely be the best of his career thus far, but as to what that entails, we will have to wait and see.
Kind of like someone buying you a £16 million lucky dip, isn't it?
Rating: 7.3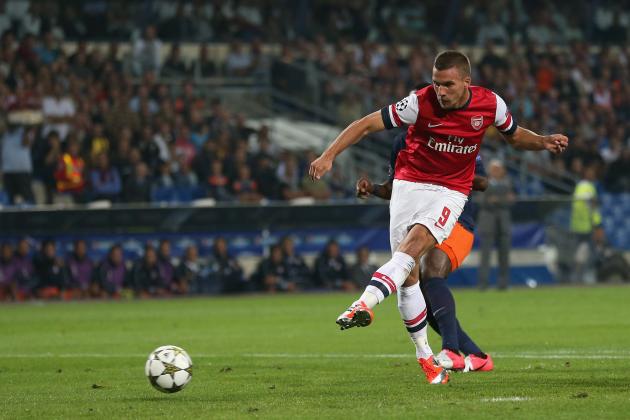 Julian Finney/Getty Images

How fortunate it is that this outstanding German striker, who blends strength and stamina and pace and technique and drive and instinct and one of the most deadly finishes in world football, has never been seen for what he really is by the rest of the world.
Podolski on his day is easily one of the best striker/wingers in the world. His performances for the immensely talented German national team testify to this. What has never really been showcased, though, is just how good he really is.
You can only learn so much from international football. It is played too sporadically. And you can only learn so much about a player when he plays in a team far below his own ability level, because football is such a team sport.
You can't really learn much at all about a player when he is bought by a huge club while he is still developing, has two established star strikers ahead of him in the pecking order and plays hardly any minutes.
But you can learn a lot about a player when you respect him and give him what he needs. At Arsenal, Podolski is getting what he needs. He is getting the respect he deserves, and boy oh boy are we learning a lot about him.
There are very few players who can finish like this guy. I would go so far to say that in front of goal, presented with a true goalscoring chance, he will take it more often than anyone bar Messi. More even than our perfidious Dutchman.
And he was there again today, for the third game in a row.
It was a lovely move that brought about the opportunity: Diaby to Cazorla, shifted on to Giroud, who touched the ball ahead of the barnstorming German.
But Podolski still had a lot to do. He was in a tight space with defenders coming at him from in front and behind (oh come on, be quiet).
It was all done so swiftly, so efficiently. So Germanically!
He took a touch, looked up, saw the 'keeper in two minds and waited.
What a wonderful word to use in such an instance.
He waited.
Strikers are so prone to snatching at chances—it is part and parcel of being a striker. But Poldi waited for his chance, and as soon as Jourdren showed a chink in the armour, Podolski thrust, and the ball was in the back of the net.
Apart from this goal, Podolski had a very good game. He left Gibbs somewhat exposed later on in the game, but this was more by virtue of the tactics employed by the Gunners than any lethargy of Poldi's part.
I spoke earlier of the positional interchanging, which I find key to the Gunners' dexterity in attack, and it is largely contributed to by Podolski's ability to play on the left to varying degrees of width, remaining a needle in the calf of his man, but occasionally turning out to be a needle in the calf with an overlapping jackhammer on his outside.
And he's getting involved. He's always getting involved. In the Montpellier match, Podolski had 56 touches on the ball—significantly more than any attacking Arsenal player except for Cazorla.
I think Podolski represents an ideal of what Arsenal hopes to be, and this metaphor is expanded upon further in Matthew Snyder's excellent article.
He is earnest and honest and hardworking. He is technically proficient and works hard for everyone in the team, because he wants to win above all.
He is happy to be where he is—not sulky about money, not secretly harbouring a wish to play for Barcelona. He's been there, he's done that. He's examined the greenness of the grass on all the sides and he reckons it's pretty bloody green here. And I love that.
P.S. If Thor's still looking for his hammer, I'm pretty sure Poldi's hiding it in his left boot.
Rating: 8.2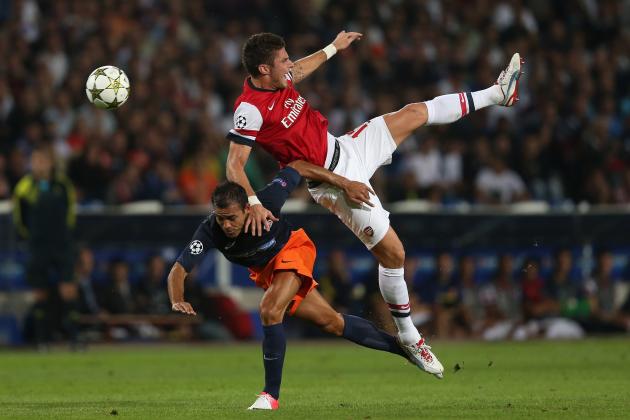 Julian Finney/Getty Images

It was a shame OG got off the mark for Arsenal at Southampton before Olivier Giroud opened up his own Arsenal account. It means writers like me are obliged to preface discussions on the intimidating French forward with cruel puns.
It would have been lovely if Giroud had notched his first strike against Montpellier. It would have given him a chance to show his former club how grateful he was to them and it would have given him newfound confidence and self-belief.
It also would have shut up those sections of the media who are criticizing the Frenchman, because my oh my do those sections need shutting up.
Giroud's game is about more than goals. He adds a dimension to Arsenal that was sorely lacking last season and that dimension is a Plan B.
There was an interesting statistic that popped up while I was looking at this match: aerials won.
Arsenal won 64 percent of the aerial duels during this match.
Giroud won 70 percent of his own personal aerial duels. Mapou Yanga-Mwiba, who was tasked with keeping the Frenchman under wraps, won 0 percent of his.
It was almost amusing to see Giroud running about with the 5'11" Mbiwa chasing after him, sort of like watching a fly pester a cow (OK, perhaps that was a bit over the top).
The point is, while Giroud will be judged on goals, goals are not the sole focus of his game: Arsenal's attack is no longer RvP and the rest. It is a complementary, cohesive unit and Giroud's function within that unit extends far beyond simply putting the ball in the back of the net.
His assist for Podolski's goal was a good example of his expansive skill set, as Giroud drew two defenders towards him (a 6'4" striker tends to do that) and touched Santi Cazorla's ball first-time into the path of Podolski, who had drifted into the exact area that Giroud had freed up.
It was a similar contribution to the one he made for Podolski's goal against Liverpool.
Cazorla's dribble in that instance was heading towards traffic early on, while Podolski's run was still behind the ball.
Giroud was also heading into traffic, being tailed by his own man and running as he was towards the right-sided central defender.
The big man's footballing intelligence told him that the best way for the team to score a goal was not through Giroud attempting some speculative run past his defender's shoulder, hoping for a chip over the top but through darting away suddenly, as though some kind of call had been made.
The spontaneity of Giroud's run caused unease in Liverpool's defense, and drew Skrtel out of position, freeing up space for Posoldki to run into and put Arsenal ahead.
Monday, Giroud was quiet, but he imposed himself on the game nonetheless.
Opponents cannot forget about the Frenchman because they cannot dominate him, and if they cannot dominate him, there is always the potential for Giroud to deliver something.
It doesn't matter what it is—a run, a pass, a header, a touch, simply causing indecision in the minds of his defenders—so long as he's having some kind of impact, he will repay his transfer fee.
Giroud still isn't showing himself to be everything we expected him to be, but what he has given us so far should not be blindly ignored because he hasn't scored any goals. He is an exceptionally good player and doesn't appear to be the kind of bloke who lets a dry spell get to him.
So long as we're scoring goals, I don't really care who gets 'em.
But I'll be happy as Larry when he gets himself on the scoresheet. A free-scoring Podolski with a confident Gervinho, being fed by a rampaging Cazorla and with the aerial prowess and finishing ability of an invigorated Giroud is an intimidating prospect for most sides and a terrifying one for many.
A pretty good one for us, though.
Rating: 7.3