PGA of America's Ryder Cup, More than a Village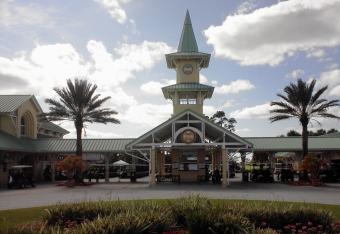 PGA Village in Port St. Lucie, Florida features four golf courses and a 35-acre practce facility plus a lot more!

Golf Writer Andy Reistetter continues his exclusive "Play-Write" series this time with a visit to the PGA Village in Port St. Lucie, Florida. The Masters has Augusta National, the USGA has Golf House, the R&A has St. Andrews and the PGA of America has its Village and a whole lot more. In celebration of the upcoming Ryder Cup at Medinah, join Reistetter as he discovers the extent of the PGA Village and just how much the PGA of America influences the game of golf for this generation and beyond.
If you are a golfer and your bucket list does not include a visit to the PGA Village in Port St. Lucie, Florida then it needs to be updated. The good news is Port St. Lucie is below the frost line in Florida and essentially a year-round golf destination. Whoever thought there was a "frost line" in Florida? Nobody probably did, including me, until I moved to "frosty-at-times" northeast Florida. I also never took the time to educate myself about the PGA of America. Having made the visit, I now feel like I am a "Village Sage" and recognize the vast influence the Village has on our golfing life and that of our children for many years to come.
The PGA of America is the personal face of golf, the golf professional at your daily-fee golf course or private country club, someone you have likely interacted with on a social basis or in a meaningful way to improve your golf game. On the professional golf stage you know the PGA of America as the host of the PGA Championship—one of golf's four major competitions won this year by Rory McIlroy at Kiawah Island. You probably know it as the organization behind the upcoming Ryder Cup competition at Medinah Country Club in Chicago.
"The Village, The Village," my fellow golfers, is the ultimate golfing destination. Why? Because it goes to the heart of the game, the essence of the game and will not only revive your interest and dedication but help you become a more proficient player of the game of golf. Improving your game with a PGA Professional, whether at the Village or on your home course makes playing golf a lot more fun and rewarding, especially when the bets are settled with your friends after the round.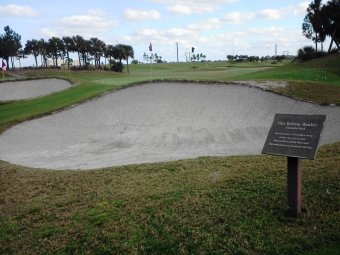 Gosh, they have nine bunkers with different sands from around the world. So not only are you practicing or learning how to play a bunker shot, you do so under various conditions. Please don't discount this learning experience thinking you will never play nine different types of sand. The sand at your golf course changes as conditions change—before and after a rainstorm, early or late in the day and early or late in the season. The PGA Village is like the Disneyland of golf—we don't know what we're missing until we hop on the Monorail or I-95 to see for ourselves. Okay, so I-95 is no Monorail!
If nine different types of sand is mindboggling, attending a Golf School at the PGA Center for Golf Learning and Performance will really blow your mind. I consider myself knowledgeable in the mechanics of the game since I have read and studied most of the instruction books ever published. Having said that, I now realize that after two days at the Village School I knew less than I thought I did, especially in terms of dynamically applying knowledge to my swing and quickly seeing results.
Mark Drenga was my instructor. After he fitted me with a K-Vest, I hit a few balls, and now I know more about my body movement during the golf swing than Houdini did when he escaped from a straitjacket. I still needed help getting out of the K-Vest.
My "athletic motion" was completely broken down into three pages of color-coated graphs. The position and movement of the pelvis, upper body and spine are illustrated in a kinematic sequence. Sound complicated? It is easily understood when Mark explains it. Plus, he incorporated Trackman data of the movement of my club and golf ball. You know Trackman as the glitzy ball-flight tracker on television. Club speed, attack angle and dynamic loft. Ball speed, spin rate and smash factor. Wow, quite revealing…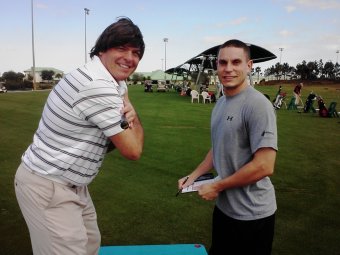 In addition, Performance Specialist Adam Dunham assessed my flexibility in a number of positions and prescribed 10 specific exercises for me to do to improve in key areas. With the combination of knowledge learned from the K-Vest and Trackman along with improved flexibility, I am destined to be a better golfer.
In addition to the 35-acre, 100 practice stations and three-hole PGA Discover Golf Course facility in the Village, there are four golf courses to choose from—the Jim Fazio-designed PGA Golf Club, Tom Fazio's Ryder and Wannamaker Courses, and the Dye Course named after legendary designer Pete Dye.
All four golf courses are special, but let me tell you that the most special part of the PGA Village is the PGA Museum of Golf. With pictures, words and interactive exhibits you can trace the history of golf like nowhere else due to the extensive archives of the PGA of America.
I was fortunate to attend a special Ryder Cup presentation by Jim Ward of Premier Travel. Jim has been attending Ryder Cups and handling the travel arrangements for the PGA leadership team and the American players since 1991. While Jim thinks travel golf writers are "living the dream," it is really he that is doing so. Onboard the Concorde in 1997 on the way to Valderrama he witnessed Brad Faxon stroke the longest putt in history down the aisle a distance of seven miles while traveling across the pond. In 1993 as he was perfecting how to watch a Ryder Cup (get ahead every three holes and let the players come to you) he turned around to some European fans and said, "Watch Pavin stiff it here." Corey Pavin did better, holing out a nine-iron at the fifth hole at the Belfry for eagle and then tossing the ball to Ward.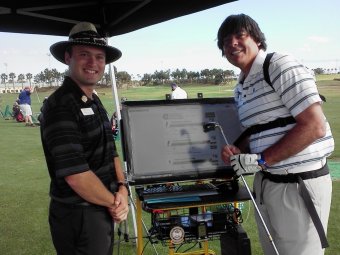 The travel czar of the PGA noted an exchange that is all too relevant this year as Davis Love III captains the American team and Jose Maria Olazabal heads the Europeans. At Brookline in 1999, as Captain Crenshaw's "good feeling" the night before was going wild, Love won early and sought out Justin Leonard coming off the 10th tee four down to Olazabal. Davis grabbed him, shook him and gave him a little pep talk. Leonard never lost another hole and made that memorable 45-footer on No. 17 to set up the American come-from-behind win. All Olazabal could do was watch, wait and then stroke a putt that did not go in the hole.
The Americans, having lost four of five since then, need another inspirational leader like Crenshaw and Paul Azinger at Valhalla in 2008. Mr. Love is likely to fill that role.
The address of the PGA Village in Port St. Lucie, Florida?
1916 Perfect Drive…
The PGA of America has been around for a long time. Here's hoping every drive of yours is perfect and you get the chance to visit the PGA Village sometime soon.
Andy Reistetter is a freelance golf writer as well as a Spotter, Research and Broadcast Assistant for The Golf Channel, NBC and CBS Sports. He spends time on all four major American golf tours—the PGA TOUR, Champions, Nationwide and LPGA Tours.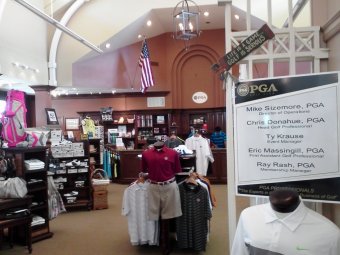 Reistetter resides within two miles of the PGA TOUR headquarters and the home of The PLAYERS Championship at TPC Sawgrass in Ponte Vedra Beach.
A lifetime golfer, Andy enjoys volunteering at the World Golf Hall of Fame and THE PLAYERS while pursuing his passion for the game of golf and everything associated with it.
Friend Andy Reistetter on Facebook to enjoy daily updates on his GolfWriter59 page.
Contact Reistetter by e-mail at AndyReistetter@gmail.com
This article is
What is the duplicate article?
Why is this article offensive?
Where is this article plagiarized from?
Why is this article poorly edited?