Tiger Woods: The Six Biggest Weaknesses in Tiger's Game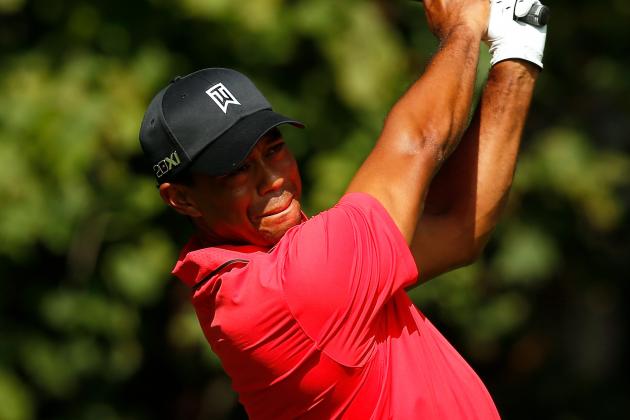 Scott Halleran/Getty Images

It's been more than four years since Tiger Woods won his last major.
The 2008 U.S. Open was an event that portrayed Tiger as the hero. Despite serious left knee problems, Woods finished the final round tied with underdog Rocco Mediate. Mediate loved playing his David role to Tiger's Goliath. He pushed and prodded the champion but Woods ultimately won the playoff (source: US Open.com).
Woods has not won a major since and his once ideal life was long ago turned upside down by tabloid revelations.
Woods has worked hard to rebuild his game. He has had a sensational 2012 season by normal standards, but not by Tiger standards. He has many flaws in his game. Some of those flaws are physical, but others are mental and emotional.
He seems like he is on his way back, but he is not there yet.
Begin Slideshow

»
Tiger Woods puts extraordinary pressure on himself to succeed at all times.
Even though every golfer will have his share of bad shots, Woods has a hard time accepting mistakes. If he hits one off line, into the hazard or just slightly beneath his expectations, he is likely to let loose with a stream of critical remarks directed at himself.
In the past, Woods would get past his disappointments and move on to the next shot. Now it seems that he can't shake them off and his play often suffers after letting loose with a fit of temper.
There have been a number of occasions this year when Tiger Woods had it all together. He had three victories on the tour, one second-place finish and two third-place finishes. He has won nearly $6 million on tour and is arguably the second-best golfer behind Tiger Woods.
But despite those positives, there have been times when Woods' swing leaves him. His biggest problem is a tendency to get wild off the tee. It seems like he may be swinging too hard, but his fundamentals will disappear and at times his breathtaking swing will turn faulty.
Tiger Woods was in contention in three of the four majors after two rounds. In the past, that meant Tiger would be moving up the leader board on moving day.
But in 2012, third-round play meant trouble for Woods.
Woods average score for both the first and second rounds was under 70, allowing him to rank second for both of those rounds. However, in the third round, he averaged 70.47, ranking 53rd on the tour this year.
There was a time when Tiger Woods was absolutely deadly with a wedge in his hand. While Phil Mickelson is known for his flop shot on the short wedge shots, the 75-to-100-yard wedge shot was one of Woods' great strengths.
That has not been the case in the 2012 golf season. He has only found the green on 76 percent of those shots, ranking 141st on the tour in that category.
Tiger Woods has had significant problems with injuries over the years, his biggest problem being his left knee. He has had operations, procedures and pain. While he was relatively healthy this year, his knee could flair up at any time, forcing him to have to play through the discomfort and pain.
In addition to his left knee, he has also had Achilles problems and ankle injuries (source: UTsandiego.com).
There's quite a bit of pressure on Tiger Woods to win a major again and also show he's the No. 1 golfer in the world. Whenever he is close after his first two rounds, he can not respond in the final two. When will he overcome this tendency?
The longer this goes on, the more the pressure will increase.
Then there's the presence of outstanding young rival Rory McIlroy. Like Woods a decade ago, McIlroy seems impervious to pressure. He goes out, wins championships and attracts new fans. Like Woods, he's a magnetic performer as well as a great player. Woods is clearly challenged by the presence of McIlroy as a tour giant.