Philadelphia Phillies: Predicting Their Offseason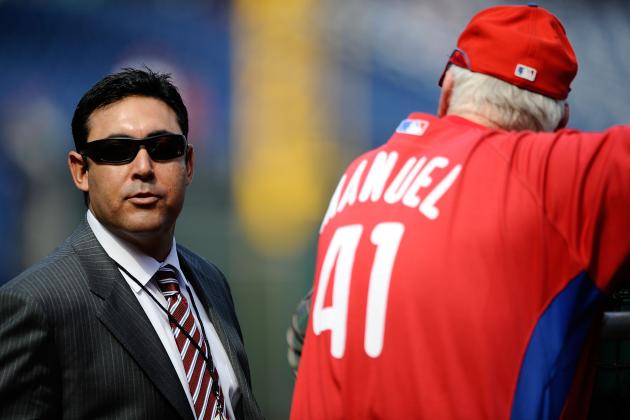 Jeff Zelevansky/Getty Images

Regardless of how the Phillies' season ends—whether they finish off this miraculous run or they go home when the regular season ends—Ruben Amaro and company have a lot of work to do.
They need to find solutions for the outfield, at third base and in the bullpen.
The Phillies currently have almost $134 million in guaranteed contracts to nine players (or at least their average annual value, the only number that matters when calculating the luxury tax) for 2013.
With only a few arbitration-eligible candidates—Nate Schierholtz being the most significant—the total cost of payroll for players currently on their roster should not exceed $150 million. Factoring in the Phillies' share of MLB's medical and benefits plan of around $10-$12 million, their starting budget becomes about $162 million.
With the luxury tax threshold remaining steady at $178 million, the Phillies will likely have less than $20 million to spend in the free-agent market if they are to avoid paying it once again. However, with the tax increasing to $189 million for the 2014 season, the Phillies ownership group may decide to spend extra money in 2013 with the knowledge they'll get back under the tax threshold in 2014.
That is not something any of us fans, nor reporters, have a true grasp on, and until it happens one way or the other it is pure speculation. If the Phillies decide to exceed the tax threshold in 2013 it could give them the flexibility of spending upwards of $30 million in the free-agent marketplace.
Considering all options, this is what I see the Phillies doing in their offseason to rebuild the club for the 2013 season.
Begin Slideshow

»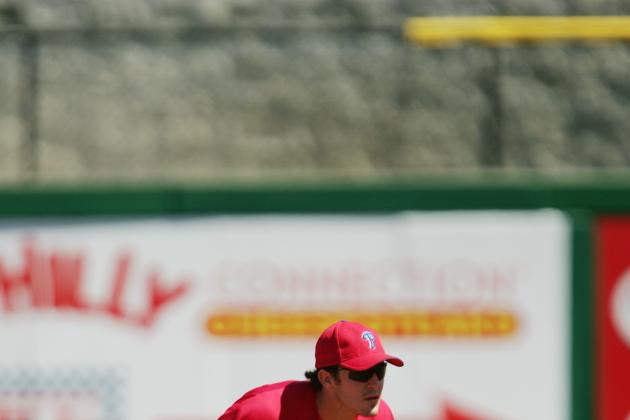 Doug Pensinger/Getty Images

It is common knowledge that Chase Utley has been taking ground balls at third base, and attempting to relearn a position he hasn't played since his Triple-A days a decade ago.
My understanding of the situation comes across as a two-fold benefit: the first being that playing third base may lessen the amount of stress on Utley's knees and legs (reducing the amount of field he has to cover and eliminating his involvement in turning double plays); it also may save the Phillies from having to look for a better bat to play third base, when the options are clearly limited.
Utley's attempted move to third base may prove futile, but it is at least worth considering.
When he originally came up, Utley was not a plus-defender at second, either. However, his work ethic and determination have helped transform him into one of the game's better second baseman.
Of course, if his bat can return to even somewhat of the form it once was—say a nice blend of his performance between 2008 and 2011—and he can hit .270 with 20 home runs and 80 RBIs (along with all the other attributes we've come except from Utley), his move to third base could prove beneficial to everyone.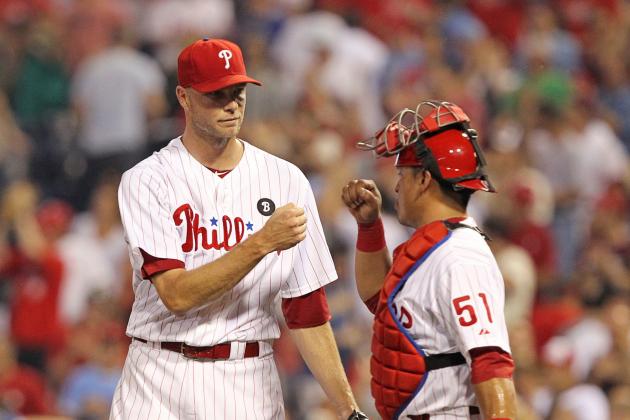 Hunter Martin/Getty Images

Many fans will disagree with me and say that the Phillies biggest need is more offense—bats for the outfield, bats for the infield and bats for the bench—but I believe they are wrong.
The Phillies' biggest need to address this offseason is their lackluster bullpen.
It is the same the reason why they are fighting for their playoff lives these last few weeks of September.
There is a lot of potential in the Phillies relief corps—Phillipe Aumont, Justin De Fratus and Jake Diekman, just to name a few—but they lack that proven, late-inning shut-down reliever that can shorten a game. One of the above, or someone else I haven't mentioned, may turn into that guy, but until they do there is no way a team with World Series aspirations can go into the 2013 season with hopes of that happening.
That was the idea for 2012.
Antonio Bastardo and Michael Stutes were expected to perform effectively enough to hold down the fort in the eighth inning for Jonathan Papelbon—that didn't happen. Instead, when the Phillies needed someone to come out of the bullpen, especially is those dreadful tied-on-the-road games and Charlie Manuel refused to use Papelbon, the Phillies may have had someone to turn to.
By turning only a couple of those loses into wins earlier in the season, this team has a more more manageable track on the wild-card slot now. Seems to be a little more important than a couple extra three-run home runs.
The list of relievers available is plentiful, as usual, but there are only two names I'd consider: Mike Adams and Ryan Madson.
Bringing Madson back to Philadelphia sounds crazy, because he left on bad terms, he's represented by Scott Boras and he won't have a chance to close unless there's an injury to Papelbon. However, coming off Tommy John surgery, Madson is going to have to prove his health and ability before getting that big, long-term contract players desire.
Most likely he's going to have to settle for a one-year deal somewhere, with a lot of cash tied to incentives. If the Phillies were to offer the most guaranteed money ($7-$9 million), and the best chance to show his stuff on the biggest stage—October baseball—I don't think there's enough ill-will to avoid a happy, albeit short, reunion.
Mike Adams would cost significantly more, upwards of $20 million over three seasons (maybe more), but would give them a long-term option in the bullpen.
Signing either of these relievers will undoubtedly be overpaying for them, and limiting the Phillies ability elsewhere, but it will be money well-spent.
I'd rather watch another nail-biting season, even if that means the Phillies struggle to score runs, if they're more lethal in October and bring home that World Championship.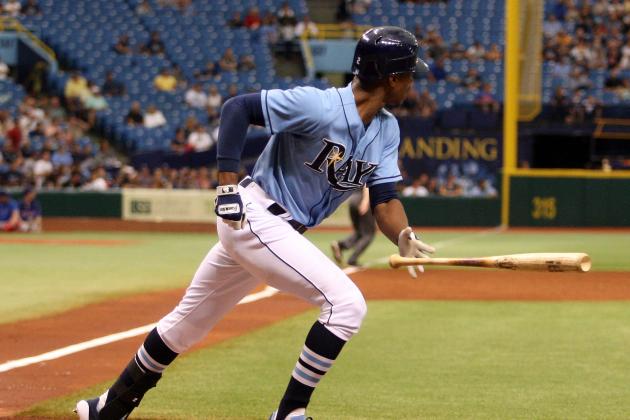 Charles Sonnenblick/Getty Images

The Phillies obviously have a huge hole(s) in their outfield and can theoretically have three new starting outfielders in 2013.
I think they have made it clear they are giving Domonic Brown every opportunity—the rest of this season, spring training and perhaps the first couple of months of 2013— to show whether or not he can be an everyday major league player.
Brown will most likely be one of the team's starting corner outfielders next year.
After the year Darin Ruf had at Reading, the Phillies owe it to themselves to find out if the guy can be a legitimate major league player. If he can show he can play the outfield reasonably well in Winter Ball, and performs strongly in the spring, he just might be the club's left-fielder (or at least part of a platoon) next season.
Or the Phillies may realize that he doesn't have what it takes to play a position, builds up his value (power) and finds a trade partner willing to take a chance.
In any case the Phillies are going to need another outfielder.
They will go into next season with a lot of names—Laynce Nix, John Mayberry Jr., Nate Schierholtz, etc.—but none are guaranteed playing time. Nix and Schierholtz have never been anything more than part-time players, and Mayberry has been given every chance to show he's more than that, but hasn't yet.
Unless Mayberry comes to Spring Training and tears the cover off the ball, it's unlikely the Phillies would entrust another season's worth of playing time to him.
The Phillies could make a trade for an outfielder, but without further depleting their farm system or sacrificing an ace, there isn't that much worth considering. Free Agency is where they will find their next outfielder, and it will be BJ Upton.
A lot of fans may not like the idea—me included—but Upton may be the biggest bang-for-their-buck.
The Phillies are not going to break the bank and sign Josh Hamilton. Considering all of his history, it makes absolutely no sense to even attempt to sign Hamilton.
Michael Bourn won't be returning either, and he's at least more intriguing than Hamilton; he's younger, plays better defense and is less of an injury/substance-abuse risk, but he's also represented by Scott Boras and will look for the moon in his next contract.
For a player who offers little power, low on-base averages and strikes out way too much, he's sure to be overpaid.
Nick Swisher is a name that's been mentioned a lot recently, and I don't understand it. He's a very good player, he's got power and does a fairly good job of getting on base. But he's a below-average major league outfielder, strikes out too much and, putting it simply, is a less-productive version of Ryan Howard, who wants to get paid like he's better.
Out of all the outfielders available BJ Upton has the most potential.
He may never do what he's capable of doing—and probably won't—but he could also turn into a superstar. I wouldn't bet on it, but it's not my call and I can easily envision the Phillies signing Upton to a five-year contract worth $65-$75 million.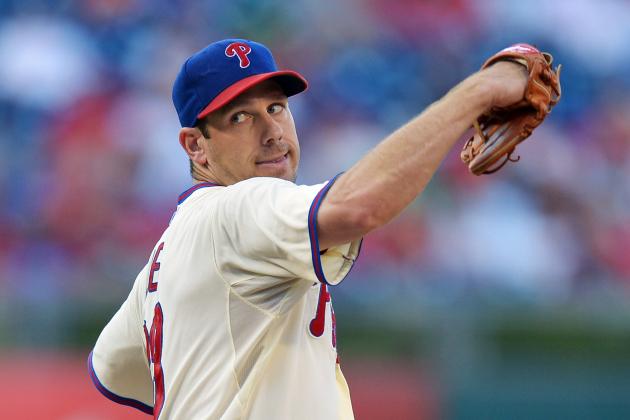 Drew Hallowell/Getty Images

Do the Phillies bite the bullet and trade one of the best pitchers in baseball?
That one I can't answer.
I hope it doesn't happen, and I feel the Phillies would have to be blown away to make a deal, but stranger things have happened.
Yes, there are a lot of reasons to trade Cliff Lee. His contract being the most significant one.
With his salary escalating each year from here on out, it might make sense to bite the bullet and deal him, however it can't just be for salary relief. One thing a lot of fans and analysts have forgotten is that the Phillies can afford to pay Cliff Lee. Despite a few bumps in the road, Lee has been everything the Phillies envisioned when they guaranteed him $120 million.
There's no reason to dump him unless they're getting a significant return back, which essentially rules out the Dodgers.
They claimed him off waivers and would be willing to absorb his contract, but what would they give back? The only player on the Dodgers even worth considering dealing Lee for might be Matt Kemp, but his contract is ridiculous ($40 million more and three years longer than Lee's). And I don't think the Dodgers would do it.
I wouldn't trade Lee for Carl Crawford or anyone else on the roster. (After absorbing a quarter of a billion dollars in contracts in order to secure Adrian Gonzalez, I doubt the Dodgers would even consider moving him. And with Howard firmly entrenched at first base there is nowhere for him to play in Philly anyways.)
The Rangers could be an intriguing trade partner.
With Mike Olt coming along they may be willing to part-ways with Adrian Beltre, an elite defender at third with a big-time bat. It could be a win-win for both clubs, but I'm old-school; you don't trade an elite starting pitcher unless you're completely blown away—and Beltre does not do that.
Cliff Lee should remain with the Phillies, but I would not be surprised by either option.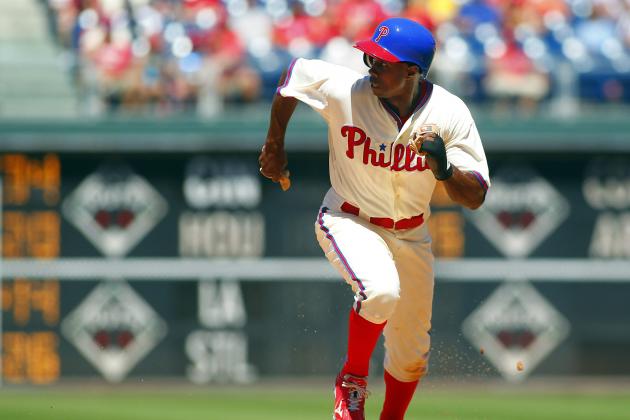 Rich Schultz/Getty Images

The Phillies have had a lot of veterans on their club in 2012, and some will be back next season.
Despite his $4 million option, Ty Wigginton will return to the Phillies. It may be at a less-prohibitive cost, but the Phillies will do everything possible to keep Wigginton.
He offers power, versatility and a veteran presence in the clubhouse. In recent years, the Phillies have kept around the likes of Matt Stairs, Ross Gload and Jim Thome—and at this point Ty Wigginton is better than all of them when they were here (most recently, anyway).
Juan Pierre, who signed this offseason to a minor-league deal, has been nothing short of spectacular. He's done everything they've asked and more, and even though his production hasn't changed the Phillies overall outlook much, he deserves another opportunity with the team.
With starters in-tact across the field (at least until they get hurt and can't play) most of the other players the Phillies will keep on their roster will be bench/part-time players.
Players like Kevin Frandsen, Erik Kratz, Laynce Nix and Michael Martinez (ugh) will all be given opportunities to earn spots on this club, but hopefully none of them are needed to make an impact.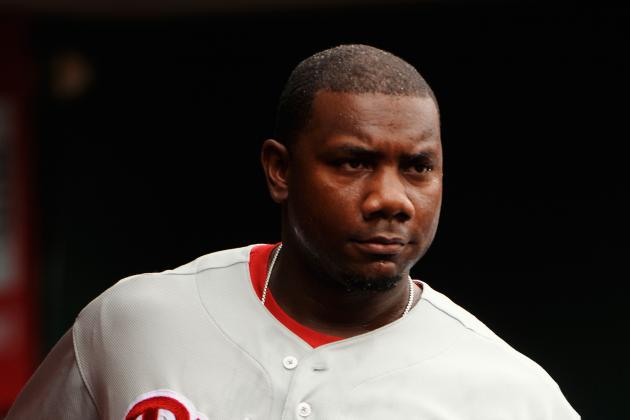 Jamie Sabau/Getty Images

Dollar amounts in millions:
1B Ryan Howard $25
2B Freddy Galvis .600
SS Jimmy Rollins 11
3B Chase Utley 12.15
RF Domonic Brown .600
CF BJ Upton 15
LF John Mayberry .600
C Carlos Ruiz 5.0
BE Laynce Nix 1.25
BE Ty Wigginton 4.0
BE Erik Kratz .600
BE Juan Pierre 1.5
BE Kevin Frandsen .600
SP Roy Halladay 20
SP Cliff Lee 24
SP Cole Hamels 24
SP Kyle Kendrick 3.75
SP Vance Worley .700
RP Jonathan Papelbon 12.5
RP Ryan Madson 9.0
RP Antonio Bastardo .600
RP Phillipe Aumont .600
RP Jake Diekman .600
RP Justin De Fratus .600
RP David Herndon .600
Cost of remaining players on 40-Man Roster: $4 million
TOTAL COST OF ROSTER: (40 man squad, plus benefits) $191.45 million
I have probably overestimated a number of the contracts they give out, with both the young, non-arbitration eligible players and the veterans they sign.
Saving a million-or-so on the younger players ($50,000 or $100,000 adds up quickly), a couple million on Madson, Upton and Wigginton, and suddenly that $191.45 million is closer to $182/$183 and closer to that luxury tax ceiling.
They could possibly structure some deals to stay under it, but I don't see it. The Phillies will pay the tax in 2013, and then get back under it in 2014 when Utley's and Madson's ($21 million combined) contracts come off the books.
I'm ready...let the arguments begin...