Arsenal vs. Montpellier: Player Ratings in Gunners' 2-1 Champions League Opener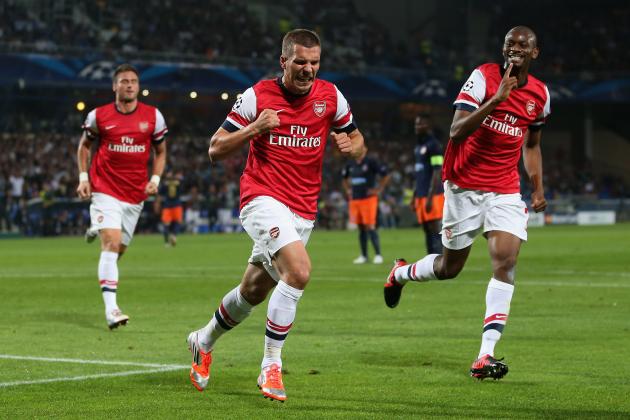 Julian Finney/Getty Images

If you were lucky enough to steal some time away from work to watch the first 20 minutes of Arsenal's Champions League opener against Montpellier, you were in for a treat.
The French side opened the scoring in the 9th minute when Younes Belhanda chipped in an easy penalty kick that put the home crowd into quite the frenzy.
From there, Arsenal's Lukas Podolski and Gervinho scored in the 16th and 18th minutes respectively.
If you tuned in after that, well, your sympathy card is in the mail.
Arsenal shook off the opening match jitters and controlled the match thereafter, holding possession for 54 percent of the game and forcing two yellow cards, limiting Montpellier's aggressiveness late in the contest.
North London fans rejoice, your Gunners have three points in the bag and are in the driving seat to advance out of the group stages of the Champions League.
There were some ups and downs throughout the match for the team as a whole, but how did the individuals grade out?
Join me as I present to you player ratings for Arsenal's side from their Champions League match against Montpellier.
Begin Slideshow

»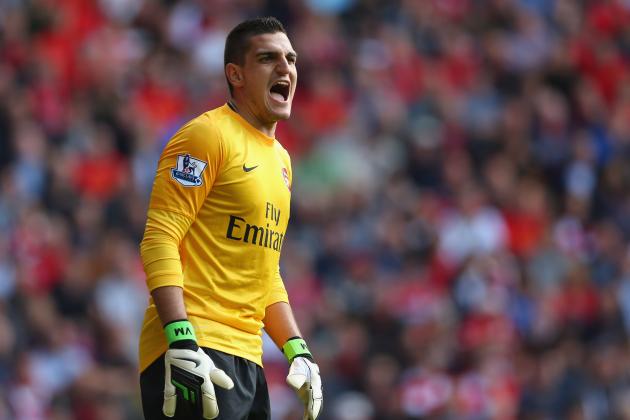 Alex Livesey/Getty Images

Vito Mannone: 7/10
Embarrassed by the way Montpellier's Younes Belhanda chipped in his penalty, but blame that on early match nerves away from Emirates Stadium.
The 24-year-old Italian displayed the same confidence in the box that's earned him two clean sheets in Arsenal's first four weeks of league play.
Superb saves late in the match to snatch three points when it could have very well been a draw for the Gunners.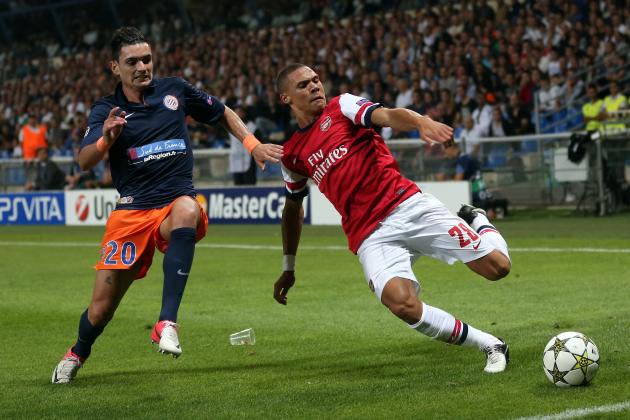 Julian Finney/Getty Images

Carl Jenkinson: 7/10
Jenkinson had an excellent first half, wreaking havoc along the right sideline and making himself of great value to the Gunners offense. He was decent in possession, giving the ball away a few times, but superb assist on Gervinho's goal in the 18th minute.
Per Mertesacker: 5/10
Unlike the rest of Arsenal's defenders, Mertesacker had very little to do with Montpellier only scoring one goal. When he wasn't invisible he was playing the fool, twisted and turned around by the home side. Disappointing.
Thomas Vermaelen: 7/10
Clumsy tackling made Vermaelen a liability in the opening minutes, but the Belgian composed himself and turned out a solid performance at the centre-back position. Strong, physical and disciplined—what more could Arsenal ask for?
Kieran Gibbs: 7.5/10
Looked to get forward at nearly every opportunity, which for the most part was his strength. But that kind of confidence can be a double-edged sword and while it didn't hinder the Gunners this evening, it could catch them out of position later in their Champions League campaign.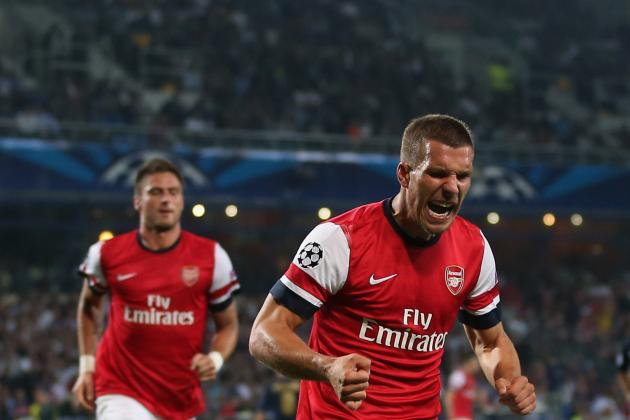 Julian Finney/Getty Images

Abou Diaby: 7.5/10
Physical play all night from Diaby. Received the match's first booking, earning a yellow card just two minutes in. Showed tenacity—in both defense and offense—all night.
Energetic, inspiring play from the 26-year-old.
Mikel Arteta: 7/10
Like most of his teammates, Arteta started the game a little rough, but bounced back quickly. Controlled possession well from the defensive midfielder position for most of the match.
Gervinho: 8/10
Great passes, disciplined play, worked well in tandem with Lukas Podolski and a goal to his credit in the 18th minute. He caused Montpellier manager Rene Girard a lot of problems with his defensive game-plan, in an all-action display from the Ivorian.
Lukas Podolski: 8.5/10
Converted his first real chance at goal; slotting home for Arsenal's opening score. Tireless efforts the entire night. Played a bit tight in the second half, but I wonder if that was tactical.
Aaron Ramsey: 6/10
Substituted in for Giroud in the 76th minute, but you wouldn't know it from watching. Nearly invisible.
Theo Walcott: 6.5/10
Came in for Podolski in the 90th minute. What can you do in less than three minutes of play?
Francis Coquelin: 6.5/10
Like Walcott, came in for Cazorla in the 90th minute. Nothing of note.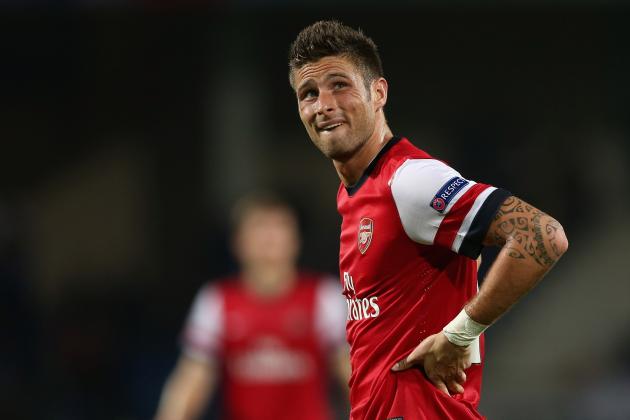 Julian Finney/Getty Images

Santi Cazorla: 7/10
Can't fault him for much. Cazorla passed the ball effectively and kept himself out of trouble. Another cog in the machine of an effective Arsenal midfield.
Olivier Giroud: 7.5/10
Tough, inspired play against his former team, Giroud provided a great pass to put Podolski through on goal for the equalizer in the 16th minute.