5 Boston Bruins We Will Miss the Most During the NHL Lockout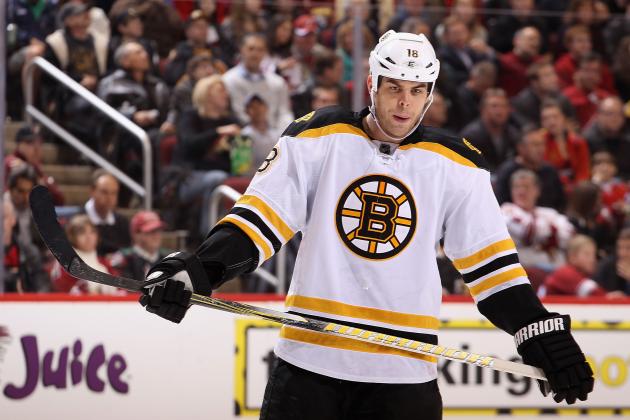 Christian Petersen/Getty Images

Since the Boston Bruins are, for the most part, an exciting young team, the NHL lockout will be a very tough time for the team's fans.
The combination of having veterans with something to prove, and young players ready for breakout seasons, has created a buzz around the Bruins throughout the New England region.
Let's look at five Bruins players we will miss the most during the work stoppage.
Note: All quotes obtained from Bruins' media web site, or media conference call
Begin Slideshow

»
After signing a new contract last week, Bruins winger Milan Lucic is going to face huge expectations this season.
Lucic addressed the high expectations during a media conference call on Saturday to announce his signing.
"There's obviously going to be more pressure with making more money and you also have to embrace that challenge and embrace the struggle that it takes to win," said Lucic.
"Like I said, now that I've been given this opportunity to be a big part of the puzzle, as much as I'll have pressure from you guys, you definitely put pressure on yourself to perform," he added.
"It's up to me to elevate my game and bring it to a certain standard and that's the responsibility of being an athlete. I know what that responsibility is now."
After a lackluster performance against the Washington Capitals in the first round of the playoffs last year, Lucic has plenty of motivation going into the 2012-13 season. Unfortunately, he might not get a chance to prove he's worth $6 million per year for a while.
Brad Marchand got a significant raise with his new contract, so like Lucic, he will have big expectations this season.
In a media conference call discussing Marchand's new deal, Bruins general manager Peter Chiarelli praised his young forward's offensive talent.
"He's got a real good shot," said Chiarelli. "So, I think he's just sharpened his offensive skills, and I think he's recognized where he can create his offense."
After improving his goal total from 21 during the 2010-11 season to 28 last year, scoring 35 goals is a realistic goal for Marchand. He was on his way to reaching that level last season before he struggled offensively in the final third of the year.
His aggressive style of play has made him a fan favorite throughout his brief career in Boston, and seeing him play alongside Patrice Bergeron and Tyler Seguin in one of the most complete lines in the NHL is something fans will sorely miss during the lockout.
Bruins fans have heard about how talented of a prospect Dougie Hamilton is for over a year now, and have been anticipating his arrival to the NHL.
The good news for the Bruins is that Hamilton can play for the Niagara IceDogs of the OHL this season until the lockout ends, at which time Chiarelli will have the option of bringing his 6'5" defenseman to the NHL, or keeping him in junior hockey.
Hamilton's offensive ability is what fans are most excited about because has been able to dominate in the attacking zone during his career in the OHL.
He won't arrive in Boston with expectations of becoming a star right away, but fans will expect Hamilton to adjust quickly to the NHL game.
Tyler Seguin is the player that Bruins fans are most excited to watch this season. He's one of the few players on Boston's roster capable of dominating a game offensively with his goal scoring and play-making skills.
Like Lucic and Marchand, Seguin also signed a new deal this month. He's prepared for a good 2012-13 season, whenever it starts.
"I have high expectations of myself," said Seguin during the conference call to announce his new contract.
"I like to say I adapt to new situations well and I'm a confident player and I think that a lot more improvement to still come, and I feel like I have a lot more respect I still need to earn from both players and also management."
"I think that's what's going to keep me motivated and keep going, and that's just my goal plan," he added.
Seguin isn't in the prime of his career yet, but the excitement he brings to the ice and the offense he creates will be missed by Bruins fans everywhere for the duration of the lockout.
After not being able to watch Nathan Horton play since January, Bruins fans are excited to see the power forward step onto the TD Garden ice and continue his career in Boston.
With Horton ready to resume his career after a lengthy battle with concussion-like symptoms, he's one player that will want the lockout to end as quickly as possible.
The Bruins are a far better offensive team when Horton is healthy and in the lineup, as we saw in the team's 2011 Stanley Cup run.
Fans are looking forward to seeing Horton play alongside Lucic and David Krejci on the Bruins' top line, but that might not happen for quite some time.
Nicholas Goss is a Boston Bruins columnist at Bleacher Report. He was also B/R's on-site reporter for the 2011 Stanley Cup Finals in Boston and has covered the Bruins since the 2010-11 season. Follow him on Twitter.