5 Key Moments in the Minnesota Vikings' Loss to Indianapolis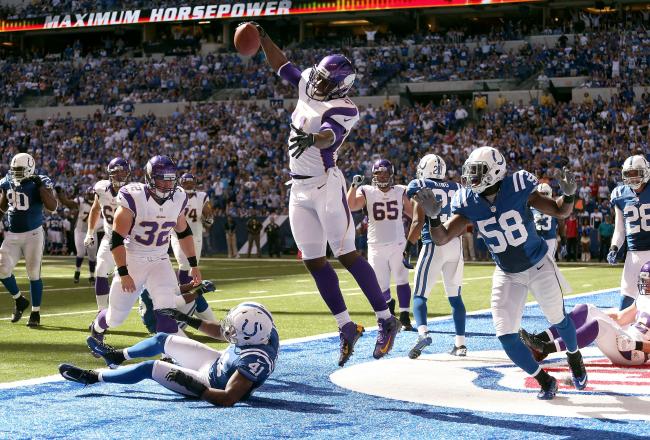 Andy Lyons/Getty Images
It's never just one thing—a loss or win comes along due to an accumulation of many events which add up to good or bad things happening.
The Vikings' loss to the Colts—which nearly was a victory—had many moments which turned the momentum towards one team or the other.
Here are five key moments in the game which impacted where the momentum was.
No. 5

It may not seem big on the surface, but don't undersell a nearly eight-minute drive to start a half, when the last significant play before the end of the previous half was a touchdown by the team running out the clock here.
The Colts did a good job of moving the chains, getting first downs and keeping the Vikings offense watching on the sidelines. After a 15-minute halftime, another eight minutes of sitting makes for nearly 23 minutes of waiting.
The Vikings didn't implode after the Colts kicked their field goal, but they definitely seemed a little cold.
Beyond that, the Colts ate up half of the third quarter, a significant chunk of time for the Vikings, who were already well behind.
When the Vikings look back on running out of time at the end of the game, they may wish they had been able to stop the Colts on this drive and preserve some of the clock.
No. 4

Starting a game off with a scoring drive—getting any points—is a positive. However, this drive by the Vikings to open the first half could have been so much more.
Back-to-back penalties by the offensive line—Phil Loadholt and Charlie Johnson being the culprits—pretty much killed a drive that had been moving the chains, eating the clock and keeping the Colts defense on its heels.
In the span of two plays, the Vikings went from 2nd-and-2 on the Colts' 30-yard line to 2nd-and-17 on the 45.
That's brutal. Maybe they would have stalled in the red zone, but we'll never know because two bad penalties resulted in a pretty big hole to climb out of.
Starting this game off with a long touchdown drive could have really set a great tone and built this offense's confidence up.
Instead, rookie Blair Walsh had to come up big with a 51-yard field goal, and the offense would have a hard time getting into the end zone until the fourth quarter.
No. 3

Stephen Burton's touchdown on a tipped ball was the sort of freaky play which seemed to typify the Week 2 NFL games.
Burton is a decent receiver who has struggled at times to be consistent, but he showed great concentration and came down with a score which put the Vikings back into the game.
It's the sort of play that, had the Vikings managed to win, would have been seen as a significant shift in momentum, and it was. The momentum just didn't last until the end of the game.
Freaky plays like this are always fun, but also deciding factors in many games.
The ball probably never should have been thrown to its intended target, tight end Kyle Rudolph.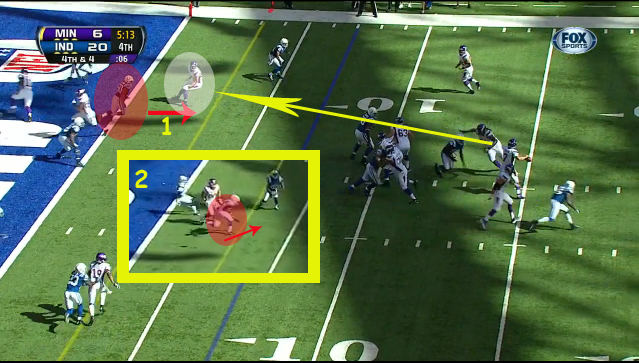 footage courtesy NFL.com Game Rewind
You can see in this screen cap that while Rudolph looks open, he's really pretty well-covered.
When the ball is batted, it actually makes it more favorable for Rudolph, who gets his hands on it, though he can't bring it down.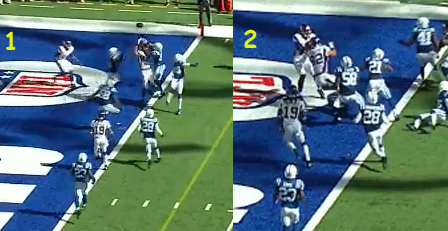 footage courtesy of NFL.com Game Rewind
It then falls into Burton's hands.
So a ball which could very well have been intercepted instead gets batted twice and caught for a touchdown.
It definitely woke the Vikings up, that's for sure.
No. 2

It's not just that they sacked Andrew Luck—something they struggled with all day. It's that they did it when they had to preserve momentum in order to have a shot at winning the game.
Everson Griffin lines up inside and, at the snap, pushes forward, but only briefly. He very quickly backpedals and cuts around the right edge, catching the blockers off-guard.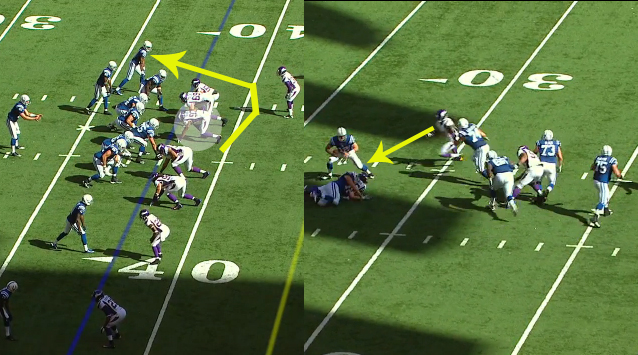 footage provided by NFL.com Game Rewind
Luck is occupied with another defender who has fallen at his feet. By the time he sees Griffin, all he can do is run—unwise choice though that is, as he loses a ton more yards.
One day, Luck will learn to take that sack.
The critical thing here is, it absolutely kills this drive. The Colts don't get a chance to dry the clock out and the Vikings have plenty of time now that they are getting the ball back.
Again, the Vikings are keeping their momentum going, and on the next drive, score to tie things up.
Unfortunately for them, momentum is a fickle thing.
No. 1

Both these completions—one to Donnie Avery and one to Reggie Wayne—are tough ones to swallow, especially Luck's completion to Wayne. That was pretty much the killer moment here.
Avery benefited from some great scrambling by Luck. Wayne got what appears to be a defensive collapse.
Yes, Everson Griffin's penalty a play later hurt, but the Colts were pretty much within scoring range, and if he hadn't been flagged, the Colts would have gained seven yards on a Donnie Avery catch anyway.
On the play, Wayne was completely open. It's hard to tell without the All 22 we don't see until Wednesday, but there must have been some sort of breakdown of coverage.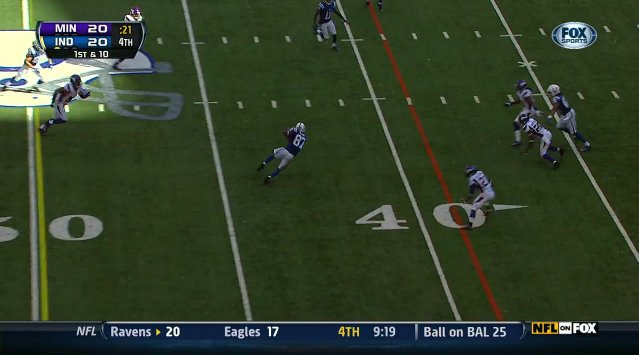 footage courtesy of NFL.com Game Rewind
Just looking at this single screen cap, there is nobody anywhere near Wayne. He ends up at just about the right spot for a field goal and the Colts have plenty of time to milk the clock, then kick.
The defense went all out on the blitz, but when you do that, you'd better have tight coverage if you miss the sack.
The Vikings didn't do either and that was the game pretty much right there.
Check out the B/R NFC North Facebook page—like us and keep up with everything NFC North on Bleacher Report.com.
Follow me on Twitter at @andrew_garda.
This article is
What is the duplicate article?
Why is this article offensive?
Where is this article plagiarized from?
Why is this article poorly edited?