Chicago Bears: The Biggest Early Season Storylines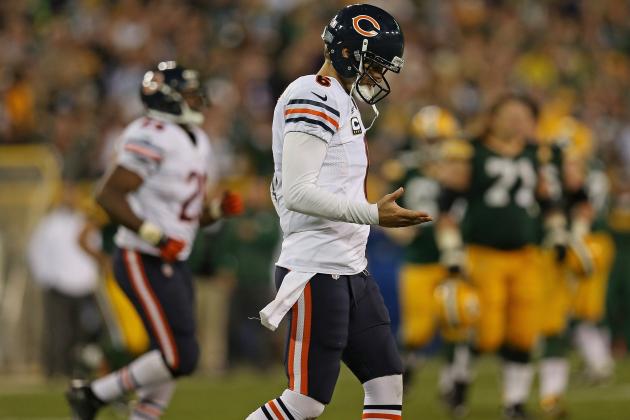 Jonathan Daniel/Getty Images
Jay Cutler
It's early, but the 2012 season has not been without drama for the Chicago Bears. Two games in and the team has already had its share of controversy and turmoil.
You can already guess most of the issues surround Jay Cutler. He has become a major storyline all over the league lately do to his actions in Green Bay.
The long layoff after the week two loss to the Packers has had a couple storylines brewing. We take a look at the biggest storylines for the Bears so far.
Begin Slideshow

»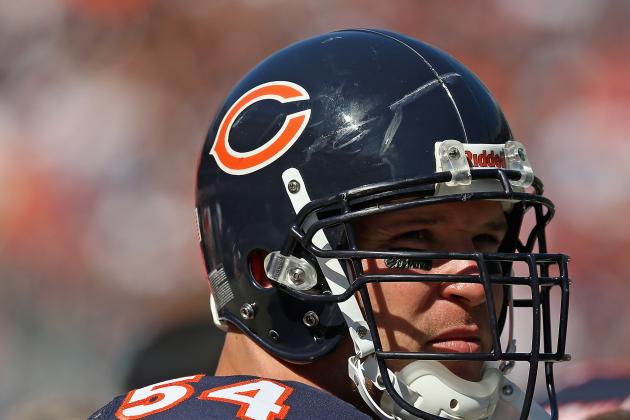 Jonathan Daniel/Getty Images
Brian Urlacher
Early on, the week to week health of Brian Urlacher still remains a story. He has played in the first two weeks, but there is still concern if he can hold up for the entire season.
The quality of Urlacher's play goes hand and hand with his health. In Week 1 against the Colts, he took most of the second half off largely due to the game being out of hand but there was some swelling to that knee as well. He turned around in a short week against the Packers and played well all the while being questionable to play.
It is still early, but it's clear Urlacher's knee is still bothering him. He is not able to practice as much and he has poor lateral movement and depth capability during the game. Still, an average Urlacher is better than most middle linebackers.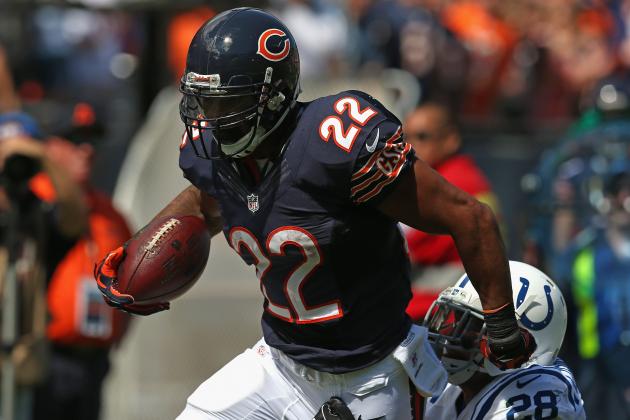 Jonathan Daniel/Getty Images
Matt Forte
Does he have a high ankle sprain or not? The devastating high ankle sprain can be the difference between one week and a month. Whatever it is, Matt Forte is not healthy right now and that is always a big deal.
Forte left the game against the Packers in the third quarter after his ankle got rolled up when safety Charles Woodson went to tackle him. Lovie Smith has said Forte is sore but it is not a high ankle sprain. Smith has not ruled out Forte against the St. Louis Rams.
For the second season in a row the Bears are dealing with an injury to their best offensive player. Last year he missed the rest of the season and while that shouldn't happen this year, missing any time will hurt the Bears in a competitive division.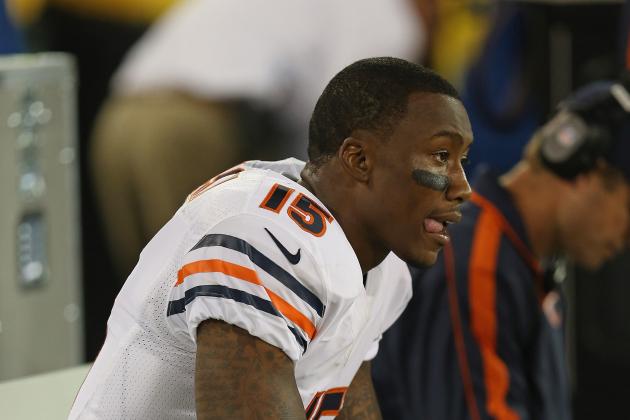 Jonathan Daniel/Getty Images
Brandon Marshall
The Bears can not continue to have these slow starts and think they are going to beat good football teams. They got away with it against the Colts but that is a team that won only two games last year. The game against Green Bay was a different story.
It has to be a concern that the offense has taken quite a bit of time to get rolling each game. Right now it seems to be a perfect storm of poor play-calling, sketchy protection and erratic quarterback play. They need to show people that their early start will not be a trend.
The Bears are supposed to have a high powered offense, but it becomes no good if they can't get going early. Brandon Marshall has to be an important piece if the team wants to create some stability, especially with Forte banged up.
The NFL is an offensive league. Teams can put points on the board in bunches and you never want to get in a position where you are constantly playing from behind. It puts pressure on the entire football team and you will not win many games playing that way.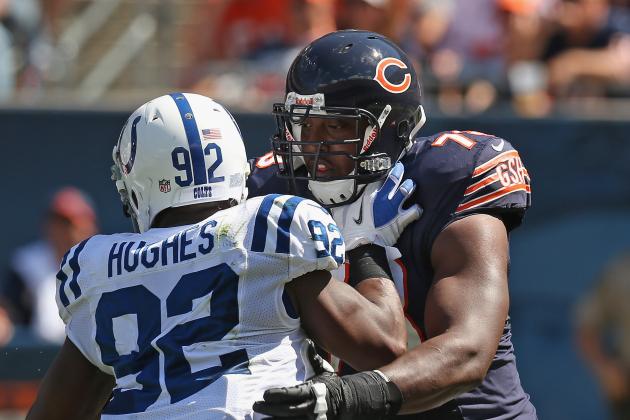 Jonathan Daniel/Getty Images
J'Marcus Webb
The offensive line was a concern going into training camp. It elevated during the preseason and now it has reached a panic level.
J'Marcus Webb will get the brunt of the criticism but he is not the only one playing poorly. Early penalties, missed assignments and poor technique have caused the Bears' offensive line as a whole to look bad.
They were able to settle in against the Colts, albeit after pass rusher Dwight Freeney left the game, but they just did not have an answer for Clay Matthews and the Green Bay Packers. It has caused the offense to start slow and gain no type of rhythm so far.
This cannot be a reoccurring theme for the Bears. They need to get this offensive line going and do so soon. If not, then the team has a very little chance of competing for a playoff spot.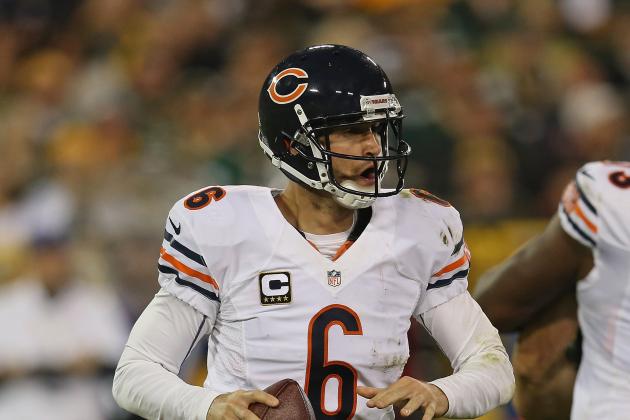 Jonathan Daniel/Getty Images
Jay Cutler
When Jay Cutler gets hit, he gets frustrated. When he gets frustrated, he throws the ball up for grabs and gets picked off.
Yes, Cutler was under attack against Green Bay. He was sacked seven times and hit 12. There is still no excuse to wildly throw the football at times especially when your team was still in the game early in the fourth quarter.
Cutler had pick six after getting hit a couple times early against the Colts. He had four interceptions against the Packers while being under duress. His line has played poorly and he has gotten hit, but what is inexcusable is carelessly turning the ball over.
Aaron Rodgers was sacked five times in the same game that Cutler went down seven. While Rodgers didn't have a great game, he also didn't throw four picks. Those turnovers proved to be vital in a game where your defense did everything they could to keep you in it.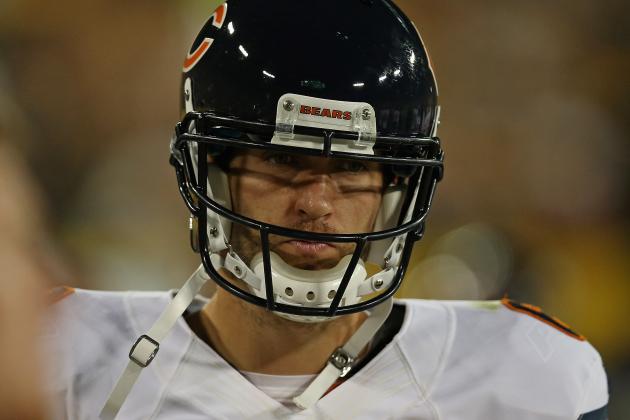 Jonathan Daniel/Getty Images
Jay Cutler
Jay Cutler vs J'Marcus Webb has turned into the biggest early storyline so far for the Bears. On national television, Cutler was seen yelling at Webb and eventually bumping him. With extra time off the team has had to answer questions and everybody has an opinion.
Bears defensive back D.J. Moore has been critical of Cutler's actions. "When you act like that with your teammates on the sideline, it's just something different that you normally wouldn't do," said Moore. "It's the type of guy he is."
Former players and current NFL analysts have all seemed to weigh in on the topic. The majority of the sentiment is Cutler was wrong and should publicly apologize to Webb. The longer time between games has done nothing to diffuse the issue and it has caused the team to have to focus on a non-football situation.
Cutler didn't go as far as to give Webb a public apology but did say he shouldn't have bumped him.
Cutler is frustrated and it has shown in his play and the way he treats teammates. It will be interesting to see how he reacts going forward and whether his team will continue to rally around him on the field.