Do the Atlanta Falcons Have the NFL's Most Explosive Offense?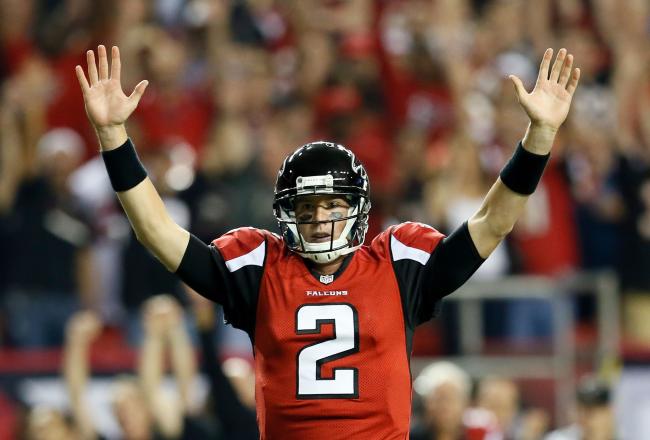 Kevin C. Cox/Getty Images
Matt Ryan diced up the Denver Broncos quite well on Monday night, and the Atlanta Falcons got a big win, 27-21.
We knew coming into the 2012 season that Ryan and his offense were going to be rather explosive, to say the least. After all, the Dirty Birds did finish No. 8 in passing last season, which allowed Ryan to hit 4,177 yards and average 12 yards per completion.
In Week 2, however, Atlanta racked up just 275 total yards on 65 plays. Much of that can be attributed to Denver's four turnovers in the first quarter, which gave Ryan a short field.
So, to start the game, the Falcons' first two possessions began from Denver's 1- and 43-yard lines.
Atlanta's third possession was also great position, beginning at their own 47. Plus, the Broncos defense did hold strong by only allowing 13 points through the 4:57 mark in the second quarter.
With all that said, do the Falcons present pro football's most explosive offense?
Not exactly.
The talent is definitely there, and Atlanta's efficiency against Denver does provide the potential. Also, the Falcons' late-game play-calling was more run-oriented when holding a 27-7 fourth quarter lead.
Through two games, though, Atlanta has yet to turn the ball over, and Ryan has been sacked just twice.
In short, the Dirty Birds need not be explosive because they are so efficient. Rarely are mistakes made, and with the ability to control the game tempo and present explosive players, Atlanta has a major advantage.
To break it down, let's check out the Falcons' final score of the game when Ryan connected with Roddy White.
Note: All screencaps are courtesy of NFL.com.
Here, we see Atlanta come out in a tight bunch trips look to the left. Because it's so close to the formation, Denver's Tracy Porter did not need to line up so far inside despite having slight outside leverage.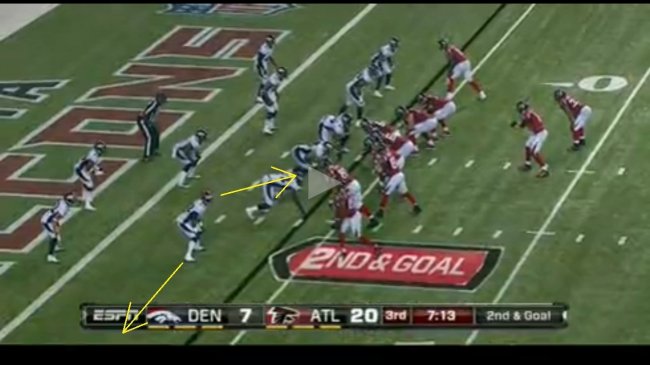 As White begins his route, Porter's pre-snap alignment gives Ryan more room to throw outside. It also doesn't help that Porter's eyes remain on Ryan.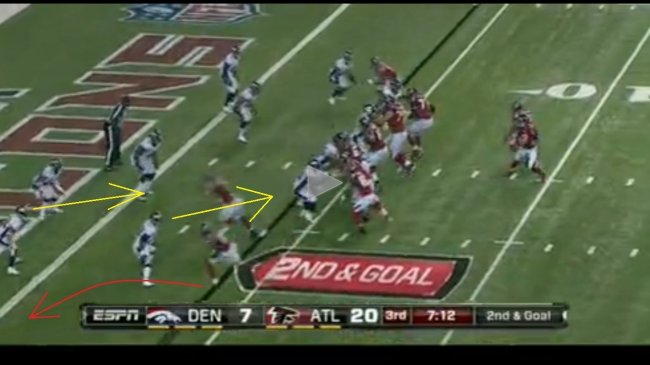 It's also important to note the presence of Michael Turner.
Because of his size, strength and power, we see multiple Broncos defenders other than Porter staring in the backfield. As the play continues to develop, we see Ryan's excellent pocket and the space between White and Porter.
The circled linebacker in the middle is just another example of Turner's presence in the backfield, which ultimately makes it easier for Ryan to read through his progression.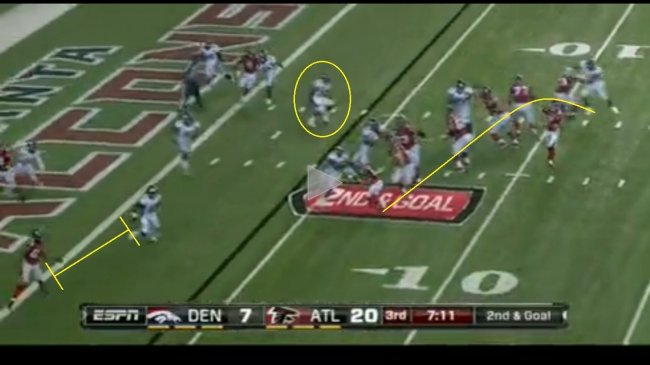 That gap only continues to widen, and White makes an easy touchdown catch.
Although this play doesn't imitate Atlanta's true explosiveness, it reveals the various ways in which the Falcons can attack. Even more impressive is how easily Ryan and Co. take advantage of misalignment and move the ball.
The Dirty Birds undoubtedly have the right players to field an explosive offense. However, just because they can doesn't mean they should. When Ryan has a bowling ball like Turner in the backfield, an offense must utilize his running threat regardless of the production.
Turner's impact is more vital than racking up big chunks of yards.
This is a big reason why Atlanta was able to fend off the Broncos' late onslaught, as the underneath routes opened up a bit more. So, do the Falcons have the league's most explosive offense?
Well, yes and no.
Yes, because of the complete set of talent across the board can get any defense on its heels. No, because Atlanta remaining balanced makes it tougher for defenses to game plan, and overuse of the passing game limits the offense's overall potential.
Add in a defense capable of forcing turnovers and getting quarterback pressure; the Dirty Birds need to move the chains offensively and control the game's tempo.
We saw this happen against the Broncos on Monday night, and it worked to a T. Provided it continues, the Falcons will surpass Green Bay and Philadelphia as the best NFC contenders to challenge San Francisco.
In fact, that may already be the case.
Follow John Rozum on Twitter.

This article is
What is the duplicate article?
Why is this article offensive?
Where is this article plagiarized from?
Why is this article poorly edited?

Atlanta Falcons: Like this team?