Brigham Young University at Boise State University: Is Debacle II in the Wings?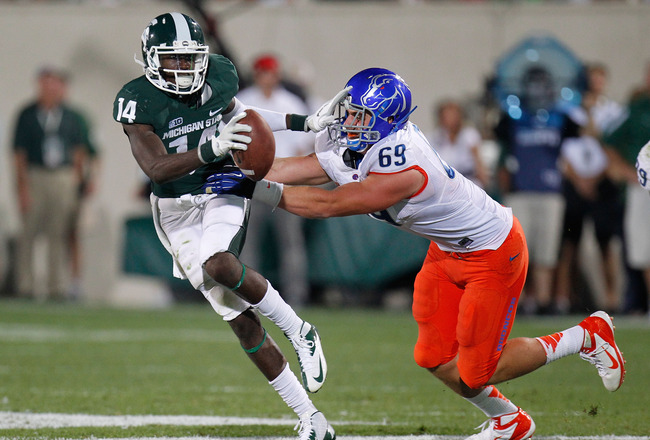 Gregory Shamus/Getty Images
After the collapse of Brigham Young University in Salt Lake City against the Utah Utes every analyst must reevaluate their picks for the rest of the season. In one of my articles, 4 Make-or-Break Games in 2012 BYU MUST Win, the game at Utah was one of them. Another make-or-break game is Boise State.
If BYU loses at Boise State it will be 2-2 and facing what may well be an 8-4 season facing Notre Dame and Georgia Tech.
The Boise State game is more important now than it was last week because it is now ranked at No. 24 in the Associated Press Poll. If BYU wants positive exposure it must—I repeat, must—bounce back and beat Boise State.
In looking at Boise State it did very well against Michigan State, and even better against a Miami (OH) team. Right now Miami (OH) looks like it might be in the league with BYU, and that isn't the kind of league BYU wants to play in. While Ohio State took the Miami RedHawks to the woodshed, it picked up a win against the Southern Illinois Salukis in a 30-14 mismatch.
So where is BYU among those teams? Thursday night we will find out if it belongs with the likes of Boise State, Michigan State and Ohio State, or Miami (OH), Weber State and Southern Illinois.
We will also find out if BYU will present ardent fans with "Debacle II" or a bounce-back win. Following is my review of the game and critical things BYU must do to avoid a second debacle game.
See article at: 4 Make-or-Break Games in 2012 BYU MUST Win
Play Calls: Open Up the Offense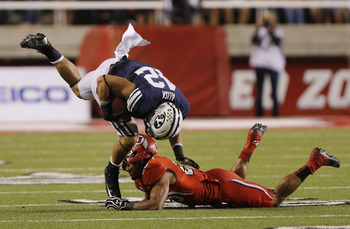 George Frey/Getty Images
To those detractors who feel criticizing a team for its failure means you think everything on the team is bad, let me state here that without the excellent play of their defense, BYU could have lost the Utah game in embarrassing fashion. But for their play, it would have been a rout.
Which brings me to the key point of how BYU can beat Boise State. Riley Nelson is not the quarterback many have hoped he would be. He is too bold when he shouldn't be, throwing up balls that should never gain altitude, and he is tentative when he should be bold and aggressive. His passes are far too often wobbly and inaccurate. In three games we have seen him throwing balls high, low, wide, long and short, but most dangerously, late.
To cure Nelson's shortcomings, he needs to be protected from himself. He needs a quick passing game. To go along with the shortcomings of the offensive line not being able to defend him, he needs a seven-step drop and a dump-off man on virtually every plan.
One of the most successful plays he has had in his career is the rollout to the wide side. This play out of the shotgun would be of great help in getting him out of the traffic and a clear view of the field. Throwing to any of a half dozen quality receivers he already has at his disposal will take the heat off Nelson and give him a chance to make good plays instead of desperate plays.
He needs to be known for his consistency, not his accomplishments in desperate circumstances. The offensive play calling has to give Nelson a chance to move from the desperate scrambles, throws and decision-making to momentum-sustaining small bites of the elephant he will be facing.
If the OC does well, then that will help quarterback play.
Quarterback Play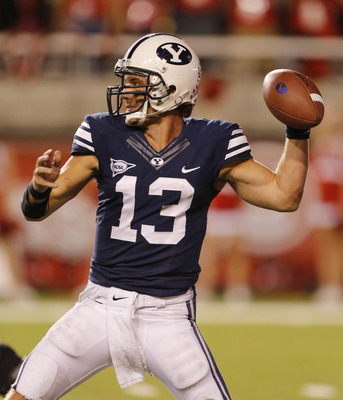 George Frey/Getty Images
To go along with the right plays, Nelson needs to stop running around so much. Nelson was 17-of-35 for 206 yards. That is roughly six yards an attempt, but a whopping 12 yards per completion. He ran 13 times for 34 yards, or 2.4 yards per carry.
Calculating his passing completion percentage at 48.6, had he held onto the ball and not run eight times, he would have completed four passes and at his average would have gained 48 more yards. Those 48 more yards would not only have been the difference throughout the game, it would have been the difference in the final quarter.
But those 48 yards are even more important. Running takes up more time than passes that fall incomplete. It means that 14 times Nelson had the clock running when he could have stopped the clock on eight of them. The average at 12 yards per completion not only moves the chain, it stops the clock to move the chains and gives you more time.
A BYU team with superior conditioning, the word of wisdom should be giving it physical superiority over any team it takes the field with. The longer the game, moment by moment, it should be gaining an advantage. That advantage could have played out in a game-changing extra 30 seconds. If only there had been more maturity in decision-making at quarterback.
Riley needs to stay home, complete short passes and leave to pocket only on the designed rollout plays that give him the advantage he needs.
O-Line Needs to Stiffen Up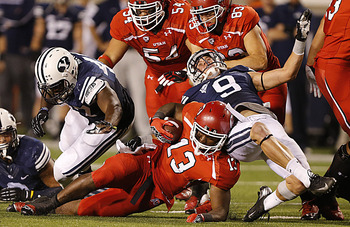 George Frey/Getty Images
Another complement for the defense. They sacked Utah's John Hays four times. Unfortunately that was an offset by Nelson being sacked four times. One of the key elements to any win is the balanced margin of statistical equivalency.
What is that, you ask? Many call it the turnover margin. But it is greater than that and extends to many different aspects of the game. For instance, if you sack an opponent four times, and you don't suffer any sacks, it means you have four successful plays to their four unsuccessful plays that could be the difference of 20-60 yards. That is a huge difference and BYU might have won the game on that statistic alone.
But there is also punts. If you don't punt, and your opponent punts six times, statistically you will win if you didn't turn the ball over any of those six times.
If you complete three passes longer than 20 yards and your opponent doesn't complete any, you gain a potential of 60 yards.
If you have 10 tackles for a loss and suffer only four, you gain an advantage of six plays. Add those up and you gain six to 20 yards. Those add up to more first downs, less punts and more opportunity in the red zone. Are you adding all these up? If you get into the red zone three to five more times than your opponent, statistics say you will beat that opponent, no matter who they are.
Just the extra pass completions can give you an additional 100-120 yards a game. That is a big advantage over an opponent and if you have a net 120 yards each game, you can typically count on 10 points more than the opponent will get.
Look at the statistics of the game. BYU total yards 312, Utah 245. But BYU had an interception, and five fumbles, one lost. Though BYU won in several categories including number of rushes, net yards passing and net yards rushing, they failed in key plays that gave the statistical advantage to Utah at critical moments.
Nelson is prone to these kinds of mistakes even when trying his best to "make a play" and pull out a game, or set of downs. The O-line needs to give Nelson the time and security to keep from making those critical mistakes.
Running Game Needs to Run Wild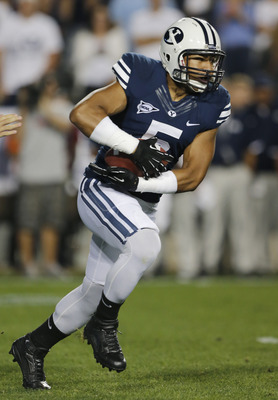 George Frey/Getty Images
BYU needs to get the running game going. They can't play the game out of the shotgun. That has been learned time and again by many teams, especially BYU. When BYU has a running game, it has a passing game.
LaVell Edwards said it best, "the reason I pass is to set up the run." Other coaches run to set up the pass. All levels of football from Pop Warner to the NFL have learned—balance wins games consistently. BYU needs to pass, to set up the run and run to set up the pass.
Nelson ran the ball 14 times, Alisa 15 times and Jamaal Williams eight times. That isn't a running game by anyone's stretch of the imagination. Alisa needs to touch the ball 22 times and Williams at least 12. Taysom Hill, one carry needs to be passing the ball, not carrying it. JD Falslev needs 10 carries, not three.
And the offensive line has to capture the neutral zone and get a push. Alisa and Nelson only average 3.7 and 2.4 yards per carry. That is mediocre at best. Jamaal Williams carried for 3.8 yards per touch. Watching those statistics the offensive coordinator should have been yelling down to the field, "stop running Riley, hand it to Jamaal."
For BYU to beat Boise State, Riley is going to have to stay home, and Jamaal and Michael Alisa are going to have to run away.
Defense Needs to Dominate
George Frey/Getty Images
This might sound trite, but BYU will need another top defensive game. Weber State is a ho-hum offense that wasn't a test. Washington State did well against the University of Nevada at Las Vegas, but UNLV isn't much better than Weber State.
A wounded Utah, with its starting running back and quarterback out, proved its depth was only good enough to take advantage of BYU mistakes.
Now BYU is going to face a real offense. Boise State last week had no sacks, no punts, 295 yards rushing and 304 yards passing. BYU is certainly going to have the toughest test yet on its hands.
Well there are the keys. Let's review.
1. Play calls
2. Quarterback efficiency and plan
3. Offensive line
4. Running game
5. Defense
Nothing magic, these could be the key elements of virtually any team playing football this week or any other. If BYU fails in any of these this week, it will be 2-2.
My prognostication based on the BYU-Utah game? Boise State 38, BYU 17.
And I hope I am wrong, terribly wrong.
Keep Reading

BYU Football: Like this team?