LSU Football: 5 Keys to the Game vs. Auburn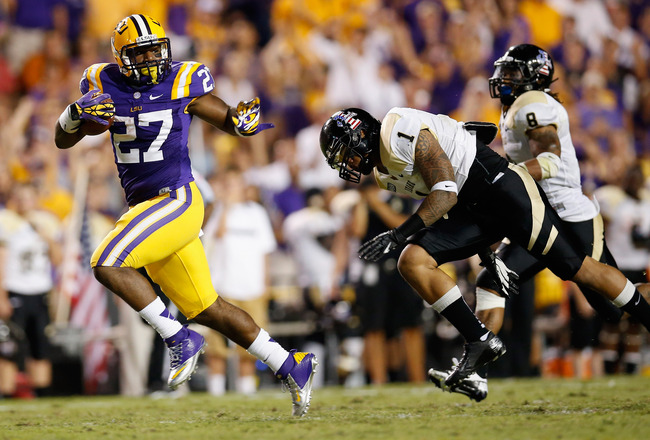 Big Kenny Hilliard
Chris Graythen/Getty Images
The LSU Tigers will be traveling to Auburn to open up their SEC season Saturday night, and two things are for certain: There will not be a 42.5 point spread like there was last week against Idaho. Also, they will have to do much more than just show up to win this one.
This game is a matchup between the SEC's last two champions.
The last time the two teams met, LSU laid a beating on the Tigers, winning by a score of 45-10 at home last season.
Entering the game, LSU has been quite impressive, albeit against lackluster opponents. The Tigers are 3-0 in the young season and looking to continue their success as they will square up against the underwhelming Auburn Tigers.
Auburn has yet to show the flair it's shown in recent seasons, as the squad from The Plains enters the game 1-2 on the season. Auburn, though, is coming off an overtime win against UL-Monroe Saturday. A game where it tallied 418 yards on offense, 255 of which were on the ground.
While the game may be a layup for some, others think LSU may be entering a trap game as it looks forward to a couple tough SEC games in the near future.
Here are five keys LSU must hit on to make this game a cakewalk.
Establish the Run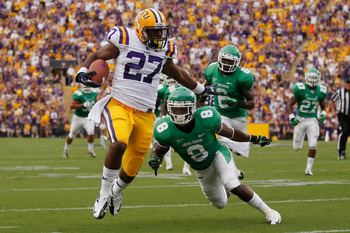 Big Hill
Chris Graythen/Getty Images
The Tigers have started the 2012 season with three straight non-conference wins by a combined score of 145-31. The results have not really been surprising though, considering their opponents. Also, they haven't needed to establish any semblance of a run game, although they have.
As the SEC season for the Tigers begins, this will be a necessity.
With Alfred Blue definitely out for the Auburn game, further emphasis and pressure will be placed on sophomore running back Kenny Hilliard to perform.
Hilliard led the team rushing last Saturday with 116 yards, scoring two touchdowns. Freshman Jeremy Hill, who was playing in his first game for the Tigers, performed very well, rushing for 61 yards and two scores as well.
Last season against Auburn, Hilliard rushed for 65 yards on 10 carries. His rushing scores?
You guessed it, two.
Expect to see Hilliard get the ball early and often as LSU looks to establish its dominance possession-wise.
Continue Mettenberger's Development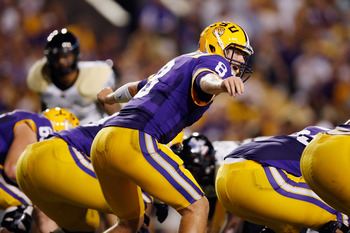 Starting to hone his skills
Chris Graythen/Getty Images
Junior quarterback Zach Mettenberger had the best game of his career Saturday.
He passed for 222 yards and two touchdowns. He could have easily thrown for more, but head coach Les Miles called off the dogs after a certain amount of time during their game against Idaho.
Mettenberger's improvement week after week has been encouraging for the Tigers to see. LSU fans will be looking at this game as a major benchmark as to which direction his barometer will be moving going into the meat of the SEC schedule.
Miles will for sure give Mettenberger every opportunity to show his arm during this game. He's just hoping it is after Hilliard puts up some points first. He has yet to been tested this season and Auburn has not played well, but with this being the first SEC game for both teams, we will see if Mettenberger is for real or not.
It is important for Miles to instill as much confidence as possible into his quarterback early on. Especially in this raucous environment.
Win in the Trenches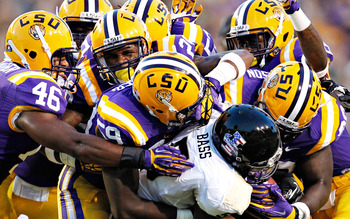 Ferocious
LSU's combination of size and speed up front is almost unrivaled in the college game right now.
Containing Auburn's top back, the shifty Tre Mason, will be key to stopping Auburn's offense as a whole. His elusiveness was witnessed when he crossed up Clemson in the season opener for 106 yards on 14 carries and proceeded to go for 90 yards on 22 carries against Louisiana-Monroe last week.
Yes, he had a no-show performance against Mississippi State a few weeks ago, but that game was rather one-sided to begin with.
If LSU stays strong up front, like we all think the Tigers will, Mason will be lucky to crack 50 yards total. They will stay viable, and Auburn's offense will struggle running the ball, deeming its possessions worthless.
Rely on the Depth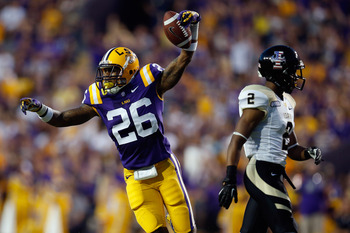 Ronny Martin
Chris Graythen/Getty Images
LSU has seen some injuries this season. And dismissals.
But they haven't missed a beat.
Players like Ronald Martin have waited their turn to shine on the field. Martin had his time last Saturday when he had two interceptions. One of which turned into a 45-yard scamper to the end zone.
Then there's freshman Jalen Mills, who is getting his time to shine from the dismissal of Tyrann "Honey Badger" Matheiu. What has he done thus far?
Picked up two picks of his own.
And that is what good teams do. When one player goes down, another ends up replacing him with no noticeable difference. The youth in the secondary was first viewed as the blemish and weakness of the defense, but has so far shown its worth.
LSU is a breeding ground of talent, and players just seem to be coming out of the woodwork.
Watch for sophomore defensive tackle Anthony Johnson (typically a reserve) to have a solid game stuffing the feeble attempts of a rushing game Saturday.
Quiet the Crowd Early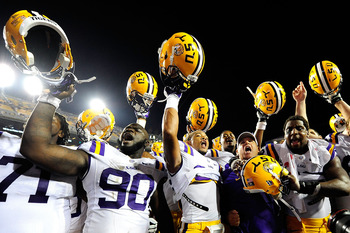 Who finishes the game yelling is more important
Stacy Revere/Getty Images
With the best defense in the SEC, only allowing 205 yards per game, LSU needs to get to the quarterback early, and more importantly, put points on the scoreboard.
LSU will try to establish the run game early and put points up, only to "slow it down" by utilizing the passing game soon after. Auburn is the worst team in the SEC defending the run, so expect a good helping of it.
For Auburn to stay in it, it must somehow stop LSU's power run game and bring some of its own. Slowing down the game will be in their favor, especially at home.
Les Miles' forte is to pound early, pound some more and, then when the game is considered out of hand, continue the beating, effectively stopping any crowd noise.
By the end of the night, there will be more LSU fans screaming than there will be Auburn fans. Book it
Keep Reading

LSU Football: Like this team?