San Francisco Giants: 3 Reasons They Can Be Better Than 2010 World Series Champs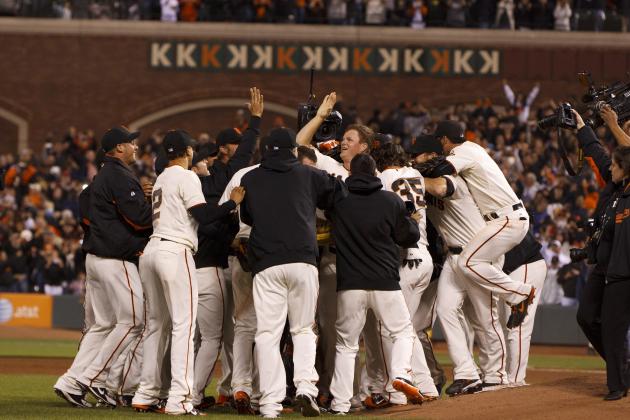 Jason O. Watson/Getty Images

You may have heard about that 2010 World Series Giants team by now.
They won 92 games to win the National League West, then went on to win the World Series for the first time since the franchise headed west in 1958.
There was that guy with the beard, another guy with long hair, a first baseman that wore a rally thong, his old college teammate—Pat the Bat and Cody "Babe Ruth/Mr. October" Ross.
The 2012 team may not be quite as entertaining, though the guy that used to wear the thong has made a new friend with some strong glutes and outstanding hair. However, this year's team has a chance top the 2012 team in a few ways.
If the Giants go 10-6 the rest of the way, they will top the 92 games won by the 2010 team. Despite the fact that AT&T Park has been tougher on offense this season than it was two years ago, this year's team is on pace to score about 15 more runs.
Finally, if the Giants win the World Series again this season, their path to the title may be more difficult given how good the Washington Nationals, Cincinnati Reds and AL favorite Texas Rangers are this season.
The 2010 Philadelphia Phillies were very good, but they were also an aging team by that point, whereas the Nationals and Reds have youthful exuberance on their side. The Atlanta Braves were also very good in 2010, but by the time the playoffs rolled around, they were a banged-up team playing without Chipper Jones and Martin Prado.
That's not to take anything away from the 2010 team. However, if this year's squad can bring a second world championship to San Francisco, there's a reasonable argument that the 2012 Giants will be the better team.
Begin Slideshow

»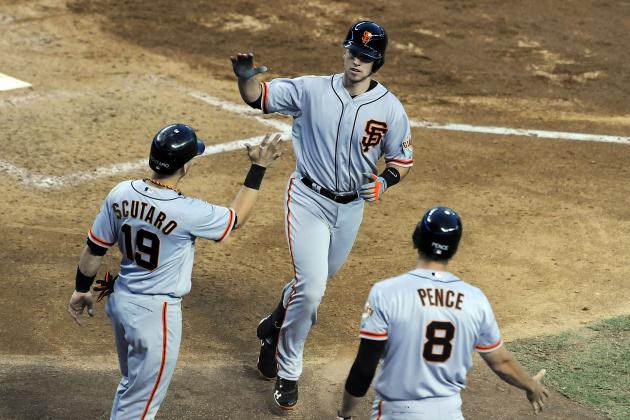 Norm Hall/Getty Images
2010 The Sequel: with Posey starring as a better version of himself.
First, for the historical record: Let's compare the numbers of the key position players and starting pitchers from both squads:
2010 San Francisco Giants
CF Andres Torres (.268/.343/.479)
2B Freddy Sanchez (.292/.342/.397)
1B Aubrey Huff (.290/.385/.506)
C Buster Posey (.305/.357/.505)
LF Pat Burrell (.252/.348/.469)
3B Pablo Sandoval (.268/.323/.409)
RF Cody Ross (.269/.322/.413)
SS Juan Uribe (.248/.310/.440)
IF Edgar Renteria (.276/.322/.374)
Rotation
Tim Lincecum (3.43 ERA/3.15 FIP)
Matt Cain (3.14/3.65)
Madison Bumgarner (3.00/3.66)
Jonathan Sanchez (3.08/4.00)
Barry Zito (4.13/4.24)
2012 San Francisco Giants
CF Angel Pagan (.291/.341/.443)
2B Marco Scutaro (.296/.337/.391)
3B Pablo Sandoval (.275/.327/.420)
C Buster Posey (.333/.407/.545)
RF Hunter Pence (.259/.326/.432)
1B Brandon Belt (.271/.358/.415)
LF Gregor Blanco (.237/.327/.341)
SS Brandon Crawford (.246/.305/.348)
Suspended Melky Cabrera (.346/.390/.516)
Rotation
Tim Lincecum (5.07 ERA/3.97 FIP)
Matt Cain (2.93/3.44)
Madison Bumgarner (3.32/3.38)
Ryan Vogelsong (3.65/3.81)
Barry Zito (4.21/4.71)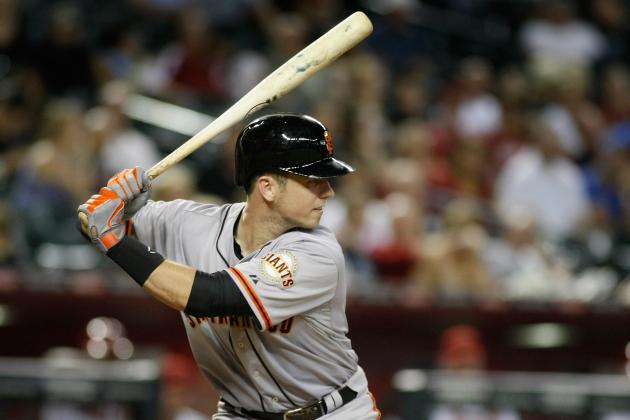 Ralph Freso/Getty Images
Buster has gone from Rookie of the Year to MVP candidate.
The 2010 team combined to hit .257/.321/.408 while averaging 4.30 runs per game.
This season, the Giants are hitting .266/.325/.392 while averaging 4.40 runs per game. The increase in offense is due mostly to the improvement made by Buster Posey and the outstanding performance by Melky Cabrera, who likely won't be a factor in the postseason due to his suspension for PED use.
The two teams have similar offensive numbers, but the edge goes to this year's team when you factor in that AT&T Park has shifted from a neutral stadium to an extreme pitchers' park this season.
The flip side of that coin is that the 2010 team was better at preventing the opposition from scoring (3.36 team ERA in 2010 to 3.76 in 2012).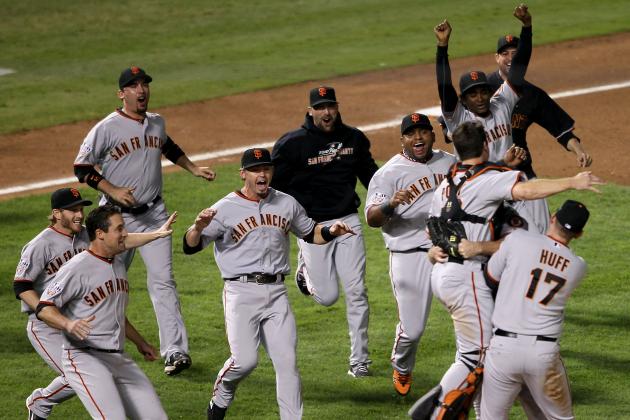 Elsa/Getty Images

As previously noted, if the Giants finish 10-6 the rest of the way, they'll finish with the better regular season record than the 2010 team.
If the Giants can lock up the NL West and get back into the postseason, which seems likely at this point, the only way they can top the 2010 team is to win it all again. There's a long way to go between now and hoisting a second flag in three years, especially with the Cincinnati Reds (88-59) and Washington Nationals (89-57) potentially waiting in the wings.
Atlanta was 91-71 in 2010, but they were an injured, fading team down the stretch. The Giants were 3-4 against the Braves and 3-3 against the aging Phillies during the 2010 regular season. This year they also went 3-4 against likely first round opponent Cincinnati, but they went just 1-5 against the Nationals, having been hammered by a total score of 45-24.
Comparing teams across different seasons with a long way still to go this season is a difficult, subjective task. The 2010 team was the first world champion in San Francisco history, so even if a better Giants team comes along, they'll always remain the most infamous team—especially given their fun-loving mentality, which fit the Bay Area perfectly.