BYU Football: Winners and Losers from the Utah Game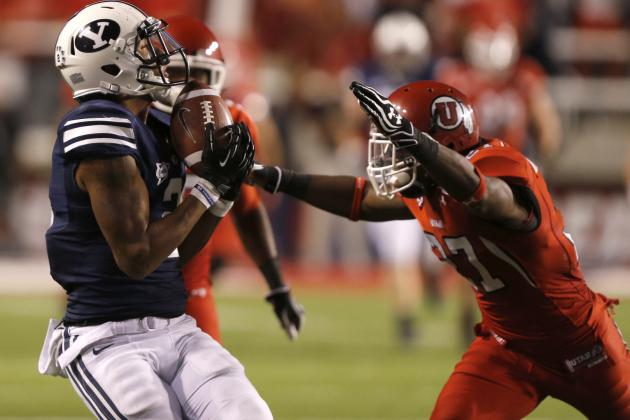 George Frey/Getty Images

What it could have been.
If it were only for a few different plays—a few snaps caught and a field goal made—I could be typing today with a smile on my face and a great outlook on the rest of the season.
But no, here we are, with a loss to Utah and a 2-1 record, just because of great and poor play by some players and units. But there is no time to dwell on the narrow loss, as BYU travels up to Idaho to play Boise State in only two days.
So, here are six units that had either incredible or lackluster performances on Saturday.
Begin Slideshow

»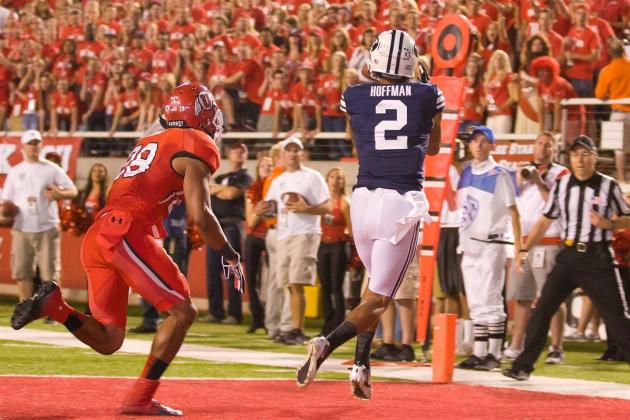 Russ Isabella-US PRESSWIRE

Perhaps the brightest aspect of BYU's offense last week, Cody Hoffman had a second- straight week of at least 100 yards receiving. He finished with 120 yards off of only eight receptions, including a 4th-and-long shot to put the Cougs in field-goal range.
Hoffman finished with only one touchdown, but had multiple first downs. Despite less than stellar performances by other parts of the offense, Cody Hoffman was once again able to have a breakout game.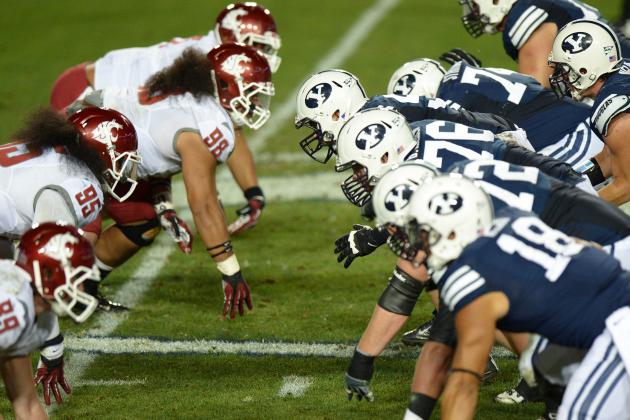 Jake Roth-US PRESSWIRE

It is not good when your offensive line racks up three false starts in the first 30 seconds.
No, not at all.
But that is what happened to BYU's offensive line on Saturday, and their woes continued throughout the entire game. In fact, I recall a possession in the third quarter that ended being 2nd-and 20-plus yards, not because of a penalty, but because of false starts and holding on the offense.
Sure, Utah had a great defensive line, and the noise level was unrealistic, but there is no excuse for that kind of performance. If the Cougs are wanting to win against the likes of Notre Dame and Boise State, they will have to sharpen up their line.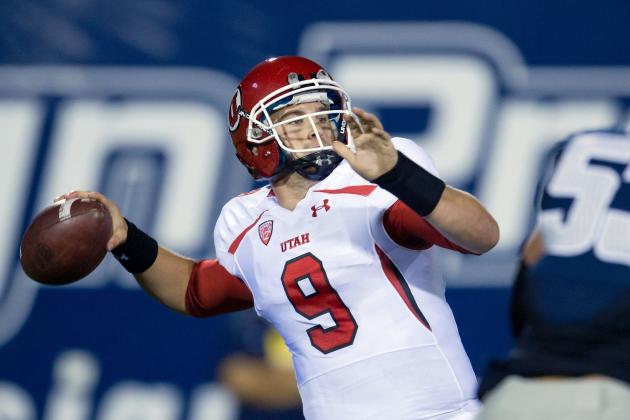 Russ Isabella-US PRESSWIRE

Jon Hays, in his first start this season, was able to complete 18 of his 27 passes for 196 yards. Along with that came two touchdowns and zero interceptions.
Hays' first TD came in the first quarter when he found Westlee Tonga in the end zone to put the Utes up 7-0. His second was in the third quarter, which gave them a 24-7 lead.
Hays had the most consistent performance from anyone on either side of the ball, and I wish him the best for the rest of the year.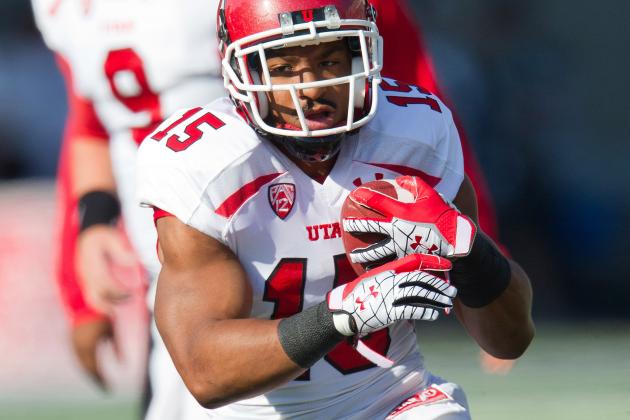 Russ Isabella-US PRESSWIRE
John White sat out of the game because of injury.
Utah's rushing attack was hideous.
I mean, everyone saw it coming. They were without top running back John White, who suffered an ankle injury against Utah State.
The Utes' leading rushers, Jarrell Oliver and Lucky Radley, finished with 24 and 22 yards.
Ouch.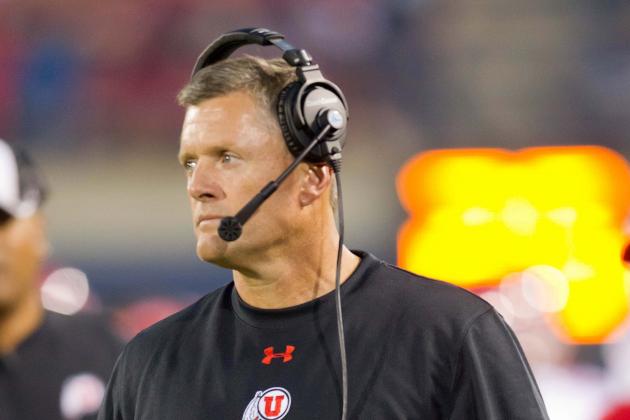 Russ Isabella-US PRESSWIRE

In a tough, hard-fought game like was played on Saturday, you have to give credit to the head coach. Kyle Whittingham, a former Cougar, had his troops ready to play and prepared.
His players fought to the end, and I give him credit for that mentality.
Sure, I may not be the biggest fan of him or his Utes, but you have to respect him for what he has done to the Utah program. He led Utah to two BCS bowls, earned a Coach of the Year award, and helped get the Utes into the Pac 12.
Hats off to Coach Whittingham.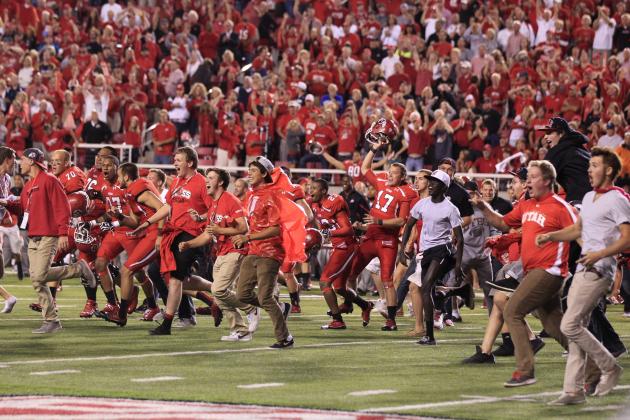 George Frey/Getty Images

Where can someone get lessons on when to storm the field?
I mean, that may come in handy for a few Ute fans who ran on to the field twice without the game being officially over, giving BYU better field position.
But, even when it was the right time, their treatment to BYU players and coaches was everything but respectful. Even Tom Cella, the publisher of UteZone.com, tweeted the following:
"After witnessing the treatment of BYU players by Utah fans up close on the field after game I was embarrassed."
I mean, I would be too.
ESPN was kind enough to show some of the taunting, spitting and harassment toward Cougars on the field following the game.
I have nothing against Utah fans; the majority are kind and great people. There were just a few on Saturday that raised an eyebrow or two for their classless behavior.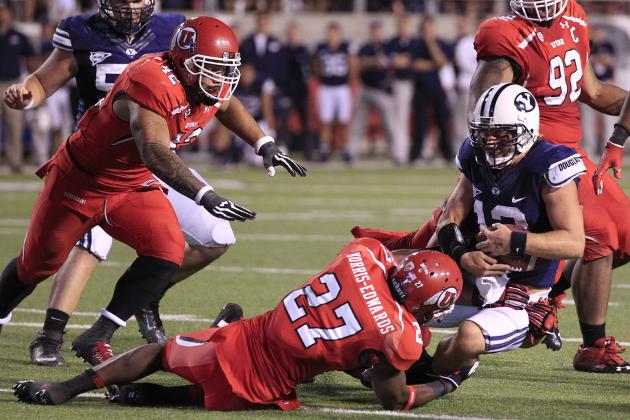 George Frey/Getty Images

Riley Nelson didn't play a great game at all. Stat-wise, he wasn't bad—17 of 35 for 206 yards, along with two TDs and a pick isn't awful.
But by the third quarter, he looked like all hope of winning was drained from him. He played like they were losing by 50. He made poor decisions. He acted like it didn't matter if they won or lost.
Sure, the O-line had a bad game protecting him (they gave up four sacks), and Brandon Doman's play-calling wasn't the best. But I'll just say right now, if BYU wants to win on Thursday, Riley had better clean up his act.