Washington Nationals: 3 Good Reasons John Lannan Can Replace Stephen Strasburg
Jeff Zelevansky/Getty Images
For months, experts and fans alike doubted the Nationals' organizational decision to limit Stephen Strasburg's innings total in 2012.
A decision that was made before the season ever began was called into question before Washington proved their worth as one of baseball's elite. But as playoff contention turned into World Series aspirations, the mood on the streets of D.C. began to change.
The general consensus around the nation's capital was that GM Mike Rizzo would back off his claim that the righty ace would be shut down somewhere between 160-180 innings. Fans prayed that an expanding division lead and the league's best record would sway the club's opinion in favor of letting Strasburg continue.
But it didn't even get that far.
And after the 24-year-old failed to reach the fourth inning against Miami on September 7th, it became evident that the pending decision was becoming a distraction.
So the Nationals did the only thing they could. They shut down Stephen Strasburg for the season after 159.1 innings of work.
Nearly two weeks later, the topic hasn't vanished. After the fact, questions still linger as to whether or not Washington made the correct call regarding their young pitching sensation.
The decision for the future has jeopardized the present. And for a team with MLB's best record, it's tough to imagine their best pitcher riding the bench in October.
But that's what will happen, and the Nationals will be forced to move on without the services of their top starter.
Fortunately for fans in D.C., a familiar face can fill in during his absence. And at a time when many clubs across baseball lack depth at starting pitching, the Nats have options.
Veteran John Lannan fills the void on Davey Johnson's staff following Strasburg's departure. The 27-year-old lefty is in his sixth year in the bigs—all of which have been spent in the nation's capital.
After serving as a fixture atop Washington's rotation for years, Lannan has spent much of 2012 in the minors. Spot starts have been rare for the game's best pitching staff, but Lannan has served as the main man out of AAA Syracuse when the Nationals have needed an extra arm.
Now, he gets his chance to make a name for himself. With the spotlight shining on the pitcher's mound in D.C., Lannan will have an opportunity to succeed in Strasburg's spot, and silence the critics once and for all.
Surely a premature postseason exit will cause commotion around town. Any result short of a National League pennant will undeniably leave fans questioning "what could have been".
But there is nothing we can do about it now. And the only direction to move is forward.
Here are a few reasons John Lannan's arm can take us there.
4th Best Pitcher?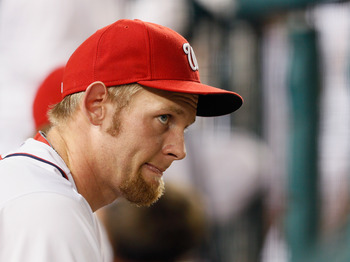 Rob Carr/Getty Images
With all of the discussion that has encompassed Strasburg's right arm in the past couple of months, few would figure that the Nationals' ace has actually struggled in recent starts.
In fact, the ever controversial innings limit has shielded the fact that Strasburg has been Washington's fourth-best starter since the All-Star break.
After posting a 9-4 record in his first 17 outings, the San Diego State product saw his ERA jump nearly one full run in the second-half of the season (2.82 pre All Star break, 3.73 post All-Star break).
While the drop off in production could be attributed to numerous different factors, it's impossible to ignore. And hesitation to preserve their future would certainly prove disastrous in Washington if Strasburg were to encounter a set-back one season removed from Tommy John surgery.
So as critics continued to argue a decision over which they had no influence, the lingering innings cap could have corrupted the pitcher's conscious. And it was reflected in the numbers.
Only Edwin Jackson's second-half ERA exceeded Strasburg's on the Nationals' staff. Newcomer Ross Detwiler has been arguably the strongest link in the league's best rotation, and Gio Gonzalez has continued a season which warrants Cy Young nomination.
Obviously John Lannan doesn't possess the raw talent that Strasburg (or any other Washington starter) has been blessed with. The gritty sinker-baller won't come close to matching the sexy strike out totals, and he won't captivate the stadium with triple digits on the radar gun.
But John Lannan will give the Nationals a chance to win.
He will limit the base runners and minimize the damage while keeping the score close within reach. And while he might not look flashy while doing so, the Nats aren't looking for style points.
They are looking for 'W's.
So far, Lannan has been successful in that department (3-0 in 2012). Let's hope that trend doesn't change.
Been There Before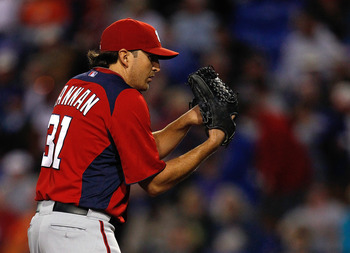 Sarah Glenn/Getty Images
One way Mike Rizzo can sleep at night rests in the fact that he has the ability to substitute experience for raw potential.
With scores of fans criticizing his decision to shut down Stephen Strasburg, Washington's general manager has benefited from the depth that he helped assemble in D.C.
The Nationals have a luxury that few other teams in baseball possess, and that is depth at starting pitching. Instead of some no-name rookie filling the void, the Nats can promote an established veteran to occupy the fifth spot in the rotation in Strasburg's absence.
Ironically, a man once labeled Washington's ace will be sliding into a spot vacated by the team's no.1 starter in the current rotation.
John Lannan started opening day on two different occasions for the Nationals over his five-year career. After being selected by Washington in the 11th round of the 2005 draft, the sinker-baller served as the backbone of the Nationals rotation during a time when postseason baseball was nothing short of unattainable.
As the Nats sat seemingly cemented in the basement of the NL East, Lannan continued to pitch without complaint. The lefty compiled 122 starts from 2008-2011, and his 3.96 career ERA would warrant a spot in nearly any other team's rotation given the lack of consistent and quality of arms in modern baseball.
Limited Meaningless Action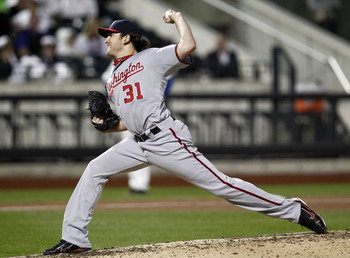 Jeff Zelevansky/Getty Images
Another factor that makes life easier in Washington's locker room is the abbreviated regular season schedule remaining.
With the month of October rapidly approaching, only 16 games stand between the Nationals and postseason baseball. That means that Strasburg's turn in the rotation will likely come up only three more times before season's end, and with the Nats already locked into the playoffs, not one will hold supreme significance.
John Lannan has already made one start in substitution of Strasburg last week. And it went surprisingly well.
The left-handed veteran gave up 5 hits over 5.2 innings of work in his first game back from AAA Syracuse. He failed to surrender a single run at Citi Field in a 2-0 win over the Mets.
The start improved Lannan's record to 3-0 on the year, and added to his second-largest win total in franchise history.
Chances are Lannan won't pitch in the postseason given Washington's depth. With Gio Gonzalez, Jordan Zimmermann, and Ross Detwiler having career years, the possibility of a three-man rotation in October hasn't been ruled out.
Edwin Jackson would likely get the nod in game four if necessary; however, that isn't to say Lannan isn't capable of pitching in big-game situations.
Just glance back to a game played on July 21st earlier this year.
The Nationals lost the first leg of a double-header just hours after blowing a nine-run lead the previous night. Their division lead had dwindled to 1.5 games for the first time in more than a month, and Washington desperately needed a 'w'.
Lannan struggled early on, surrendering two runs in the opening frame. But the veteran bounced back to throw six consecutive scoreless innings and beat the Braves by a score of 5-2.
The sixth year home-grown pitcher served as Washington's stopper on that evening, and though he likely won't be tasked with the same challenge again in 2012, at least the Nationals know they have someone capable of performing under pressure.
Keep Reading

Washington Nationals: Like this team?